Return to the Home Decorating Forum
|
Post a Follow-Up
---
| | | |
| --- | --- | --- |
| Help on Wall Color with Light Flooring (Pics Included) | | |
Posted by
gdwright07
(
My Page
) on
Mon, Apr 2, 12 at 12:00
Hi All - I've received a bunch of good advice and suggestions on a previous mix and match question I had; hoping that the site delivers again. My wife and I are close to locking down the colors/upgrades/wiring/etc for our new home that will be move-in ready this coming August. After a ton of perusing and much deliberation, we opted for a white kitchen. We chose off-white cabinetry, bronze handles, natural-stained oak flooring, and Giallo Vincenza granite. We love the look and think that it will have a pleasant, breezy, open feel to it. See pic below for our selections.
As is turns out, the builders (Pulte) have model homes elsewhere with the same exact cabinet/granite combo that we chose for our home. My question for the boards is; what sort of wall colors should we be eyeing assuming that a) the kitchen is an extension of the larger great room (dining room and sitting room) which will also be floored with natural-stained oak and b) we plan to start from scratch in terms of furnishings. Two more pics below of the model home cabinet/granite combo. Thanks in advance everyone, we learn so much from your responses.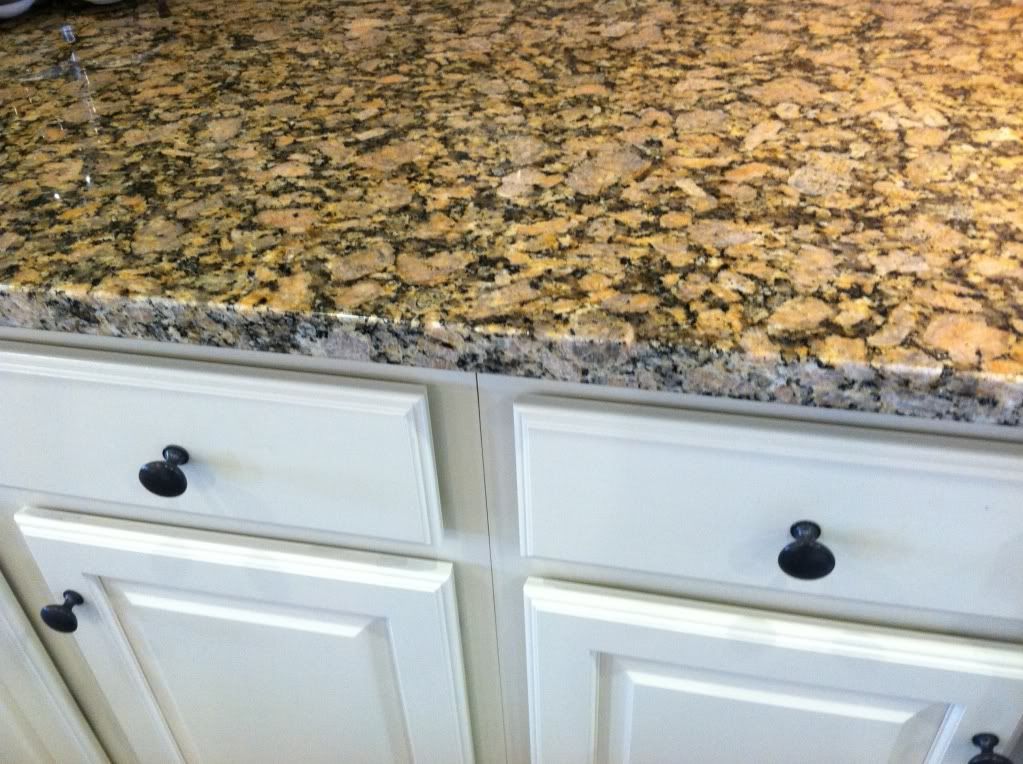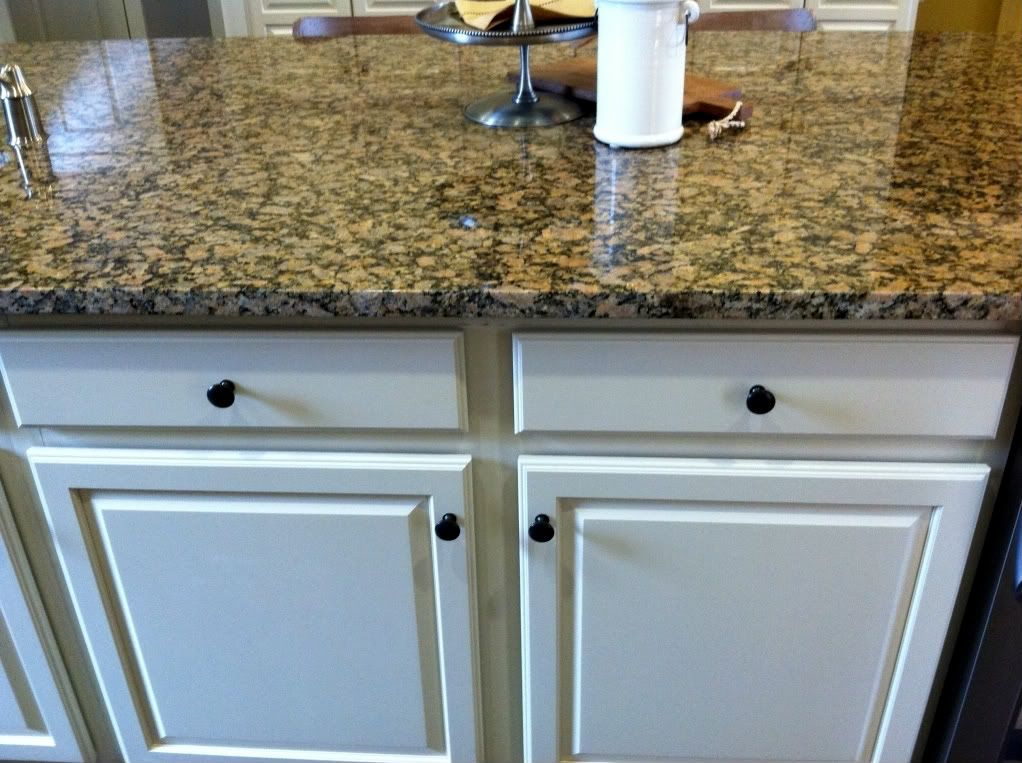 ---
Follow-Up Postings:
| | | |
| --- | --- | --- |
| RE: Help on Wall Color with Light Flooring (Pics Included) | | |
I should clarify that we're looking for wall colors that would work for the entire great room (kitchen, dining room, and sitting room). With that said, it would have to work with the kitchen colors (granite, cabinetry) in addition to the natural-stained oak floors that run the entire great room span. Thanks again.
---
| | | |
| --- | --- | --- |
| RE: Help on Wall Color with Light Flooring (Pics Included) | | |
How about a gray green? Does your granite have any shades of green in it?

Here is a link to a nice color....hit the link and scroll down to Margib124's post.
Here is a link that might be useful: paint color
---
| | | |
| --- | --- | --- |
| Not Sold on Green | | |
The green that you recommended definitely looks great with the lighter floors, but I'm not so sure that it flows with the granite/cabinet combo we chose.
---
| | | |
| --- | --- | --- |
| golden?? | | |
So maybe a more golden color??
---
| | | |
| --- | --- | --- |
| RE: Help on Wall Color with Light Flooring (Pics Included) | | |
gdwright07 - we painted our entire open concept home with Sherwin Williams color Khaki Shade it looks nice in all the rooms with different lighting.

If you click on the picture it will take you to the photos of the wall color in the rest of the house. The laundry/mudroom is a shade lighter called urban putty.
---
| | | |
| --- | --- | --- |
| RE:Help on Wall Color with Light Flooring (Pics Included) | | |
rtwilliams...your space is gorgeous!!! So warm and inviting. Love the colors!
---
| | | |
| --- | --- | --- |
| RE: Help on Wall Color with Light Flooring (Pics Included) | | |
I'll second that. Excellent choice of colors there. Find myself leaning towards a neutral beige. New to this however so I'm looking forward to more ideas from the board.
---
| | | |
| --- | --- | --- |
| RE: Help on Wall Color with Light Flooring (Pics Included) | | |
gdwright, if you've read enough of this forum, you will have learnt that any color we recommend has to be tested in your space ... the perfect beige in a photo can look bandaid/pasty beige in your space. You can buy "cheap" 11x17 artists canvas at walmart or a craft store and use that to paint your samples on. Then take the canvas testers to your building site. This should give you a better feel for the color than the small paint chips.
---
| | | |
| --- | --- | --- |
| RE: Help on Wall Color with Light Flooring (Pics Included) | | |
If you are not sure where to begin with color, experiment in a powder room or bathroom, a small hall or area between rooms, or an accent wall. If you're doing your own painting, pick an area that's quick to do so you can see your results sooner, and be happy with it or change it. Look at the process as an adventure.
---
Post a Follow-Up
Please Note: Only registered members are able to post messages to this forum.
If you are a member, please log in.
If you aren't yet a member, join now!
---
Return to the Home Decorating Forum
Information about Posting
You must be logged in to post a message. Once you are logged in, a posting window will appear at the bottom of the messages. If you are not a member, please register for an account.
Posting is a two-step process. Once you have composed your message, you will be taken to the preview page. You will then have a chance to review your post, make changes and upload photos.
After posting your message, you may need to refresh the forum page in order to see it.
Before posting copyrighted material, please read about Copyright and Fair Use.
We have a strict no-advertising policy!
If you would like to practice posting or uploading photos, please visit our Test forum.
If you need assistance, please Contact Us and we will be happy to help.

Learn more about in-text links on this page here