Return to the Home Decorating Forum
|
Post a Follow-Up
---
| | | |
| --- | --- | --- |
| Please help me decide (hutch for kitchen) | | |
Posted by
CatMagnet
(
My Page
) on
Sun, Apr 22, 12 at 11:51
Hello!

You all were so helpful when I was trying to arrange things in my china cabinet, I thought I'd ask for opinions on this hutch before I make the call/drive.

http://washingtondc.craigslist.org/nva/fuo/2951115604.html

Can't beat the price and I really wanted something in my kitchen/dining area for display that didn't have glass. I may or may not paint it in the future but I would likely change out the hardware.

I have this sideboard in the kitchen currently:
Ignore the cart thing to the left, it's no longer there.
I would move the sideboard to another wall in the same room (so it would be nearby). I'm not overly concerned about the woods complementing each other; if they don't, I'm not opposed to painting it. I typically am not a fan of painted wood furniture, but this doesn't seem like a piece that is necessarily worth preserving.
I decorate with vintage pieces, probably 1930s to 1960s. And the ad says it's an antique, but I know it isn't. LOL
What say you? Workable with my sideboard? Horribly dated with no hope? Has potential?
Thanks for the opinions! :-)
---
Follow-Up Postings:
| | | |
| --- | --- | --- |
| RE: Please help me decide (hutch for kitchen) | | |
Forget what I said about the sideboard in the same room. I think it would be too crowded and I would repurpose the sideboard as a TV stand.

And I just realized my comment about decorating ranging from the 30s to 60s probably sounds dopey but I do have mixtures of depression glass, Pyrex, jadeite, milk glass, Fiesta. (I do try to keep it from looking a jumbled mess though.) My main reason for considering this piece is for displaying the nicer pieces and perhaps downsizing a bit.

So my questions remain: Horribly dated with no hope? Has potential?
---
| | | |
| --- | --- | --- |
| RE: Please help me decide (hutch for kitchen) | | |
Definitely has potential. I really like that hutch, but I would have to paint it which would make the nicer qualities like the scalloping and wainscot backing really shine.

About 6 months ago I was on a seemingly endless search for a hutch. I saw lots of them similar to the one in your photo and was amazed at the difference between the ones that were painted and the ones that weren't. The unpainted ones just looked like older pieces of dated furniture, but the painted ones had character and charm. The price for that one is really good; my only concern would be that the top is not enclosed to protect your display from dust.

This is the one I ended up with. I knew the minute I saw it that we had to have it, I love the hardware and that it has only 1 door
---
| | | |
| --- | --- | --- |
| RE: Please help me decide (hutch for kitchen) | | |
This hutch looks very similar to mine, which is hard rock maple and of excellent quality, just dated. Mine was purchased over 40 years ago, and has been indestructible. I do plan to paint mine, to update it, have just had a hard time deciding upon paint color. I do not want white, since I have white wood cabinets and white wainscot on the walls. One member here painted hers in a beautiful gray and hers turned out beautifully. I think you should get it, and paint it in a color that would work with your kitchen.

They are great pieces because they offer so much additional storage, and do have good shelving for display purposes, too!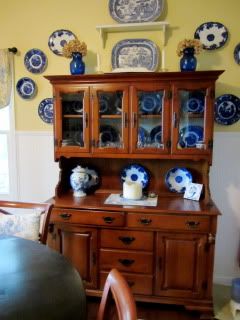 ---
| | | |
| --- | --- | --- |
| RE: Please help me decide (hutch for kitchen) | | |
I like the shape. If it is useful to you, I'd paint it something fun.
---
| | | |
| --- | --- | --- |
| RE: Please help me decide (hutch for kitchen) | | |
I think the lines could work with your existing sideboard. I agree with kswl - I like the detailing at the top and would definitely paint.

It's a bit similar to my hutch - also a CL find. A LOT of work, but after painting and new hardware I love it.

Before and After:
---
| | | |
| --- | --- | --- |
| RE: Please help me decide (hutch for kitchen) | | |
Judgirl2, do you have instructions on how you painted your hutch? You did such a wonderful job on it. Sorry to hijack!
---
| | | |
| --- | --- | --- |
| RE: Please help me decide (hutch for kitchen) | | |
The price is too good to pass up. It would be a show stopper if painted.

Lucky and Judd, I've always admired your hutches!
---
| | | |
| --- | --- | --- |
| RE: Please help me decide (hutch for kitchen) | | |
Thanks Oak, Judd, I've always admired the job you did on your hutch too. What's the secret?
---
| | | |
| --- | --- | --- |
| RE: Please help me decide (hutch for kitchen) | | |
Thank you, lukki, oakley, and caminnc. The link to the refinishing process is here: Painting details

Don't want to hijack the post but maybe my mistakes will help OP avoid making the same. The main reason my painting process was so tedious was because I kept changing my mind about the type of finish I wanted (and the hutch is huge so each coat took forever). The final result ended up being a happy accident :-)

I painted everything by hand until I decided to give up the color washing and use solid paint. Was so burned out by then that DH used his sprayer, I did the glazing (a wipe on with brushes/wipe off with damp rags and brushes, trial and error process) and then DH sprayed the poly finish.

Wax removal and painting details are in the 1st post and the May 4th @ 00:31 posting. Even though I ended up using solid paint, the bleaching after using wax remover and acetone did help remove the last bits of furniture wax (paint won't adhere to wax, so prep is VERY important).

If your piece has a poly finish and no wax, you can probably just clean it with TSP and prime before painting. I did this with my DD's dresser and it worked fine.
---
Post a Follow-Up
Please Note: Only registered members are able to post messages to this forum.
If you are a member, please log in.
If you aren't yet a member, join now!
---
Return to the Home Decorating Forum
Information about Posting
You must be logged in to post a message. Once you are logged in, a posting window will appear at the bottom of the messages. If you are not a member, please register for an account.
Posting is a two-step process. Once you have composed your message, you will be taken to the preview page. You will then have a chance to review your post, make changes and upload photos.
After posting your message, you may need to refresh the forum page in order to see it.
Before posting copyrighted material, please read about Copyright and Fair Use.
We have a strict no-advertising policy!
If you would like to practice posting or uploading photos, please visit our Test forum.
If you need assistance, please Contact Us and we will be happy to help.

Learn more about in-text links on this page here