Return to the Home Decorating & Design Forum
|
Post a Follow-Up
---
| | | |
| --- | --- | --- |
| Quickly- Help me decide on grille pattern for new box bay DH wind | | |
Posted by
scrappy25
(
My Page
) on
Wed, Apr 16, 14 at 11:50
We are enlarging our eating area window from its current 78W x 48T to a 78W x 65T box bay window (two side by side double hungs). Current grille pattern is 4 lites wide by 2 lites tall for each pane (see picture). I have similar windows all through the back of the house with similar grille pattern.

First picture is existing 45 inch tall window in eating area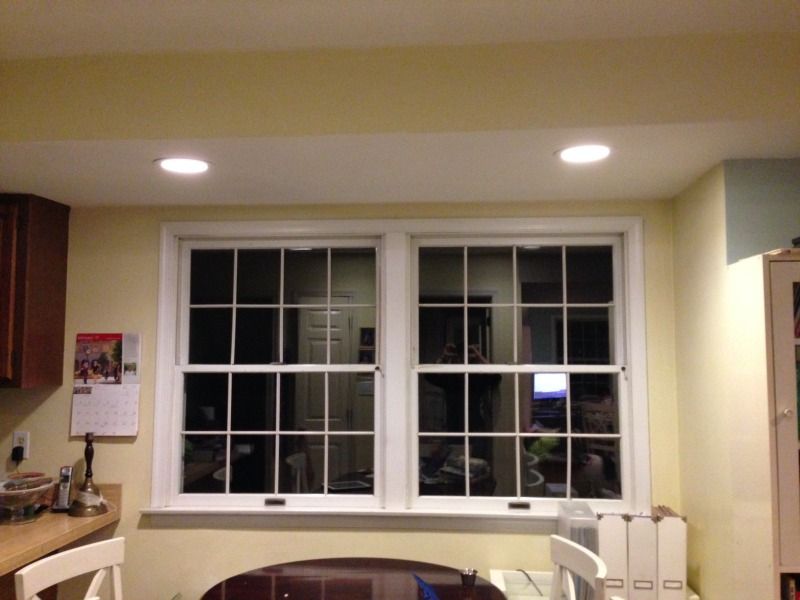 Second picture is existing 53 inch tall bedroom window. You can see that the lites are slightly taller since the window is slightly taller.

Since the new box window is being extended closer to the ground by about 18 inches and the existing spaces in the grilles (lites) on the eating area window are 10 inches tall, I thought that I should add one more row of lites in each pane for a pattern that is 4 lites wide by 3 lites tall.
My proposed grill pattern New window 65 inches tall

The window company (Sunrise) is questioning if that is too busy a pattern and suggested 3 lites wide by 2 lites tall pattern. While I agree that this is a more pleasing pattern, I am worried that the lites wil be much bigger than the other windows in the house.
Sunrise proposed grille pattern New window 65 inches tall

Since the new windows will have almost square glass areas (each pane about 33" W x 30" tall), I thought also about a 9 over 9 pattern ( 3 lites side, 3 lites tall for each pane).
Another possibility proposed grille patter 65 inches tall

Finally, should I just repeat the 4 lite wide 2 lite tall pattern and not worry about the size of the lites? The lites will then be a lot more vertical in orientation. I can't find an example of this pattern in an almost square pane.
Thanks for any help! They want my answer quickly so that the window can be made.
---
Follow-Up Postings:
| | | |
| --- | --- | --- |
| RE: Quickly- Help me decide on grille pattern for new box bay DH | | |
I'm looking at all my windows, and think 4wx2t will look good. The differences in pane size won't matter if the ratios are pleasing.
---
| | | |
| --- | --- | --- |
| RE: Quickly- Help me decide on grille pattern for new box bay DH | | |
I would find the first picture pattern too busy to be near a kitchen that also has lots of boxy items like cabinets. I'd stick to the nine lights in each window.
---
| | | |
| --- | --- | --- |
| RE: Quickly- Help me decide on grille pattern for new box bay DH | | |
thanks , I have decided on the 4 wide 2 tall (8 lites) since that is what my other windows have. The lites will be taller and skinnier thank the existing but it won't be as busy as the 4 wide 3 tall.
---
Post a Follow-Up
Please Note: Only registered members are able to post messages to this forum.
If you are a member, please log in.
If you aren't yet a member, join now!
---
Return to the Home Decorating & Design Forum
Information about Posting
You must be logged in to post a message. Once you are logged in, a posting window will appear at the bottom of the messages. If you are not a member, please register for an account.
Please review our Rules of Play before posting.
Posting is a two-step process. Once you have composed your message, you will be taken to the preview page. You will then have a chance to review your post, make changes and upload photos.
After posting your message, you may need to refresh the forum page in order to see it.
Before posting copyrighted material, please read about Copyright and Fair Use.
We have a strict no-advertising policy!
If you would like to practice posting or uploading photos, please visit our Test forum.
If you need assistance, please Contact Us and we will be happy to help.

Learn more about in-text links on this page here