Return to the Home Decorating & Design Forum
|
Post a Follow-Up
---
| | | |
| --- | --- | --- |
| Making the Most of an Unfortunate Room | | |
Posted by
grlwprls
(
My Page
) on
Mon, Apr 8, 13 at 10:49
...or in my case, a Series of Unfortunate Rooms (apologies to Lemony Snicket).

We have accomplished so much in our gardens to soften (eventually) the view of our neighbors' house and the first floor is really something *wonderful* despite its lack of accessories. So now, I am ready to turn my attention to the Series of Unfortunate Rooms that make up our second floor.

When we bought the house, I immediately sketched up a plan to restore what I assume to be the original 1920's second floor space plan. Three modest bedrooms and one hall bath. I had an architect draw up a plan for construction. But....

We simply can't afford to do construction right now, so I also need a plan to make the second floor work without renovations.

My first attention is the room my husband and I sleep in. It hardly rises to the level of "master suite" although it is attached to the gigantic bathroom by way of a hollow core sliding door. Yikes.

This room is 10.5' x 11'. With a king sized bed. And two walls have double windows (not centered). And the remaining wall has a 6' pair of French doors (that access the room that is trapped behind another bedroom...don't ask...it's all very complicated up there).

No. My husband won't give up the king sized bed. I'll admit, I like it too. Having said bed up against a bank of off center windows...ugh. That said, this is my marital bedroom and something better has to happen up there.

So we have no uninterrupted wall space (none of the other rooms do either in their current configurations). I don't know if I should go bold with color - something deep and restful like Kevin's Mount St. Anne with white shutters and a fluffy white bed and a custom bound wool sisal. Maybe a very dramatic (but obviously small) brass chandelier?

Our current iron bed has a headboard/footboard and I am starting to think that the footboard needs to go, so we'd need a new bed. In front of windows, does a solid headboard read better? If the windows are off center? We can't hang drapes to "fool the eye" because the windows die into the corner and the sliding door has to tuck in tight beside the window trim.

Any investment in the windows will carry over to a future renovation of that floor. I can't change the hollow sliding door because that would vanish if/when we renovate. Same with the French doors. Plus, until we renovate, those French doors are one of the access points to that trapped room.

So, what do you do with an awful, small room?
---
Follow-Up Postings:
| | | |
| --- | --- | --- |
| RE: Making the Most of an Unfortunate Room | | |
I can empatize my master bedroom is 9 feet wide and has a bay window to deal with. I am going to add a bump out to the house at some point to put the closet in but have other more needed projects that have to be done before construction can be done on the bedroom. My room looked best when I did the entire room in shades of cream , including the walls with different textures mixed in for interest. Really think about how you have to move around in the pace to get things in and out around that bed when your deciding on the bed placement.
This post was edited by madeyna on Mon, Apr 8, 13 at 12:15
---
| | | |
| --- | --- | --- |
| RE: Making the Most of an Unfortunate Room | | |
I would choose a simple window covering that is close or matching to whatever wall color you choose so that the window disappears as much as possible. I think your bedding choice will depend on how bold you go with your wall color, how much pattern or contrast you want in the room and your overall style. I tend to like to change out my bedding with the seasons, so I choose wall color and window treatments first, then coordinate my bedding with them. However, you might consider choosing the bedding first to act as your inspiration for a color palette, assuming that you are not going with all white or off-white bedding.
---
| | | |
| --- | --- | --- |
| RE: Making the Most of an Unfortunate Room | | |
Ah, I do have a picture. Excuse the unmade bed and lack of dust ruffle (it was being "spring cleaned").

The window on the wall immediately to the right of the bed is just as off center and we didn't like being on that wall because then our feet were facing the bathroom and neither of us could sleep.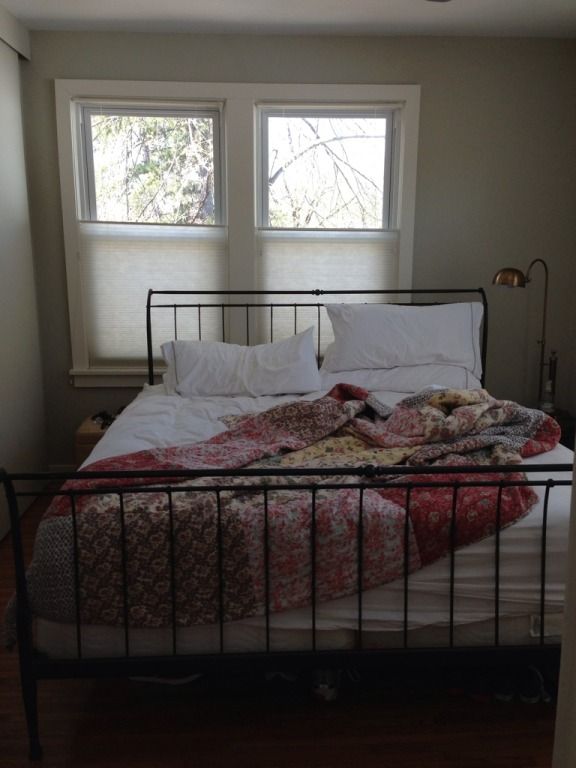 Yowza. I can't believe I'm posting this.
---
| | | |
| --- | --- | --- |
| RE: Making the Most of an Unfortunate Room | | |
What about curtains across the entire window wall? When closed, they would obscure the architecture completely. You could even use a spectacular fabric.
This post was edited by kitchendetective on Mon, Apr 8, 13 at 12:44
---
| | | |
| --- | --- | --- |
| RE: Making the Most of an Unfortunate Room | | |
I would hang curtains covering the entire wall aswell. i love your bed but I would not have a foot board in that room, well actually I do not have foot boards in any room for I am tall and like to sleep towards the bottom of my bed anyway:). The room will feel more open without so much bed framing in it.
---
| | | |
| --- | --- | --- |
| RE: Making the Most of an Unfortunate Room | | |
A vote for simple neutral fresh white walls to match the mouldings -- and create a cohesive look to the room.

Same idea with the window covering -- basic creamy white soft roman blinds. I can recommend adding a white-painted wood cornice above the windows (that would cover the top moulding) to "fool the eye" in thinking that the windows (and therefore the ceiling) are "taller" ... we did that here -- and it really works well ......

And if you do choose a new bed -- perhaps a cream or white headboard (whether painted or fabric-covered)

And I do like your lamp -- perhaps a pair of those -- one for each person? And white painted side tables -- of any sort that would fit! :)
---
| | | |
| --- | --- | --- |
| RE: Making the Most of an Unfortunate Room | | |