Return to the Home Decorating & Design Forum
|
Post a Follow-Up
---
| | | |
| --- | --- | --- |
| Help with dining space - competing inspirations | | |
Posted by
funkyart
(
My Page
) on
Sat, Apr 6, 13 at 10:38
I have three options for the dining area-- and I love each of them. I will move in a month and need to commit to one path and go for it. I keep flip flopping-- I think I've decided and then the next day, I lean the other direction. Would appreciate your thoughts.

Here's the room *before*--before removing furniture, carpet and painting.

After--the paint looks more bright yellow here though because it's still wet. Note the swirled ceiling (which I won't replace in the near future-- if ever. My grandfather did it by hand)

And a better representation of the color (BM Anjou Pear)

Rustic farmer's table with MCM chairs
This inspiration sets the tone I'd like for the house-- rustic, cottage with some mod touches. Love rich and interesting woods and I should be able to pick up a small (60" or so) antique table. I'd pair with knockoff (budget and all) eiffel chairs with wood legs (vs metal). My biggest fear here is with how sturdy the chairs are.

cozy coffee house space
I love the idea of a sitting area -- for coffee, laptopping, cookbook scouring, chatting with friends etc. I won't do a built in until I remodel the kitchen-- I've been planning a small sofa along the back wall but havent found "the right one" yet. An alternative to a sofa would be comfy upholstered chairs.
This isn't the best example of what I'd do since I am not considering a built in NOW. But the vibe is the same-- wood with fabrics, pillows, coziness. The truth is, I've all but abandoned this idea but I would love the space so I am sharing it.
Tiger Maple Table I Love
This is a table I love.. have loved a long time. I tend to think there are a few places you invest in a piece that moves you-- and a dining table would be one of those. My problem is, I don't know what I'd pair with the table. I can only imagine black windsor chairs. I can't picture the modern chairs with this-- not wishbones (which I also love), eiffel.. and I am not sure the tiger maple will work so well with the color I just painted the dining area. Did I inspire myself away from this table?
It's ok if I did-- this would be a much more expensive look. I just don't think I am completely ready to abandon it yet. I think the size and profile are perfect for a small room--it's striking without being visually heavy.
WWYD? This is also my primary entrance-- and where family will likely enter when the visit as it was my grandparents' primary entry. It's also connected to the 1960s kitchen (to be remodeled in 2014) and open to the living room.
---
Follow-Up Postings:
| | | |
| --- | --- | --- |
| RE: Help with dining space - competing inspirations | | |
I should add that the bf hates the idea of plastic chairs.. and I havent found vintage eames fiberglass chairs in good condition in budget. I could go completely vintage wood as in these inspirations.. I like this look and I think it would work well in the space but I havent found the set that would *make* the look as yet... and they don't evoke the same "style love" but I think they'd be very workable.
---
| | | |
| --- | --- | --- |
| RE: Help with dining space - competing inspirations | | |
I am no help but have to say I would give up any inspiration for that Tiger Maple table. It is beautiful. Good luck with your decisions.
---
| | | |
| --- | --- | --- |
| RE: Help with dining space - competing inspirations | | |
Cozy coffee house space by far. Full disclosure though, I do not like MCM and plastic at all.
---
| | | |
| --- | --- | --- |
| RE: Help with dining space - competing inspirations | | |
eandl, I lean the same way as you do-- i want to make the table work. I just don't know what to pair with it that won't look *too* traditional and work against the rest of the space. I'd like something with some interest-- but the table is pushing my budget so that also limits what I can spend on chairs.

My3dogs.. I used to dislike MCM also but I am really drawn to it lately. I love the lines, colors and textures.. I think they bring some fun to my style. (However, I am very selective about the pieces I like.)
---
| | | |
| --- | --- | --- |
| RE: Help with dining space - competing inspirations | | |
My vote is to get the table you love, whatever else you do.

Looking at the two top inspiration photos, this is what I see:

Angular wood table
Curvy contrasting color chairs--that top photo has two bentwood chairs along with the other ones.
Chairs with "non-traditional" legs

So, if you got a curvy oval/round wood table, I'd look for contrasting chairs. Maybe in metal, if you can't persuade BF to get plastic. And with angular lines, so you get the contrast between corners and curves. And, if possible, some sort of non-traditional chair legs. I'd also consider leather and metal chairs.
---
| | | |
| --- | --- | --- |
| RE: Help with dining space - competing inspirations | | |
I love the tiger wood table! I think you could pair it with a lovely bench, built-in one day:), and two curly maple sheraton chairs and your can marry an inspiration and a dream.
---
| | | |
| --- | --- | --- |
| RE: Help with dining space - competing inspirations | | |
While I take the bf's thoughts into consideration, it's my decision. That said, I am not super excited for plastic chairs either-- but I do like the architectural look of the eiffel chairs.

I'd get the tiger maple without hesitation if I could come up with a non traditional chair I think would work with it. Not sure I can picture metal.. definitely can't picture plastic. I need to scout out a photo or three.. but so far, I haven't found one that gives me the confidence to order the table.

What do you think of the tiger maple with the Anjou Pear? and the swirled ceiling?
---
| | | |
| --- | --- | --- |
| RE: Help with dining space - competing inspirations | | |
I also think windsor chairs would pair nicely with the tiger wood table but there are more modern style curly maple chairs to think about.
Here is a link that might be useful: lots of curly maple chair ideas
This post was edited by roarah on Sat, Apr 6, 13 at 11:43
---
| | | |
| --- | --- | --- |
| RE: Help with dining space - competing inspirations | | |
Oh Roahah-- those chairs are stunning!! They'd look lovely with the table.

But see? My style is so fickle.
---
| | | |
| --- | --- | --- |
| RE: Help with dining space - competing inspirations | | |
As pretty as the tiger maple is, it's definitely not cottage style.

With the shape of the room I think a farm style table works best, not just for the cottage feel but a rectangle shape won't make the room look cramped.

I would buy the table first then hit consignment stores, etc., to find the perfect chairs.

The plastic chairs reminds me of high school. lol
---
| | | |
| --- | --- | --- |
| RE: Help with dining space - competing inspirations | | |
Rustic farmhouse and/or cozy coffeehouse. I actually really like the delicate scale of the modern chairs, including Roarah's, and think they'd bring more distinction to your space than something more conventional. Especially if you're going to bring in the mass of a couch or other upholstered seating, which sounds like an absolutely wonderful idea.

That that gorgeous oval table has been special to you for a long time means something. If you do find chairs that feel right to you, you'll be on track to create a room that really makes you glad to walk in. And is a worthy first impression.

Even if you did have to go back to work on the walls. If the table didn't look quite right with 'Anjou Pear,' how about adjusting the hue with a translucent colored glaze?

Ceiling? The only thing "wrong" with it is the association with an "out" style. Those are big, bold swirls, too--a work of art. IMO, the best way to show it off would be to make them part of an eclectic room that combines different eras: your "rustic farmhouse" and "cozy coffeehouse" inspirations. Echo the swirls elsewhere in that room and others via fabric, art, lamp, rug, or? Even loosely with the curves of the table. Instead of a problem, an inspiration?
---
| | | |
| --- | --- | --- |
| RE: Help with dining space - competing inspirations | | |
I am having trouble leaving your first inspiration behind it just looks so cozy. Reading a book on a sofa in that corner ...................ahhh!! I think if you do that with the table you love so long as the wood on the chairs are the same color of wood if they have an upholstered seat I can see some of your bird print bringing things together. Either way I think once you narrow it down it will look great.
---
| | | |
| --- | --- | --- |
| RE: Help with dining space - competing inspirations | | |
I think if you can find a place to squeeze on in a van Goah print would look great in there. He did alot of paintings using swirls. His paintings read as classic because they are so reconizable but still modern and trendy and some are down right country like the the sunflower paintings. I don,t know of many painter that did such a good job of covering all the bases. Several small framed prints would look great on that back sidewall and really tie the swirls in while looking great with that table you love. I noticed the rooms you posted are really simple without alot of colors. Just simple nice things that have a elegance of thier own . Have you thought about very plain shaped painted black chairs and let the wall color table and and paintings set the tone for the room? I would go with no window dressing or super simple like wood blinds. I think you could find some reasonably priced simple chairs you would like on creigs ist. Something simple yet colorful in the center of the table. Maybe a clear glass container filled with big colorful balls.
---
| | | |
| --- | --- | --- |
| RE: Help with dining space - competing inspirations | | |
Oakley, when I say cottage, I don't mean storybook cottage or country cottage or even retail land's "country style".. I mean in the style of real world cottages where you'll find a collection of vintage and antique "stuff".. some painted, some not. Some rustic, some not... but I want to funk it up with some retro lines, colors and textiles. I think the anjou pear has a retro vibe to it.

I think many of you saw through all my inspirations to capture the common characteristics-- simple style, nontraditional chairs, not a lot of color. I can do that with any table. Doh.

SO, I think I am going to take the leap and order the table. It takes 8 weeks to make so that will give me time to find chairs. I could easily see black chairs with it and that's what I always imagined-- but that seems too traditional and expected.

Roarah, I love every chair you shared-- I especially like the schoolhouse style but wonder how comfortable they'd be for lazing at the table. Absolutely in love with the curly maple sheraton style -- I love how unusual they are.

I'd love to keep the bench/sofa idea but I am not sure the table lip will give enough room to do that.. but as I said, I wouldn't build anything until I do the kitchen remodel.

Thanks for the ideas.. at the very least, you've given me the confidence to order the table. I know it's what I want-- I've just been so stuck on chairs. Oh well, I'll figure it out. It's too late to go there today so I'll wait a week-- at which point, it will be my birthday week. Happy Birthday to me! :)

Oh, and sadly, CLBlakely, the bird print doesn't work with the anjou pear. It's much more yellow than the walls. I will likely go with natural linen shades or matchstick blinds. Again, keeping it simple.
---
| | | |
| --- | --- | --- |
| RE: Help with dining space - competing inspirations | | |
I found these chairs.. the legs are a little fussier than I'd wanted but I love the plain backs and the overall style. Of course, they arent modern at all but I could see reupholstering them in a modern black/ivory geometric -- or a buffalo check (though a part of me loves the elephants!).

These are closer to you Roarah than to me-- but they're in budget.
---
| | | |
| --- | --- | --- |
| RE: Help with dining space - competing inspirations | | |
Another vote to go with the table you love. And I immediately thought of Tolix chairs. Or their knock-off that you can find all over the place.
**
I could see something like this with the tiger eye table and those elephant chairs you found.

**
Or a dining banquette and parsons chairs.

This post was edited by geokid on Sat, Apr 6, 13 at 17:21
---
| | | |
| --- | --- | --- |
| RE: Help with dining space - competing inspirations | | |
oh I am happy you are going with the beautiful table! I really like your chair pick too! I also like a lot of the ones Geokid has posted. If you need me to check out the chairs or hold them for you let me know I would be happy to help:).
---
| | | |
| --- | --- | --- |
| RE: Help with dining space - competing inspirations | | |
I love the ceilings your grandfather did and am glad you plan on keeping them. You're very lucky, In addition to the personal history, your house looks like it's got charm.

I haven't read all the posts so sorry if this is a duplicate idea but what if you kept the table, re-stained or painted it and just got chairs that you liked? It looks to be the right size in scale and seems to sort of belong in the space.

When we were trying to replace our kitchen set, I had so much trouble finding something affordable that wasn't junk, something we both liked and would fit our smaller dining area. I ended up returning 3 different sets in 3 different styles and doing exactly what I'm suggesting with a table I was already attached to. Although it was a bit of a pain trying to find the right chairs, I eventually did and in the end, I saved a bundle of cash and still got the look I was going after.
---
| | | |
| --- | --- | --- |
| RE: Help with dining space - competing inspirations | | |
Beautiful table but what about practicality? Would you have to be extra careful with the tiger wood table when putting coffee mugs and glasses on it? Would you have to cover it up with a table cloth?
---
| | | |
| --- | --- | --- |
| RE: Help with dining space - competing inspirations | | |
nosoccermom, that's an excellent question... one I don't have an answer to. In my experience, especially with the furniture made in Lancaster County (which this is), it depends a great deal on the finish.

I am not one to have furniture you can't *use*. I wouldnt want a table cloth.. or a glass top. I'll have to check with some friends from the area. I think one of my friends has end tables from them.

Lukki.. I havent decided to keep the swirls but I won't make the decision to replace them easily. I opted to wait to paint it-- a decision I already regret. It does need to be painted but it will be a big job. I chose to wait in case I decided to remove the swirls... but they're growing on me as a style feature.

Not sure which table you are suggesting I paint. The one in the original photo was my grandmothers-- and way too low and visually heavy for me. I sold it. I wouldn't paint the tiger maple-- though I can get it with a painted base. I do love painted furniture but I think the room needs at least a wood table top.

I am going to research how durable the tiger maple is..
---
| | | |
| --- | --- | --- |
| RE: Help with dining space - competing inspirations | | |
It depends on the type finish they put on the table . Just tell them you want it done in a durable vinish that is heat and moisture resistant.
---
| | | |
| --- | --- | --- |
| RE: Help with dining space - competing inspirations | | |
Sorry, I misunderstood and thought the table was available. The chairs were what was making that set look heavy to me. In that case, the tiger maple is pretty and I can see why you like it. If there is a vote, I totally think you should keep the swirls. :c)
---
| | | |
| --- | --- | --- |
| RE: Help with dining space - competing inspirations | | |
Definitely make sure that the finish will be so that you can actually "use" the table.
Also, anybody notice that the table in the first of the inspiration pics has such a deep apron that only someone with super-flat thighs and short legs would be able to sit on these chairs at that table.
---
| | | |
| --- | --- | --- |
| RE: Help with dining space - competing inspirations | | |
Geokid, I hadn't thought of the tolix chairs.. I think I want something warmer but they could be an option. That's my question with the eiffel chair too. Are they all too cold? This is my only dining space so I think I need to keep that in mind. b

Roarah, what a sweet and generous offer! I so appreciate you. The seller doesn't offer shipping so I'll send a note but I'll keep looking.
---
| | | |
| --- | --- | --- |
| RE: Help with dining space - competing inspirations | | |
I wouldn't give up on the built in banquette idea--I think a corner unit would look great with your windows. I would look on CL/Ebay/consignment shops for a less expensive version of the table you love and put the money you save into having the banquette built. That you would give you cozy coffeehouse comfort you crave, and it would make it a lot easier to find a couple chairs to round it out. I love the tiger eye table, but it certainly doesn't read coffee house. I see a table like that in a combined living/dining/library , not a kitchen. Here's a link to table I found on my CL that would look amazing refinished. I think something like this would look great in your space.
Here is a link that might be useful: MCM table
---
| | | |
| --- | --- | --- |
| RE: Help with dining space - competing inspirations | | |
That table *would* look stunning when refinished.. I've spent a lot of time on CL and there are possibilities. The best options are 2 hr away but still, there are definitely options-- all are rectangular vs round.

I will build a banquet if it will work with the table-- but I won't do a built in until I remodel. That was the recommendation from this board and I think it makes sense.. what if I need "a few more inches" for the kitchen? Also, I'll want the banquet to coordinate with the cabinets. I would put a sofa in now if I found one that was the right height-- so far, I haven't (Sueb has the PB Marcel at her table and it does seem to be a good height. It's a little short for my use though)

Do you think the table is too "nice" for my kitchen/dining/living area? While handmade and (I think) a gorgeous wood, I see it as a pretty casual style and adaptable.. but I surely don't want to "overdo" the dining area. I do want it to look nice and inviting since it IS visible from both entries and a space I'll use a lot.
---
| | | |
| --- | --- | --- |
| RE: Help with dining space - competing inspirations | | |
I'd seriously like input on whether it's too "nice" for my space.. I don't want to overdo a room. It's a pricey table so I don't want to find out that it's too much after it arrives.
---
| | | |
| --- | --- | --- |
| RE: Help with dining space - competing inspirations | | |
Hi Funky, I keep trying to picture the tiger table but, no, it doesn't look casual or cozy to me. Not by itself, anyway. When I first saw it, I thought it was kind of formal and rather austere. I can understand loving that wood though. Maybe you can find a tiger table that has softer lines and is more relaxed? Since that's the feel you want in there. I love those first chairs roarah posted. Maybe with the right chairs the table would look more inviting. Does anything upholstered appeal to you? It also looks so perfect I'd always be afraid of breaking it in with scratches, nicks and dings. Precious is not fun.
---
| | | |
| --- | --- | --- |
| RE: Help with dining space - competing inspirations | | |
I totally agree, Snookums.. precious isnt fun. I am definitely not looking for precious. I do love the wood-- and I love that it isnt so visually heavy. Tiger oak claw foot tables are common here-- heavy wood grain, heavy legs, big claws-- that's not the look I am going for. I did purchase a craftsmanesque pedestal table-- it has issues and needs a repair (i bought it unassembled from CL and wasn't aware) but even when fixed, it's just too heavy for the space.

I do want it to be a cozy, inviting space-- but to me, that means airy and bright too. The room is very bright and I don't want to fill it up with heavy furniture legs, if that makes sense.

I think that's why I liked the antique farm tables with eiffel chairs. I have to admit, I am not keen on plastic chairs anymore than the bf is but the look is lighter-- in style, appearance and seriousness. THAT I like.. it's also the same thing I was going for with a sofa or banquet.

I am not opposed to upholstered chairs at all.. though I don't picture parsons chairs with the shaker table.

I can give up the shaker table if it's not going to work-- but then I fall back to the other inspiration which hasnt seemed to resonate with the crew here. I am going over to the house soon-- I'll spend some time looking at the space and see what it tells me it needs. This house has been good for telling me how it wants to be.
---
| | | |
| --- | --- | --- |
| RE: Help with dining space - competing inspirations | | |
You must have already seen the custom Amish pedestal tables on eBay? They are lighter than the antique ones with the claw foot legs. They can be made in quarter sawn oak. Looks to be 3 styles of pedestals. I don't think they're terribly heavy but maybe you will, looking at the examples you posted. I can picture them in a coffee house.

Here is the quarter sawn example: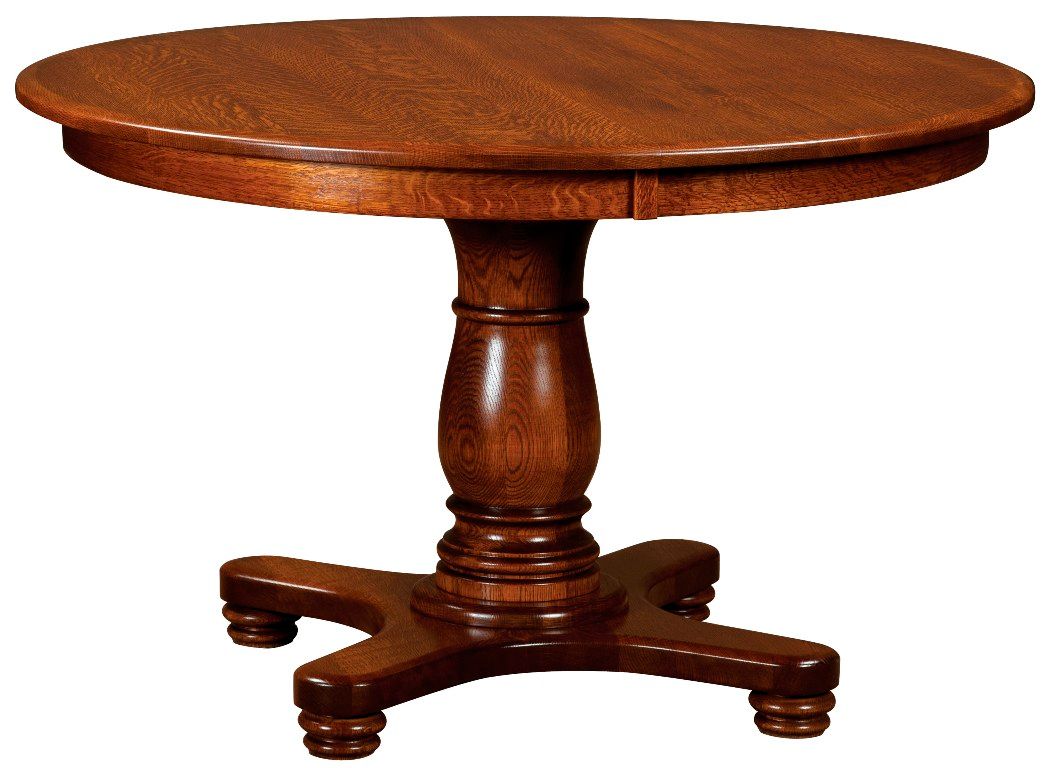 Curves:
Love that MCM brown and white kitchen you first posted. It is funny that there's no room for people's legs to fit under the table. I think I saw that on houzz and it was a real house (chairs have tickets on them).
As long as you're willing to spend, maybe pick a top and base you like from photographs and see if they can do a custom blend.
This post was edited by snookums2 on Sun, Apr 7, 13 at 14:39
---
| | | |
| --- | --- | --- |
| RE: Help with dining space - competing inspirations | | |
I will preface my opinion with I eat on grandma's china on an old walnut table with antique chairs every night so I may be a formal lover at heart, but I see that tiger table as very versatile with its simple lines and warm wood tone. The legs remind me of MCM teak tables. I have a table similar to the MCM table, mine was 30quid and painted green so I think 350 is high. When I stripped it iturned out to be walnut and probally from the 30s. I paired it with harpback chairs and I often pull it up to my windowseat when we need extra seating for holidays. I also believe I might have an old tiger wood desk that I have hot tea and coffee on daily and have used as a bar when entertaining and there is zero damage:).
---
| | | |
| --- | --- | --- |
| RE: Help with dining space - competing inspirations | | |
How about some really cheap Ikea chairs, and you could replace them if you tire of them or get your built-in...
---
| | | |
| --- | --- | --- |
| RE: Help with dining space - competing inspirations | | |
How about these, from Overstock. You could replace the seat cushion:
Or these, set of 4 for 200.00 (They have excellent reviews.)
Here is a link that might be useful: chair
---
| | | |
| --- | --- | --- |
| RE: Help with dining space - competing inspirations | | |
Sorry, funkyart, I missed the earlier post about your plans to remodel the kitchen. I understand now why building a banquet does not make sense.

I think it's a gorgeous table. Sounds like you would design your remodel around the table? I'm sure that it will be exquisite incorporated into the new space you design. Will the kitchen be open to the living area? Do you have a rough floorplan you could share? I don't think the table is too "nice" for daily use (and I'm sure it's built to withstand it), but if it were me, I wouldn't want to make that kind of investment in furniture until I had the right space to really showcase its beauty. And as someone in the midst of a never-ending kitchen/family room remodel of a 60s ranch, I know first hand how drastically plans can change due to unanticipated plans. I purchased some furniture prior to the remodel that I thought for sure would be perfect only to have some shifts in the style direction of the remodel. I wish I had waited!
---
| | | |
| --- | --- | --- |
| RE: Help with dining space - competing inspirations | | |
Visually I really like your first inspiration. However, functionally, I would love to have a sofa/loveseat with a table in front of it. Why not both? You could do a slim loveseat with a farmhouse table and some MCM-style chairs.

These Room & Board chairs are fairly affordable ($79) and are crafted from molded plywood so your BF won't be bothered by plastic.

CB2 has a variety of modern chairs ranging from $90-150.
---
| | | |
| --- | --- | --- |
| RE: Help with dining space - competing inspirations | | |
I think the tiger wood table is gorgeous....sigh....how will you feel down the road if you DON'T have that one in your life? Also, I love Rosie's post, to play up the swirls by echoing that motif elsewhere!
---
| | | |
| --- | --- | --- |
| RE: Help with dining space - competing inspirations | | |
WMA, I think you make a great point-- as did a friend who stopped in to see the house this weekend. I don't know exactly what I'll do with the kitchen remodel-- I'd like to work around the table as Peegee suggested but I can't be sure I will. I also don't know yet how much of my furniture I'll replace. The whole house could go a different direction and since it's small and all connected, it all needs to work together.

So for now.. I wait.

The tiger maple will be available in a year if that's still the one that makes my heart jump.. and antique farm tables are surely not hard to find if I decide to stick with the first inspiration. I'll just take a chill pill and.. waaaaaaaaaait. :)

Thank you all!
---
| | | |
| --- | --- | --- |
| RE: Help with dining space - competing inspirations | | |
Wow, good for you for being patient. If you come back in a year and look at this post, my vote is tiger maple and tolix.

: )
---
| | | |
| --- | --- | --- |
| RE: Help with dining space - competing inspirations | | |
A new store down the street from me has these two paired together in the window, and it's pretty cool and would look great in your space.
http://www.cellaluxuria.com/products/dining/dining-tables/vr4-district-eight-dining-table
http://www.cellaluxuria.com/products/dining/dining-seating/alban-chair
And they have other options, too, that seem like what you're looking for, although I have no idea what the quality or prices are like. Pal may know since she's likely more familiar with the local stores here and the brands advertised on the web site.
---
| | | |
| --- | --- | --- |
| RE: Help with dining space - competing inspirations | | |
Kevin, that look is similar to my second love-- the table is different but has similar lines.. the Matthew Hilton extension table. I agree, I think they'd look great in the space but the MH is a little big for the space available now.. that may change with the kitchen remodel (yet another reason to wait)

I definitely like the slightly industrial look-- but in a small house, it needs to flow and work with the two spaces it connects to.

Mtn.. trust me, I need to work to find that patience. :)
---
| | | |
| --- | --- | --- |
| RE: Help with dining space - competing inspirations | | |
love the tiger maple table... but not loving the plastic or metal chairs... i like their style ok, but they do not look comfortable... i would want at least a comfy upholstered seat. i sit at the kitchen table a fair amt i guess... to eat meals, read the paper, sometimes read a book, etc (i have wood chairs, but they are very comfortable for wood chairs... and the next kitchen chairs i get will be upholstered- i think!)
i don't think i'd like the wood chairs with the elephant cushioned seats with the tiger maple table tho...
---
Post a Follow-Up
Please Note: Only registered members are able to post messages to this forum.
If you are a member, please log in.
If you aren't yet a member, join now!
---
Return to the Home Decorating & Design Forum
Information about Posting
You must be logged in to post a message. Once you are logged in, a posting window will appear at the bottom of the messages. If you are not a member, please register for an account.
Please review our Rules of Play before posting.
Posting is a two-step process. Once you have composed your message, you will be taken to the preview page. You will then have a chance to review your post, make changes and upload photos.
After posting your message, you may need to refresh the forum page in order to see it.
Before posting copyrighted material, please read about Copyright and Fair Use.
We have a strict no-advertising policy!
If you would like to practice posting or uploading photos, please visit our Test forum.
If you need assistance, please Contact Us and we will be happy to help.

Learn more about in-text links on this page here