Return to the Home Decorating Forum
|
Post a Follow-Up
---
| | | |
| --- | --- | --- |
| Any photos of Bay Window?? | | |
Posted by
spy10021
(
My Page
) on
Fri, Apr 25, 08 at 10:31
I know some of you have great portfolios of photos of interiors. Anyone have any photos of BAY WINDOWS areas?

Specifically, I'm looking for full bays (not the 1/2 ones where only the window justs out) because I hopeing to add a bay window where I could increase a room's square footage a tad.

Thank you!

Spy
---
Follow-Up Postings:
| | | |
| --- | --- | --- |
| RE: Any photos of Bay Window?? | | |
You want a floor bay? How big and what room? Is it the front of the house or the back of the house?
We were going to put in a bay in our den, but then I dreamed up a box window instead. Gave us a lot more room, added 3 foot deep to 10 foot long in the room.
Joann
---
| | | |
| --- | --- | --- |
| RE: Any photos of Bay Window?? | | |
We have a full bay in our living room. Not huge, but big enough to allow a console table without eating up any floor space.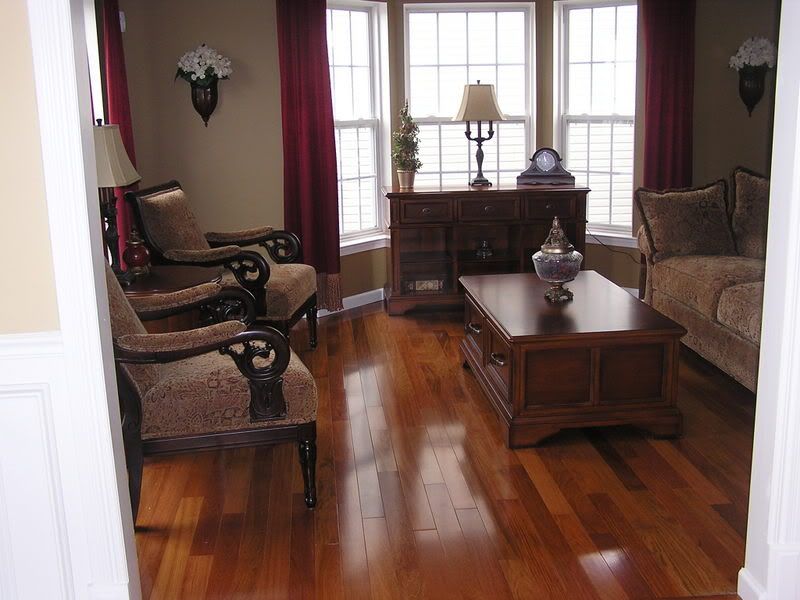 ---
| | | |
| --- | --- | --- |
| RE: Any photos of Bay Window?? | | |
When the builder was constructing my house (builder's spec), his wife stopped by one day and requested that bay windows be added to the kitchen. The original plans called for the wall to cut straight across. Instead, the frame carpenter built out an actual bay, which is great for extra space. I realize that this area won't win any decorating awards, but I have placed my cookie jar collection and my plants in this space. In the photos below, you can see the bay area when my new flooring was being installed and a recent photo of the whole area. HTH --Anne
---
| | | |
| --- | --- | --- |
| RE: Any photos of Bay Window?? | | |
Cliff and Joanne - My space of the bay is fairly large (currently a 12 ft wide window). I was envisioning a 3-4 deep bay with windows going low (maybe 20" off floor). Do ou have any photos of your box window?

Dixido - thanks for the photo! By the way - great floors.
---
| | | |
| --- | --- | --- |
| My current window | | |
By the way - this bay would be in the front of my house (cape cod style 1 1/2 story) in the living room. Here's a link to the window I'm envisioning bumping out. (the long one) FYI - the window is MUCH longer than it appears in the photo
Here is a link that might be useful: My current window
---
| | | |
| --- | --- | --- |
| RE: Any photos of Bay Window?? | | |
Re post at 13:41--nevermind.
---
| | | |
| --- | --- | --- |
| RE: Any photos of Bay Window?? | | |
I'm not sure this will be of any help to you because we have not decorated this room at all but I have a window like you are considering. Ours is 11 ft wide. We also have a Cape Cod style house so here's a photo so you can see how the window looks from the outside. I think it would work well in your space.
Inside view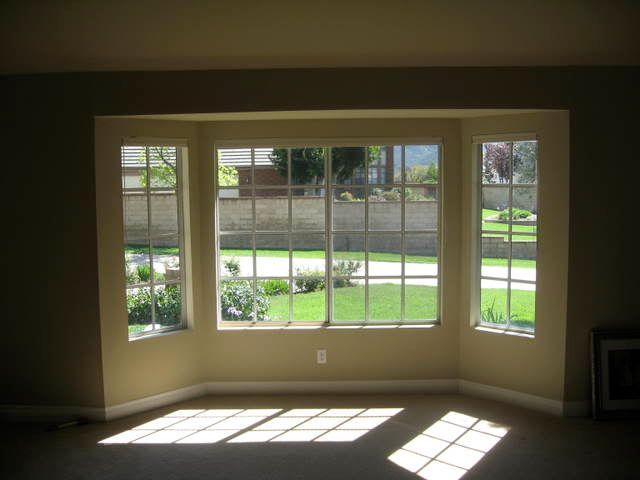 View of the front of the house- Bay window

---
| | | |
| --- | --- | --- |
| RE: Any photos of Bay Window?? | | |
Dixiedo, how gorgeous. What can you tell us about your beautiful floor?
---
| | | |
| --- | --- | --- |
| RE: Any photos of Bay Window?? | | |
California dreamer – Coincidentally, I had saved the photo of the interior of the window from another thread : )

I'm so glad you included the exterior as I've been wondering how that would look.

Thank you !
---
| | | |
| --- | --- | --- |
| RE: Any photos of Bay Window?? | | |
Spy, We have an 8 foot bay window in the breakfast room that we put on in 1985. The 45 degree angle of the side windows takes up a lot of space. In our den I wanted to replace the three crank out casement windows with a bay, so that I could put the sofa into it. Hubby kept telling me I wasn't going to pick up enough space with a bay, so back to the drawing board I went. Our den is only 12 foot wide and I wanted the sofa set back into the room, so I designed a box window, which gives us the entire width of 10 foot. I also included side windows in my design. The box window give you the maximum room (width wise) and is very dramatic...As my daughter said when she first saw it, "it looks like a display window in the Museum of natural history" :)

My hubby did all the work himself, we started July 2nd, 4 years ago. It took about 4 months to totally complete inside and outside, the installation involved taking apart our deck and putting it back again.

After the window was installed there was a space to the left, and lucky for me, one of the casement windows we took out fit the space...it made in by a matter of an inch or so :)

this is the right inside before the inside was finished.
This is the same side with the inside finished..

this is the left side, the window on the end was an afterthought...It looks like a double window because the wall next to the fireplace is mirrored.
the left side, again before the inside was finished.

View from outside
all four windows in the box operate, just the center window is stationary...Hubby ordered all the windows separate and installed the center window and the two windows flanking the center window separately. They are Anderson windows and can be ordered that way...This is the way he did the kitchen bay, it's much easier to handle that way.
---
| | | |
| --- | --- | --- |
| RE: Any photos of Bay Window?? | | |
Joann - the photos were great - thank you for sharing. That is something that I had never thought of. You are correct, the angles sides of the bay do cut into the space (although I may use a wider angle than 45 degrees)

Now I have something else to consider!!
---
| | | |
| --- | --- | --- |
| RE: Any photos of Bay Window?? more | | |
Spy, I forgot I have a an 11 foot box window in our Living room...It is only 15" deep though, I have the drapes all the way to the front, so it doesn't look deep in this photo... I just saw your photo now, as we were posting at the same time, and that's what reminded me that our LR window is a box window. This boxed window is original to the house, we just changed the windows.
I can never get a good shot of this window, because it's in the front of the house southern exposure, and I'm always shooting into the sun.
---
| | | |
| --- | --- | --- |
| RE: Any photos of Bay Window?? | | |
| | | |
| --- | --- | --- |
| RE: Any photos of Bay Window?? | | |
Mine is about 3 ft deep and 8 ft wide. We're using it as built in seating in the kitchen. I only have in progress pics, but to give you an idea:
A 42" table fits in quite comfortably.
I have the same window upstairs which we will use to recess the king sized bed into. Behind the bed we'll have a custom, deep window box built that will become the headboard of the bed and be used to house linen's on a rod system (looks like a ladder laying down that linen's drape over...with a lid to keep the dust off). Then on each side of the bay we'll have a nightstand. This way, the pillow area will have a great view of the lake (on both sides of the house and the northern lights.
---
| | | |
| --- | --- | --- |
| RE: Any photos of Bay Window?? | | |
IGLOO!!!! That view!!!!!


Beautiful!
---
| | | |
| --- | --- | --- |
| RE: Any photos of Bay Window?? | | |
igloochic - Can't wait to see your finished home. The lake view is gorgeous!

I don't understand what you plan to do with your bedroom, though.

I wanted so badly to do a banquet in our breakfast nook, but DH didn't want to. Maybe next house.
---
| | | |
| --- | --- | --- |
| RE: Any photos of Bay Window?? | | |
| | | |
| --- | --- | --- |
| RE: Any photos of Bay Window?? | | |
newhomebuilder, what color green is that? I am looking for a green to go in my Morning Room and Kitchen. It looks really nice.
---
| | | |
| --- | --- | --- |
| RE: Any photos of Bay Window?? | | |
Heh heh you could see a view through those dirty windows? We do kind of like it here. And in the master suite that view is five levels up above the lake...just gorgeous and very private.

How to describe that though...basically it's like a window seat, straight across the "bent" areas of the wall (so from window two through four in the above pic) built up to about 4' high. WOod on top, with the ability to open to the custom storage. The platform bed will tuck right up to it so it will look like it's part of the bed. We'll see how this works when the carpenter actually gets to work on it!

I've NEVER seen it anywhere. I have posted here more than once asking for pics of beds in bay windows and gotten nothing. I have also searched the net and not found squat, so maybe it's a first, we'll just have to see. I'm still not sure how I'll handle window treatments (necessary in the summer when it's light 24/7) but I'm really looking forward to laying in bed in the winter and watching the northern lights from the comfy bed :)
---
| | | |
| --- | --- | --- |
| RE: Any photos of Bay Window?? | | |
Can't wait!

ambitiousbeginner - That's BM Wethersfield Moss in my dining room. It has a touch of blue. Here is a better photo. Ignore the room, first day of move.
---
| | | |
| --- | --- | --- |
| RE: Any photos of Bay Window?? | | |
Thanks you so much newhomebuilder. I just love that color. I plan to put this in my morning room but since you say it has a touch of blue, I am wondering if it will compliment my color in my family room which is BM Golden Tan (2152-40) and I have BM Golden Straw (2152-50) between the moulding. I am going to post some pictures and get your thoughts of whether or not this green will compliment the current colors I have in my family room. If that is ok with you. May take me a while because I'm still learning how to upload and post to this site :-)
---
| | | |
| --- | --- | --- |
| RE: Any photos of Bay Window?? | | |
Everyone - thanks so much for all your photos!!!!!
Spy
---
| | | |
| --- | --- | --- |
| RE: Any photos of Bay Window?? | | |
I'm moving into a new home and have a small bay window in the breakfast nook. Hoped to tuck a table in the bay, but room is too narrow and long, so need to center larger table instead. Now don't know what to do with bay. Anyone have any ideas? Don't know if window seat would work in breakfast nook, and not a big plant person. Any help would be soooo appreciated, tks :)
---
Post a Follow-Up
Please Note: Only registered members are able to post messages to this forum.
If you are a member, please log in.
If you aren't yet a member, join now!
---
Return to the Home Decorating Forum
Information about Posting
You must be logged in to post a message. Once you are logged in, a posting window will appear at the bottom of the messages. If you are not a member, please register for an account.
Please review our Rules of Play before posting.
Posting is a two-step process. Once you have composed your message, you will be taken to the preview page. You will then have a chance to review your post, make changes and upload photos.
After posting your message, you may need to refresh the forum page in order to see it.
Before posting copyrighted material, please read about Copyright and Fair Use.
We have a strict no-advertising policy!
If you would like to practice posting or uploading photos, please visit our Test forum.
If you need assistance, please Contact Us and we will be happy to help.

Learn more about in-text links on this page here