Return to the Home Decorating Forum
|
Post a Follow-Up
---
| | | |
| --- | --- | --- |
| Pictures of short (sill or apron length) curtains? | | |
Posted by
lkplatow
(
My Page
) on
Tue, Apr 28, 09 at 10:04
We are in the middle of redoing our master bedroom. I have this vision of using short breezy curtains made of something like dotted swiss. I guess short curtains aren't very popular, because I can't find many pics of anything but floor-length curtains in my books or magazines.

Does anyone have or have pictures of short sill or apron length curtains? I'm not sure whether to mount them on a tension rod inside the window itself, on a rod mounted on the trim, or on a rod above the trim. I'm also not sure whether to go sill or apron length and whether to use the rod pocket or rings or something else. I'm just looking for ideas - I have a big picture vision but apparently it's pretty sketchy on the details, LOL!
---
Follow-Up Postings:
| | | |
| --- | --- | --- |
| RE: Pictures of short (sill or apron length) curtains? | | |
Here's a photo from our last house. It was a Classic Pooh themed room in a 1914 bungalow, so it had tall windows with large, simple window trim. I think the trim really helped the look. I just sewed a simple rod pocket for the curtains and shirred them on tension rods inside the window. I used a simple D rod for the valance to cover the curtain header. (The picture was taken sitting on the bed, so the wood canopy of the bed obscures the wall above the windows; and please ignore the leaves on the floor as I had just moved the houseplants out to the porch after winter).

Sill length was good for a kids' room since I did't have to worry about them getting stepped or pulled on, but I don't know that I've seen them used much outside of that. I generally prefer the longer lines of floor length (or almost floor length) curtains, which can still seem light and breezy if the fabric is soft, sheer, and unlined. They make the room look taller and more elegant, I think.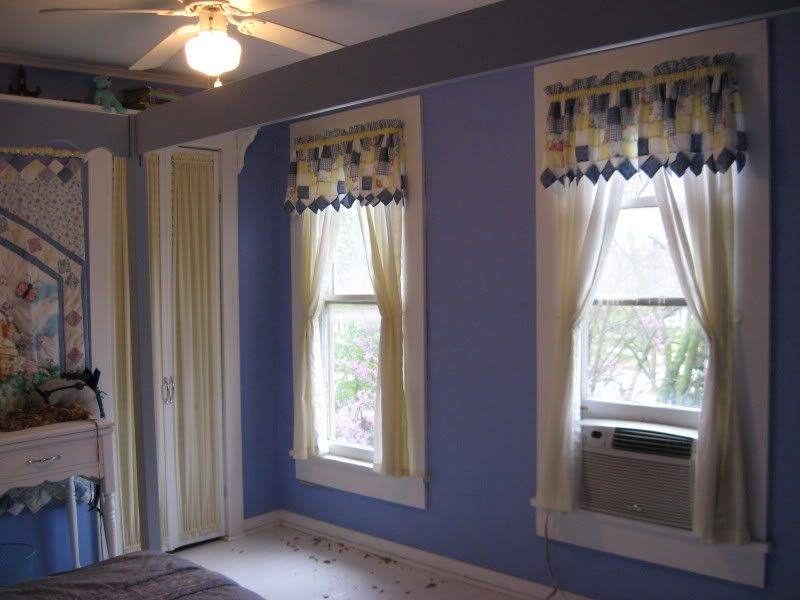 ---
Post a Follow-Up
Please Note: Only registered members are able to post messages to this forum.
If you are a member, please log in.
If you aren't yet a member, join now!
---
Return to the Home Decorating Forum
Information about Posting
You must be logged in to post a message. Once you are logged in, a posting window will appear at the bottom of the messages. If you are not a member, please register for an account.
Please review our Rules of Play before posting.
Posting is a two-step process. Once you have composed your message, you will be taken to the preview page. You will then have a chance to review your post, make changes and upload photos.
After posting your message, you may need to refresh the forum page in order to see it.
Before posting copyrighted material, please read about Copyright and Fair Use.
We have a strict no-advertising policy!
If you would like to practice posting or uploading photos, please visit our Test forum.
If you need assistance, please Contact Us and we will be happy to help.

Learn more about in-text links on this page here