Return to the Home Decorating Forum
|
Post a Follow-Up
---
| | | |
| --- | --- | --- |
| Why are vinyl siding choices so unattractive? | | |
Posted by
pamelas_kitchen
(
My Page
) on
Thu, Apr 22, 10 at 10:03
Long story short, I don't like vinyl siding either but it looks like that's the way it's got to be. So now I have to choose from about 10 colors that could all be called "putty," some that are Miami Beach (bright yellow, pink, baby blue), some darks, and a few mid-range colors. I think I've settled on Sandpiper, though Cypress might be a contender. It's really hard to decide what a house would look like based on a chip, but could you give me any help with what might end up looking pretty? Here's my house, and I've linked the colors. We're thinking of going with a shake-style vinyl shingle.
Here is a link that might be useful: Siding colors
---
Follow-Up Postings:
| | | |
| --- | --- | --- |
| RE: Why are vinyl siding choices so unattractive? | | |
I have a Certainteed CD that I got from our contractor (he burned a copy free for me, it's given to them free by Certainteed. That's what I was told, anyway.)

It helped me tremendously. You just take a photo of your house and using the software, outline areas and apply the siding. It takes a little bit of playing with, but it's not hard. It offers a very wide variety of their styles and colors.

I'd be glad to do it for you, but my CD drawer won't open, and you need to use the CD when using software to access styles.

Second best choice might be to see it on a sample house. At Certainteed's site you linked to, click on Idea Center at the top, then next screen "Visualize your home". You can pick a style home as similar to yours as possible, hopefully. (Why they don't have a photo import feature is beyond me.)
---
| | | |
| --- | --- | --- |
| RE: Why are vinyl siding choices so unattractive? | | |
I'm not understanding the issue - you say there are limited choices but your link has 31. None of those may be exactly what you had in mind but you don't get limitless choices as you do with paint - just the nature of the beast. There are other companies out there (we used Nailite) and the link below has color options for the 4 styles of shake in the left rail. Some companies will do custom colors - for an upcharge, of course. We had Nailite use a now discontinued color from another company - sent them a sample and they matched it. All told we looked at vinyl shakes from a half dozen different companies, colors varied, shake style and quality varied and very importantly, corners varied. Give yourself time to really look into the product, don't just choose by color
Here is a link that might be useful: Nailite
---
| | | |
| --- | --- | --- |
| RE: photoshopping | | |
oops - forgot to add that there are wonderful people on this board who can do siding virtuals for you with photos of your house. But you'll need to start with a larger, better photo, straight on, not angled and more level, if you can. Stand on a ladder if you need to to get more level with your house so you're not looking up. Then repost and ask for help - when the photoshoppers here have time to help they always seem to come up with amazing things. I would NEVER have been able to comfortably commit to a color without that help.
---
| | | |
| --- | --- | --- |
| RE: Why are vinyl siding choices so unattractive? | | |
Why do you need to reside your house with plastic??
If what you currently have is wood, I can't think of any reason why it couldn't be repaired....unless it's an insulation issue.
Think about it....your house looks to be about 60 years old....and I'll bet the siding is the original wood....and you are thinking of replacing it with vinyl that is guaranteed for 20 years? Doesn't make sense to me.
Linda C
---
| | | |
| --- | --- | --- |
| RE: Why are vinyl siding choices so unattractive? | | |
moonshadow, thank you--what color did you go with? I have tried the visualize your home part, but did not know about the CD. I will talk to my contractor.

dlm2000, yes, I know there are a bunch of colors, but I have walked around my neighborhood which is older homes and seen some of the beige-y colors and I just don't like them that much. I had actually picked a paint color (copied from zipdee, a poster here with a great cottage-house) and was so happy, but it looks like paint won't work.

lindac, I know, I know. Plastic. Lasts longer than 20 years though, we know part of the issue with plastic is that it never goes away. My house is nearly 100 years old and the original wood is showing its age. Repair, replace, repaint (and then paint again) is turning out to be way more expensive than I could have dreamed. Also we are coming to the part of life where we don't want maintenance issues. Old-home lovers absolutely have a point about originality and aesthetics, but I have been around and looked around and the truth is plastic lasts longer than a paint job, and the wood siding here is in seriously rough shape.
---
| | | |
| --- | --- | --- |
| RE: Why are vinyl siding choices so unattractive? | | |
dlm, you are right, I have not looked at other companies. Don't know why I feel constricted by the contractor's choice, will ask about Nailite. Do you have a picture of your house.

I will take another picture of my house without snow, the roof is actually brown which is another reason why some of the brownish/tannish colors are not striking me as so good.
---
| | | |
| --- | --- | --- |
| RE: Why are vinyl siding choices so unattractive? | | |
Vinyl siding doesn't have a great reputation. It is known to promote the growth of mold between the house and the siding. It can also warp in heat. It cannot mimic the look of your original siding either.

My house is also over a hundred years old and I cringe at the thought of you using vinyl. I know that sometimes we have to make less than ideal choices, but I hope you do some research before proceeding. Hardiboard would be a much better choice if you really have to replace the original siding. I our area, replacing the original siding with vinly would negatively affect the resale value of our home.
Diane
---
| | | |
| --- | --- | --- |
| RE: Why are vinyl siding choices so unattractive? | | |
powermuffin, the cost to replace or reside with fiber cement was unbelievable. My first choice was to repair and paint, the second, to side with hardiplank fiber cement. After getting shocking quotes, I am forced to look at the vinyl option. I cannot really understand why costs are so high but they are (well that is not true. I was told that lead-abatement requirements plus repairs would make painting costs really high, and then I would need to paint again of course. And the cost for residing with fiber cement was over $50,000, before we stopped adding on the things we wanted to do. And fiber cement needs to be painted at some point too, even if it is years down the road).

Something must be done and in a perfect world I'd put cedar shakes out. But the financial and practical realities are leading me to vinyl. If someone can point to a non-DIY option that is not vinyl, I am all ears, believe me. I love paint, but I am not going to be doing this work myself.
---
| | | |
| --- | --- | --- |
| RE: Why are vinyl siding choices so unattractive? | | |
Soapbox time.
Vinyl siding can be recycled. Every piece of siding that we took off when we put on the vinyl shake was recycled.
Vinyl siding should NOT be installed over the existing siding and if someone allows a contractor to do that they deserve the problems they get. The siding shouldn't have a bad reputation from that - the installer should.
ANY product that is installed incorrectly can have problems.
Use the wrong mortar mix with brick and it will fail.
Apply stucco without expansion joints and it will crack and fail.
Install Hardie over an old, not perfectly flat sheathing and it will look wavy. Install Hardie with the wrong nails and you just voided your warranty. There are problems with cupping, delamination, paint failure, water infiltration..... it's a great product but is NOT a perfect product despite a gangbusters press machine.
Paint, even if applied to a pristine surface with the utmost care can have an extremely short life simply due to the elements. The labor to properly prep for painting is costly and depending on climate, exposure and a lot of other variables, may not last more than 5 years.
I'm not out to convert anyone who doesn't care for vinyl - if you don't like it don't use it.

pamelas I live in a 80 year old house that had beautiful wood siding. We made the choice to go with vinyl almost 20 years ago due to cost to restore then maintain the original. The cost to try and duplicate those non standard clapboards for an addition we planned was astronomical. Ultimately we chose vinyl and it's been a good choice for us. Now that we've resided with the vinyl shake it's been an even better choice - better looking and even easier to maintain. I have tons of in progress pics if you need to see anything. If your contractor is trying to limit you to one product, find out why - there may be compelling reasons to do so. But don't be afraid to talk to someone else who may be familiar with other products. What part of the country are you in? I'm guessing NE because of your lead abatement issues.

Here's what we started with - you can't see the rot or peeling paint.

First siding- a narrow clapboard. Please don't ask me what I was smoking when I picked that color. I didn't want boring!

I have snow pictures, too - close shot

And distance

---
| | | |
| --- | --- | --- |
| RE: Why are vinyl siding choices so unattractive? | | |
dlm--Phew. I think your house looks great. Quick side note--contractor IS talking about putting the vinyl directly over the wood--exactly as is done here in most of the neighborhood. One of the reasons the fiber cement was so expensive was the cost to remove the wood. Now I am worried.

I am in the Midwest. Lead-abatement rules are from the EPA--so national, being implemented here, now.
---
| | | |
| --- | --- | --- |
| RE: Why are vinyl siding choices so unattractive? | | |
Several years ago I had to make the same hated decision. We went with Certainteed's Monogram Rough in cypress. I don't love it but my husband does and since he was the once stuck with the maintenance that's the way it goes. I don't hate it either though. We had to take out a home equity line to pay for it and keeping cost down was important.

It's funny that I'm reading your post today because just last night I came home from work and asked my husband to walk down the street to look at a neighbor's home. I'm still trying to puzzle out why their house is more attractive to my eye than my own. They have siding as well and we had spoken with them about theirs before we went ahead. I like how their house looks. What they have are upgrades that I don't, and I can't find it online to give you the specifics, are a color that is three shades in one (not just plain old green) and the longer pieces. I can see all those cuts when I look at my house (funny, I don't see them on Certainteed's website)(and now that I've added my photos to this message I don't see them there either) and my husband thinks I'm nuts.

I keep telling myself that we just couldn't afford the upgrades but I so wish I'd let my unpractical side rule that decision.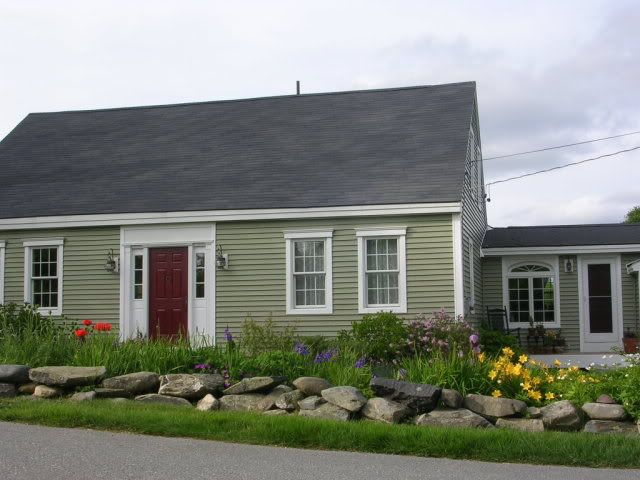 ---
| | | |
| --- | --- | --- |
| RE: Why are vinyl siding choices so unattractive? | | |
Sorriso, your house is DARLING! I love it!

Dlm2000, the shakes look fantastic! Beautiful home!

Pamelas_kitchen, did you get multiple quotes for wood/fiber cement? That sounds really high. If you really are stuck with vinyl, the shakes do seem like your best option. What colors are your neighbors' houses? That would make a difference which color I chose, if it were me.
---
| | | |
| --- | --- | --- |
| RE: Why are vinyl siding choices so unattractive? | | |
sorriso your house is beautiful - love that color. Yup there are lot's of ways to upgrade the look and they do add up fast. One of the things I love about shake is the seams are totally hidden.

thanks hoosiergirl - we're very happy with it.

pamalas kitchen I hope my little rant didn't throw you off! It's tiresome defending a choice that is made for reasons that are personal to each homeowner. Vinyl is a very uncommon choice where we live - there are no subdivisions, only old housing stock or one at a time new builds (which lean heavily to stone) from tear downs or subdivided estate property. We wrestled with the choice but in the end it was the right one for us. Some things we learned after doing this twice; your house, my house and sorriso's house all have substantial window and door trim - that's a huge plus and goes a long way towards making the look. You could even beef up your door trim a bit so it's in scale with your window trim. You have nice large fascia boards and overhangs - another plus. Don't let your roof color throw you - unless it's a really strong red/brown, you have lots of options. Can you get a shot that shows it so we can see that color? Makes it easier to make suggestions. Here's a link to another company, Foundry - they do a weathered siding that has an applied layer over a solid color - looked great in the samples we had but it hadn't been around in our climate long enough that we felt confident to use it. Each company I contacted got the same story from me - I'd like to use your product but unless I can see larger pieces of the shakes and the actual corner pieces we won't consider it. Every company sent me at least a 4' sample and most sent 8' x 2 courses in one or 2 colors that I had narrowed down. Made it a lot easier to figure out.
Here is a link that might be useful: Foundry Siding
---
| | | |
| --- | --- | --- |
| RE: Why are vinyl siding choices so unattractive? | | |
What are you going to do with the wood trim around your windows, doors, roof line of the gable and porch?
---
| | | |
| --- | --- | --- |
| RE: Why are vinyl siding choices so unattractive? | | |
Our first house, built in 1927, bought by us in 1972, looked just like yours, Pamelaskitchen. I was determined to keep it up. For 23 years I painted, replaced bad boards, scraped and painted again. And then we gave up and had the soffits and eaves covered. That helped a lot with the scraping and replacing, leaving only the clapboards needing paint.....every few years, whether we had it painted by pros or I did it myself using the best paint available (I figured I'd save on labor and spend on paint.)

I drove past the house a few years ago. Somebody has covered the house with vinyl or aluminum siding, and it looks great. Don't feel bad about having it sided with vinyl.
---
| | | |
| --- | --- | --- |
| OOPS! I 'Miswrote' | | |
I wrote For 23 years I painted....... I should have written "for 15 years...." We lived in the house for 23 years.

Sherry
---
| | | |
| --- | --- | --- |
| RE: Why are vinyl siding choices so unattractive? | | |
Thank you for the compliments hoosiergirl and dlm2000.

pamelas_kitchen, dlm2000 brings up a good point and one which I had forgotten. I did pay for wider trim and the trim above the front four windows...forgot about that, and it does make a BIG difference.

We need to re-roof over the garage and the mudroom (where the side door is). We're considering doing the whole thing over with a better (looking) roof on the whole house instead of putting the same basic asphalt on just those areas.
---
| | | |
| --- | --- | --- |
| RE: Why are vinyl siding choices so unattractive? | | |
Hi,
When we bought our 100 year old house it had ugly aluminum siding in white. We also priced different options but felt the Certainteed siding had the most authentic look. Honestly, it looks like wood shakes. There are alot of options you can add to get those details that give character. (my husband is out taking a photo for you now of a new home going up down the block). My neighborhood has alot of old homes. We live near the beach and the weather plays havoc on homes here. We are so happy with the Certainteed brand. It doesn't fade or warp. We have had it for 7 years now and paid about $20,000. We chose the color natural clay and I can't tell you how many people stop and ring our bell to ask what color it is. We were thinking of doing the grey, but went with clay and it fits the each environment perfectly. Sort of a greige.


I don't think you will be sorry.
---
| | | |
| --- | --- | --- |
| RE: Why are vinyl siding choices so unattractive? | | |
Here's the home that is going up down the block. She added molding over the windows which I like alot, and wish I had known about it. She is also using Certainteed. I didn't ask the name of the color.

---
| | | |
| --- | --- | --- |
| RE: Why are vinyl siding choices so unattractive? | | |
Scanmike, those are both gorgeous homes!
---
| | | |
| --- | --- | --- |
| RE: Why are vinyl siding choices so unattractive? | | |
Wow! Great to see all these comments.

I am going out now but will respond to all tomorrow on a quiet Sunday. Thank you all for comments and pictures. At a quick glance I can tell I love the cypress and natural clay and the richness of dlm's house--thank you so much for the pictures! It is impossible to figure out anything from those little chips.

More tomorrow!
---
| | | |
| --- | --- | --- |
| RE: Why are vinyl siding choices so unattractive? | | |
In 1977 we built a house in Ohio using vinyl. Every house had it. They were beautiful colonial type homes. We picked something called "buckskin beige". The other choices were blues and reds, whites, etc. We went back to see our "old" home and of all the homes on the street, ours was the only one that had not been painted. The red and blue homes had faded. So, if it comes down to color, just think beige or white when using vinyl.
---
| | | |
| --- | --- | --- |
| RE: Why are vinyl siding choices so unattractive? | | |
Whatever you re-side with you really should remove the existing stuff, not go over it.

You want to see the structure and know it is intact. A wall is a system and the siding is your first course of defense and you don't want hidden stuff to negate your new siding job and the biggest reason of all.....

All your windows and doors and corners will be "out" if you side over old. They just won't look right unless you go to even more expense and extend the jambs, put new trim up, etc.. Like a man with an expensive but poorly fitted toupee, it all may have cost a lot but if its not installed correctly it just looks off.
---
| | | |
| --- | --- | --- |
| RE: Why are vinyl siding choices so unattractive? | | |
You have made me feel so much better about vinyl siding, I love the houses you showed. Maintenance, cost, aesthetics, those are the issues and the one I was worried about compromising most was looks, but your houses all look wonderful.

And specifically:

Thank you dlm for your comments (not rants!) and pictures. I love the way your house looks and I appreciate your thoughtful balancing of different siding options.

Sorriso I love your house and don't see the cuts. I like the clean line of the boards and I especially appreciate that you showed the cypress--green is really hard to judge from a tiny chip. I think yours looks fantastic. Putting the extra banding above the windows looks great and was not anything I had thought about, but I will now!

hoosiergirl, my neighbors' houses are pretty pastell-y, yellows, beiges, pale greens---and one pumpkin fellow. I am looking at cypress, sandpiper, sterling gray and now that I saw scanmike's house, natural clay, which looks way more fantastic than I would have guessed.

scanmike, love your house, and thank you so much for the additional picture. I am a blue lover, but you actually helped me rule out the blue certainteed,--I like the color of your house much better.

lestard and others who talked about proportion window trim, soffits, overhangs: all the details on the house will be either replaced by or wrapped in aluminum to avoid having to paint in the future and to bring the trim into proper proportion with the siding which will stick out more if the house is wrapped.

shermann, I hear you on maintenance. Thanks for letting me know your old house looks good in vinyl.

nanabella, I'd heard about the darker colors fading but also that the technology has improved and they don't fade so much any more. In any event we're looking at the mid-range colors.

old house lovers, I do hear you. My neighborhood is a big mix of siding types and even though the houses are old, I cannot honestly say that those with the original wood look the best. Some are slick as can be, but in many cases the wood (like mine) is obviously multiply painted and needs maintenance. The variously sided houses (vinyl, aluminum, asbestos, tar paper, fiber cement and on and on) look varied too--I can't say that the vinyl-covered houses look worse as a class than the ones with original siding. Also, we will not be siding the porch. That will remain painted wood so the first thing you see on the house will be the old wood porchfront, floor, bead-board ceiling, columns, which we will continue to paint and maintain (we figured we could handle ground-level maintenance).

metaxa and dlm, not taking off the existing boards is now my worry since the "looks" issue has been laid to rest by the wonderful pictures and encouragement. I wonder why my contractor and others here are fine with just wrapping the house? I need to do some more research on this. I am assured it is often done this way.

Thank you all again!
---
| | | |
| --- | --- | --- |
| RE: Why are vinyl siding choices so unattractive? | | |
Hi,
I am a lurker normally but have to jump in as I am going to have my house resided in another week. Old clapboards are coming off and vinyl shakes are going on. My contractor wanted to side over the existing wood but on the advice of friends I insisted on the old wood being removed. It only cost an extra $1,000 to have the old wood removed.
My house is only about 2200; square feet so that may be why it isnt going to cost more. Just fyi. Good Luck!

Abbey
---
| | | |
| --- | --- | --- |
| RE: Why are vinyl siding choices so unattractive? | | |
Hi. I am thinking about replacing by cedar shakes with vinyl siding. My contractor told me it was better to go over the old shakes. He said it would add extra insulation. Is this not true? I don't have any leakage problems in my home currently. I was told it would be over 5k to remove the existing shakes. He's a really good contractor and I love his work inside my home. I don't want to make a mistake. Why is it important to remove the old siding?
---
| | | |
| --- | --- | --- |
| RE: Why are vinyl siding choices so unattractive? | | |
Hi, pamela. Just wanted to say that we have the vinyl siding in Cypress. We will be adding some shutters and windowboxes, but these pics should give you an idea of the color...
---
| | | |
| --- | --- | --- |
| RE: Why are vinyl siding choices so unattractive? | | |
Thank you hostalover--I am liking the Cypress a lot (and I can see it goes with snow which would work here too). Lovely house!
---
| | | |
| --- | --- | --- |
| RE: Why are vinyl siding choices so unattractive? | | |
I'm a purist when it comes to old homes, but I strongly encourage you to read the attached, particularly the part about vinyl siding, before you let a contractor start your project. I hope it helps you to know what the contractor should and shouldn't be doing.
Here is a link that might be useful: vinyl siding
---
| | | |
| --- | --- | --- |
| RE: Why are vinyl siding choices so unattractive? | | |
I debated between vinyl & fiber cement shingles for the longest time, and chose Certainteed fiber cement.

But I was impressed with some of the vinyl products out there. Nailite does make a beautiful shingle (dlm2000, your home is gorgeous!) and Certainteed's vinyl shingle is really good looking too. Neither look like plastic.
---
| | | |
| --- | --- | --- |
| RE: Why are vinyl siding choices so unattractive? | | |
lesterd, thank you for the link. I appreciate those who are purists, my husband is one such person, but not in the old house area. I know others find it hard sometimes to live up to his standards, and I believe purists keep us a little more honest than we would otherwise be. I will be using vinyl siding unless something drastic happens in the next couple of months, but I do want you to know that I am trying to proceed thoughtfully and will attend to the details on the house as much as I can.

awm03, fiber cement was the other choice, cost difference was truly significant, so vinyl.
---
| | | |
| --- | --- | --- |
| RE: Why are vinyl siding choices so unattractive? | | |
Wanted to give another quick thank you for all the input, and let you know that we are going with the Certainteed Natural Clay shakes. I never, ever would have looked at that color if scanmike hadn't posted--the chip does not do it justice at all. Love the cypress too, but felt clay would be better with the roof.

Thanks again!

Pamela
---
| | | |
| --- | --- | --- |
| RE: Why are vinyl siding choices so unattractive? | | |
pamelas_kitchen, do you have any pictures of your final product?
---
| | | |
| --- | --- | --- |
| RE: Why are vinyl siding choices so unattractive? | | |
Hmm, that's weird, the thread didn't show up...
---
| | | |
| --- | --- | --- |
| RE: Why are vinyl siding choices so unattractive? | | |
In my area (Illinois) vinyl siding is installed right over the old existing wood. I had this done for my last house and there was never any problem.
---
| | | |
| --- | --- | --- |
| RE: Why are vinyl siding choices so unattractive? | | |
gracie01, around here it's the same, I'm in Illinois too! Central, I guess we don't have the moisture issues of some areas.
---
| | | |
| --- | --- | --- |
| RE: Why are vinyl siding choices so unattractive? | | |
Enigmaquandary I just saw this. Here are some not very good pictures I just took of my house. We're not finished (of course) still need to paint the porch and foundation and do some general cleanup. The house is actually prettier than it looks, it's a gray evening here and that hides any warmth.
---
| | | |
| --- | --- | --- |
| RE: Why are vinyl siding choices so unattractive? | | |
Wow, Pamela, I think it looks great!
---
| | | |
| --- | --- | --- |
| RE: Why are vinyl siding choices so unattractive? | | |
Wow...that turned out really nice. I love the color you picked. Looking forward to seeing more pics when it is done.
---
| | | |
| --- | --- | --- |
| RE: Why are vinyl siding choices so unattractive? | | |
Thank you happyladi and vampiressrn! I had a lot of help from various forums here, and the color I chose was copied directly from scanmike, pictures above. Couldn't have done it without Gardenweb! I only check in rarely these days so I'm glad I caught enigmaquandry's question.
---
| | | |
| --- | --- | --- |
| RE: Why are vinyl siding choices so unattractive? | | |
Wow, that looks great and really complements the style of your house.
---
| | | |
| --- | --- | --- |
| RE: Why are vinyl siding choices so unattractive? | | |
Pamela, your house looks beautiful! Thanks for sharing the finished project with us. Hope you enjoy the results for many years to come. Great color choice!

I missed this thread in April entirely, & I really enjoyed reading the replies you received & seeing the photos. It was a very interesting, informative thread!

Dlm, Sorriso, Scanmike, & Hostalover, your houses look great! You all made excellent choices. I was amazed to see from all your pics what beautiful, quality results can be achieved with siding these days!
---
| | | |
| --- | --- | --- |
| RE: Why are vinyl siding choices so unattractive? | | |
I can't tell it's vinyl at all. How close do you have to be to it to tell it's vinyl?
---
| | | |
| --- | --- | --- |
| RE: Why are vinyl siding choices so unattractive? | | |
happyladi, I'm not sure how close you have to be. Certainly you know when you touch it. I've had people stop in front and comment and not be able to tell what the material is. However, my neighborhood though old is not really preserved with original details such as they might have been. I don't think we're nearly as sophisticated a bunch as those you'd find over on the Old House forum (who helped me tremendously with picking the look that is right for my house, even while being greatly saddened that I had chosen vinyl). So, to a knowledgeable person, it might be immediately evident that it's vinyl. But around here, I am just getting a lot of compliments, which is very pleasant.

Thanks for the GW compliments too! I'm going to quit responding to this thread now because there are many new decorating issues and I don't want to keep bumping this old thread up--I'm sure I'll have some new home decorating dilemmas myself!
---
| | | |
| --- | --- | --- |
| RE: Why are vinyl siding choices so unattractive? | | |
We have Certainteed vinyl siding/shakes on our house that we built several years ago. Certainteed does have high-quality products. The siding has not warped or disformed in the severe heat/cold temperature changes we have here.

While I would love to have wood siding, it just isn't practical with the cost for maintenance in this area of the country. Within 18 months, it would already start looking worn. The same is true of wood decking. Maybe in some areas of the country wood is more durable, I don't know. Most people in my area have vinyl siding. Some have brick or stone, but only the very old homes typically have wood siding, and it's not necessarily well maintained. It's just so costly and difficult.

Given the cost and practicality, I think you can find a vinyl product that is pleasing to you.

Jan
---
| | | |
| --- | --- | --- |
| RE: Why are vinyl siding choices so unattractive? | | |
Because it is FAKE. FAKE IS CHEAP LOOKING. It is like wearing polyester suits:)
---
| | | |
| --- | --- | --- |
| RE: Why are vinyl siding choices so unattractive? | | |
No, doggie, you are wrong. One glance at the homes posted on this thread dispels the myth that vinyl siding must look cheap.
---
| | | |
| --- | --- | --- |
| RE: Why are vinyl siding choices so unattractive? | | |
Thanks so much to everyone who has posted on this forum. After reading through this and other threads, I believe we will be going with vinyl shakes on our addition. All these houses look so lovely that I think the bad rep vinyl has gotten is largely contextual. Because it's a less expensive material, it's more likely to be installed on homes that have less impressive millwork, property settings, etc. On these homes, with their carefully chosen trim and creative architecture, it looks fantastic. I came here depressed by all the threads about problems with cement fiber siding in northern climates -- until I did that research, Hardiplank would have been my choice. Now I'm delighted to have a good alternative. So to any of you who are still around a few years later, thanks again.
---
| | | |
| --- | --- | --- |
| RE: Why are vinyl siding choices so unattractive? | | |
Since this thread is so old, I doubt pamelas kitchen will see this, but if she does -- I love the siding and am thinking of doing the same shade on my house -- do you know which style of shake you used? There are a few different styles that Certainteed makes and I really like yours. Also, did they end up removing the old siding or not? I am getting differing advice. My neighbor says they must remove it, but my brother, who is a home builder, says they don't need to.
---
| | | |
| --- | --- | --- |
| RE: Why are vinyl siding choices so unattractive? | | |
Vinyl siding repair is possible on your own provided you know the right technique required for the job. Lower vinyl siding prices make it a popular pick of many building contractors and home owners.
---
| | | |
| --- | --- | --- |
| RE: Why are vinyl siding choices so unattractive? | | |
Does anyone know the name of the color in the blue house above posted by scanmike. He said it was Certainteed and we cant identify which color it is (unless it was discontinued). We love how it looks and want to use it for our house.
---
| | | |
| --- | --- | --- |
| RE: Why are vinyl siding choices so unattractive? | | |
Forgive me for reviving a very old thread but after reading through all the others I felt this was the best one for my question. Attached is a picture of my home. The left side is a former small modular 3 bedroom ranch. The right side is an addition I had done 25 years ago. At the same time I did a complete re-model putting in all new andersen windows along with western red cedar vertical siding over 1/2" foam board. Everything is in good condition and has held up very well over the years. Problem is cedar requires maintenance. Power washing every few years and re-staining. Along with that woodpeckers have become a problem (seems to be a new national problem that is getting worse each year). Insects and bees also are attracted to cedar which requires treatments. I am thinking about replacing the cedar with some other type of siding. Possibly Hardiplank, or high end vinyl. Maybe vinyl shakes in a light green or yellow with lots of white trim. White fascia boards, wide white trim around the windows, white corner trim, a big white post to replace my skinny cedar one holding up the porch roof, etc. Any other thoughts? Maybe I should just power wash again and stain with a solid cedar stain and hope it lasts longer than the semi-transparent I have been using over the years. Maybe even paint. Am I crazy for thinking of tearing off this beautiful cedar? Any suggestions at all would be greatly appreciated.
This post was edited by mnovak99 on Thu, Nov 28, 13 at 10:13
---
| | | |
| --- | --- | --- |
| RE: Why are vinyl siding choices so unattractive? | | |
That house with that siding is gorgeous and worth all the efforts you painfully put into maintaining it. I have certainteed vinyl siding in clay and it comes nowhere near as nice to what you have. We lightly wash it every year to keep it looking good also. I vote to keep doing what you have been doing, skip the paint and vinyl.
---
| | | |
| --- | --- | --- |
| RE: Why are vinyl siding choices so unattractive? | | |
mnovak99, Certainteed has a vinyl product that looks like cedar siding. I've not seen it in person, but I hear it's a good product. I understand maintenance can get to be too much on cedar & wood. As I get older, I want less maintenance! This link might be helpful: http://www.certainteed.com/products/vinyl-siding/shake---shingle-siding
Good luck!
---
| | | |
| --- | --- | --- |
| RE: Why are vinyl siding choices so unattractive? | | |
mnovak99 - first of all, you have a beautiful home. The cedar is incredible and I'm sure that has a lot to do with the quality of wood available 25 years ago and you care ever since. That said, I do know the rigors of that maintenance and understand wanting something easier. So with that in mind, do not paint because that sets another type of maintenance that is far less forgiving than the stain you've been using. Solid stain is not much better than paint and IMO, would ruin the look of your house. I'm one of the posters above who replaced wood clapboards with vinyl shake so it's not that I don't like the product but it would be a shame to lose your cedar.

I have no easy answer for you and know how nature seems to be conspiring against your dream of easy maintenance. I certainly wouldn't want to be power washing and restaining every few years and especially would not want to be spraying chemicals all over my house in an effort to keep critters and insects at bay. Your idea of vinyl shake with white trim is a lovely look but I'm not sure it's the best choice for your home, especially in yellow. That's a very 'cottage' look and your house doesn't have those cottage type lines. Have you considered shake in an earth tone to work with your stone chimney and wooded backdrop? A clay or mossy green or even brown would keep that house-in-the-woods feel. I think going in that direction, using something other than white for your front door and trim will be a better choice. Your door could still be a focal point but not as stark. And if you don't mind my saying, allow your landscaping along the house facade to develop into more natural shapes instead of being clipped and shaped. Let it fill in and camouflage your foundation line.
---
| | | |
| --- | --- | --- |
| RE: Why are vinyl siding choices so unattractive? | | |
In a renovation, we found cedar siding hiding under the aluminum siding. Kept it, cleaned it and used a Cabot stain in linen. The house is a Cape Cod and also has a big stone section on the house. Kept the aluminum siding in the back and sides of the house,and just keep the street side in cedar. That is also an option for some houses--if parts of the house are less visible and less "important" you can use two different products. I had the front painted this fall--cost me about $1200--and it is a pretty long house.
---
| | | |
| --- | --- | --- |
| RE: Why are vinyl siding choices so unattractive? | | |
I think a lot of it is lack of texture. Since the vinyl is so thin it doesn't leave much room for texturing, so the pieces all look so blah.
---
Post a Follow-Up
Please Note: Only registered members are able to post messages to this forum.
If you are a member, please log in.
If you aren't yet a member, join now!
---
Return to the Home Decorating Forum
Information about Posting
You must be logged in to post a message. Once you are logged in, a posting window will appear at the bottom of the messages. If you are not a member, please register for an account.
Please review our Rules of Play before posting.
Posting is a two-step process. Once you have composed your message, you will be taken to the preview page. You will then have a chance to review your post, make changes and upload photos.
After posting your message, you may need to refresh the forum page in order to see it.
Before posting copyrighted material, please read about Copyright and Fair Use.
We have a strict no-advertising policy!
If you would like to practice posting or uploading photos, please visit our Test forum.
If you need assistance, please Contact Us and we will be happy to help.

Learn more about in-text links on this page here