Return to the Home Decorating Forum
|
Post a Follow-Up
---
| | | |
| --- | --- | --- |
| Stairs - Hanging Pictures | | |
Posted by
boopadaboo
(
My Page
) on
Thu, Apr 22, 10 at 9:37
We are doing a big spring cleaning and I have finally found the box that had all my small black and white etchings in them. Yippeeee! this is some of them in my last house: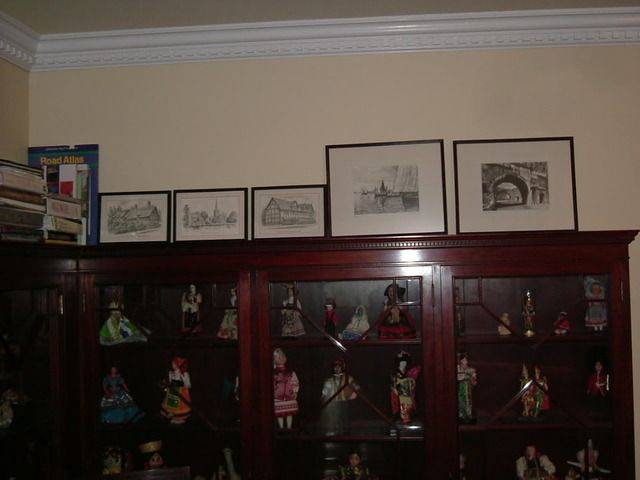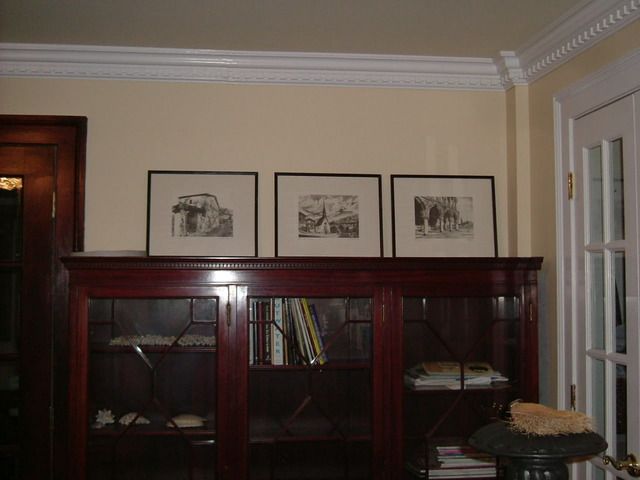 I also have a few that are larger that I will put in the hallway upstairs, and a few that are a medium size bigger then the ones I showed up above. They are taller.
How do you figure out how to hang them in the stairs? do you just pick a point and start adding? Lay it out ahead of time? (not sure I have the room for that)
I am not sure how low to go either. My father has them in his stairs and they go all the way down. I will try to get a picture of that. I think my 10 month old will knock them off though if they are too low.
I also have some black framed pictures that have colored mats and are not black and white. Do you think it would be odd to mix them in?
They look like this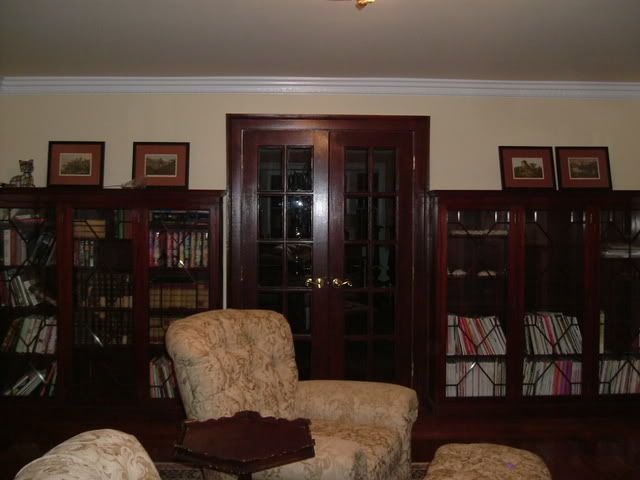 I would also love to see pics of your stairways if you care to share!
---
Follow-Up Postings:
| | | |
| --- | --- | --- |
| RE: Stairs - Hanging Pictures | | |
| | | |
| --- | --- | --- |
| RE: Stairs - Hanging Pictures | | |
| | | |
| --- | --- | --- |
| RE: Stairs - Hanging Pictures | | |
Your Dad needs to start posting on Garden Web! He really has the decorating knack. :-) I love those blue walls with the B&W etchings. An that runner is beautiful!
---
| | | |
| --- | --- | --- |
| RE: Stairs - Hanging Pictures | | |
boopadaboo - WOW! That is stunning!! Talk about picture perfect =)
---
| | | |
| --- | --- | --- |
| RE: Stairs - Hanging Pictures | | |
Have your dad come over and hang them for you! Beautiful!
---
| | | |
| --- | --- | --- |
| RE: Stairs - Hanging Pictures | | |
Wow, those etchings look beautiful. Who did them? What a wonderful collection. If you have as many as your Dad, you could probably just start hanging and keep going, since you would essentially be covering the whole wall with the etchings. But if you are going to use, say, 10 or so, the spacing between the pictures will really make a difference in how the arrangement looks. I'd make a template of each one, use the putty you can easily remove to stick them on the wall, and try out the arrangement. I just did a photo gallery in my hallway, and that worked really well. I just used some white posterboard for the templates, so I could draw in the matt openings to get a real idea of how it would look. DH was even impressed that the whole thing got hung with minimal wall damage. Can't wait to see the finished wall when you're finished.
---
| | | |
| --- | --- | --- |
| RE: Stairs - Hanging Pictures | | |
Sorry, can't respond, too busy drooling over those bookcases in your last house.

I think it would be great to display your etchings along your stairway, but I, too, would be worried about the toddler factor. I have 3 kids and when my youngest was around that age, I hung pics in my stairway and kept them up high because I knew she would mess with them. Especially when they're at the stage where crawling up stairs is so entertaining! Even better -- pulling pictures off the wall at the same time! So if I were you, I'd keep them above waist level for now. As far as how to do it, it all depends on how anal you are. I tend to measure and make sure space between the pictures is the same, etc etc, but that's just me. I do have one wall with a mess of various pictures and photos where I didn't measure, just started at one point and kept adding, and that works for me in that particular space. If you are starting with a limited number, just start at eye level and go up the stairs that way, and add more if/when you have more, either above or below. When I hung my limited number of photos along my stairway, I stood on one step and measured to eye level, hung a pic, then went up 2-3 steps, measured to eye level, hung a pic, and so on.
---
| | | |
| --- | --- | --- |
| RE: Stairs - Hanging Pictures | | |
I would like to have my dad come hang them. DH gets mad and says why can't we do it. (where is the eye rolling smiley when you need it!)

I will tell my dad of the lovely thoughts on his house. The whole thing is gorgeous. You should see the rest of it! My dad and step mom have very good taste, and their things combined with all they have from my grand parents that traveled the world every summer for years, make for a wonderful house. It is very traditional.

I am kind of nervous about the toddler thing. My stairwell does not have as much wall space as my dad either.

I found more black and whites last night. I think I have too many for the wall space in the stairway and upstairs hall. I am not really thrilled with how my dining room came out. I tried to do salon style there. Now I am thinking maybe I should put the black and whites in the Dining Room.

I have to paint in there still, but do you think the black and whites would go with the furniture, rugs and drapes I have in there?
This is the terrible wall:
I have replaced those two small plates with a long painting. I can't take pics now since that room is filled with everything I am keeping that was in the basement. I have to find a place for everything!
I am kind of on overload. I just still can't figure out this house even after living here a couple of years......
---
| | | |
| --- | --- | --- |
| RE: Stairs - Hanging Pictures | | |
Oh - and I meant to say thank you olychick. That was a great article.
---
Post a Follow-Up
Please Note: Only registered members are able to post messages to this forum.
If you are a member, please log in.
If you aren't yet a member, join now!
---
Return to the Home Decorating Forum
Information about Posting
You must be logged in to post a message. Once you are logged in, a posting window will appear at the bottom of the messages. If you are not a member, please register for an account.
Please review our Rules of Play before posting.
Posting is a two-step process. Once you have composed your message, you will be taken to the preview page. You will then have a chance to review your post, make changes and upload photos.
After posting your message, you may need to refresh the forum page in order to see it.
Before posting copyrighted material, please read about Copyright and Fair Use.
We have a strict no-advertising policy!
If you would like to practice posting or uploading photos, please visit our Test forum.
If you need assistance, please Contact Us and we will be happy to help.

Learn more about in-text links on this page here