Return to the Home Decorating Forum
|
Post a Follow-Up
---
| | | |
| --- | --- | --- |
| Dining Room....Finally, need help with rug | | |
Posted by
judiegal
(
My Page
) on
Wed, Apr 18, 12 at 9:14
After many, MANY years, we are finally getting Dining room furniture. The dining room is 19' x 14', hardwood with a double border of decorative inserts. I am trying to figure out the size and style of an area rug. I want to have it big enough for the chairs to be on it completely. I don't want to cover the borders. What is typical? Also should I go traditional oriental, or be funky and go very different or modern? I'm really at a loss.

Here is the furniture.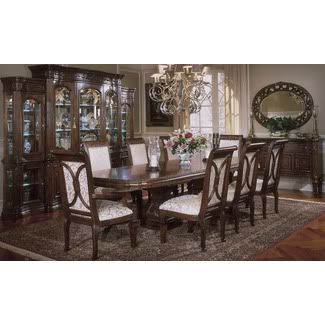 ---
Follow-Up Postings:
| | | |
| --- | --- | --- |
| RE: Dining Room....Finally, need help with rug | | |
Oh and the table is 130" long x 44" wide and chairs are 24" deep.
---
| | | |
| --- | --- | --- |
| RE: Dining Room....Finally, need help with rug | | |
Your furniture, light and wall details are traditional in style - I would not go w/funky/modern. You can get a custom rug - from what I understand they really aren't more expensive than a quality oriental. A few of the furniture stores that I frequent have all the colors/patterns etc. available for you to pick from. Yuo may want something as simple as a mimic to your pattern on the hardwood floor - or something just on the edges. You have many, many options.
---
| | | |
| --- | --- | --- |
| RE: Dining Room....Finally, need help with rug | | |
I agree that a funky, modern look is not in keeping with your beautiful, traditional room and furnishings! I love traditional Orientals, and one would look fantastic in your room, but if you want to go "Transitional" I think that would also work well.

My sis has furniture that is very classic, as is her architecture, and she just purchased a paisley rug for her dining room. The background of the rug is similar in color to your walls, and the large paisley motifs are cream. The somewhat large scale of the paisley print offers a slightly modern twist on a time-honored design. It works really well with her traditional things, but also adds a little fun to the room in a subtle way. This mix reflects her personality well- she's an elegant, graceful person with light-hearted humor and down-to-earth warmth.
---
| | | |
| --- | --- | --- |
| RE: Dining Room....Finally, need help with rug | | |
Unless the rest of your house is funky and modern, I'd go with a more traditional rug. I have a seagrass rug with a black band in my dining room. I love the look of seagrass and sisal, but I don't think they're comfortable underfoot. Since that's not really an issue in the dining room, it seemed like a good spot for one. I also think it tones down the "formalness" of the room a bit, which I like.
---
| | | |
| --- | --- | --- |
| RE: Dining Room....Finally, need help with rug | | |
Are you sure you even want a rug with the beautiful border on your floors? I usually use a rug under my dining table, but am considering leaving it out this time...and I don't have a nice border like you! :)

Just a thought!
---
| | | |
| --- | --- | --- |
| RE: Dining Room....Finally, need help with rug | | |
I would definitely wait until the furniture is in before making a decision. I'd be tempted not to have a rug at all.
---
| | | |
| --- | --- | --- |
| RE: Dining Room....Finally, need help with rug | | |
I like the idea of something with some pattern for your rug. It is practical (hides stains!) and will bring in interest. I think it will be more about muted colors that will make it a winner vs. the style.
---
| | | |
| --- | --- | --- |
| RE: Dining Room....Finally, need help with rug | | |
I like a rug in the dining room as it makes it quieter and helps keep the wood floor from getting damaged from the chairs sliding on it. Rule of thumb is the rug should be at least 2' larger than the table on all sides so the chairs won't be pushed off of the rug. I would stick with something traditional to match the traditional style of your beautiful room. Oriental style would be fine, but so would other traditional styles. Room is plenty large so the beautiful inlay will show as well.
---
| | | |
| --- | --- | --- |
| RE: Dining Room....Finally, need help with rug | | |
I think the measurements given above sound about right.

go for something around 9 x 14 - 15

that's going to cover a lot of your room. that's a long table.
---
| | | |
| --- | --- | --- |
| RE: Dining Room....Finally, need help with rug | | |
The furniture has been delivered and put in the dining room. I still want to put a rug in, but what a job that's going to be, that furniture is heavy. I guess it will be something more traditional, big enough to have the chairs stay on it when they are pulled out and still show the border. It's not going to be easy. Some of the rugs in the size I'll need are big $$$ so I think it will be naked for a little while. Thanks for your help and suggestions.
---
Post a Follow-Up
Please Note: Only registered members are able to post messages to this forum.
If you are a member, please log in.
If you aren't yet a member, join now!
---
Return to the Home Decorating Forum
Information about Posting
You must be logged in to post a message. Once you are logged in, a posting window will appear at the bottom of the messages. If you are not a member, please register for an account.
Posting is a two-step process. Once you have composed your message, you will be taken to the preview page. You will then have a chance to review your post, make changes and upload photos.
After posting your message, you may need to refresh the forum page in order to see it.
Before posting copyrighted material, please read about Copyright and Fair Use.
We have a strict no-advertising policy!
If you would like to practice posting or uploading photos, please visit our Test forum.
If you need assistance, please Contact Us and we will be happy to help.

Learn more about in-text links on this page here