Return to the Home Decorating Forum
|
Post a Follow-Up
---
| | | |
| --- | --- | --- |
| Stain color for entryway table? | | |
Posted by
Maine_Mare
(
My Page
) on
Mon, Apr 23, 12 at 9:08
I have a new table (maple) to stain and am debating the color. I bought a warm maple stain but am second guessing myself about the color.

The table will be in my entryway with the kitchen to the left and dining room to the right. It will have a old marble top that is white with some black and gold veining but not a ton of movement, mostly white. The table will be on castors so when not in use it will sit against the wall but when needed it will turn 90 degrees for the kids to sit at (small kitchen, no space for kids except on the floor) or for me to use when rolling out pastry and such.

The house is an 1810 cape and will have some variation of white walls with BM Georgian Brick cabinets and the dining room will have the same white walls with California Georgian Yellow wainscoting.

Part of me thinks I should go with a darker stain, more mahogany, for the contrast. What do you think?

Thanks!!
Here is a link that might be useful: table
---
Follow-Up Postings:
| | | |
| --- | --- | --- |
| RE: Stain color for entryway table? | | |
do you have an inconspicuous place to try stains out on? Every stain looks different given the wood it's going on.

My concern with maple is that it can go too orange, which I don't like. So I usually avoid stains that say things like honey or golden. I do like walnut stains and have used them successfully on maple as they tend to go more brown....but some can be very dark, so you have to test first.
---
| | | |
| --- | --- | --- |
| RE: Stain color for entryway table? | | |
It really depends on the type of wood the piece is because different woods will offer a variety of tones. I would get a couple of different stains, sand a spot under the top and test them.

If that is Parawood, the maple color may end up being too light and Parawood can blotch. I would go darker simply because if the wood does blotch there's a better chance it will just give it an aged look.

Here is the top of our kitchen table which I recently sanded down and stained in walnut. It's an older piece and blotched a little bit but I didn't mind it because as I said, it just made it looked aged.
---
| | | |
| --- | --- | --- |
| RE: Stain color for entryway table? | | |
Thanks for the great advice! I can turn the table over and test the stains on the underside of the bottom shelf.

I definitely want to stay away from orange'ish anything given the red in the kitchen and yellow in the dining room.

lukkiirish, that color is great and would look nice with the white top. Aged is the look of entire house (no matter what I do so I just go with it! :) ) so some irregularities would be fine.
---
| | | |
| --- | --- | --- |
| RE: Stain color for entryway table? | | |
Minwax Early American gives a nice true brown without orangeiness and not as dark as walnut even with two coats to smooth the tones out. That would probably work for your table if you don't want too much contrast between the wood and the marble, go with walnut if you like more contrast.

Make sure to give the table a light sand and a once-over with denatured alcohol to get it clean without raising the grain before staining.

Good looking table, lukkiirish!
---
| | | |
| --- | --- | --- |
| RE: Stain color for entryway table? | | |
Thanks so much, yes, it's wonderful with white. I should have included a picture of the whole thing so you could see. General Finishes is a high quality stain and I tried both it and Minwax and ended up preferring the Minwax.

Here's the table in it's entirety, and just for fun, a before pic too. It's hard to tell but I repainted the bottom too.
---
| | | |
| --- | --- | --- |
| RE: Stain color for entryway table? | | |
Oh I love that, I want to do a farm style table for my computer desk and finish it close to what you have, so lovely. :)
---
| | | |
| --- | --- | --- |
| RE: Stain color for entryway table? | | |
Thanks Ghostly, I'm so happy I redid it. We bought 3 different sets in an attempt to replace it, but I just couldn't give up the table with all our memories. :c) This was a much better option.
---
| | | |
| --- | --- | --- |
| RE: Stain color for entryway table? | | |
I agree, the stain really modernized the table! I would never thought to do that and am very much impressed.

Thanks for sharing!
---
| | | |
| --- | --- | --- |
| RE: Stain color for entryway table? | | |
Minwax Early American is a great color that I always went to, until more recently I discovered Minwax English Chestnut, when I decided to remove the paint from my 1937 front door and stain it. I still enjoy working in my office each day and looking through the living room at the door.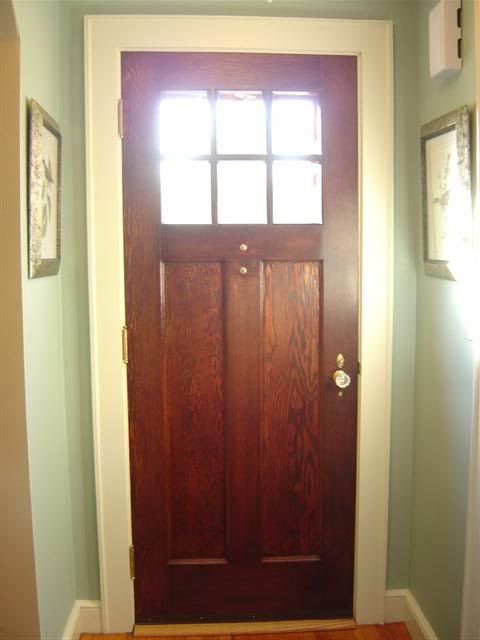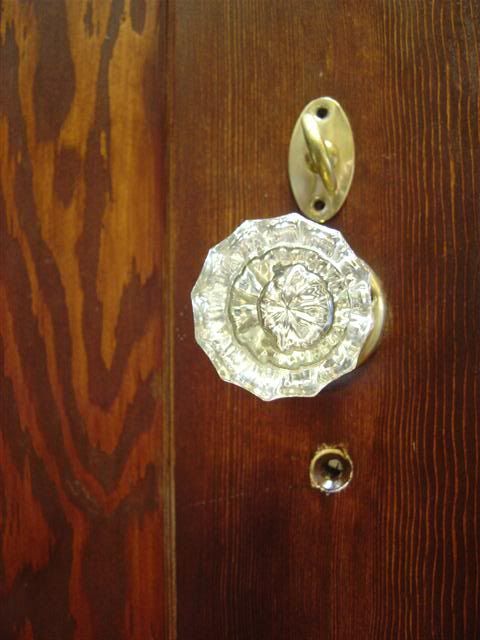 ---
Post a Follow-Up
Please Note: Only registered members are able to post messages to this forum.
If you are a member, please log in.
If you aren't yet a member, join now!
---
Return to the Home Decorating Forum
Information about Posting
You must be logged in to post a message. Once you are logged in, a posting window will appear at the bottom of the messages. If you are not a member, please register for an account.
Posting is a two-step process. Once you have composed your message, you will be taken to the preview page. You will then have a chance to review your post, make changes and upload photos.
After posting your message, you may need to refresh the forum page in order to see it.
Before posting copyrighted material, please read about Copyright and Fair Use.
We have a strict no-advertising policy!
If you would like to practice posting or uploading photos, please visit our Test forum.
If you need assistance, please Contact Us and we will be happy to help.

Learn more about in-text links on this page here