Return to the Home Decorating Forum
|
Post a Follow-Up
---
| | | |
| --- | --- | --- |
| Please Help! Living room layout. | | |
Posted by
miffy13
(
My Page
) on
Tue, Apr 3, 12 at 8:57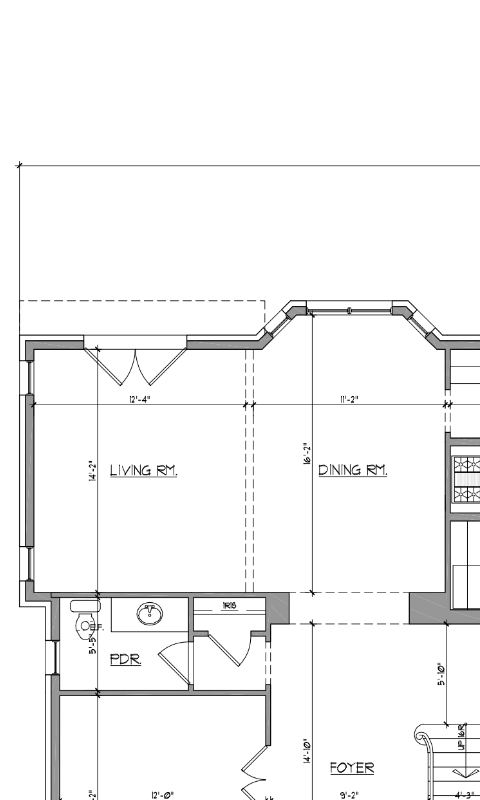 We are building a house and I am have problems figuring out my living room layout. Its not such a large space and I need to finalize window placement NOW. Ahhhh.
I was thinking I want a couch, two chairs, coffee table, display cabinet and piano (upright now but would love baby grand later). I think I need to move the patio doors to dining area to have more space. Please help me.
---
Follow-Up Postings:
| | | |
| --- | --- | --- |
| RE: Please Help! Living room layout. | | |
You might also consider sliding doors that look like French doors, even if you switch the doors to the dining room. I've also heard of out-swinging doors, but personally have no experience with them so can't comment on their desirability.

Also remember that even when you have French doors, one can be essentially stationary, although I think while you're still in the planning stage as you are, this is the best time to work out path issues such as you're finding. I love the look of French doors, but have found as you have that their swing can impede furniture placement.

I have some of the elements you mention in my current living room which is significantly larger and am not sure you'll ever be able to fit a baby grand in with all those other items. I found that ours at nearly 6 ft takes up more space than you might think, but perhaps you can find a smaller one. Try using a room arrangement site with actual sizes of the furniture you're considering. Good luck!
---
| | | |
| --- | --- | --- |
| RE: Please Help! Living room layout. | | |
I've never had a baby grand piano (nor do I have any idea about clearance around one) so I can't help there. My initial instinct would be to put a sofa with the back to the left wall between the windows. I would then put two chairs facing the sofa, perhaps with a side table between. A piano could go on the wall at the bottom.
---
| | | |
| --- | --- | --- |
| RE: Please Help! Living room layout. | | |
but then i dont know where the display cabinet would go. It probably has to go on the entry door wall
---
| | | |
| --- | --- | --- |
| RE: Please Help! Living room layout. | | |
How about the couch on the wall between the windows and the display cabinet on the lower wall. Your two chairs could be placed with their back to the dining room (one on each side..not together...sort of slanted with a floor lamp by one (chair with floor lamp on the wall side and a small table/lamp by the other one (chair with table on the wall side)
---
| | | |
| --- | --- | --- |
| RE: Please Help! Living room layout. | | |
grandmaof3-that was pretty much my thought but where does the piano go? I guess it has to go in the back corner. The question is do I have wibdows on that whole back wall and the piano looks out?
---
| | | |
| --- | --- | --- |
| RE: Please Help! Living room layout. | | |
Does the piano need to be in the living room? Because I'm thinking that there might be a place for it in the foyer -- tucked under the stairs? That would be the upright/spinet, of course. I don't know about a baby grand.
---
| | | |
| --- | --- | --- |
| RE: Please Help! Living room layout. | | |
No fireplace?
What about a tv?
My sunroom had french doors - but one side was stationary - I also all my doors that led to the back area of the house be out-swings. That saved me a lot of interior space.
---
| | | |
| --- | --- | --- |
| RE: Please Help! Living room layout. | | |
There is no space by the stairs. No fireplace, husband is asthmatic and doesnt want any. No tv in formal living. We are in Michigan so architect said we cant do outswing doors. My poor piano has no home.
---
| | | |
| --- | --- | --- |
| RE: Please Help! Living room layout. | | |
Where do the patio doors lead? Is there a grill or dining space out there? If yes, I would say to move the doors to the dining area where they will be closer to the kitchen. Unless there is a separate door off the kitchen...
---
| | | |
| --- | --- | --- |
| RE: Please Help! Living room layout. | | |
there is a separate door off the kitchen
---
| | | |
| --- | --- | --- |
| RE: Please Help! Living room layout. | | |
A baby grand would look lovely in the bay window in the dining room. The piano would face out into the room and the pianist would sit with her back to the window. Just a thought for the future.

Pianos do best when placed on an interior wall. So I'd put the upright piano on the lower wall.

What is going to be the focal point in the living room? That makes a difference in the layout.

You could float the sofa in front of the piano, facing the french doors, creating a little music nook behind it. This gives people sitting on the sofa a view out the doors. Ad a small bookcase or cabinet on the piano wall for music storage.

Then the coffee table in front, with the two chairs either opposite the sofa or on either end of the coffee table, facing each other. Then the display cabinet can go on the left wall between the windows. Or is there room for the cabinet on the bit of wall between the french doors and the dining room?
---
| | | |
| --- | --- | --- |
| RE: Please Help! Living room layout. | | |
Have you used one of the online furniture planners, that lets you place furniture on a gridded floor plan the size of the room?

I ask because your room is the same size as my son's bedroom, except you have less wall space, and I can't imagine having room in his space for all that furniture and a baby grand.

Believe me, if my son thought he could fit a piano like that in his room, he would be in heaven!

Can you switch the bay window to the LR instead of the dining area? I think it would give you more open space and flexibility there.

Just thought I should also mention that I read recently that the idea of not having pianos on an outside wall is not an issue today because the homes are insulated and well heated and cooled. A bigger deal when homes were less insulated, etc.
---
| | | |
| --- | --- | --- |
| RE: Please Help! Living room layout. | | |
the only problem with putting the piano (esp if it's a baby grand) in the LR is that if you're entertaining and have a pianist playing it, it looks like it would be tucked away from the rest of the house if in a LR corner... i would want a baby grand more central to the rest of my house...
---
| | | |
| --- | --- | --- |
| RE: Please Help! Living room layout. | | |
I think you could put your piano on the same wall as the display cabinet...piano close to corner, display cabinet closer to the hall/foyer...on the lower wall. When you get your baby grand, it can go in the same corner....pianist's back to the room but able to see out of the little side window.
---
| | | |
| --- | --- | --- |
| RE: Please Help! Living room layout. | | |
You can save space by having sliders that look like french doors but don't swing. One would be stationery and one would slide.

Very difficult to fit a baby grand in this room and not have it out of scale. You could put it into the upper left corner, facing into the LR and DR if you use the sliders, then use the bottom half of the room for your other furniture...sofa on the lower wall, chairs at a right angle to the sofa facing each other, then maybe a low piece of furniture between that grouping and the piano. Don't know how big the display cab is, but you may have to make a choice between that and the baby grand.... or get a cabinet that will fit on the wall between the DR and the slider...
---
Post a Follow-Up
Please Note: Only registered members are able to post messages to this forum.
If you are a member, please log in.
If you aren't yet a member, join now!
---
Return to the Home Decorating Forum
Information about Posting
You must be logged in to post a message. Once you are logged in, a posting window will appear at the bottom of the messages. If you are not a member, please register for an account.
Please review our Rules of Play before posting.
Posting is a two-step process. Once you have composed your message, you will be taken to the preview page. You will then have a chance to review your post, make changes and upload photos.
After posting your message, you may need to refresh the forum page in order to see it.
Before posting copyrighted material, please read about Copyright and Fair Use.
We have a strict no-advertising policy!
If you would like to practice posting or uploading photos, please visit our Test forum.
If you need assistance, please Contact Us and we will be happy to help.

Learn more about in-text links on this page here