Return to the Home Decorating Forum
|
Post a Follow-Up
---
| | | |
| --- | --- | --- |
| Interior paint all one color? | | |
Posted by
april2929
(
My Page
) on
Wed, Apr 2, 08 at 8:41
We are getting our small townhouse ready to sell, and are painting all of the main areas SW Believable Buff. DH wants to paint every room the same color. I would like to paint the two bedrooms in slightly different colors, one slightly darker than the Buff and one a soft neutral grey. He thinks buyers want to see all one color but I think that's too boring and not very original. Anyone else faced this? Opinions, pictures & experiences welcome! Thanks.
---
Follow-Up Postings:
| | | |
| --- | --- | --- |
| RE: Interior paint all one color? | | |
If you are taking the time and money to paint anyway, I would just do all one neutral color. This will maximize the amount of buyers interested because even if they have no clue how to paint, their furnishings will "go" in all rooms.

It's your best bet.
---
| | | |
| --- | --- | --- |
| RE: Interior paint all one color? | | |
SW's BB is a good choice for a sell this house color. If you want to add a little extra and do the bedrooms in other neutrals, do it. I do think it can help enhance the character of a home and give it some subtle personality and definition. Either way is correct IMO. Just depends what you're up for. All one color would be easier and cheaper if you're painting the space all at once.
---
| | | |
| --- | --- | --- |
| RE: Interior paint all one color? | | |
Used sw bb as an anchor color in our farm home. Used a color darker on the same card called whole wheat for an adjoining room, sw manilla in an adjoining small bath, sw crochet tan in a br. Colors were very rich and pretty together and seemed to "flow" from room to room. For resale, I'd probably stay away from the darker crochet tan, but the bb and whole wheat should work nicely. Used 75 percent sw antique white for trim with all of the above colors--really happy with them! That being said, should you choose to do the bb everywhere, it will take on different looks depending on the light in each room. Can't go wrong there, either.
---
| | | |
| --- | --- | --- |
| RE: Interior paint all one color? | | |
We just had our whole house painted SW Macadamia with the exception of the three back bedrooms which we did a shade lighter because those rooms are small,I do have one red accent wall in my kitchen behind my cabinets that wouldnt be a big deal to paint over if a buyer didnt like it when we plan to sell in a couple years
---
| | | |
| --- | --- | --- |
| RE: Interior paint all one color? | | |
My house has a lot of different colors, and, if I were to put it up for sale, I might repaint one or two rooms. But, if I were painting all of it, I would probably do one nice neutral and let the new owners think how they want their personal spaces like bedrooms, painted.

Red
---
| | | |
| --- | --- | --- |
| RE: Interior paint all one color? | | |
When we sold out house in Texas the buyers commented that they liked that we'd done some custom painting (we painted an accent wall in several rooms a different color and painted the dinning room and master suite a different color). All of the other houses on the block (five) had one neutral sprayed on all walls.

I've sold three homes, and in each used color carefully (nothing crazy, like you are suggesting is fine) but used it. Each time I've beat out the competition because they had boring units, one color. One was empty, so units were identical except for color...seven were available then, mine sold $15,000 above the rest, NO DIFFERENCE except color. I would never never never paint one color throughout an entire home. Never!
---
| | | |
| --- | --- | --- |
| RE: Interior paint all one color? | | |
Thanks so much for all the input! Yes SW Macadamia is the one I want to use in the master bedroom, and I want to use a pale grey in the guest bedroom/office. Any suggestions for ceiling color? I always used SW Cameo Cream in the past for the ceilings, but I don't see it on their list anymore. Is there another good choice?
---
| | | |
| --- | --- | --- |
| RE: Interior paint all one color? | | |
Ralph Lauren Startched apron looks fabulous with tans, creams, yellows, grey, etc. I use it on all of my ceilings.

This is RL SA with SW Compatible Cream (with lots of sun) It's a pretty soft white, but the sample looks like a deeper cream than it comes out to be (as you can see here)
---
| | | |
| --- | --- | --- |
| RE: Interior paint all one color? | | |
Don't mean to hijack this thread, but we are painting our living room and dining room the same color, Waverly Soft Cream. We have high ceilings and I can't decide if we should paint the ceiling the soft cream or white. I like the look of the RL Starched Apron. Here are a few pics.

High Celings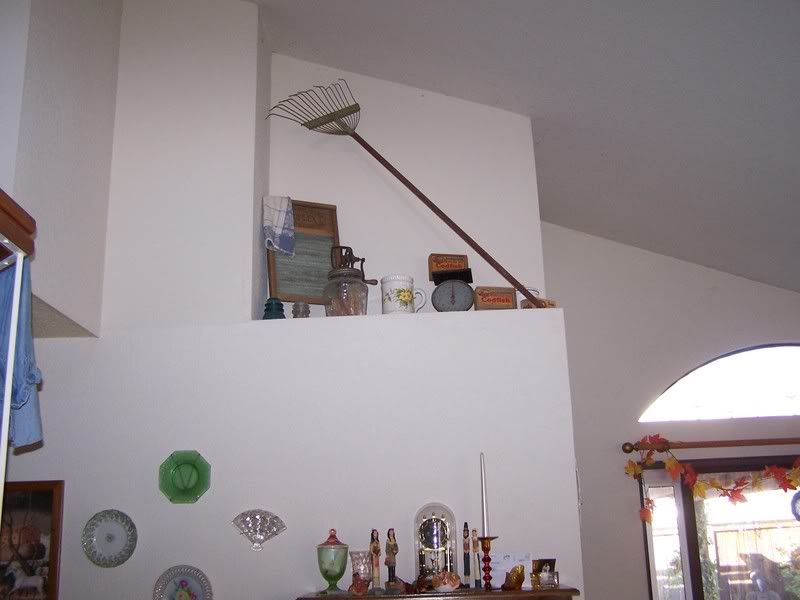 New color accent wall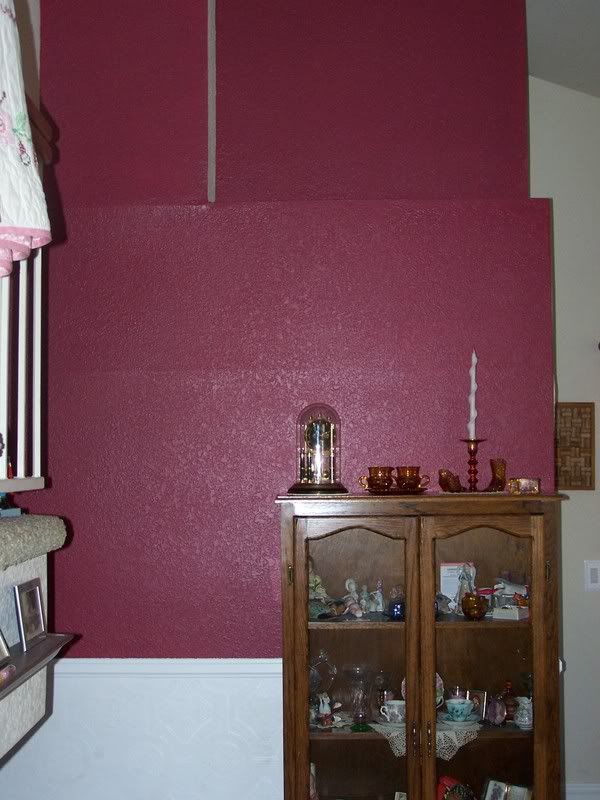 This is the soft cream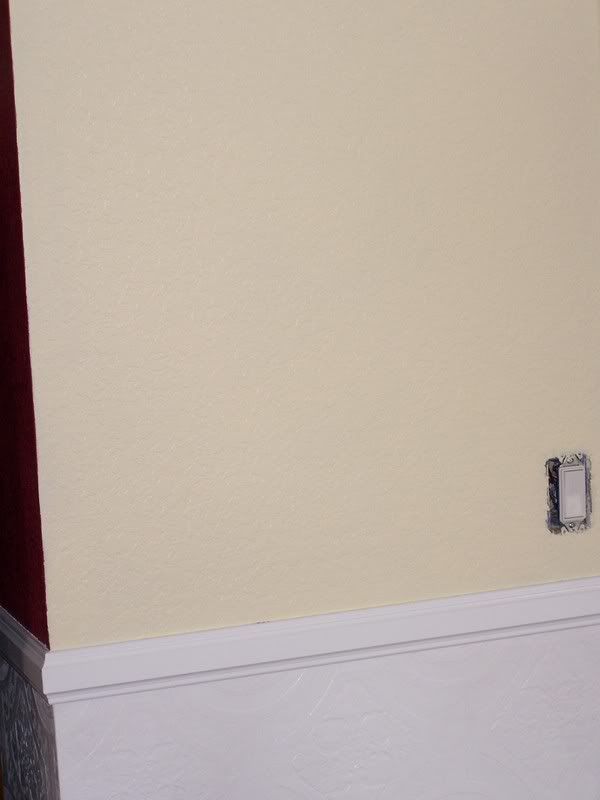 I am afraid with the ceiling the same color it will make it overwhelming. I think maybe I will have a friend that paints come over and spray the ceiling. Much easier, just have to decide on a color.
Thanks,
Laura
---
| | | |
| --- | --- | --- |
| RE: Interior paint all one color? | | |
Don't you watch HGTV? Tune in to Designed to Sell some night. The goal isn't to be the blandest house on the earth! You're supposed to create spaces where they can imagine themselves living. People do not have as much imagination as you give them credit for. A little color never hurt. That being said, nix the red wall.
---
| | | |
| --- | --- | --- |
| RE: Interior paint all one color? | | |
Sorry I am not the one selling the house!

Red wall stays at least until we do get ready to sell, about 10 years down the line.

I have cranberry accents in both the living room and family room, red wall is the only interior wall downstairs and my contrast wall. Notice it is only the top half, the bottom is white.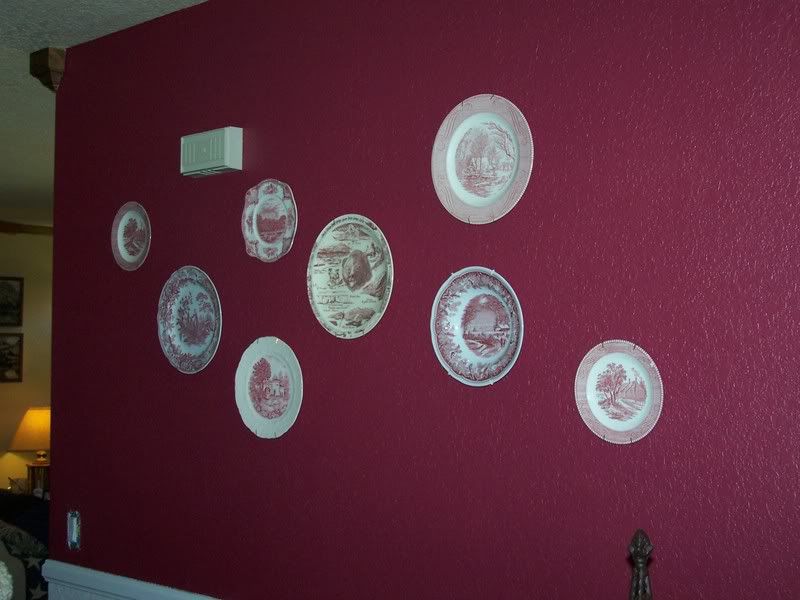 leading from the living room to the family room. Plates have been reworked for better flow since pic was taken.
Toodles, ")
---
| | | |
| --- | --- | --- |
| RE: Interior paint all one color? | | |
Startched apron looks fabulous with reds, yellows, greens, tans and creams. I would only NOT use it with ice blue or ice green tones...it's too warm for that, but with that red, ohhh it would look gorgeous, and with the cream it would really be a nice compliment. The sample chip shows it a bit dull, when really it's the nicest and softest creamy color I've ever found to use. I've used it for trim, cabinets, and it's my standard ceiling color and has been for years. Really, trust me LOL I guarantee you'll LOVE it!
---
| | | |
| --- | --- | --- |
| RE: Interior paint all one color? | | |
Thanks Igloochic. I will have to get a sample of it to show DH. I think he was set on painting it the same as the walls, but since there is so much ceiling, I think white will be better. I am going to see if my friend can spray it, much eaiser than trying to do it ourselves.

Painting the walls today, those are enough of a pain!

Toodles,
Laura
---
| | | |
| --- | --- | --- |
| RE: Interior paint all one color? | | |
you can do mostly light walls but insert some accent walls to add some style.

This is a great combo for resale -see link below
Here is a link that might be useful: perfect color combo for resale
---
Post a Follow-Up
Please Note: Only registered members are able to post messages to this forum.
If you are a member, please log in.
If you aren't yet a member, join now!
---
Return to the Home Decorating Forum
Information about Posting
You must be logged in to post a message. Once you are logged in, a posting window will appear at the bottom of the messages. If you are not a member, please register for an account.
Please review our Rules of Play before posting.
Posting is a two-step process. Once you have composed your message, you will be taken to the preview page. You will then have a chance to review your post, make changes and upload photos.
After posting your message, you may need to refresh the forum page in order to see it.
Before posting copyrighted material, please read about Copyright and Fair Use.
We have a strict no-advertising policy!
If you would like to practice posting or uploading photos, please visit our Test forum.
If you need assistance, please Contact Us and we will be happy to help.

Learn more about in-text links on this page here