Return to the Home Decorating & Design Forum
|
Post a Follow-Up
---
| | | |
| --- | --- | --- |
| Is This The Cutest.Tile.Ever??? Bubbles... | | |
Posted by
kswl
(
My Page
) on
Sun, Apr 20, 14 at 8:35
I am looking for tile for a backsplash wall in our basement bathroom. I am bored with tile. It all looks the same to me! Was thinking about using small subway tile (vanity in an alcove and plan is to tile entire back wall from counter up and frame out mirror on wall with chair rail tiles) then considering penny tile and came across this. It is made by Mercury Tile and comes in a lot of different color mixes. They cut the field tile at the factory to fit around your bubbles. I just love it!

But....I have a brick floor, a copper light fixture, an arched tub area and soon, I hope, a wood paneled tub front. This is a lot of decor activity :-) The bathroom is large, about 14' x 8' but that is still a lot going on. My thought was to have a light field tile (white or off white) and just a few bubbles at the base where the wall meets the countertop (solid surface mushroom color) then just a few drifting upwards. Not as many as in the photo. What do you think of the idea?
Here is a link that might be useful: Other bubble tile color options and photos
---
Follow-Up Postings:
| | | |
| --- | --- | --- |
| RE: Is This The Cutest.Tile.Ever??? Bubbles... | | |
Though unique in design, the bubbles tile seems totally inappropriate for the area you have described. Additionally, this particular tile, will have limited resale value, if you're at all concerned about resale of your home.

The different varieties of tile available these days is almost endless. The brick, copper and arch you describe for your bathroom, would be elements indicative of something more European/ Mediterranean in design elements.

This is a photo I took at the Walker & Zanger showroom.
---
| | | |
| --- | --- | --- |
| RE: Is This The Cutest.Tile.Ever??? Bubbles... | | |
I LOVE it. It looks very Klimt to me.

I am not sure how it would work with those items, but the picture shown has stainless, wood, black counters, yellow wall color and it all seems to work because the colors work with the tiles.
---
| | | |
| --- | --- | --- |
| RE: Is This The Cutest.Tile.Ever??? Bubbles... | | |
I think it would be perfect the way you described it, your basement is a fun area so the bubbles keep the mood going.
---
| | | |
| --- | --- | --- |
| RE: Is This The Cutest.Tile.Ever??? Bubbles... | | |
Boop, that is the first thing I thought of, Klimt.

I do like it, but not sure, KSWL, that it is what you want long term. I see the whimsy in having it in a location such as yours but you have spent so much time making your area refined, giving it an almost elegant and historical feel.

Would this be a 180-degree turn away from what you have worked hard to create?

I fear this is more than a pop of surprise novelty, but a bridge too far. It's your call, but be careful. I am on your team. I am pulling for you and I want your decision to be well thought-out and one which you will not regret next year.
---
| | | |
| --- | --- | --- |
| RE: Is This The Cutest.Tile.Ever??? Bubbles... | | |
Beverly, thank you for that,photo as it is everything I am sick of in tile design.....I am just bored, bored, bored with tile. In fact I may end up as a tile hater :-) We are also absurdly unconcerned with resale--- although something different may hold up better over time than the walker and Zanger design, which is so very 2014.

I don't want the bathroom to be an absolute riot, but then again, why shouldn't it be?? Somehow I have become very jaded, I blame it on GW and houzz!
---
| | | |
| --- | --- | --- |
| RE: Is This The Cutest.Tile.Ever??? Bubbles... | | |
Thank you for all these replies.

Patricia, you must stop reading my mind, it is unsettling, to say the least. :-)
---
| | | |
| --- | --- | --- |
| RE: Is This The Cutest.Tile.Ever??? Bubbles... | | |
I think the walker Zanger is a little overwrought and typical. I see your bathroom as more toward simple, almost utilitarian uses of high end materials; like your brick floor. Brick floors are very common but yours is special because of the historic, lime twist. I'd want a similar vibe for your bathroom. Maybe grey shiplap, maybe no tile at all. Maybe wallpaper.

IIRC Cat-mom has a lovely bathroom with similar tile, though, to my mind, much prettier (subtle shades of blue or grey iirc?)
---
| | | |
| --- | --- | --- |
| RE: Is This The Cutest.Tile.Ever??? Bubbles... | | |
I say go for it! It's a basement bathroom....what better spot in the house to throw caution to the wind? Plus....you are already giving it a lighter touch than the picture. Also love the idea of penny rounds. Big vote yes from me!
---
| | | |
| --- | --- | --- |
| RE: Is This The Cutest.Tile.Ever??? Bubbles... | | |
Actually are still considering doing the long wall (common to next room, opposite vanity) in same hardiplank lap siding as in front room. Now thinking plain off white handmade Mexican field tiles, with a mirror inset in border of red and white trim tiles which would themselves be bordered in the chair rail style trim tiles.

Mirror "framed" in these:
Then framed again with chair rail molding tiles:
On a field of off 4 x 4 white handmade tiles:
---
| | | |
| --- | --- | --- |
| RE: Is This The Cutest.Tile.Ever??? Bubbles... | | |
The off white tiles are Mexican and the red and off white tile is an Etsy artist/vendor, Far Ridge Ceramics. Ordering samples of all three to see if this is a good idea or no. I know the off white field tile and a chair rail trim for the I set mirror will be fine, but since the brick floor is permanent , I thought I might as well incorporate a bit of the color somewhere else. I could also use off white field tiles and a lovely brick red chair rail trim like this:
---
| | | |
| --- | --- | --- |
| RE: Is This The Cutest.Tile.Ever??? Bubbles... | | |
I think those choices look lovely, though I personally am not a fan of accent tile. The handmade are very nice. I could also see something encaustic.
---
| | | |
| --- | --- | --- |
| RE: Is This The Cutest.Tile.Ever??? Bubbles... | | |
I am not enthusiastic about most accent tile either, it gets very fussy. I would use these red and white painted tiles to border the inset mirror rather than have to cut 4x4 tiles to go around it or use plain bullnose.

Another idea is to use white or off white subway tile in a smaller size with the red chair rail molding around the mirror. We have that in several places already in the standard size so that might be a good choice.
---
| | | |
| --- | --- | --- |
| RE: Is This The Cutest.Tile.Ever??? Bubbles... | | |
I don't have a problem with the tile in isolation. But your basement isn't cute, and I don't think it needs any cute in the bathroom. The bathroom needs to stay with materials that are aligned with the rest of the basement.
---
| | | |
| --- | --- | --- |
| RE: Is This The Cutest.Tile.Ever??? Bubbles... | | |
Yes, I know, I was carried away by those adorable bubbles. Small subway tile and red trim for the mirror "frame" is probably what we will do. I think I have found the right trim kit for our faucets and taps at sink and shower, the finish is antique bronze. We have Moen fixtures down there now and I don't want to have to open up the shower to change the underneath stuff, so we are buying Moen again. Perhaps because the finish is fairly new, but at over $600 for the sink faucet and taps only -- for Moen--- I was unpleasantly surprised.
---
| | | |
| --- | --- | --- |
| RE: Is This The Cutest.Tile.Ever??? Bubbles... | | |
I think the bubbles are really cute, but not sure if I would do it in a room like you described.
If you are bored with basic tile, maybe Designer Glass Mosaics will give you some ideas.
These people did our stained glass mural in our upstairs bathroom and it is amazing the detail work.... These are not your average tiles! Maybe they could design something for you that is whimsical but that goes better w/ the rest of your style (they mail and you install, so it doesn't matter if you don't live close)
---
| | | |
| --- | --- | --- |
| RE: Is This The Cutest.Tile.Ever??? Bubbles... | | |
Love it! Would do that in a heartbeat!!!
---
| | | |
| --- | --- | --- |
| RE: Is This The Cutest.Tile.Ever??? Bubbles... | | |
To me, brick is like tile on your floor. So I would keep any bathroom tile super minimalist - solid colour large format maybe?

I am planning to have more fun with curtains - to indulge my desire for whimsy, trends, and colour - so easy and cheap to change according to my fickleness.
---
| | | |
| --- | --- | --- |
| RE: Is This The Cutest.Tile.Ever??? Bubbles... | | |
Feisty you are right, the fun and whimsical elements should be easily changed, not necessarily for resale but because at some point our tastes may change as well. I am actually leaning now towards small subway tile and grout the color of the countertop, and the same white for the chair rail shaped molding pieces to frame the mirror. Then if we decide to paint the vanity another color it won't be a problem. So, no red tile either.

Sometimes I have to even talk myself down :-)
---
| | | |
| --- | --- | --- |
| RE: Is This The Cutest.Tile.Ever??? Bubbles... | | |
| | | |
| --- | --- | --- |
| RE: Is This The Cutest.Tile.Ever??? Bubbles... | | |
We used a bubble tile in our Dynasty kitchen vignette. It's by Emser, and comes in a whole host of colors. It's not as playful as the other, but it's easier integrated.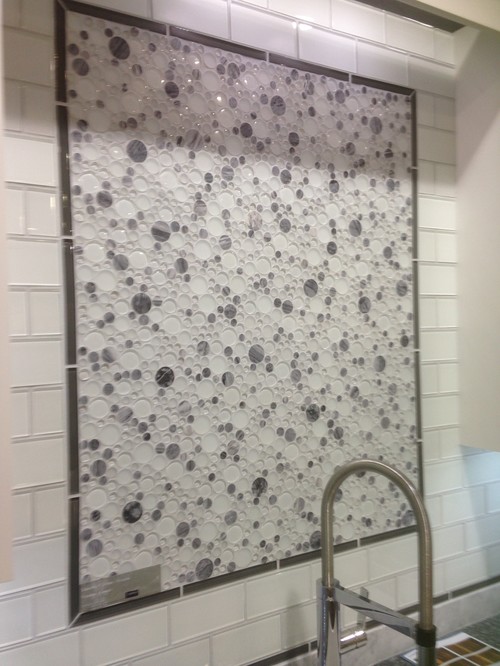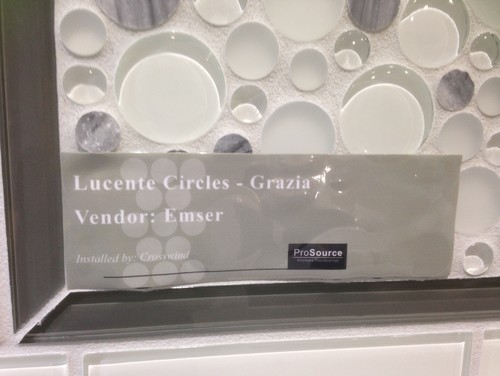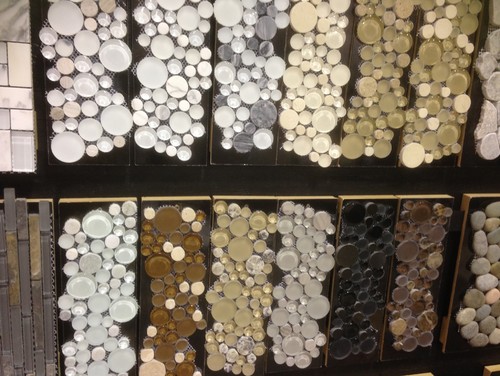 ---
| | | |
| --- | --- | --- |
| RE: Is This The Cutest.Tile.Ever??? Bubbles... | | |
Love your bubbles, live wire!! And the laundry room pic also, xc60.
The ideas and designs are very clever!
---
| | | |
| --- | --- | --- |
| RE: Is This The Cutest.Tile.Ever??? Bubbles... | | |
Those bubbles are gorgeous Live wire! I might use those in my laundry room, thanks for sharing.
---
Post a Follow-Up
Please Note: Only registered members are able to post messages to this forum.
If you are a member, please log in.
If you aren't yet a member, join now!
---
Return to the Home Decorating & Design Forum
Information about Posting
You must be logged in to post a message. Once you are logged in, a posting window will appear at the bottom of the messages. If you are not a member, please register for an account.
Please review our Rules of Play before posting.
Posting is a two-step process. Once you have composed your message, you will be taken to the preview page. You will then have a chance to review your post, make changes and upload photos.
After posting your message, you may need to refresh the forum page in order to see it.
Before posting copyrighted material, please read about Copyright and Fair Use.
We have a strict no-advertising policy!
If you would like to practice posting or uploading photos, please visit our Test forum.
If you need assistance, please Contact Us and we will be happy to help.

Learn more about in-text links on this page here