Return to the Home Decorating & Design Forum
|
Post a Follow-Up
---
| | | |
| --- | --- | --- |
| Big Room -- Big Rug? | | |
Posted by
runninginplace
(
My Page
) on
Fri, Apr 4, 14 at 8:11
I'm updating our living room and planning on putting down a jute area rug. Not sure about what size to use though, and would appreciate any advice. Here's a picture of the space looking from our foyer; it's a long L-shaped area with the main area that is shown here, the LR, a rectangle that's ~20x15 feet. The furniture is not the same but the general configuration of couch/coffee table will be: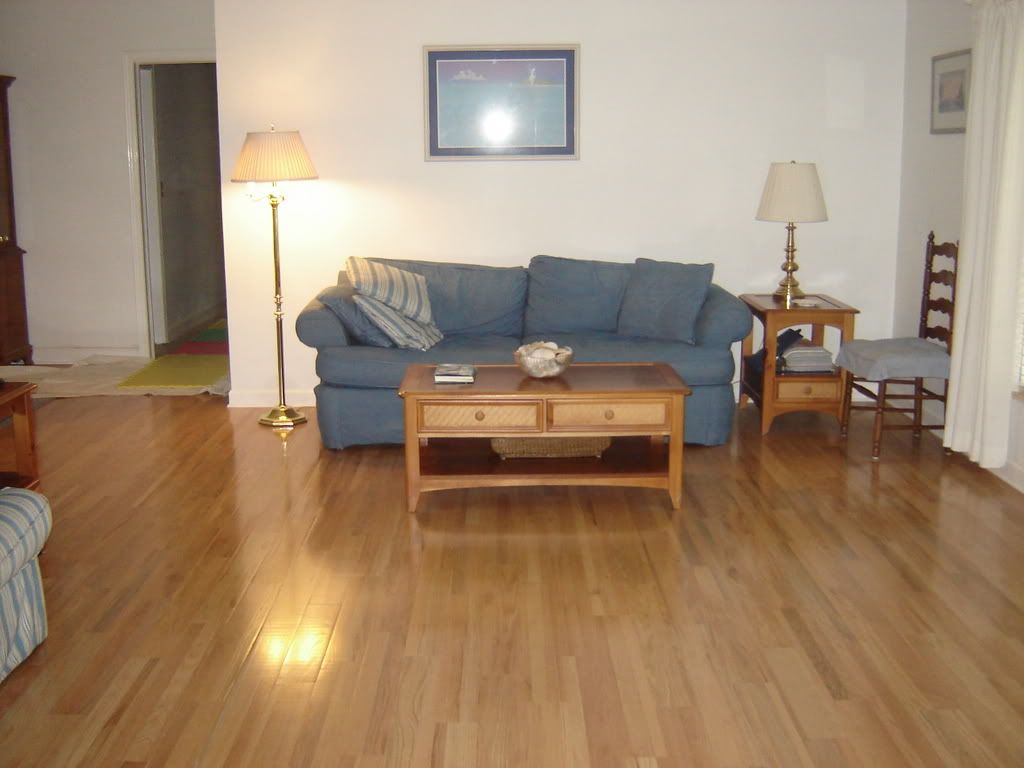 I had been planning on getting an 8x10 but while surfing the web on 'best size area rugs' came across Emily Henderson's advice-I've linked the post below (and I forgot to mention on the decor blog thread, I LOVE this one-don't skip watching the video!).
Anyway, she is firmly in the go big or go home camp so now I"m wondering if I should do 9x12. When I measure it out the larger dimensions still leave a decent amount of hardwood showing, which I like. I'm waiting for chairs to be delivered but that size supports a front-legs-on layout and everything would fit in that configuration.
Any advice or thoughts? Thanks!
Ann
Here is a link that might be useful: Emily Henderson's Advice on Rug Size
---
Follow-Up Postings:
| | | |
| --- | --- | --- |
| RE: Big Room -- Big Rug? | | |
I like it when the rug fits the conversation area, which usually means a pretty big one. I have a 10 x 14 in my 15 x 23 living room. My preference is for the furniture to be on the rug, for the most part.

If you have two seating areas then two rugs are great.
---
| | | |
| --- | --- | --- |
| RE: Big Room -- Big Rug? | | |
Get the bigger rug.

I've seen several living rooms recently where the area rug looks like a tiny postage stamp in the middle of a sea of hardwood. The proportions are all off. And a too small rug leads to having no furniture on the rug at all, except for maybe a coffee table. And that makes the room feel ungrounded.

If the larger size rug will still leave you with plenty of hardwood showing, I'd get it. If you can get the front legs of all the furniture on it, the room will look much better. If you can get all the furniture legs on, so much the better.

Basically, I agree with Emily Henderson on this.
---
| | | |
| --- | --- | --- |
| RE: Big Room -- Big Rug? | | |
Definitely larger. You want a perimeter of @ 8 - 10 inches of the wood floor showing.

However, in your room, that area that opens up to the doorway might be tricky.

Can you put up other pics, longer range, so we can see the whole configuration?
---
| | | |
| --- | --- | --- |
| RE: Big Room -- Big Rug? | | |
I am actually surprised at how often designers use rugs that look too small to me. I say big, too.
---
| | | |
| --- | --- | --- |
| RE: Big Room -- Big Rug? | | |
I just bought a seagrass for the entry to our master bedroom. I was back and forth on the size. I laid out tape to try to get a visual. I was thinking the bigger, but my husband thought the smaller. Then I laid out beach towels in the larger size - and then flipped the two ends over to see the smaller size. It was very apparent then that I should get the bigger size.
You might need several sheets or drop cloths - but if you do, it will be very apparent as to your best choice. Good luck!
---
| | | |
| --- | --- | --- |
| RE: Big Room -- Big Rug? | | |
Never balance your furniture part way on and part way off a rug. (How weird! How 'tippy' looking.) You can bring it up TO the front legs though -- so that when you rise from a chair your foot is on the rug.

Either bring a smaller rug up TO the furniture or get all of your furniture completely ON the rug. This is more important than the old rule about having 10 - 12 inches of perimeter wood showing beyond the edges of the rug.

The perimeter rule works if you are going to have separate conversational groups on the rug. (The rug then becomes 'the floor' and the wood is 'a frame'.) You need a huge room to create two or three separate groupings on separate rugs (islands).

The dining room is a place where you want plenty of rug. You need rug under at least two feet of chair 'push back'. The rug can go up TO a buffet though -- similar to going up TO a couch that is against a wall.
---
| | | |
| --- | --- | --- |
| RE: Big Room -- Big Rug? | | |
Although I agree with chisue about the dining room, I absolutely disagree that all or nothing is right for everyone's livingroom, especially with smaller living rooms when it may be necessary to have the furniture against the walls....that would mean having a nearly wall-to-wall effect, or the potential postage stamp in the middle. The front legs firmly on a good amount of carpet has always been a perfectly appropriate choice, and any possible 'tippiness' resolved by using furniture cups or felt. That said, in a large room, the bigger carpet generally provides better balance. Additionally, NOT anchoring the front legs on the carpet often leaves a feeling of floating furniture.
---
| | | |
| --- | --- | --- |
| RE: Big Room -- Big Rug? | | |
Thanks for the very helpful feedback. No-green-thumb, I will definitely lay out some sheets or other material to get a visual on what it will look like.

Below is a link to the O-stock rug I'll probably get. Oddly enough, although it is slightly larger it is actually cheaper than the 9x12 size(?).
Here is a link that might be useful: BIG Jute Rug
---
| | | |
| --- | --- | --- |
| RE: Big Room -- Big Rug? | | |
I have read other forum's comments discussing how the Overstock jute rugs ravel around the edges.
---
| | | |
| --- | --- | --- |
| RE: Big Room -- Big Rug? | | |
I bought an Overstock jute rug a few years ago and was ready to get rid of it the next month. It was terrible--too chunky, tearing at the ends, and wouldn't stay in place on the rug pad. There is a reason some items end up at Overstock. (At least I can see what I'm getting at Home Goods.)

In terms of size, the bigger, the better. You want your furniture to sit partially or wholly on the rug, not floating around it. In your photo above, 2 complementary rugs might work--a 9x12 under the sofa, and another one in the seating area nearby.
---
| | | |
| --- | --- | --- |
| RE: Big Room -- Big Rug? | | |
Either furniture sit on the rug or not at all. It can be used as an anchoring center/focal point of the room but in your case, I think big is better. I, too, am a member of the "go big or go home" school. Go big, milove, go big.
---
| | | |
| --- | --- | --- |
| RE: Big Room -- Big Rug? | | |
Dissenting voice on the issue of whether furniture must be either fully on a rug or off. Agree with that for dining room rugs, that the rug should be big enough so that all chair legs are still on it when they're pulled out for seating. That is so the legs don't get jammed on the edge of the carpet when pulling the chair back in after having sat down.

But living rooms, I don't agree. Rule of thumb, IMO is a rug that leaves 10 - 16 inches of the floor on the perimeter. For sofas that are up against a wall, this means the back legs would be off the rug and the front on them, and this is common and looks fine. I also personally think the edge of a rug in front of a sofa doesn't look good. Plenty of pics of LRs with chairs and sofas partially on a rug and partially off.
---
| | | |
| --- | --- | --- |
| RE: Big Room -- Big Rug? | | |
I don't know anything about jute rugs or Overstock. You might want to check out naturalarearugs.com. This is not spam and I have no affiliation. After looking endlessly for a small oriental for my bedroom entry, I decided on a "sisal" type rug and started searching again. I came across their website. A live chat was very helpful and I decided on seagrass. I ordered samples that were really cheap and then ordered in a custom size. It is supposed to be delivered today. You might want to check them out.
---
| | | |
| --- | --- | --- |
| RE: Big Room -- Big Rug? | | |
I have to admit that when I see a tiny area rug anchoring a seating group, with all the furniture legs drawn up to the rug but not on it, it makes me think of a herd of animals at a watering hole, wanting to drink but afraid to get too near the water for fear of being attacked by a predator. It's like the furniture is afraid the rug will eat it.
---
| | | |
| --- | --- | --- |
| RE: Big Room -- Big Rug? | | |
LOL Camlan! You said it better than I did!

Edited to correct
This post was edited by peegee on Sun, Apr 6, 14 at 11:18
---
| | | |
| --- | --- | --- |
| RE: Big Room -- Big Rug? | | |
Hahaha Camian, that's great :)

Even though it's an acceptable practice I would avoid the "watering hole" effect in the living room, too.
---
| | | |
| --- | --- | --- |
| RE: Big Room -- Big Rug? | | |
| | | |
| --- | --- | --- |
| RE: Big Room -- Big Rug? | | |
No green thumb, after the feedback from Peony and then you I'll order from Natural Area Rugs. I've gotten a rug from them before; a remnant for my hallway that they custom cut and bound without charging extra, which I thought was excellent customer service.

In fact when I was pondering the 8x10 size, I emailed them for the price matching service, and they did it for the Overstock cost. The O-stock site doesn't show an exact match for the larger size but I'll go ahead and order from Natural. The price difference isn't that great and you both are right, quality is worth a bit more money.

And yes, definitely going with the larger size. I've linked below to the one I probably will get. Interestingly, not a single person has advocated the smaller size. With such a clear concensus, I have to obey the group wisdom :).

Thanks again for everyone's thoughts and suggestions.

Ann
Here is a link that might be useful: Big Jute Rug
---
| | | |
| --- | --- | --- |
| RE: Big Room -- Big Rug? | | |
Sounds like a good choice. My rug came today and I am very pleased.
---
| | | |
| --- | --- | --- |
| RE: Big Room -- Big Rug? | | |
I think a unanimous vote is a first, here. I feel like singing "Kum-ba-ya"!
---
| | | |
| --- | --- | --- |
| RE: Big Room -- Big Rug? | | |
My old LR was 20' so I can visualize your room. Big for sure.

When we remodeled the LR is now almost 30', so we're using two rugs. No other choice.

Are you sure you don't want something comfy under your feet, especially with hot weather coming?

BTW, I'm reading "Wolf Hall." :)
---
| | | |
| --- | --- | --- |
| RE: Big Room -- Big Rug? | | |
Alex, too true. Camlan loved your metaphor!

I have to agree with Camlan and Tibbrix about the furniture on/off the rug. I think the all on or all off rule has been superseded.
Here is a photo credited to Phoebe Howard with the chair half on and half off:

Joni Webb, who write Cote de Texas, advocates for seagrass rather than other natural fiber rugs. You might want to read the linked article before you order.
Here is a link that might be useful: Cote de Texas
---
| | | |
| --- | --- | --- |
| RE: Big Room -- Big Rug? | | |
Sounds like a good choice. My rug came yesterday and I am very pleased.
---
| | | |
| --- | --- | --- |
| RE: Big Room -- Big Rug? | | |
Alex, I also was pleasantly surprised at the unanimity on this!

Oakley, WRT comfort, we have sisal and seagrass rugs down already and since we're Floridians who are pretty used to bare footin', I doubt jute would be too uncomfortable. (PS hope you enjoy Wolf Hall as much as I did, and if you do be sure to go directly to Bring up the Bodies once you finish; it's the second of what will be a trilogy).

As for the seagrass option, the reason I'm leaning toward jute is that I am trying to create that decorating idea of a neutral room w/texture to give it some interest. And jute definitely seems to have more pizazz in that department.

OTOH the idea that jute sheds, collects dirt, and perhaps unravels easily gives me pause. We have 2 cats who have used the sisal and seagrass to scratch and those rugs are bulletproof. I certainly don't want to put something down that literally will be the first thing you see when coming into my living room,and then have it look shabby.

At least I know that the size of the rug is will be no less than 9x12. I'll give the material decision awhile to percolate since the furniture won't be in for awhile and they aren't on sale anyway.

Really appreciate everyone's great feedback-thank you all!

Ann
---
Post a Follow-Up
Please Note: Only registered members are able to post messages to this forum.
If you are a member, please log in.
If you aren't yet a member, join now!
---
Return to the Home Decorating & Design Forum
Information about Posting
You must be logged in to post a message. Once you are logged in, a posting window will appear at the bottom of the messages. If you are not a member, please register for an account.
Please review our Rules of Play before posting.
Posting is a two-step process. Once you have composed your message, you will be taken to the preview page. You will then have a chance to review your post, make changes and upload photos.
After posting your message, you may need to refresh the forum page in order to see it.
Before posting copyrighted material, please read about Copyright and Fair Use.
We have a strict no-advertising policy!
If you would like to practice posting or uploading photos, please visit our Test forum.
If you need assistance, please Contact Us and we will be happy to help.

Learn more about in-text links on this page here