Return to the Home Decorating Forum
|
Post a Follow-Up
---
| | | |
| --- | --- | --- |
| Closets' doors; match walls, trim, or other color? | | |
Posted by
caroline
(
My Page
) on
Tue, Apr 8, 08 at 2:07
There's one closet in my bedroom. It has a 3' wide bifold door. There's a pocket door for the room entry;it's normally closed.

The walls are sage; the trim is buttercream; the ceiling is white. The room is 11x14 with an 8' ceiling and medium oak floors.

Should I paint the doors the sage wall color, the buttercream trim color, or a different color altogether? The room has no "style." There's a beige wool area rug with sage and purple leaves by the bed; blinds on the windows (I plan to sew sage/purple panels); and a khaki bedspread.

What could I do to improve these doors?

Excuse the mess; it's a work in progress. Paint cans outside the pocket door and remodel supplies all over the mud room.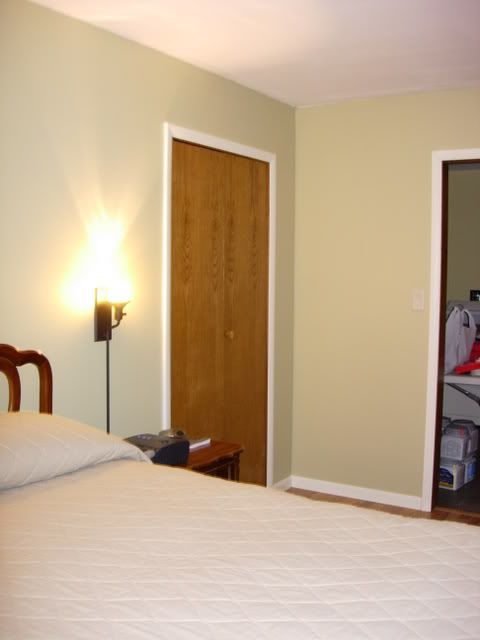 The wall color is too pale in the photo above; the one below shows them too bright. The real color is somewhere inbetween the two. The headboard will be replaced with something tall and dark, and the sconces will be replaced with bolder ones in black and nickle.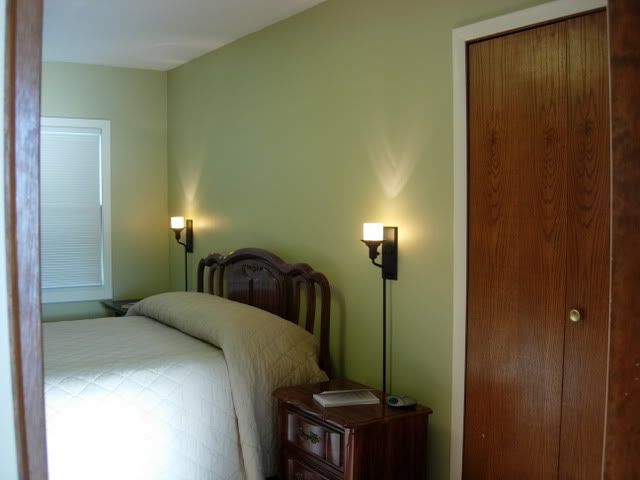 ---
Follow-Up Postings:
| | | |
| --- | --- | --- |
| RE: Closets' doors; match walls, trim, or other color? | | |
I iknow I will get beat up for this, but I could see those as mirrored doors, and the woodwork around them done dark to compliment the headboard you are planning. I think it would give the effect of a standing floor mirror, since it is a narrow closet, not a huge one.
---
| | | |
| --- | --- | --- |
| RE: Closets' doors; match walls, trim, or other color? | | |
paint the door the trim color. IMO it would cause the eye to stop on the door if it were anything else. I think it's cleaner looking when the doors match the trims.
---
| | | |
| --- | --- | --- |
| RE: Closets' doors; match walls, trim, or other color? | | |
I also think they should be painted the trim color. It's competing for attention right now with your headboard. Paint it and your headboard and lighting fixtures will really pop.

---
| | | |
| --- | --- | --- |
| RE: Closets' doors; match walls, trim, or other color? | | |
I also would paint the doors to match the trim for a seamless look!
---
| | | |
| --- | --- | --- |
| RE: Closets' doors; match walls, trim, or other color? | | |
You can paint to match the trim or the walls. Either will work.
---
Post a Follow-Up
Please Note: Only registered members are able to post messages to this forum.
If you are a member, please log in.
If you aren't yet a member, join now!
---
Return to the Home Decorating Forum
Information about Posting
You must be logged in to post a message. Once you are logged in, a posting window will appear at the bottom of the messages. If you are not a member, please register for an account.
Please review our Rules of Play before posting.
Posting is a two-step process. Once you have composed your message, you will be taken to the preview page. You will then have a chance to review your post, make changes and upload photos.
After posting your message, you may need to refresh the forum page in order to see it.
Before posting copyrighted material, please read about Copyright and Fair Use.
We have a strict no-advertising policy!
If you would like to practice posting or uploading photos, please visit our Test forum.
If you need assistance, please Contact Us and we will be happy to help.

Learn more about in-text links on this page here