Return to the Home Decorating Forum
|
Post a Follow-Up
---
| | | |
| --- | --- | --- |
| Help me tone this paint down! | | |
Posted by
pumpkin_spice
(
My Page
) on
Wed, Apr 8, 09 at 1:43
I painted part of my bathroom BM Yarmouth Blue this weekend, hoping for a soothing, spa-like feel. What I got was a little more "electric blue" than I had expected!
It's not awful, in fact in some lights it's rather pretty, if a bit intense. What I was thinking of doing is going back to BM and getting some plain white paint and mixing it in, or else asking them to tint the white with a little black in order to "gray" it down as well as lighten it.
Do you think this will work, or does anyone have any other ideas? I'd hate to waste the paint. I shelled out the extra money for the new Natura.
(Natura paint is AMAZING, by the way. I don't think I'll ever use another type of paint again! That's ONE COAT you see in that picture, over a dark brown. Amazing coverage, and no fumes.)
---
Follow-Up Postings:
| | | |
| --- | --- | --- |
| RE: Help me tone this paint down! | | |
Do NOT add black to tone it or gray it down - add the opposite color from the color wheel, in your case some red/orange.

If you have enough paint leftover to do at least one more coat, and don't mind experimenting, then by all means, lighten it up with white and then tone it with the red/orange and go from there. If you have a good paint place they'll play around with it for you. Just remember, you might need more than one coat to get what you have fully covered. And once you make a color, keep the formula and keep a sample card of it just in case.
---
| | | |
| --- | --- | --- |
| RE: Help me tone this paint down! | | |
I'm sorry I can't make any suggestions on how to tone down your YB paint. I just wanted to say how surprised I am that it seems so much more vivid shade of blue than it does on my 2 Bedrooms that I used it in. It doesn't look bad though. Good Luck.
---
| | | |
| --- | --- | --- |
| RE: Help me tone this paint down! | | |
I would get it mixed at 50% to lighten the color. Or you can do what I did and mix leftover paint tuill I got a good color. It's mostly Eleen Kennon's Summer Sky. This is my last project at my WI home just before it sold. I think this project of ripping down the wallpaper and the WT and painting the walls and doing the white shower curtain probably made the sale.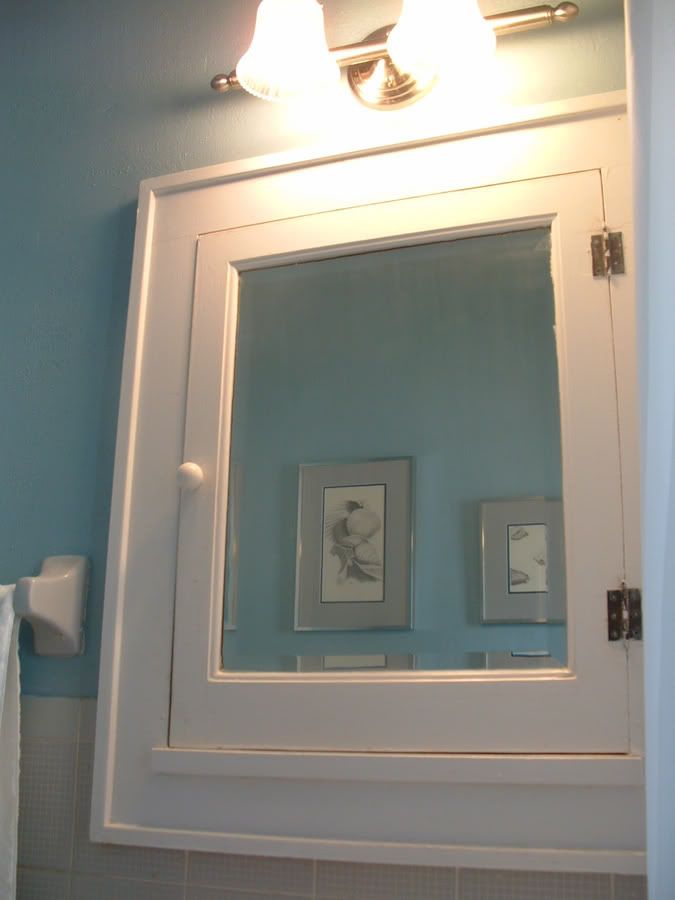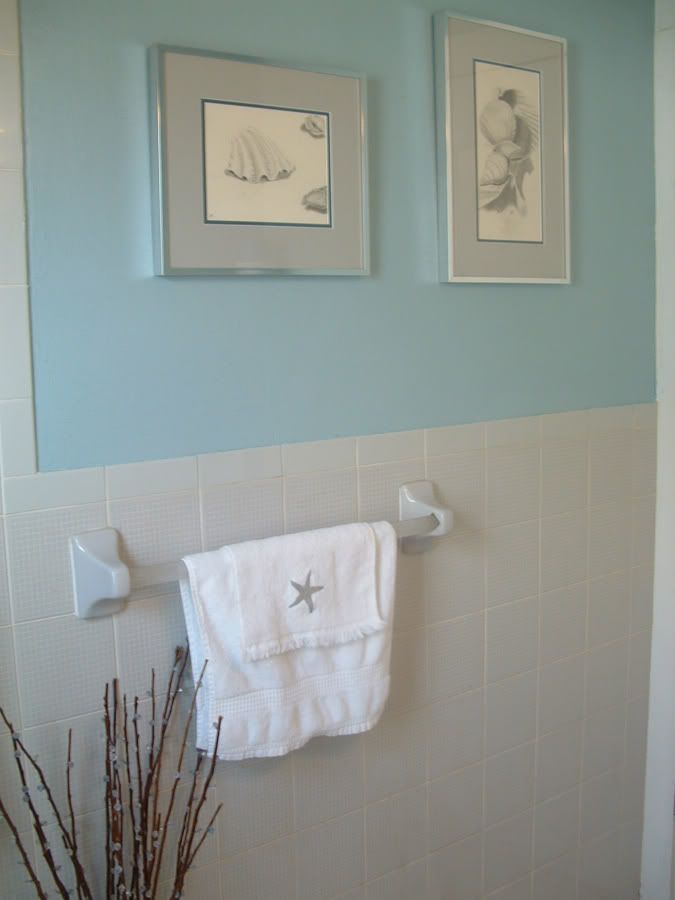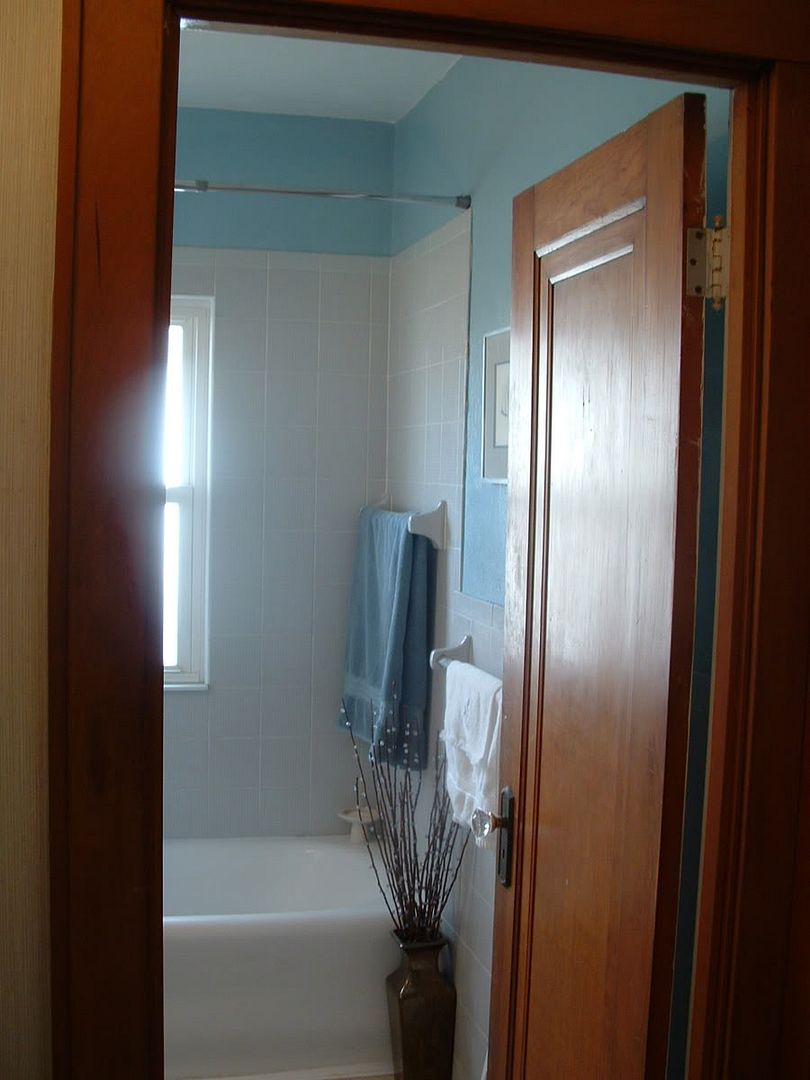 ---
| | | |
| --- | --- | --- |
| RE: Help me tone this paint down! | | |
I'd live with it a while before I painted over. It's not all that electric in the photo, and my monitor's pretty true.
---
| | | |
| --- | --- | --- |
| RE: Help me tone this paint down! | | |
dlm, you're right about not adding black. I tried putting a little paint in a cup and putting a drop of black in, and that drop was enough to turn the whole thing gray. It's a good thing I didn't try that with the whole gallon.

I'm going to live with it at least until the weekend. I don't know if it's really that bright or if I'm just not used to it. I usually use warm neutrals, so painting my bathroom blue is a whole new world for me!
---
| | | |
| --- | --- | --- |
| RE: Help me tone this paint down! | | |
Since we aren't seeing any accessories or fabric window coverings, the blue takes over. Have you considered adding at least a valance to the windows if not fabric panels? I think the blue is pretty, the room just needs some finishing. Something over the toilet, a rug (can't tell how much room is there), towels, a picture on the wall, etc. Personally, I like blue and white or blue and yellow (gold like your cabinets?), and so would think about accessorizing with these colors. Some dark tone accessories might be nice as well.
Diane
---
Post a Follow-Up
Please Note: Only registered members are able to post messages to this forum.
If you are a member, please log in.
If you aren't yet a member, join now!
---
Return to the Home Decorating Forum
Information about Posting
You must be logged in to post a message. Once you are logged in, a posting window will appear at the bottom of the messages. If you are not a member, please register for an account.
Please review our Rules of Play before posting.
Posting is a two-step process. Once you have composed your message, you will be taken to the preview page. You will then have a chance to review your post, make changes and upload photos.
After posting your message, you may need to refresh the forum page in order to see it.
Before posting copyrighted material, please read about Copyright and Fair Use.
We have a strict no-advertising policy!
If you would like to practice posting or uploading photos, please visit our Test forum.
If you need assistance, please Contact Us and we will be happy to help.

Learn more about in-text links on this page here