Return to the Home Decorating & Design Forum
|
Post a Follow-Up
---
| | | |
| --- | --- | --- |
| Plantation Shutters???? | | |
Posted by
scrookston
(
schcrookston@yahoo.com
) on
Wed, Apr 3, 13 at 1:39
We have many window treatments to get and my husband is saying that he would like to make plantation shutters. I haven't really seen them in a house other than in a bathroom years ago. Wondering if people like them, the pros and cons. Would appreciate seeing pictures anyone can share of what theirs look like. Also, we have a combination of white woodwork and darker oak stained on the main floor. The basement is all stained woodwork. Would it look funny from the outside if the shutters were white main floor and dark below? Actually in basement I think I might go with wooden blinds? Suggestions, pictures, etc. appreciated. I'll attach some pics to help you give me advice. The larger windows are 8' across. Back of house main floor I don't plan to use blinds or shutters except on the dining rm deck windows.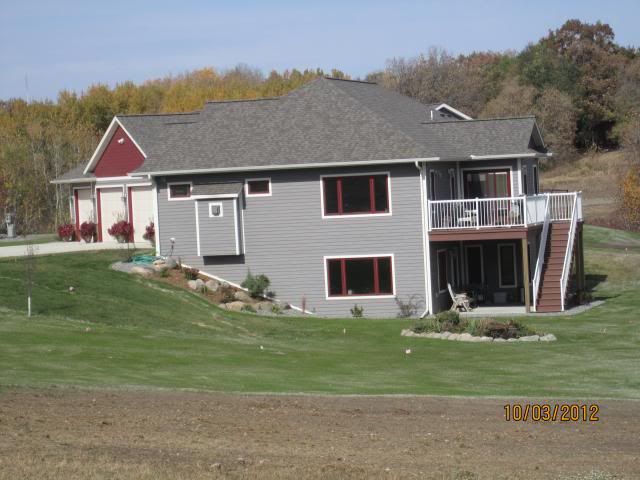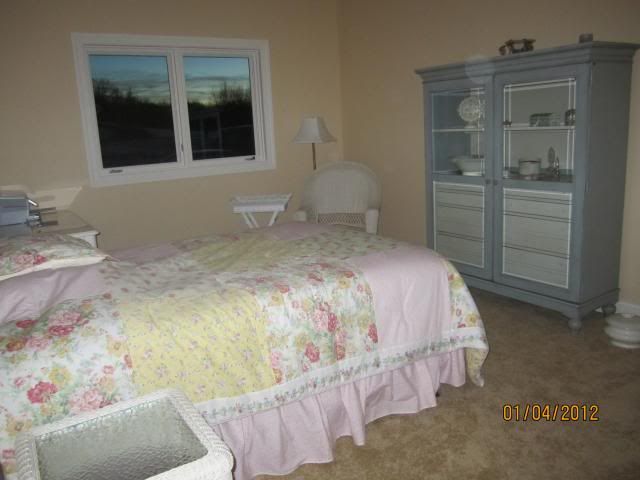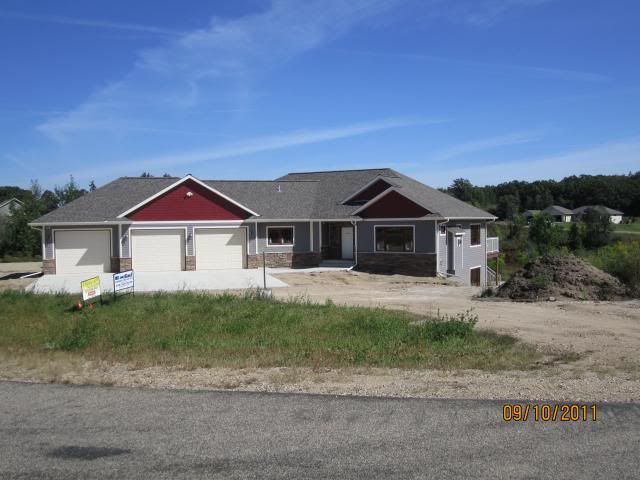 ---
Follow-Up Postings:
| | | |
| --- | --- | --- |
| RE: Plantation Shutters???? | | |
I wanted to also attach a picture of dining area. If you don't think plantation shutters would look right don't be afraid to tell me. We get a lot of sun in this room and the br and don't want things to fade, also need for privacy. I would also do some kind of fabric treatment with it. Suggestions are welcome!! Blind Factory people thought it would really darken the room and suggested top down bottom up duettes. Husband and I think we would like to be able to tilt the louvres to control light yet see out some. Thinking of putting valence and side panels of fabric on large windows, what would you do with the windows by fireplace and hutch, just shutters, hutch with shutters and valence, just valence by fireplace??? Your thoughts...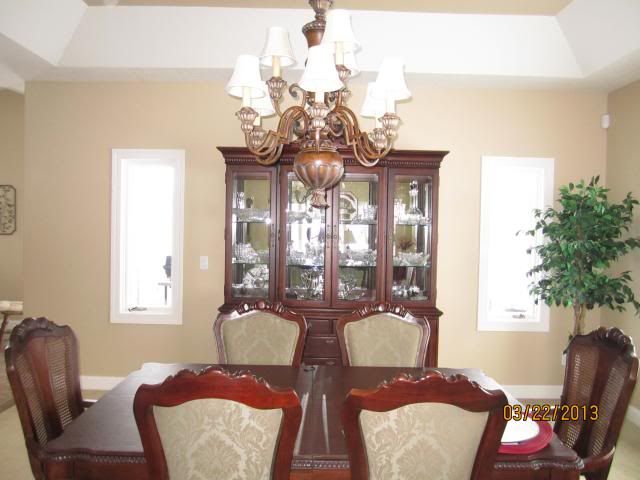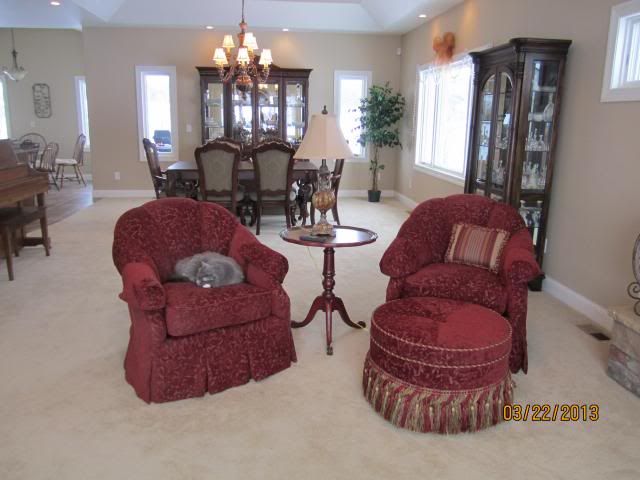 ---
| | | |
| --- | --- | --- |
| RE: Plantation Shutters???? | | |
I'm a fan of plantation shutters, but only have them in DR. I think they have a lasting/timeless look that can easily be changed by adding panels. Mine currently have grommet top panels on the ends. I'm personally not a fan of valances and panels and shutters; it tends to look overdone IMO. You are going to want to open them on occasion, so that would dictate how you do any valance. I think your home will be lovely with plantation shutters, and add some panels if you like (I would).
I don't think I would worry too much about dark shutters on the lower level. Having the right window treatment for the room is more important.
Those little windows next to the fireplace will be fine with shutters, but I would probably not add fabric. Once you get your shutters up you'll know what to do about fabric on the windows.
---
| | | |
| --- | --- | --- |
| RE: Plantation Shutters???? | | |
I think you're on the right track as far as trying to find a unifying principle for your windows, which are of so many sizes and shapes and placements. However, unless your DH is a very accomplished woodworker the shutters may not hang exactly right. If he is really able to make them himself, how wonderful for you--- you will save a bundle!

I'd start with shutters on every window and then judiciously add curtains back or to, depending on the room, decor, etc. Agree with Annie that valances with shutters is a bad look.... like you could not make up your mind, lol
---
| | | |
| --- | --- | --- |
| RE: Plantation Shutters???? | | |
Our entire home is plantation shutters from a company called Sunburst Shutters here in FL. They are composite, not wood...so no painting, chipping, cracking etc...You can get different sizes too - They are built into the windows with a trim molding. I like the clean look - no curtains, shades needed. They keep the heat out of the house and the rooms dark at night. Love them!
---
| | | |
| --- | --- | --- |
| RE: Plantation Shutters???? | | |
I don't have a picture available on this device, but we have Plantation Shutters on many different size windows throughout our house. Love them!

There are many examples on the Houzz site....below is a link. If the link doesn't take you to the correct page, just do a search for "plantation shutters" there are hundreds of pictures.


ML
Here is a link that might be useful: Houzz - search Plantation Shutters
---
| | | |
| --- | --- | --- |
| RE: Plantation Shutters???? | | |
We had them on all the windows in a previous house. I liked the look and the ability to control the amount of light and glare coming in as well as the ability to get some light while blocking the view in. The disadvantage is the room that they need to swing open and closed which can limit furniture placement if you aren't going to keep them over the window all of the time.
---
| | | |
| --- | --- | --- |
| RE: Plantation Shutters???? | | |
You've got some fantastic views wrapped around the house. I wouldn't want to cover those windows with shutters. As pretty as the bedroom would look with them, look at that sunset! I think your dining and living rooms could use some softness. I think there's enough wood and interest going on there without introducing the texture, pattern and hard surface of slatted shutters.
This post was edited by snookums2 on Thu, Apr 4, 13 at 13:50
---
| | | |
| --- | --- | --- |
| RE: Plantation Shutters???? | | |
To me, plantation shutters go in a southern home. Maybe you are in the south, but your house does not give off that vibe to me.
i would consider other window treatments.
---
| | | |
| --- | --- | --- |
| RE: Plantation Shutters???? | | |
Plantation shutters are named such because they were particularly useful in southern climates (i.e., in plantation houses). Plantation shutters are a particular type of shutter with adjustable slats to close off sunlight, to allow air circulation, etc. Shutters, plantation or fixed-louvered are not geographically tied to the south or any other part of the country, and can be lovely in almost any decor.
---
| | | |
| --- | --- | --- |
| RE: Plantation Shutters???? | | |
I agree Annie. Plantation Shutters goes with most if not all styles.

I have them and if I could change one thing it would be to install double shutters (?) on the taller windows where I could open the top half and keep the bottom half closed to let more light into the rooms.

They do cut down on light unless you get the wide slats. We have the 2" slats I think.

The best thing I like about them is how they keep the cold and hot air out of the house.

I've also seen some really nice valances on shutters but it all depends on how they lay (not gathered), and the length and material.

If your husband can make those, then you're one lucky girl!
---
| | | |
| --- | --- | --- |
| RE: Plantation Shutters???? | | |
I have stain wood in my LR. Easy to operate and look great.
Even if your DH (is that dumb or dear husband) is a handy guy is still will be difficult to make them. Wood shutters are not one solid piece of wood. They are several thin layers pressed together. This is to minimize warpage. Depending on what style and color you want, it might be less expensive to buy them.
Here is a link that might be useful: Pictures of shutters
---
| | | |
| --- | --- | --- |
| RE: Plantation Shutters???? | | |
I don't like them. I find them claustrophobic. Our previous house had them on most of the windows and even though I could appreciate the look and quality of them, I still hated them! I like to have my window panes clear for light and views. In our current house I removed all the wood mini blinds and replaced them with Hunter Douglas Duettes. Most of the day the windows are all exposed. I close the duettes for sun control at different times of the day and for privacy at night. I also have drapery panels to add color and softness to the rooms.
---
| | | |
| --- | --- | --- |
| RE: Plantation Shutters???? | | |
Second the comment from Cloud Swift. Do not undrestimate what a PITA it is to open them completely--as you have to move furniture each time. I had them for 18 years and loved them. I have many large windows--some with arched tops and 3 inch slats. I was happy with them until I spent last year living in London (Hampstead) and found joy in unobstructed views out to the yard. Came home, replaced all windows with double glazed (without minions), and added dark Bali honeycomb custom blinds. Love the way it changed the house and views.
---
| | | |
| --- | --- | --- |
| RE: Plantation Shutters???? | | |
I'm one of those that can't ever get too much sunshine streaming through the windows. DH is slowly replacing all the windows with low E ones; I get why we "should" do it - but it seriously cuts down on the sunshine coming into our home. Same with the Plantation Shutters I'm afraid… While I like the look very much, you would be surprised how much light is blocked - even with the shutters turned to the maximum open setting. And, as others have already mentioned - opening them completely means you can't have anything very close to them, which I am finding very hard to do.

I will be getting rid of my entire house full of plantation shutters. We bought the house with these already installed, and I feel a tad guilty for the money they must have cost the previous owners.
---
| | | |
| --- | --- | --- |
| RE: Plantation Shutters???? | | |
You do have the option of opening them, you know. And I am baffled by claims of having to move furniture each time. Mine open and close with the plantation slats and I sometimes open the shutters wide without ever having to move furniture. It depends on your home and application.
---
| | | |
| --- | --- | --- |
| RE: Plantation Shutters???? | | |
I've never been in a jail cell, but a room full of plantation shutters with the bars/slats going across is close enough for me!! I get the same feeling with mini-blinds, but at least you can raise those all the way to the top and have a clear view out. Why pay for windows if you are going to cover them with "bars"?
---
| | | |
| --- | --- | --- |
| RE: Plantation Shutters???? | | |
One of the other posters was correct about it being a Southern thing. Almost a necessity with the heat in Texas. The sun would destroy fabric and my shutters across 4 floor to ceiling windows in our bedroom keep out the damaging rays as well as the heat. Most of my neighbors put them in the front of their homes for look but will also put them where needed.
---
| | | |
| --- | --- | --- |
| RE: Plantation Shutters???? | | |
It has been so interesting reading all the posts. Our former house did not have many windows so this one seems very bright. Noticed a table cloth top had faded this year. The sun shining in from 3 sides most of the day will keep the ac running for sure and fading of furniture. Today my husband purchased the Rockler templates and various parts and is going to experiment first on one of the longer narrow windows by the hutch. We went with the 3 1/2" slats to provide more view. Our room is about 16.5 ft. by 33' or so. I don't believe furniture will obstruct opening them. For sure not on one of the larger windows and the 4 smaller. Only if any would be one of the large windows. We live in MN so along ways from Texas! The reflection off our two to 3 ft. of present snow, does make it quite bright in here!! Waiting for green!! Snow in forecast for tomorrow...bummer, but this is MN!
---
| | | |
| --- | --- | --- |
| RE: Plantation Shutters???? | | |
I adore them! (But I am a southern girl, so maybe that is why? :) ) For windows that need privacy or sun control, they are to me, the best option. Shutters add an architectural quality to a room that shades and blinds just don't. We have the fat slats, and it really is a substantial look. The sun streaming through them makes really beautiful shadow lines. AND...we have found that they really help with heating and cooling costs. When closed at night in the winter, they act like a storm window and during the summer they can be angled to deflect the sun's rays very effectively.
---
| | | |
| --- | --- | --- |
| RE: Plantation Shutters???? | | |
"Came home, replaced all windows with double glazed (without minions)

Oh dear, I apologize but my inner Ms Language Person is all riled up...I think you meant to say without *muntins*. Unless you did mean that you replaced your windows without the aid of many retainers, which of course having lived in London you might have brought home with you ;).

As for the topic, it interests me because I just replaced all my windows including putting in a beautiful triple in my LR. There are 2 smaller windows with muntins and a large picture glass central unit. The way my home is sited, it MUST have good privacy coverage because as soon as the sun sets, walking by outside yields a view exactly as if you are watching a tv screen of whatever is happening in my LR/DR. Really, it is the most exposed front window I've ever seen!

I love the look of plantation shutters, but settled for blinds due to cost. Now I've got to replace the blinds anyway because they aren't cut for the new window configuration. I know the plantation shutters would be beautiful, but like others I really do love the view and hate to have it semi-permanently obscured by shutters. I could just do drapes, or new blinds with some good trim (windows don't have any right now which is another project idea), or the plantation shutters.

For the time being I re-hung the old blinds and am in pondering mode. Love these topics though, so helpful to hear about others' experiences and ideas!

Ann
---
| | | |
| --- | --- | --- |
| RE: Plantation Shutters???? | | |
I'm glad I stumbled across this post! I really like the look of plantation shutters and am considering them for our bedroom and adjacent sitting room but this has given me a lot to think about. The windows are standard bedroom size I think- 32-36 inches wide. Problem is I actually really like the shutters open- I think it gives the room a quaint cottage look- which sort of defeats part of the insulating purpose of them! But we'd likely keep them closed when at work for the day at lease, so now I'm also wondering if it makes sense with my cat (who likes to sit by the window). At first I thought it would be better because he has a tendency to paw at the blinds, which couldn't be done with the shutters, but conversely the benefit to blinds is being able to raise them partway rather than having to open the shutters the entire way. Not that he deosn't have a host of other windows to site by, but you know pets.....
---
| | | |
| --- | --- | --- |
| RE: Plantation Shutters???? | | |
we also have sunburst shutter--love love them! Our house was 1960's and had all wood colonial shutters throughout==many are broken/breaking. I am replacing slowly with plantation. I have had real stained wood before, but they are harder to clean and tend to crack over time due to dryness.
---
| | | |
| --- | --- | --- |
| RE: Plantation Shutters???? | | |
We have them in every room of the house. Ours are the wide slats. We love them and will never go back to drapes, curtains, etc. They are so easy to keep clean and go with everything. As to the comments about moving furniture to open them. No need to open them except to wash windows.
---
| | | |
| --- | --- | --- |
| RE: Plantation Shutters???? | | |
Thanks for all the posts, I even reread the earlier ones. It is a slow process getting this project done! My husband made a sample shutter and it is with the 3 1/2" slats/blades. I think they will be just fine for enough light coming into the house. I was even considering the 2 1/2" slats/blades. My house pics are at the beginning of this post. What do you think, would one size be better than the other?? By the way, I am not going to use the brick red chairs in the room. Probably going with something with more of a transition look. Having a hard time trying to figure out how I want to decorate that room! Ideas welcome!
---
| | | |
| --- | --- | --- |
| RE: Plantation Shutters???? | | |
I just noticed the post....I have plantation shutters 3 1/2" wide on ally windows- I live in Northern California where it gets very hot in the summer- the shutters are excellent for keeping the heat out- the wider slats also let Lots of light in. I love the look too- very neat- here is a picture of one of the windows in the kitchen- I live in a small house- 3 bed/2 bath calif ranch house. Good luck!!
---
| | | |
| --- | --- | --- |
| RE: Plantation Shutters???? | | |
mfn Thanks for the pic! They look very nice! My husband is bldg them and having a hidden tilting piece in the back on the side of each. What brand are yours? Any cleaning dislikes, etc?
---
| | | |
| --- | --- | --- |
| RE: Plantation Shutters???? | | |
Scrookston, if you live in an area that gets a lot of dust like I do (I'm on a dirt road) then they are a pain to keep clean. Sometimes I go weeks because I totally forgot to dust them. lol.

I do wish I had the two-tiered shutters installed though. Mine were custom built and my husband would have a cow if I told him I wanted new one's! Also, now that 100 degree temps have settled in, they are worth every penny because they keep a lot of heat out.

Shutters are also great for houseplants because you can control the light they get.
---
| | | |
| --- | --- | --- |
| RE: Plantation Shutters???? | | |
Scrookston- mine are Damner shutters- the are 10 years old and have held up really well- I fold them back when opening the windows- the get dusted about once a month which seems to work- attaching a picture with the shutters folded back
---
| | | |
| --- | --- | --- |
| RE: Plantation Shutters???? | | |
oakleyok,
My husband put a divider between top and bottom of the shutter so they can be tilted separately. Would that work for you, or do you think you'd like to totally open like just the top??
What is the window size?
---
| | | |
| --- | --- | --- |
| RE: Plantation Shutters???? | | |
One of my neighbors used the smaller slats...from the inside OK, but from street view, it sort of looks like blinds.

We ordered PS (large slats) for 2 bedroom windows that face the street. Windows are 36 x 72. I'll try to post a pic when they're up.
---
| | | |
| --- | --- | --- |
| RE: Plantation Shutters???? | | |
I think plantation shutters would look really nice in your home. I've had both wood blinds and shutters (never had the composite shutters) and I found the shutters to be much easier to clean!! And no cords!

We just ordered 11 plantation shutters for part of our main level..in fact, they were just delivered today. They have 4" slats, so when open it won't appear as busy as the smaller slats. We opened one package just to check the color, etc, and they appear to be made very well. We ordered them from "the Shutter Store". They seemed to have more options available than others we found online. We did get bids from a local guy who sells Hunter Douglas products, and he quoted us $15,000+ just for the living room windows. I'm sure they are nice shutters, but not that nice! I will post pictures once they are installed. We are leaving on vacation, so don't have the installers scheduled until mid-July.

In a previous home in Colorado, we had shutters throughout the entire house. They were made like pieces of furniture, and I found them very easy to keep up. Just dust them! They were 3" slats, and made by Sherwood Shutters (which I think is no longer in business). But that was almost 20 yrs ago now.
---
| | | |
| --- | --- | --- |
| RE: Plantation Shutters???? | | |
Mpwdmom and Joyce,
I can't wait to see your pictures. I'm liking them more all the time!
---
| | | |
| --- | --- | --- |
| RE: Plantation Shutters???? | | |
| | | |
| --- | --- | --- |
| RE: Plantation Shutters???? | | |
nini804,
Are these 3 1/2" blades on the shutters? What is the size of the shutters? Also, the board that frames the shutter blades, how wide is that on the sides and on the top and bottom?
What a fresh look your bathroom has!
---
| | | |
| --- | --- | --- |
| RE: Plantation Shutters???? | | |
Ha, Scrookston...this pic was taken right after we moved in...we were having a custom beveled vanity mirror made that the lights would be installed through...and the mirror cracked en route to our house! Anyway, it looks a lot more complete now, with the mirror in, lol.

Yes, our slats our 3.5". The shutters were custom made, and the carpenter created a "box" around the edge of the actual window frame, but inside the trim. The sides protrude about 2" from the wall. That top piece plus the box frame is about 5".
---
| | | |
| --- | --- | --- |
| RE: Plantation Shutters???? | | |
I love the shutters because I want to block as much light/UV as possible, to reduce damage to furnishings. Can't put window film on, because of glass warranty. Also with allergies I prefer window treatments that are non-fabric; the HD Palm Beach shutters can be wiped down with a damp microfiber cloth. :-)

I'll be putting them on all 6 windows (small house, LOL) as I can afford to do so, other than the kitchen sink window which has to get a roller shade because of view and adjacent cabinets.

The only qualm I have is having to put the plain white shutters on the big window in the (dressy) living room; I priced their wood look New Style shutters but they are about 30% more expensive than the white Palm Beach and that being a $1400 window just for the shutters themselves (don't know yet what the labor will be), I simply can't afford that product.
---
| | | |
| --- | --- | --- |
| RE: Plantation Shutters???? | | |
Sorry, meant to clarify that the $1400 for product is for the white Palm Beach shutters, not the NewStyle.

Also I prefer the shutters without the bar in the center; you just see the slats when looking at it. I forget what they call that feature, where you can tilt all the slats simply by moving any one of them.
---
Post a Follow-Up
Please Note: Only registered members are able to post messages to this forum.
If you are a member, please log in.
If you aren't yet a member, join now!
---
Return to the Home Decorating & Design Forum
Information about Posting
You must be logged in to post a message. Once you are logged in, a posting window will appear at the bottom of the messages. If you are not a member, please register for an account.
Please review our Rules of Play before posting.
Posting is a two-step process. Once you have composed your message, you will be taken to the preview page. You will then have a chance to review your post, make changes and upload photos.
After posting your message, you may need to refresh the forum page in order to see it.
Before posting copyrighted material, please read about Copyright and Fair Use.
We have a strict no-advertising policy!
If you would like to practice posting or uploading photos, please visit our Test forum.
If you need assistance, please Contact Us and we will be happy to help.

Learn more about in-text links on this page here