Return to the Home Decorating & Design Forum
|
Post a Follow-Up
---
| | | |
| --- | --- | --- |
| Sheepskin throws | | |
Posted by
kam76
(
My Page
) on
Fri, Apr 18, 14 at 1:18
For putting on a hard chair. What do you guys think about them? I have seen them in several magazines now and they look so cozy. I have not actually touched one though, sheep don't strike me as particularly soft. Does anyone have one or know what a reasonable price is? I have seen some on Etsy that are around $100.
---
Follow-Up Postings:
| | | |
| --- | --- | --- |
| RE: Sheepskin throws | | |
I have a sheepskin rug at the side of my bed for my tootsies...it is wonderful. I got mine at Ikea for a lot less than $100 though. Not sure I'd want to sit on it, esp in black or navy pants....
---
| | | |
| --- | --- | --- |
| RE: Sheepskin throws | | |
If they are real sheepskin like the ones in hospitals used for neonates and individuals with peripheral and arterial problems, they will NOT shed on your clothing. They are beautiful and oh, so, comfy.

I wonder if you are speaking to a flokati and not necessarily the sheepskin that is used in the hospital. If you are referring to a flokati, a word of warning if you have pets.
---
| | | |
| --- | --- | --- |
| RE: Sheepskin throws | | |
I have two sheepskin throw pillows and love them. They are very soft and add a feel of coziness to my LR, I think. I think you want to make sure it's real sheepskin. for the most part, I keep them on a keep window sill, and occasionally they've gotten wet and have looked horrible and I thought they were ruined…but they bounced right back and look as good as ever.
---
| | | |
| --- | --- | --- |
| RE: Sheepskin throws | | |
I have three genuine sheepskin rugs, experimenting with them as attractive comfortable surfaces for the dogs, two small ones are are on the sofa they and I watch TV from, one large one is on the big ottoman that the largest dog lies on.
I wash them from time to time using dog shampoo in the washer and add some dog cream rinse I have in lieu of softener. They've held up fine.
---
| | | |
| --- | --- | --- |
| RE: Sheepskin throws | | |
Funny the timing of this question. I got it in my head that I HAD to have 2 Tibetal Lamb skin stools in the showhouse room I'm doing. Looked online, but everything was too expensive. But the GWers here know me.

Off to the PB Outlet, found the West Elm 24" pillow covers. Took way too long to find the two I wanted since they are all different because, well, they are real and there a variations from one to another. I just wanted them to look similar.

Anyway, I got mine there, went to Target to look for a stool that was on clearance before with metal cube style legs, but they were all gone. Found two other simple stools for $38 each. And voila, I have my stools for the showhouse!

I'm planning on painting the legs.

These do shed. And they are real.

If this is the type you are thinking of, search for Tibetan or Mongolian Lamb (skin) or (wool).
---
| | | |
| --- | --- | --- |
| RE: Sheepskin throws | | |
Here's a pic of the stool under the pillow cover. I'm thinking of just draping them over the stool for the show, they have a bit of weight to them, I don't see a need to ruin them by stapling them to cushion as if I was recovering the stools.
---
| | | |
| --- | --- | --- |
| RE: Sheepskin throws | | |
Oh, my goodness, beekeepers wife! What fun! You put a sheep's head on the end of a stool and it'd actually look like a sheep!
---
| | | |
| --- | --- | --- |
| RE: Sheepskin throws | | |
Saw some yesterday at HomeGoods for under 50.00. I was seriously considering them but couldn't figure out what to do with them.
---
| | | |
| --- | --- | --- |
| RE: Sheepskin throws | | |
I love sheepskins. I have one on either side of our bed. Just recently I put one over a ghost chair in the living room as a place holder of sorts. I really like it. Doesn't shed. It is real - Bowron is the brand. Doesn't shed at all. They cost about $80-100 a piece.

Here is a pic:
---
| | | |
| --- | --- | --- |
| RE: Sheepskin throws | | |
I've had one for 30 years - mostly it's been hanging on the wall, but I have had it on the foot of my bed.

A few weeks ago I started using it as a seat cover in my Jeep, and I'm kicking myself for not doing it a long time ago! It's cold where I live, and the sheepskin reflects heat so well, it's like having a heated seat. Oh, and SO comfy!

No, it doesn't shed.
---
| | | |
| --- | --- | --- |
| RE: Sheepskin throws | | |
I had one.

My cat killed it - ripped the wool out and peed on the carcass
---
| | | |
| --- | --- | --- |
| RE: Sheepskin throws | | |
Lol lazy gardens...I was so fortunate that our cat ignored our rug!
---
| | | |
| --- | --- | --- |
| RE: Sheepskin throws | | |
I'm almost certain my dog would kill it.
---
| | | |
| --- | --- | --- |
| RE: Sheepskin throws | | |
Sam's club online. I adore mine!
---
| | | |
| --- | --- | --- |
| RE: Sheepskin throws | | |
They're very common out here in New Mexico. I have this piece of a (real) sheepskin rug on the art chair, now in my living room. It makes for a very comfortable seat. I also have a sheepskin rug in our guest room.
BTW, the reason I had that piece to use in my chair is because our previous dog ripped another sheepskin rug into pieces. The one on the chair is the largest piece that made it through the "attack" (LOL). Turk was so proud of himself for saving us from the flat sheep monster. He couldn't wait to show us it's "dead" carcass. I cried for my poor rug!
Lynn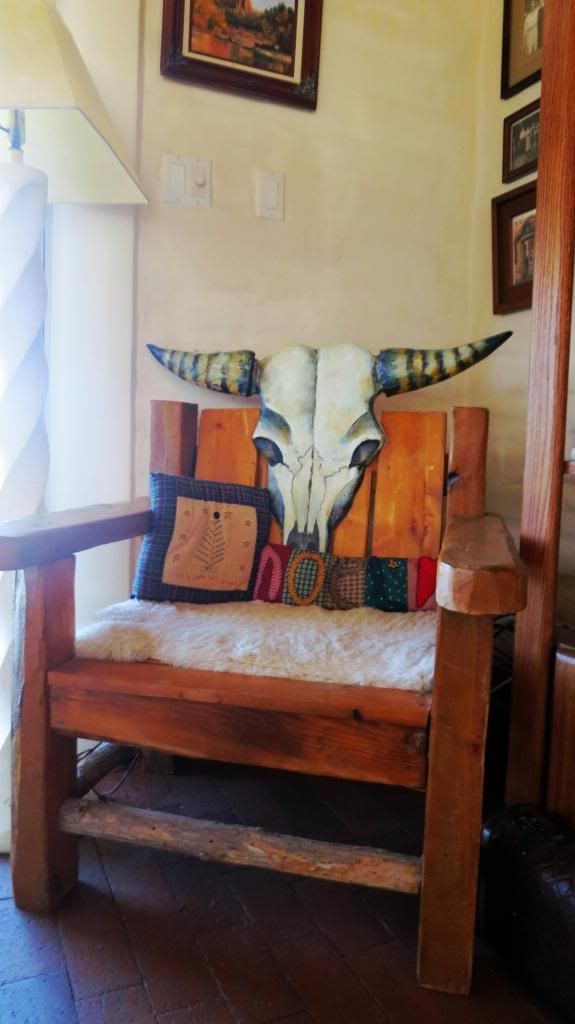 ---
| | | |
| --- | --- | --- |
| RE: Sheepskin throws | | |
yes, I have one of those small lambskins from Ikea. I've had it for many years and just throw it on a any likely surface. I wash it periodically in cold water and mild soap, then "come" the nap.

One of my cats has taken to gouging chunks out of it, but it's still hanging in there. Would love to have more, as they provide a natural, warm, and textural accent to a room.
---
| | | |
| --- | --- | --- |
| RE: Sheepskin throws | | |
I gave one to my darling grandson two Christmas' ago for his teepee. He loves it. Doesn't shed. DD2 washes it on delicate with regular detergent (but not much). Air dry. His came from Rachel Ashwell's Shabby Chic Couture website during a 20% off sale. Was the smaller size carried and about $80. Doesn't look like it's on website any longer.
---
| | | |
| --- | --- | --- |
| RE: Sheepskin throws | | |
I have one that's on the bench at the foot of our bed. It's there for one of our dogs to sleep on. He won it as a prize in a sheepdog competition. It's very soft and doesn't shed. Since it is real, you would have to see if your pets are attracted to it. Ours have been fine, but they are normally good about not chewing up things.

About the shedding, there are many different breeds of sheep and they have different types of wool (some no wool at all, but hair instead). Some is tight and dense and others have sort of long stringy wool. Also, sheep who are stressed due to diet, weather, illness, or other factors will grow weakened fleece during those times, making the wool more likely to break and shed.
---
| | | |
| --- | --- | --- |
| RE: Sheepskin throws | | |
As always happens to me on GW I am continually bombarded with things I didn't even know about that now I *have* to have. Thanks a lot.
---
| | | |
| --- | --- | --- |
| RE: Sheepskin throws | | |
Me too Louis but I started to covet one after I saw them at the Farm Show. Our DGS were along so I didn't have time to buy one but I have been kicking myself ever since!
---
Post a Follow-Up
Please Note: Only registered members are able to post messages to this forum.
If you are a member, please log in.
If you aren't yet a member, join now!
---
Return to the Home Decorating & Design Forum
Information about Posting
You must be logged in to post a message. Once you are logged in, a posting window will appear at the bottom of the messages. If you are not a member, please register for an account.
Please review our Rules of Play before posting.
Posting is a two-step process. Once you have composed your message, you will be taken to the preview page. You will then have a chance to review your post, make changes and upload photos.
After posting your message, you may need to refresh the forum page in order to see it.
Before posting copyrighted material, please read about Copyright and Fair Use.
We have a strict no-advertising policy!
If you would like to practice posting or uploading photos, please visit our Test forum.
If you need assistance, please Contact Us and we will be happy to help.

Learn more about in-text links on this page here