Return to the Home Decorating Forum
|
Post a Follow-Up
---
| | | |
| --- | --- | --- |
| What color would you go with? | | |
Posted by
newhomeowner2011a
(
My Page
) on
Thu, Apr 19, 12 at 0:55
I figure this is the right forum since color is mentioned several times and that is exactly the issue I'm dealing with...

White stucco house
Mellow yellow door
Brown stained wood steps

What color patio would you go with?

We have these brown brick pavers from demo of old deck (dealing with questions surround that on sep posting...) - would you stick to these or go for a grey cobblestone?

Hopefully this link will work - http://i1123.photobucket.com/albums/l546/momanda09/Backyard Landscap ing/IMG_5739.jpg

*Pretend price wasn't an issue, what would you suggest? Change them or go with what we already have?
---
MORE ON GARDENWEB...
---
| | | |
| --- | --- | --- |
| RE: What color would you go with? | | |
I don't think any of the colors in your picture complement each other very well, but gray cobblestone isn't a good color choice with wIth your current colors, either. If you like the brown brick and want to keep /extend that, I would paint the house tan and the door a lighter tomato or rust red. If you want to keep the white and do a gray patio, I would paint the door a lighter gray than the patio, or a clearer red, or navy. Your existing yellow door color (very easy to change) does not favor either color patio you propose, IMO.

Patios are really difficult projects--- I had more trouble with ours (picking our colors, etc) than I anticipated.good luck!
---
| | | |
| --- | --- | --- |
| RE: What color would you go with? | | |
I like kswl's suggestion to paint the door a red tone if you want to use the brown brick. However, I'd also like the gray cobblestone with the existing house color and red-toned door IF you also paint the steps something other than a brown tone (black?).
---
| | | |
| --- | --- | --- |
| RE: What color would you go with? | | |
I agree with kswl. I'm not a fan of the color scheme at all.

I like the natural redwood steps and the light brown pavers. I don't like the house color or especially the door color. Take a look at my friend's house...
They did a great job with color (they are professional landscape architects).
Once you "neutralize" the color scheme, you can select any color you'd like for the door and it will go. Just remember the brighter the color the less sophisticated it looks, like the chrome yellow that's there now. Softer shades will make it look richer.
---
| | | |
| --- | --- | --- |
| RE: What color would you go with? | | |
Here is your photo. I would reuse the pavers. They look fine to me.
---
| | | |
| --- | --- | --- |
| RE: What color would you go with? | | |
Reuse the pavers. Paint the door.
---
| | | |
| --- | --- | --- |
| RE: What color would you go with? | | |
| | | |
| --- | --- | --- |
| RE: What color would you go with? | | |
Annie, would you be able to find out what paint color your friends used on the house? We have a Spanish style house and need to pick a color ... my contractor wants a decision yesterday!
---
| | | |
| --- | --- | --- |
| RE: What color would you go with? | | |
We have a red front door and use navy/tan/white A LOT inside our home which is why I picked yellow for the back door - something that complimented the nautical theme we have going on inside. I didn't want to do red again because honestly if my husband wasn't sold on it, I'd change it - love red doors but we truly are the 4th of July House because of it! :-)

The only think I'm fixed/sold on is that the house remains white.

Knowing this, the variables are the backdoor color, the stain of the existing steps (can this be changed? If so, maybe grey steps and white railing???) and the patio pavers.

Many of you have already said door color is easiest to change but my husband already needs to sand and re-stain the steps/railing b/c of streaking when he did it last time so if changing this is an option, would you change it too/instead?

Ideally, what would you say is a good combo of these 3 variables with a white house now knowing the info above?

I was trying to have a "pop" with the yellow door but my end goal was traditional/classy. I thought the brown stain on the steps/rails was a neutral and would go well with the yellow. Unfortunately this isn't what I'm getting across based on all of your responses :(

Thanks again for your feedback even though it was a tough pill to swallow when reading it all ;)
---
| | | |
| --- | --- | --- |
| RE: What color would you go with? | | |
He said the color is creme caramel, but the BM product looks much too light. It may be this shade:

Crown Diamond 7107-43 Creme Caramel at MyPerfectColor
I think the important thing is more the mood and spirit rather than the exact shade. After all you are dealing with redwood, not brick.
Also, what color is your roof? Roof colors matter a lot when painting a house.
---
| | | |
| --- | --- | --- |
| RE: What color would you go with? | | |
I like the brown bricks. They seem to have some color variety & character to them, though probably not as much as in this mock-up. I was trying to get the stair color closer to the brick color to blend in better, but it came out too gray. I think if you made the stair color closer to the brick color, it'll all work out just great.

>
---
| | | |
| --- | --- | --- |
| RE: What color would you go with? | | |
So you think we should keep the yellow door and just change the stairs/rails to a different shade of brown? A shade as close to the brick color or lighter/darker???

Our roof is a blackish-grey. It is a hip roof so it isn't super noticable other than over our garage and over the bump out in our backyard.

Here is a pic before our addition and all the demo'ing last winter - you can see the brick maybe better in this pic as well as the roof color (same as the garage) -
(pls note this deck and the fence pictured have been ripped out)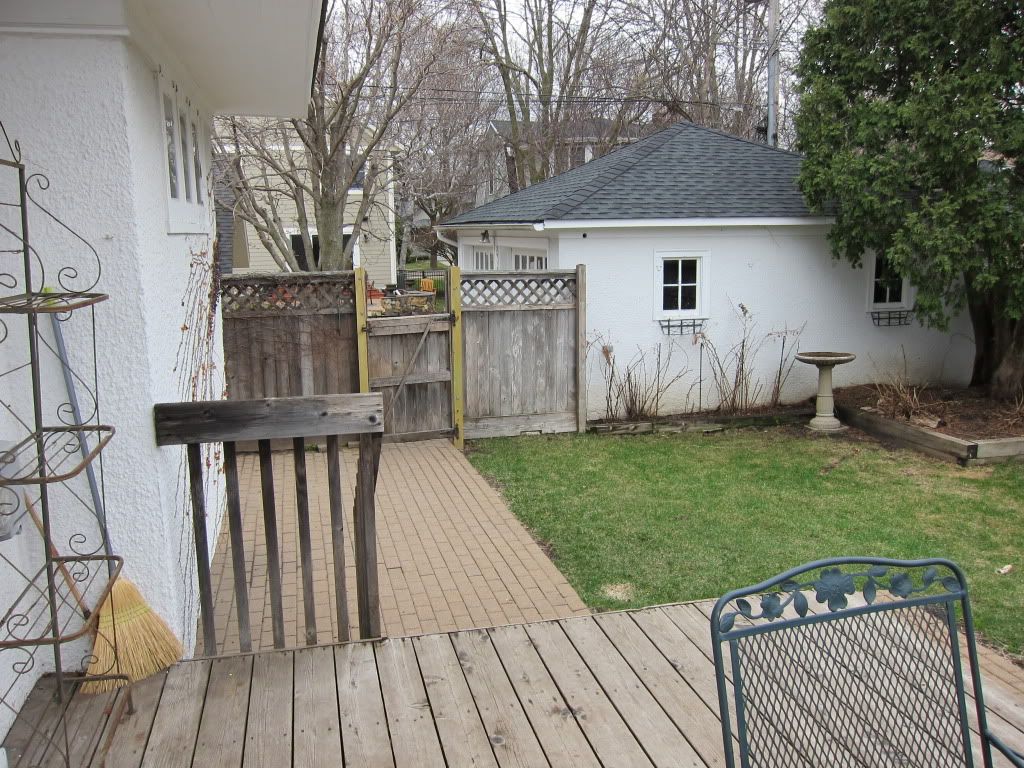 ---
| | | |
| --- | --- | --- |
| RE: What color would you go with? | | |
Well, the pavers are more uniform looking than I thought...But they're fine. They blend in well with everything. You might as well save some money by reusing them.

Gray pavers would look great too if you wanted to make the investment. But the brown stairs would definitely have to be repainted gray.

How's this, better?

---
| | | |
| --- | --- | --- |
| RE: What color would you go with? | | |
Seeing the roof color changes everything.
I'm trying to pull your color scheme together using BM paint swatches....the buildings are snow white, the roof is sort of a wolf gray, and the pavers have a lot of pink in them...like san clemente rose. Given that color palette, I'd go with using the pavers, painting the stairs a dark gray, and picking an accent color for the door like new london burgundy to pick up the red tones or a pikes peak gray to pick up on the gray in the roof.
---
| | | |
| --- | --- | --- |
| RE: What color would you go with? | | |
Gray stairs/red door. (I still like the yellow door better):
---
| | | |
| --- | --- | --- |
| RE: What color would you go with? | | |
With the stucco I think yellow makes the stucco look yellowed/dirty. I would go with navy, charcoal or a deep green for the door. and Charcoal for the steps! Love the yard!
---
| | | |
| --- | --- | --- |
| RE: What color would you go with? | | |
Wow; y'all are really good at this! The visual (mock-up) is really helpful - thank you!!!

That planter certainly helped A LOT as did the green grass :-) We just had lots of concrete that was hidden under the deck torn out today by a Bob Cat so our entire yard is basically dirt now - sod is next on the list and then we have to start building our patio!

Does the stain on the steps need to match the stain on the fence that we plan to add this summer or would you just leave the fence "natural?"

*Could it be that the stucco looks dirty to you b/c where the door is located is the new part of the house so it is dyed stucco whereas the old part (to left of door) is (old) painted stucco? Once we finish making some other structural changes this summer we are getting the entire house painted white again so it will all match - I promise! :-)

Clearly I'm not great with colors but do you think the second mock-up picture would look better if we went with the grey pavers or do you like the contrast w/ the brown?

We aren't going to have a huge deck so it is only a few hundred dollars to change the paver color - not big in the grand scheme - so again, pls don't feel like we have to keep them since we already have them here ;)
---
| | | |
| --- | --- | --- |
| RE: What color would you go with? | | |
I think the color and texture and sheen of the stucco is what gives it it's appearance. All 3. But I like it just fine and would not change it.

I don't think the harsh yellow on the door is doing you any favors. I think it makes the house color look too cold and therefore the whole image is cold and unwelcoming.

If you want yellow, I think you need a muddier yellow to look good. The color needs to "look thick", if that makes sense. I prefer the image above with the red door to the yellow door. And agree with tinan's other color suggestions.

Can you tour your neighborhood and look at other homes with you roof color and similar wall paint colors and study their trim and accent? Sounds too easy, but it is what I do a lot in my neighborhood.
---
| | | |
| --- | --- | --- |
| RE: What color would you go with? | | |
My first thought was what I would do if the kitchen had the tan brick color as a flooring and white walls. What colors would work together for cabinets and bringing in other colors.

I agree with a deep navy blue for the door as rec above since you mentioned tying into the interior. Also would go with natural wood for your new fence. The lighter stair rails work quite well shown. Keep the pavers, they are unique compared to what most have and will work beautifully when you have the landscape on it's way. Would love to see more of your home. It looks smartly done. You must have put in a lot of work to get to the back yard.
---
| | | |
| --- | --- | --- |
| RE: What color would you go with? | | |
It sounds to me like you want to change the pavers to a slate gray. If that's what you want, go with it....it will blend nicely with the roof color. Then you can go with any color door as gray/white are neutrals. Only thing is that shade of yellow is really garish. If you really want yellow, I'd tone it down to something softer probably more gold.
---
| | | |
| --- | --- | --- |
| RE: What color would you go with? | | |
I am happy to reuse what we already have but only if I can make it work. The reason I said that again about the grey pavers is b/c I didn't want everyone to feel like we had to work with the pavers that we have since in the grand scheme of things, they aren't that expensive to replace. Of course the labor (and convincing my husband...) involved with switching them out is another topic altogether ;) So no, I'm happy to reuse but only if I can make it all tie together.

I've used the pictures above and did a few mock-ups with what I think y'all are also saying you'd suggest -

1. light grey steps with dark grey door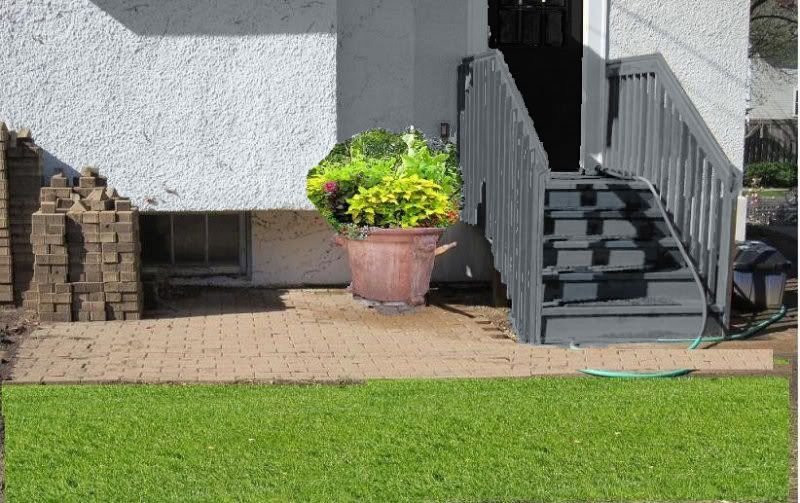 2. lighter (more muted) brown with navy door - or did you mean that we should stick to the current stain on the steps with the navy?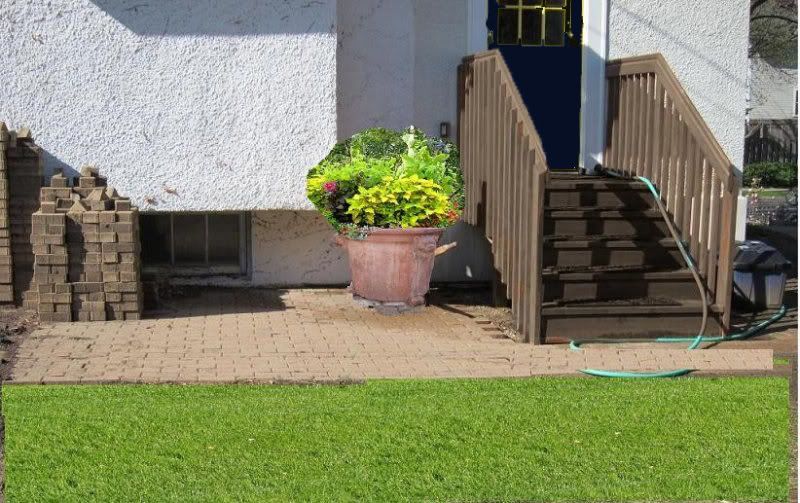 *Clearly my Photoshop skills aren't as good as yours!!! ;)
BTW, I did just receive confirmation that we can change the deck stain and my husband has already agreed to doing that :-)
---
Post a Follow-Up
Please Note: Only registered members are able to post messages to this forum.
If you are a member, please log in.
If you aren't yet a member, join now!
---
Return to the Home Decorating Forum
Information about Posting
You must be logged in to post a message. Once you are logged in, a posting window will appear at the bottom of the messages. If you are not a member, please register for an account.
Posting is a two-step process. Once you have composed your message, you will be taken to the preview page. You will then have a chance to review your post, make changes and upload photos.
After posting your message, you may need to refresh the forum page in order to see it.
Before posting copyrighted material, please read about Copyright and Fair Use.
We have a strict no-advertising policy!
If you would like to practice posting or uploading photos, please visit our Test forum.
If you need assistance, please Contact Us and we will be happy to help.

Learn more about in-text links on this page here