Return to the Home Decorating Forum
|
Post a Follow-Up
---
| | | |
| --- | --- | --- |
| Anyone have teak patio furniture? | | |
Posted by
jakefield
(
My Page
) on
Sat, Apr 28, 12 at 0:04
Hi,
We are desperately in need of a new patio table and chairs. We have an aluminum table set that has served us well, but has seen much better days. I found a teak set (62 inch round table and 6 chairs) on craigslist for 800 that the seller has just sanded and restained. I'm just wondering if people are happy with their teak furniture. Also, the set we have has thick cushions which are nice and this set does not come with cushions. Our old set had the rocking swivel chairs and the new set has dining chairs. My other concern is that we do not have a large backyard and our present table is 48 inches round. Worried a bit about the extra size although I think it would work. Any thoughts or words of wisdom? We have tentatively arranged to go look at the set on Sunday (an hour away). Thanks
---
Follow-Up Postings:
| | | |
| --- | --- | --- |
| RE: Anyone have teak patio furniture? | | |
I have a teak round table and six chairs and two captain chairs and although they are more maintaince than most patio sets I love them. Every spring I power wash, sand and then teak oil them and they look brand new til August when they turn greyish again. I love the grey look but my DH likes them golden. I think teak is for patina lovers. I also own etched marble in my kitchen and eat on and live with antiques that are marred. I picked teak for it felt right with my 1920s era home.
Also my 60" set fits fine on a 10x10 patio so I think rounds fit better in small areas.
This is my table last year and it has been outside all year long for four years when the pic was shot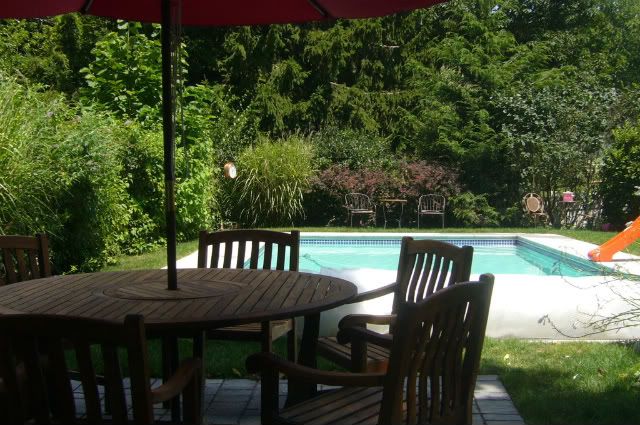 these chairs were 5years old when the photo was taken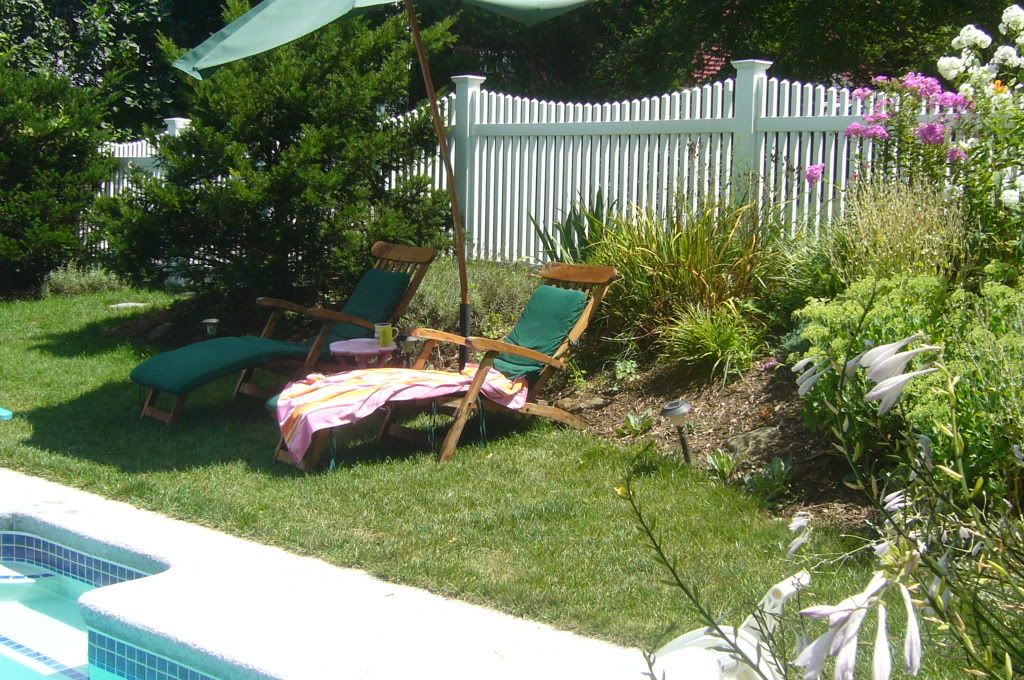 ---
| | | |
| --- | --- | --- |
| RE: Anyone have teak patio furniture? | | |
Hi Roarah,
Thanks so much for the response. That looks very similar to the set I am looking at which he says is 3 years old. What do you think of the 800 price? He was initially asking 1000. We live by the coast and, quite frankly, it is a rare day that we can eat a meal outside. I do like to have that option though. Mostly we sit outside to visit with the heater on! Do you think the dining chairs would be comfortable enough for that? We are coming from swivel rockers with cushions. Our patio area is 10 by 10 as well but the surrounding area is not as spacious and beautiful as yours. Wow!! Hope you check my post again. Thank you so much.
---
| | | |
| --- | --- | --- |
| RE: Anyone have teak patio furniture? | | |
I paid 1000 new at bj's and they may still carry them... So I would offer lower and settle inbetween:)
---
| | | |
| --- | --- | --- |
| RE: Anyone have teak patio furniture? | | |
We have teak furniture, and some of it is over 20 years old. No stain, just natural and oiled. We just power wash and sand as needed. I think it is worth the money, it's indestructable.
---
Post a Follow-Up
Please Note: Only registered members are able to post messages to this forum.
If you are a member, please log in.
If you aren't yet a member, join now!
---
Return to the Home Decorating Forum
Information about Posting
You must be logged in to post a message. Once you are logged in, a posting window will appear at the bottom of the messages. If you are not a member, please register for an account.
Please review our Rules of Play before posting.
Posting is a two-step process. Once you have composed your message, you will be taken to the preview page. You will then have a chance to review your post, make changes and upload photos.
After posting your message, you may need to refresh the forum page in order to see it.
Before posting copyrighted material, please read about Copyright and Fair Use.
We have a strict no-advertising policy!
If you would like to practice posting or uploading photos, please visit our Test forum.
If you need assistance, please Contact Us and we will be happy to help.

Learn more about in-text links on this page here