Return to the Home Decorating Forum
|
Post a Follow-Up
---
| | | |
| --- | --- | --- |
| Color Scheme for Cottage Exterior? | | |
Posted by
groomingal
(
My Page
) on
Sat, Mar 28, 09 at 23:23
We are getting ready to pick out the color scheme for our cottage and I could really use some help from you all.

We have a metal roof that is currently blue- think smurfs that have been baked a tad too long. The exterior paint was all done in white. The exterior doors are a sage green- yeah this was all the previous owners choice not mine.

DH and I are making flower boxes to put under all of the windows. The roof would be easier to keep blue and find colors to compliment it but I have no problem painting it (read DH will love repainting the roof :)

Also what about the windows/trim? There is some nice decorative work above the windows, the corners, and under the roof overhang.

Sorry for the pictures, I only have one of the side and back view of the house.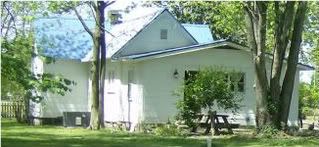 ---
Follow-Up Postings:
| | | |
| --- | --- | --- |
| RE: Color Scheme for Cottage Exterior? | | |
| | | |
| --- | --- | --- |
| RE: Color Scheme for Cottage Exterior? | | |
I'd love to see yellow for the house, white trim and black accents (window boxes, chairs, planters, mailbox, etc.) Yellow is inviting, with white trim it's crisp and clean and the black just makes it pop and catch the eye.
---
| | | |
| --- | --- | --- |
| RE: Color Scheme for Cottage Exterior? | | |
I don't have a blue roof, but people stop each year and ask me to share the colors on my old Maine cottage.

The body is a gold, creamy off-white trim, 'cranberry' doors, and 'bottle green' shutters which are very dark, almost black. Something similar might work for you if you have the shutters blue.
---
| | | |
| --- | --- | --- |
| RE: Color Scheme for Cottage Exterior? | | |
I think my3dogs suggestion is good. You could keep the roof color, paint the body like my3dogs and then the blue shutters like she suggests. Maybe try and get a front view photo and with luck someone will photoshop for you.
---
| | | |
| --- | --- | --- |
| RE: Color Scheme for Cottage Exterior? | | |
mbarstow- I really like yellow but that is one of DH least favorite colors. Pink and purple are the other two.

My3dogs- you have a beautiful home and I love the colors!

What about if we keep the blue color of the roof, paint the house in a light shade of tan/khaki, window boxes in a barn/colonial red, doors in navy and the accent work under the roof overhand and window tops down in navy?
---
| | | |
| --- | --- | --- |
| RE: Color Scheme for Cottage Exterior? | | |
MY3 dogs- I absolutely love your house and color choices. It looks familar to me. Around the Portland/Wesbrook line? If not, then someone there has copied your palette. If this is your house, then I completely understand why people stop and ask you about the colors. I have wanted to stop and just gawk!
---
| | | |
| --- | --- | --- |
| RE: Color Scheme for Cottage Exterior? | | |
Groomingal,

I like your idea of tan/khaki and the barn/colonial red for window boxes (and doors?). I'm not sure about your idea of navy accents for the overhang and window tops with the blue roof. I currently have faded med. blue shutters with navy doors and it just looks like a mistake. They don't go together well. What about a lighter shade of your house color for the overhang and window tops? It would be something like 3dogs, just tan/khaki instead of yellow (and no green shutters).
---
| | | |
| --- | --- | --- |
| RE: Color Scheme for Cottage Exterior? | | |
Uh oh...I've been 'outed'!

spammypam, my house is on the Stroudwater River, so I am guessing it's the one you've seen. Although, so many people have asked about the colors that there are many houses in the greater Portland area with these colors.

If the one you're referring to had this fence out front, it's mine.
---
| | | |
| --- | --- | --- |
| RE: Color Scheme for Cottage Exterior? | | |
spammypam- I think that would be a great idea but will it still make the roof stick out or does it just incorporate into the grand scheme of things?

We've been out doing yard work and DH was cleaning the gutters and the more I look at the blue roof I really want to paint it.

I even thought maybe a black roof, khaki on the siding, barn red for the window boxes/doors. Should I still paint the trim in a lighter khaki shade or paint a white?
---
| | | |
| --- | --- | --- |
| RE: Color Scheme for Cottage Exterior? | | |
What about a gray-blue? There was a local cottage with these colors and it looked so nice. The property sold and the new owners resided. They kept the blue roof and doors, but changed the siding to a tanish green. Now it just looks so-so and much like every other house around. It has completely lost the "cottage" feel that it had before. Just my .02
---
| | | |
| --- | --- | --- |
| RE: Color Scheme for Cottage Exterior? | | |
My eyes are crossing from color swatches and I am still undecided. We did pick out the definite color for the roof- we will be painting it a charcoal gray/black color. DH liked a tan for the siding color and it's ok but now that I have the roof color I so want to pair it with a pale pink for the siding.
DH is not a fan of pink but I'm trying to find something so pale and hint of pink that maybe he won't notice ;) I also thought white trim and a classic black for the accents?
I was wondering if any of you that are whizzes with photoshop could mock up a picture for me? Or if someone knows of a lovely pale pink if they could recommend a shade?
---
| | | |
| --- | --- | --- |
| RE: Color Scheme for Cottage Exterior? | | |
my3dogs,

I love the colors on your house, do you mind sharing the names of the paint colors.

Also, is your roof black or grey.

Thanks.
---
| | | |
| --- | --- | --- |
| RE: Color Scheme for Cottage Exterior? | | |
Grooming gal,
Run, don't walk, to your nearest bookstore and get a copy of Robert Schweitzer's Bungalow Colors: Exteriors. It has a zillion pictures of cottages and bungalows with amazing detailed color schemes. It uses Sherwin Williams for the color references, but you can have the colors matched in any paint brand you like. For each scheme (and there are dozens) it gives pictures and colors for siding, windows, main trim and accent trim. Indispensable reference!

You MUST take a look. :)

If you're doing pink or coral, you might consider a toned-down gray for the roof, not starkly black-gray, unless you're going for 1950's?
---
| | | |
| --- | --- | --- |
| PS: neighbors | | |
PS: my3dogs, I'm in the Brighton Medical area and pass your house on the way to 95 ... gorgeous! :-)
---
| | | |
| --- | --- | --- |
| RE: Color Scheme for Cottage Exterior? | | |
circuspeanut- thank you so much for the book tip, I will run by the library and see if they have it this weekend.

I have the pink colored narrowed down to 5 and as much as I like the dark color for the roof it does give it a different/heavy feel. I did pick it a dark gray and a polished gray. The lighter gray is my favorite but i'm wondering how much tree grime will be noticeable on it.
---
| | | |
| --- | --- | --- |
| RE: Color Scheme for Cottage Exterior? | | |
I have been thinking about this too because we have a cottage that will be undergoing some significant construction late this year, including new siding. At the moment it is white vinyl siding with forest-green shutters... NOT my idea of a beach cottage color scheme! Anyway, last weekend I was walking around looking at other houses and one of my favorites was a khaki house with darkish, almost navy blue shutters and white trim. I was surprised that I was drawn to it but it really looked nice and "crisp." I think the roof was a medium-dark gray. Our former cottage was gray natural shingles with plum shutters and an aqua door, which I also loved. I think we'll end up with gray siding after this cottage reno is complete, but not sure yet what color trim. I like cottages with neutral color siding and funky color trim: plums, pinks, aquas, etc. I love picture #6 in the list of pics above!
---
| | | |
| --- | --- | --- |
| RE: Color Scheme for Cottage Exterior? | | |
sueb20: The cottage you are describing sounds exactly like my house!!!! I can't change the exterior color but I keep trying to think of a good color scheme for the shutters and door.

my3dogs: I never tire of looking at your house!

Oceanna: I love your taste! I always drool over the pictures you post!
---
| | | |
| --- | --- | --- |
| RE: Color Scheme for Cottage Exterior? | | |
I just saw a cottage in a decorating magazine that was adorable. I commented on it in this thread. And the house in this thread has a similar feel.........

Red
Here is a link that might be useful: BM Cliffside Gray Behr Swiss Coffee
---
Post a Follow-Up
Please Note: Only registered members are able to post messages to this forum.
If you are a member, please log in.
If you aren't yet a member, join now!
---
Return to the Home Decorating Forum
Information about Posting
You must be logged in to post a message. Once you are logged in, a posting window will appear at the bottom of the messages. If you are not a member, please register for an account.
Please review our Rules of Play before posting.
Posting is a two-step process. Once you have composed your message, you will be taken to the preview page. You will then have a chance to review your post, make changes and upload photos.
After posting your message, you may need to refresh the forum page in order to see it.
Before posting copyrighted material, please read about Copyright and Fair Use.
We have a strict no-advertising policy!
If you would like to practice posting or uploading photos, please visit our Test forum.
If you need assistance, please Contact Us and we will be happy to help.

Learn more about in-text links on this page here