Return to the Home Decorating Forum
|
Post a Follow-Up
---
| | | |
| --- | --- | --- |
| Thoughts on faux painting damaged walls? | | |
Posted by
tamster
(
My Page
) on
Mon, Mar 23, 09 at 23:20
I have walls in two bathrooms that are pretty well damaged due to wallpaper removal (off UNPRIMED walls....). We painted them, but they still don't look so great (espec with the higher gloss bath paints). Has anyone had any success in faux painting damaged walls? Pictures?

I'm not up to vinyl-lining the walls to paint them, nor do I have ANY desire to replace them right now (eventually, but not this week, anyway).

I was thinking maybe that chalk white to look like the inside of an Irish white-washed cottage, or perhaps a sand/stucco look...suggestions? I'm up to funky over formal for these two... Thanks!!
---
Follow-Up Postings:
| | | |
| --- | --- | --- |
| RE: Thoughts on faux painting damaged walls? | | |
For the bathroom in my 1926 bungalow when I was in WI, I added sand (get it at paint store) to paint to cover up damage also due to wallpaper.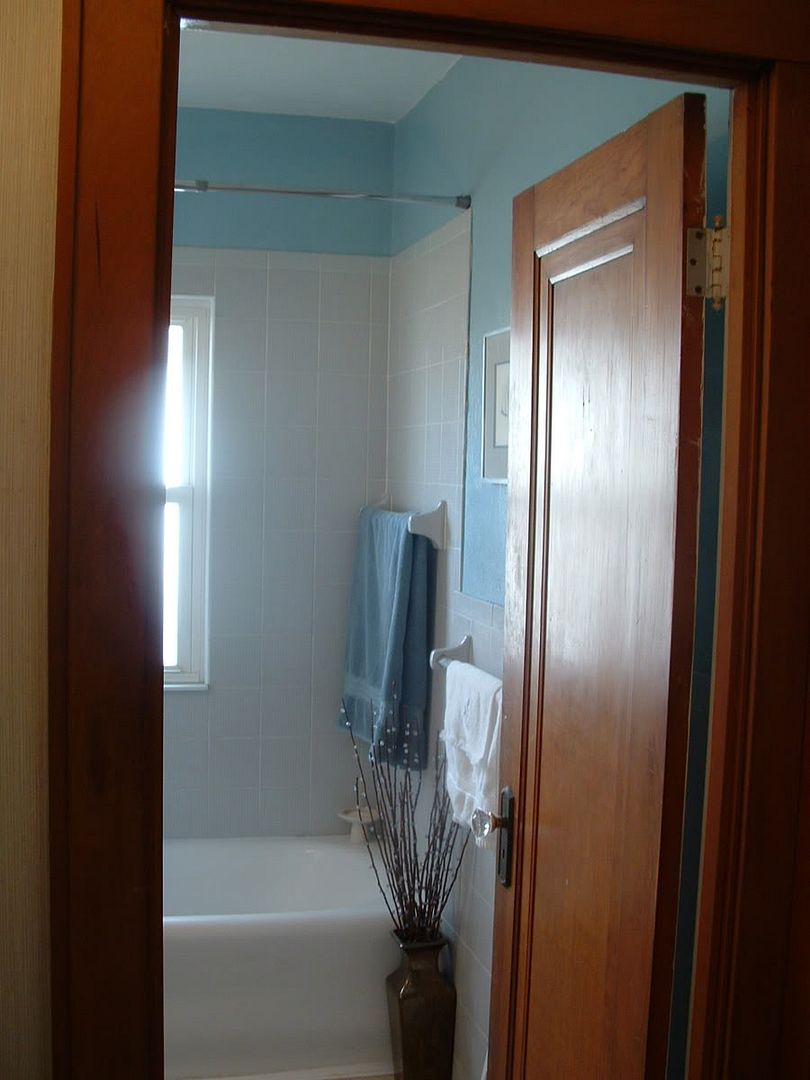 For the kitchen, which originally had plastic tile 3/4 up the wall - awful stuuf - and wallpaper at top, I ripped off tile and wallpaper but was left with 1/2 inch thick glue under tile. I decided to stucco whole walls (bought it at Sears), making the top of wall thicker to blend with bottom of wall. On top of that I painted oil paint to seal the stucco. Later I painted acrylic paint on top of the oil.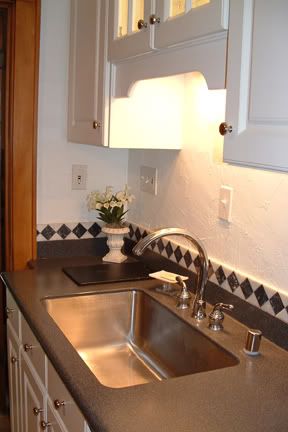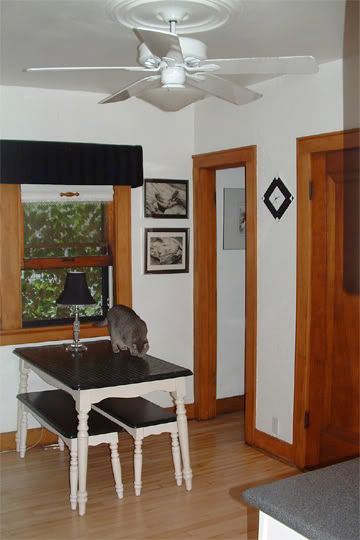 The kitchen was a MAJOR JOB!!! Lots of work but definitely worth the effort.
---
| | | |
| --- | --- | --- |
| RE: Thoughts on faux painting damaged walls? | | |
I did a stucco finish in our bathroom. Same issue, wallpaper on unprimed sheetrock. And, underneath the heinous faux wood panelling (yes, in a bathroom) they didn't even bother to tape the seams of the sheetrock.

I just got a 3 gallon bucket of sheetrock mud, I can't think of what it's called...schmeared it on with a trowel, then blotted it with a damp sea sponge. I knocked down the prickly parts with the trowel and viola...instant aged stucco. I painted it a satin and it looks great.

I also like the idea of the textured paint. Or, if you REALLY wanted to be brave, sponge paint! haha. Joking.
---
| | | |
| --- | --- | --- |
| RE: Thoughts on faux painting damaged walls? | | |
Pesky,

I would love to see a picture of your bathroom wall! We moved into our house and were 'blessed' with wallpaper in the guest bathroom. My teenaged DDs are asking to redecorate and I have been putting it off because of the wallpaper issue.

Thanks!
Necia
---
| | | |
| --- | --- | --- |
| RE: Thoughts on faux painting damaged walls? | | |
I finally took down the wallpaper-from-hell right before I sold my last house. I decided to use paintable, textured wallpaper over the mess and then paint it a color I liked. I hired a pro to install the paper and then did the painting myself. It was not a cheap fix, unfortunately, but I needed it to look the best it could for resale.
---
| | | |
| --- | --- | --- |
| RE: Thoughts on faux painting damaged walls? | | |
In out previous house, we pulled horrid vinyl wallpaper off the entry hall, staircase, and upstairs hall walls...they were contiguous, and there was nowhere to stop...leaving behind a rather shaggy drywall paper surface (yup - no primer, and forty years old) onto which the original flocked paper had transferred its medallion pattern. It looked like an antique paper grocery bag with fur. Mmmmmm!
I glazed the entire thing with water-based urethane, and I thought it looked like a gorgeous, smoky, faded Venetian palazzo. My DH sweetly suggested that he get himself an apartment.
So I hired a decorative painter, painted the walls with the recommended terra cotta base paint myself, and then he and his assistant came in with umber glazes and highlight colors, and brushed and ragged until we had perfectly gorgeous walls that looked like aged leather. Doing the base painting myself cut the cost to something rational, but not cheap...but the result was fantastic. I don't have a good photo, unfortunately, but here's something...
a href="http://www.flickr.com/photos/35717407@N08/3381458701/" title="Library to front hall by bronwynsmom, on Flickr">
---
| | | |
| --- | --- | --- |
| RE: Thoughts on faux painting damaged walls? | | |
Tamster,

I'm sure besides myself there are hundreds if not thousands of people going through what you are going through......wallpaper removal leaving a horrible base for a new beginning.

ThreeDGrad,
The color in your bathroom is sooooo refreshing, so soothing!
And your kitchen wall, stucco'd with that backsplash, look as if it was made together....love it!

Pesky1,
I would love to see your bathroom wall! I can never have enough inspiration when it comes to this home that was covered in wallpaper (on top of sheetrock and some walls had 5 layers of wallpaper!) from the front door to the back door...literally!

Amysrq,
I've used the paintable wallpaper several times....it's wonderful stuff to cover what ails ya. Do you happen to have a pic of the paintable?

Bronwynsmom,
My gosh..... All of it.....Just beautiful! I just pulled hubby in here to see your window seat/bookcases. Love them!

Tamster,
When we purchased this home, some rooms had 5 layers of wallpaper from big yellow daisys on vinyl to flocked....the inside of the front and back door were even wallpapered!
Not one wall had been pred'd correctly.....all wallpaper was put on non-prime'd drywall.
Took forever to get it all off. I'd get sooo bored I'd move to a different room and start removing the wallpaper in there just to have a different scenic view....from Big yellow daisys to flocked geraniums.
By the time we cleaned up the house just to make it liveable, the funds were very low.
Big decision...... buy hundreds of dollars of drywall/sheetrock, drywall tape, buckets of drywall mud, labor with putting it all up in all the rooms, the sanding, the dust..... OR, cover the bad walls with drywall mud creating some texture and interest.
We picked the drywall mud.

Drywall mud does NOT have to be applied thick. Just enough to disguise the bad walls. A coat of primer on top of the mud when it's dry and you're good to go....a nice blank slate.

Our dining room. Border has been removed since this pic was taken.

The front bathroom was done with the rolls of paper a doctor uses on the examining table. It was free from a neighbor....a nurse.... and I was determined to repurpose it.
When it was dry, I added some raised stencils in a couple places.

---
| | | |
| --- | --- | --- |
| RE: Thoughts on faux painting damaged walls? | | |
If the wallpaper is that hard to remove I would think a better choice would be to texture and paint over the wallpaper. If done correctly you can not tell there is wallpaper there.
---
| | | |
| --- | --- | --- |
| RE: Thoughts on faux painting damaged walls? | | |
Thank you, Amity...I miss that room terribly!

Your solution, and Threedgrad's, would certainly work for this problem.
The danger in going over wallpaper is that you will loosen it, and then you have a worse mess after you've done all that work. Happyladi is right about "correctly," and only if the paper is securely attached to the wall.
---
| | | |
| --- | --- | --- |
| RE: Thoughts on faux painting damaged walls? | | |
Our hallway which has old wallpaper on it, with tears here and there, has a heavy coat of the stuff they use for texturing. We'll be painting over the top half of the paper with bead board underneath. Running my hand along it, it feels like wall, and no paper.

Since the dining room will have new paper on one wall, they'll strip the old paper off first.

I don't think it'll cost too much to put the texture over your wall and then paint.
---
| | | |
| --- | --- | --- |
| RE: Thoughts on faux painting damaged walls? | | |
I have a plaster finish in my kitchen much like brown's finish. That can not be done over wall paper residue...the walls need to be clean first, sanded if necessary, but the little bits of paper will actually pull off after the finish is applied due to the weight of the finish.

But cleaned and then just a quick sanding to get off residue paper and they're good to go.

This shows the hall finish pretty well (a bit lighter in both texture and tone to the kitchen, but both done on rough walls that were either new, had spots without texture or damage from wallpaper removal)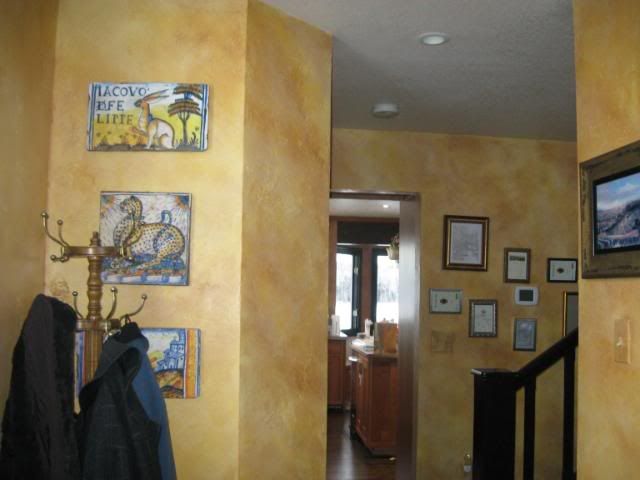 you get a feel for the texture here I think: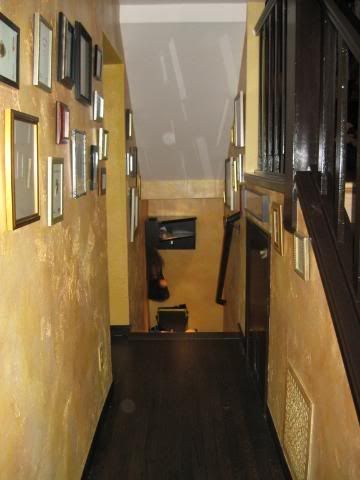 The kitchen: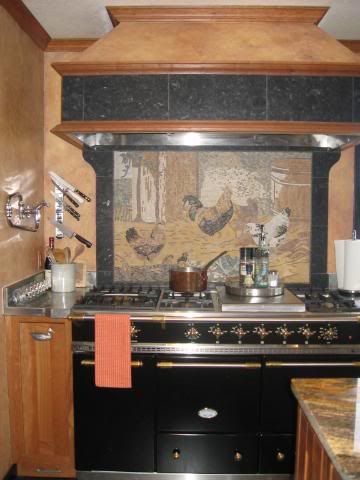 here's a close up of the finish on the hood: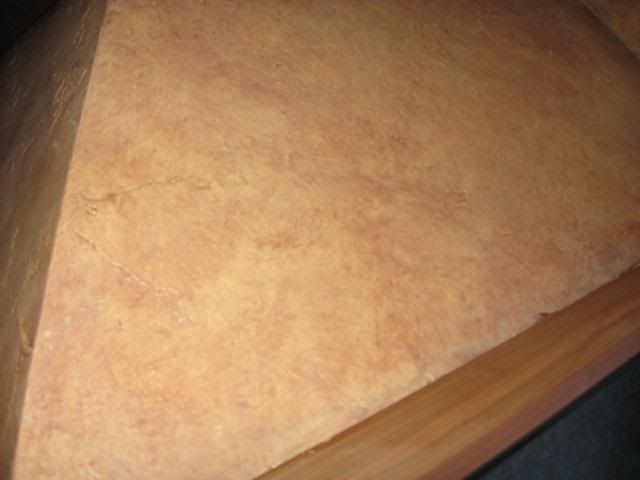 Both of these walls had wallpaper on them. I removed the paper mostly, but some of it was permanently stuck because it was painted over (don't do that...god will punish you).
I made my own wallpaper. In the bathroom it's made from antique golf posters (it appears busy in pics but works in the room): My camera technique is terrible here...the flash is too bright and without it you get the dull look here with glare...but I wanted to show it anyhoo.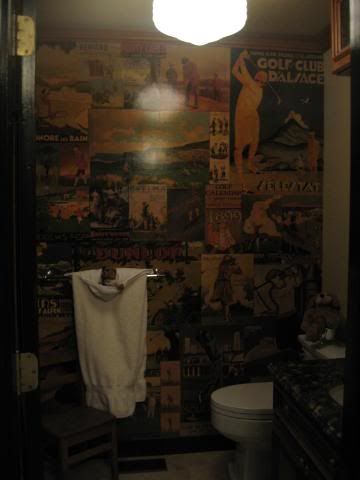 the secret to this technique is that because you have so many posters on top of each other (overlapping on the edges quite often) and in the dining room the same overlapping which actually enhances the look in person, it disquises any wall issues due to all of that texture. It's fairly easy (ok the bathroom was very very hard, because most of the paper was antique and some very thin) but the dining room is made from paper grocery bags:
Just the back wall (with the china cabinet) is done with the home made wallpaper. The balance of the room is done in a dry brush technique which really does not disquise damage and does not look good on flat textured walls IMO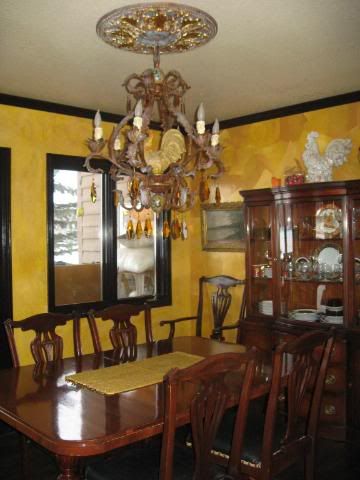 this pic is a bit dark, but head on so maybe you can see the texture better: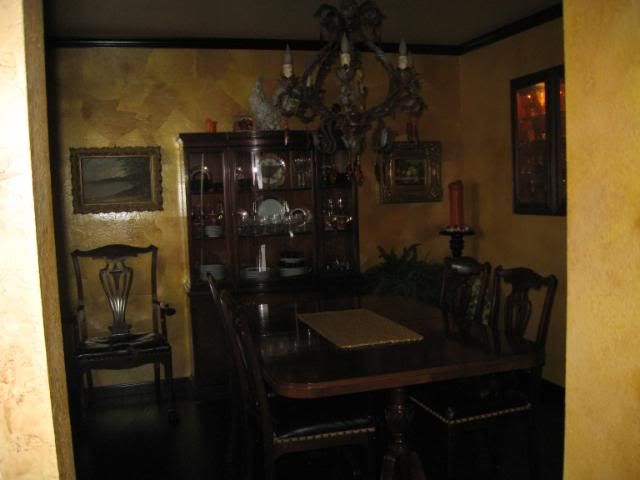 ---
| | | |
| --- | --- | --- |
| RE: Thoughts on faux painting damaged walls? | | |
What about Venetian plaster, they sell it at Home Depot and Lowes. It comes out very pretty. I would not suggest doing a large room in it, but a small bathroom would be a DIY project
---
| | | |
| --- | --- | --- |
| RE: Thoughts on faux painting damaged walls? | | |
Do you have any money in the budget to hire someone to smooth them out? I had the same problem in my bathroom after removing wallpaper that was applied directly to the drywall, and the guy who painted didn't charge me very much to fix them -$200 total including materials, smoothing out/repairing the walls, and actually painting. I thought it would cost a fortune, but I'm pretty sure he just used mud to resurface the walls, because that's what he used to de-texture some of the walls in a larger room that had a random mix of roughly textured and smooth walls. I live in a high cost area so it might cost less in other parts of the country.
---
| | | |
| --- | --- | --- |
| RE: Thoughts on faux painting damaged walls? | | |
Venetian plaster is actually a very bad idea for walls with wall paper issue. First, the plaster will pull off the left over paper and damage the venetian plaster finish (it can't properly dry). If you have dents in the wall, you have to fill them to properly prepare for venetian plaster as well, but it would cover slight imperfections, but only on a good surface. It is not ever an approprite solution for badly damaged walls. Done right, it's paper thin, so it's not going to hide much. Done wrong, it's a perfect surface to encourage mold growth. It also look absolutely terrible when done badly, much worse than your current situation, and much more difficult to repair when it fails due to a faulty base. Much much more difficult!
---
| | | |
| --- | --- | --- |
| RE: Thoughts on faux painting damaged walls? | | |
Thank you all SO MUCH for such good ideas and AMAZING photos!! (bronwynsmom, you're kidding about that not being a good picture--your room is gorgeous!, and igloochic, that golf poster bathroom is really sharp!) Thanks to all you, I'm not so depressed now about how this might go. (c:

OK, Threedgrad, what color is that in your bathroom--my floor and shower tiles are non-glossy muted beige/sand and we're going with cabinets/storage all white (my cabinets were walnut)--your blue color would go well and is a great soothing color for a bathroom. Also, your sand idea might work well--I found a base at Home Depot by Ralph Lauren called River Rock and it gives a similar texture. I need to go back and look at how it works with different color options.

Well, my first "issue" is that alas, the wallpaper has already been taken down, so we have what's left. It's been painted, but looks awful...I still have yet to spackle where the mollies were removed to get rid of some scary towel bars (they were walnut, sort of, too)....I'll do "before and after" pix of this budget bathroom when we're done though.

I've invested in the paintable beadboard wallpaper from Graham and Brown for the bottom half (hopefully it won't make the top 1/2 look even worse for the trouble if it goes up alright). Others in GardenWeb seem to have had good luck with it, so we'll see how it goes--I'll probably just leave it white.

FYI to anyone considering painting over wallpaper--we did have success with that in our dining room: acrylic primer with Behr eggshell paint. This was where the paper started pulling off chunks of plaster, so had to stop before it got as bad as the bathroom). We felt like a sinners doing it, but it came out fine in the end.

Pictures and war story successes are inspirational--thanks again for sharing, and keep 'em coming! Best to everyone, Tamster
---
Post a Follow-Up
Please Note: Only registered members are able to post messages to this forum.
If you are a member, please log in.
If you aren't yet a member, join now!
---
Return to the Home Decorating Forum
Information about Posting
You must be logged in to post a message. Once you are logged in, a posting window will appear at the bottom of the messages. If you are not a member, please register for an account.
Please review our Rules of Play before posting.
Posting is a two-step process. Once you have composed your message, you will be taken to the preview page. You will then have a chance to review your post, make changes and upload photos.
After posting your message, you may need to refresh the forum page in order to see it.
Before posting copyrighted material, please read about Copyright and Fair Use.
We have a strict no-advertising policy!
If you would like to practice posting or uploading photos, please visit our Test forum.
If you need assistance, please Contact Us and we will be happy to help.

Learn more about in-text links on this page here