Return to the Home Decorating & Design Forum
|
Post a Follow-Up
---
| | | |
| --- | --- | --- |
| @lynninnewmexico: Window seat and bookshelf | | |
Posted by
nosoccermom
(
My Page
) on
Fri, Mar 15, 13 at 22:04
Love your window seat and especially the custom bookshelf next to it. Can you explain in more detail how you made it? Is the bottom a base cabinet and the top a wall cabinet without doors? It looks way less deep than the window seat, or did you pull that forward?
---
Follow-Up Postings:
| | | |
| --- | --- | --- |
| RE: @lynninnewmexico: Window seat and bookshelf | | |
Sorry that I'm seeing this so late. DD brought 6 friends home with her from college yesterday for their Spring Break week and it's been kind of wonderfully crazy here ever since.
As for DD's window seat wall, I designed it using stock kitchen cabinets. The window seat itself is actually 2 upper cabs topped with a Corian countertop. I wanted easy access to storage underneath, which the 4 doors gave me. The depths you see in the pics are the actual depths of the cabs.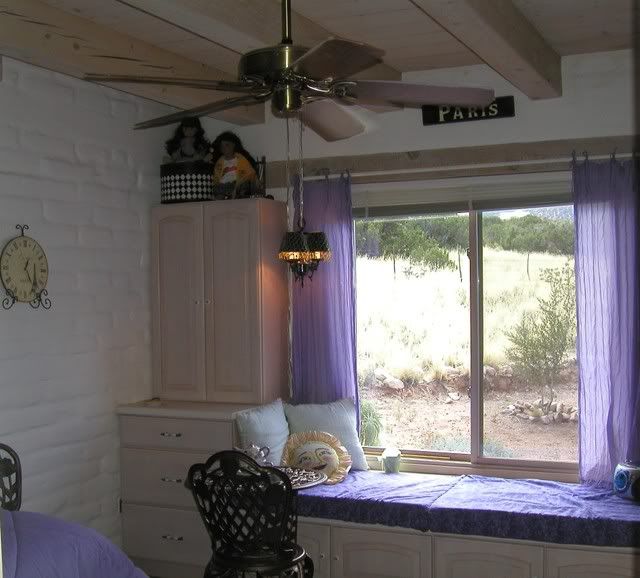 The "dresser" to the left of the window seat is a lower cabinet, consisting of 3 drawers with a matching Corian countertop. Setting on that is a shallow upper cabinet with several adjustable shelves behind the double doors. The setback gives DD a countertop to temporarily set things down on, which comes in handy.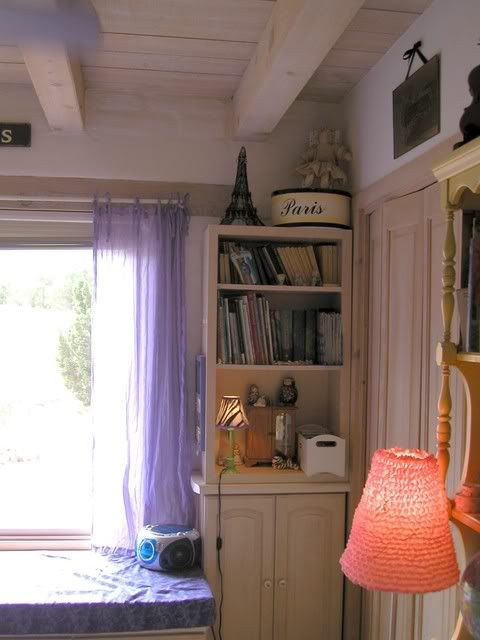 To the right of the windowseat, I put in a narrow lower cabinet with one adjustable shelf and one fixed. This cabinet is filled with her books. It's topped with a Corian countertop. On top of that sits a narrow cab with no doors. I don't recall if it was originally intended to work above a kitchen desk or whether it was just an upper cab that I chose to not put a door on. As you can see from this pic, the upper cab is about the same depth as the lower cab.
This arrangement has worked well for DD throughout her school years, as it's been very adaptable to her changing needs. I do wish that I would have had an electrical outlet put in the upper bookshelf area, though. There is an outlet in the kick space under the window seat that comes in handy. Just last week I had a general contractor come out and replace the old black hanging light above the far left side of the window seat with a new small chandelier as a surprise for DD when she got home yesterday.
I hope this answers your questions and that you can take some of my ideas and make your own version. BTW, the thick window seat cushions make a great and comfy extra bed. One of DD's friend's is sleeping on it this week.
Lynn
---
| | | |
| --- | --- | --- |
| RE: @lynninnewmexico: Window seat and bookshelf | | |
Perfect. Thanks so much for the detailed instructions. I'll certainly try to start playing around with various combinations (on paper).
---
Post a Follow-Up
Please Note: Only registered members are able to post messages to this forum.
If you are a member, please log in.
If you aren't yet a member, join now!
---
Return to the Home Decorating & Design Forum
Information about Posting
You must be logged in to post a message. Once you are logged in, a posting window will appear at the bottom of the messages. If you are not a member, please register for an account.
Please review our Rules of Play before posting.
Posting is a two-step process. Once you have composed your message, you will be taken to the preview page. You will then have a chance to review your post, make changes and upload photos.
After posting your message, you may need to refresh the forum page in order to see it.
Before posting copyrighted material, please read about Copyright and Fair Use.
We have a strict no-advertising policy!
If you would like to practice posting or uploading photos, please visit our Test forum.
If you need assistance, please Contact Us and we will be happy to help.

Learn more about in-text links on this page here