Return to the Home Decorating & Design Forum
|
Post a Follow-Up
---
| | | |
| --- | --- | --- |
| About to lose my mind over throw pillows! | | |
Posted by
sundance510
(
My Page
) on
Tue, Mar 18, 14 at 21:56
Hello everyone! This is my first (of probably many) help-seeking posts. We are about to close on our first house and it is a blank canvas. I have decided to make throw pillows a sort of launching point for the rest of our living room decor. I know I should start from a piece of art or something, but nothing has really inspired me.

My current dilemma is whether our 7 foot beige (yellow undertones) leather couch with recliners on each end needs 2 or 3 throw pillows and if those should be patterned or solid. I already have this pillow and my husband will not be separated from it because it has been declared the napping pillow:

I had one other patterned pillow and a solid pillow, but hubby admitted this evening that he thinks they're ugly. They'll be going back to the store tomorrow. I also felt that the side of the couch with 2 pillows was a little crowded when sitting, especially with the recliner out.
MAIN QUESTION: If I only have one pillow on each end of the couch, should one be patterned or should they both be solid?
Lastly, I LOVE this pillow and will probably be ordering it as an accent for our matching armchair. However, I really don't want the rest of my living room to look like a rainbow, so I'm not sure how to work from this as a design inspiration. You might also notice that it's white while the fuzzy pillow is ivory. Is this a no-no even if they won't be right next to each other? Thanks!

---
Follow-Up Postings:
| | | |
| --- | --- | --- |
| RE: About to lose my mind over throw pillows! | | |
Option 1: Pick one color from the multi-colored pillow--I'm thinking the turquoise or orange tone--and get 2 pillows in that one solid color. Place one on each end of the sofa. Put the ivory pillow in the middle of the sofa. If that doesn't look or feel right, then get another pillow in the ivory color. I'm assuming you can't get the same one, so find one same size and color but different fabric, and place those in front or behind the solid colored ones.

Option 2: Order 2 of the pillow you love, place one at each end of the sofa, and put the fuzzy pillow on the chair. Choose 2 colors from the multi-colored pillow and use those colors to decorate your room.

I would not use another pattern because I think that would be too much, as far as the pillows go. I tend to like symmetry, so I feel the end pillows should match, and as long as you keep the ivory and white on different pieces of furniture, it should be ok.
---
| | | |
| --- | --- | --- |
| RE: About to lose my mind over throw pillows! | | |
Thanks for the ideas! I am actually able to get another ivory pillow exactly like that. I just thought there was supposed to be some color on the couch, so I was trying to mix it up. These are the curtains I had picked out, but they can be returned. The brown is sort of a mushroomy color, a little darker than what is showing here.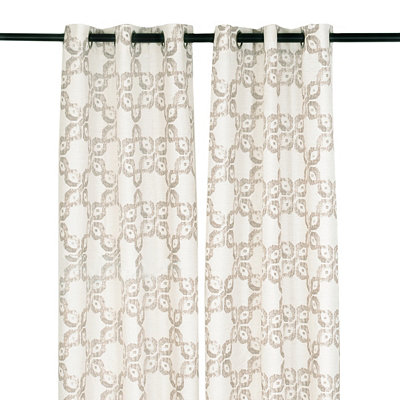 They actually go quite well with the couch and ivory pillow/throw blanket we have. I have a love/hate relationship with our dear beige couch. I will post a pic of it tomorrow, even though it is still in our rental. We will be going to a move-out inspection at the new house on Sunday, so I will snap some pictures of the empty living room then for some added inspiration. The only pictures I have right now have the PO's furniture in them. For now, though I'm just trying to focus on these stupid pillows and an overall "vision"!
P.S. The rainbow pillow isn't a *must have*. It's simply the first thing I've seen so far that has some bright, happy colors! If I went with that, I would really channel the blues with a little bit of orange here and there. Not sure if the curtains above would really jive with bright colors.
---
| | | |
| --- | --- | --- |
| RE: About to lose my mind over throw pillows! | | |
I know this isn't what you want to hear, but I really recommend living in your house for awhile before making any big decisions.

Also, if the pillows are annoying you, then it's not fun anymore! It has to be fun!

I look at pics of couches all the time, and the most beautiful rooms (to me) are the ones where the details (pillows) don't seem so planned out, yet they work so perfectly.

If it were me, I'd start with the curtains first. Also, the rug/flooring if not set. Pillows are easy in comparison! Small investment, and SO MANY out there. (Look at your choices on Etsy or make your own.) You are on the right track to know that bright and happy is what you like.

Check out the work of Black & Spiro for inspiration.
They tend to use a lot of blue/white, but also bright colors in a continental, fun, yet sophisticated way.
Here is a link that might be useful: City House
---
| | | |
| --- | --- | --- |
| RE: About to lose my mind over throw pillows! | | |
I agree with waiting. Pillows are the easiest accessory since your choices are as wide as the choices of fabric.

I fought it for years but finally had to accept that my family was going to use the decorative pillows in the main living area as head pillows. I use two matching, one at each end of the sofa, and large, 24 inch. I generally buy pottery barn since they're easy to change out, when you buy the feather inserts.

I save the expensive pillows for the bedrooms, sunroom, and living room, where their use is minimal.

With a beige sofa, I would definitely want to add some color and pattern rather than two furry pillows.
---
| | | |
| --- | --- | --- |
| RE: About to lose my mind over throw pillows! | | |
This is me putting my patience hat on... it falls off a LOT! But you're right, pillows are something fairly easy and cheap to mess around with until I get it right.

So if I try to start with the curtains now, these are the ones I have picked out. They're draped over my beige beast (seriously, this couch has to weigh 500lbs) so you can get an idea of what I'm working with. I'm guessing I need to pick curtains that have more color to draw from. Please note that this is NOT the new house.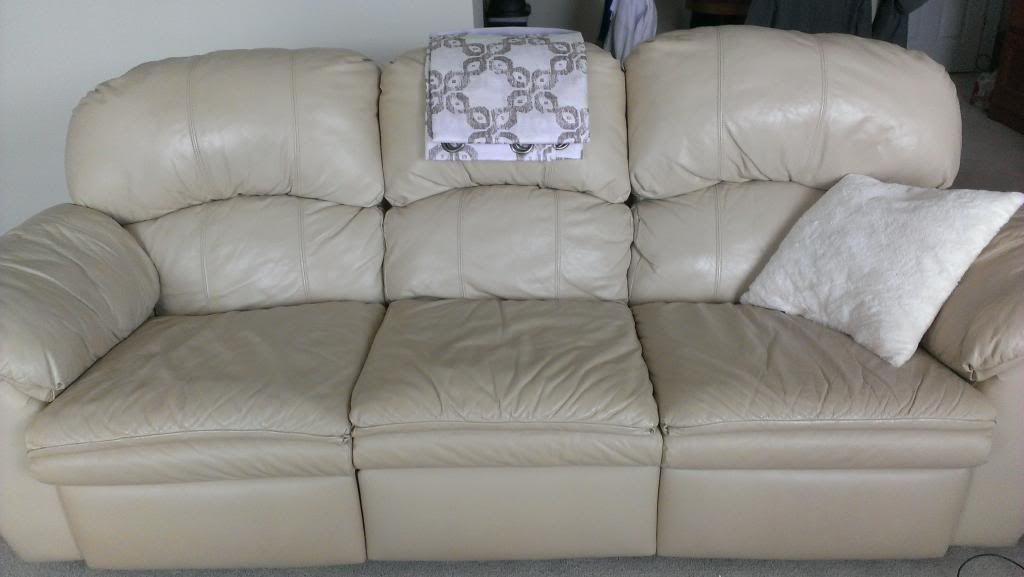 The new house currently has carpet and we are going to put down a laminate before moving in the furniture. We are leaning towards something like this, though maybe not so distressed. I know they will be medium brown and NOT high gloss.

So that's essentially what I'm working with. I think the couch is really throwing me off because it's not really my style (the set was a hand-me-down). But they're comfortable and in great shape, so I can't justify replacement at this point. Thanks everyone!
---
| | | |
| --- | --- | --- |
| RE: About to lose my mind over throw pillows! | | |
Oh, I also made an impulse buy on Craigslist last week and bought a 7x10 high pile area rug for $75 that I was planning on putting in the living room. It's off-white, but when I got it home, it appears more tan with the couches. So that's yet another neutral I have going on here!
---
| | | |
| --- | --- | --- |
| RE: About to lose my mind over throw pillows! | | |
Are the curtains staying? If so, I think you might line them to give them more weight. If not, yes, color would be good but don't get color just to get color. Some rooms are all neutral yet they have a lot of textures, which makes them interesting. I think you are on the right track with the flooring and rug. The flooring color is pretty and a high pile rug would work well with the couch. I could see a sleek MCM table there. Even those fuzzy pillows, while lacking color, are right to me in terms of proportion. You won't want anything dainty on that couch. I bet it is super comfy, and at the end of the day, that is the real purpose of a couch!
---
| | | |
| --- | --- | --- |
| RE: About to lose my mind over throw pillows! | | |
The curtains went back this morning, so I am totally back at square one at this point. I wasn't planning on getting a coffee table because of the recliners on each end of the couch. I had thought about a pouf/small ottoman of some sort for the middle portion of the couch. I've seen a lot of those lately in some nice patterns/colors. I'm not sold on the rug yet. I will have to wait and see what it looks like once the floors and furniture are all in.

I found these curtains that I like, but I'm not sure if they have enough color, if that's the direction I'm going.

I also found this canvas art that I really like, but hubs said no. I guess it IS kind of weird to have a 30inx30in cow staring at you in your living room. Maybe.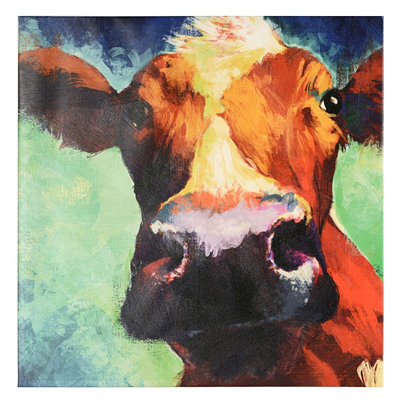 ---
| | | |
| --- | --- | --- |
| RE: About to lose my mind over throw pillows! | | |
Does your sofa have any removable areas that you can take to a store with you? If not, try to find a paint chip that matches it EXACTLY.

Then take the pillow your DH likes, and the sofa color, your new floor sample, curtains once you have them, and a photo on your phone of the sofa, all with you when pillow shopping.

Just because something is a neutral does not mean it automatically matches other neutrals. They each have undertones that can lead to a big mess if you are not careful.

I would also see if you can look at a place like pottery barn website and find a patterned pillow you and DH both like and then use to to pull together other elements. If you DH is like mine, he knows immediately what he dislikes even if he can't say why. But leaves the searching up to me.
---
| | | |
| --- | --- | --- |
| RE: About to lose my mind over throw pillows! | | |
Is it Candace Olsen who has the cow picture in her DR? It is kind of cool though, but it also gives off a western feel to the room. Only buy pictures that you like, not because they match the room.

The only advice I can give to you before you buy anything with color, is to decide on your accent colors first. Is it blue? If so, I love the blue curtains above.

Buy lots of magazines, look on the internet until you see the colors and style you want to go with.

My house colors all began with one Watt pottery bowl that belonged to my late grandmother. I saw the colors of the bowl and I knew those are the colors I wanted to live with. :)
---
| | | |
| --- | --- | --- |
| RE: About to lose my mind over throw pillows! | | |
I love the cow picture! It can be your one unexpected element in your room. I also love, love, love the second set of curtains that you posted and the blue in the art and in the curtains will look great!
---
| | | |
| --- | --- | --- |
| RE: About to lose my mind over throw pillows! | | |
BTW, where are the blue curtains from?
---
| | | |
| --- | --- | --- |
| RE: About to lose my mind over throw pillows! | | |
juliekcmo- thanks for the tips! Unfortunately, our set doesn't have any cushions that come off. I will have to do the paint swatch thing. I definitely have tried to be mindful of undertones and I am definitely going to take previous advice and leave the pillows until I have more of a vision for the room.

oakleyok- I was trying a different approach and picking my art first since DH is turning out to be rather picky on that front. He is also very budget-conscious and has almost had a heart attack realizing how much curtains and things actually cost.

holly-kay- I know... the cow is awesome! I thought DH *might* go for the cow because our first rental house was essentially in the middle of a cow pasture. But, he says he would feel like he was being stared at while watching TV. Also, I am amused to tell you that the curtains are from Walmart- "Ikat Scroll Panel Curtain". It looks like they don't carry them in the store, but you can order them in 84" or 95", which is nice.

Anyways, I went through some art with DH and I think we have 2 contenders, which are fairly similar. They don't surprise me, because we love the beach (got engaged and honeymooned there). They're both approximately 45x33.
This is DH's pick... surprising because of the feminine touches with the hat and beach bag:

I like this one a little better, but it does look a little washed out compared to the other one: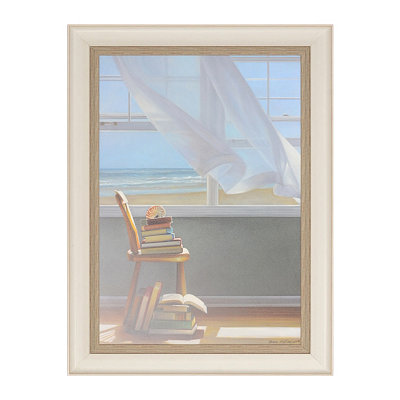 Not sure which one we will go with yet, but it will go over the corner fireplace. Do you think these colors and the beach style go with the blue curtains above? I most likely won't go with a beach "theme", but rather just draw from the colors in the picture. Thoughts?
---
| | | |
| --- | --- | --- |
| RE: About to lose my mind over throw pillows! | | |
You need to put your Patience Hat back on, LOL!

I think it is FANTASTIC that you are getting serious about finding everything ASAP, and maybe you are the type to want it all done, and once it's done, you'll stop thinking about it.

But, since I sort of get the vibe that's not you (per your love/hate relationship with the couch), I say, you need to seriously window shop only right now.

There are so many places to look for inspiration, and most people recommend Houzz, but for you, I think Apartment Therapy would be best. AT has such neat spaces that are very welcoming and interesting.

Your husband is right-- things are expensive! It is almost shocking! So, again, unless you will be really happy/not think about things once they are done and you can find what you want pretty easily, don't commit yet!

By the way, speaking of AT, this just popped up tonight. Pillows! (see link below)

Show us the room when you have time!
Here is a link that might be useful: The Power of Pillows
---
| | | |
| --- | --- | --- |
| RE: About to lose my mind over throw pillows! | | |
And, since you are talking about the beach being a place that really warms your heart and your DH's (you seem to like blue!), then that is a great starting point.

AT has a lot of articles/homes that feature the beach. Personally, I don't think you need a "theme" (as in, everything must be about THE BEACH). You don't need to make it nearly as obvious as what the article says, but it can give you something to consider.

Really, the main thing you should do is get things that you like. If they work in terms of function and scale/proportion, that is #1. Love it? #2. It "goes"? #3. (I'm just sort of writing that all fast-- feel free to argue!)
Here is a link that might be useful: Beach Style
---
| | | |
| --- | --- | --- |
| RE: About to lose my mind over throw pillows! | | |
I like the cow print too! Where is it from?
---
| | | |
| --- | --- | --- |
| RE: About to lose my mind over throw pillows! | | |
doodledog- the cow is from Kirkland's (I told ya we are on a tight budget!)

anele- thanks for all the advice. Is anything ever really "done"? Ha! I am mostly obsessing right now because I feel like I don't have any kind of direction for what I'm doing. The interesting thing is though, that I do have somewhat of an idea of what I want. I know that we are drawn to the beach and something reminiscent of that would make a very relaxing room for us. This is actually where my love/hate for the couch comes in. As you've seen, it is large and visually heavy. And leather. None of those things flow with the idea of "beach" for me. The AT link about beach style was helpful for me to see because they were more subtle.

The main reason I'm a crazy woman about this right now is because I was trying to develop a plan and start collecting things over my spring break from nursing school. My lovely time away from that hectic schedule is quickly coming to an end!!
---
| | | |
| --- | --- | --- |
| RE: About to lose my mind over throw pillows! | | |
I agree....wait on the accessories until you get the furniture moved into the room. I know that is hard to do but some day when you least expect it, you will see a picture, pillows, rug or something you will fall in love with, then the rest will fall into shape.

I would never put that cow in the living room....but that is only my opinion.
I also used Kirkland's a lot when I decorated my new house. Good luck and enjoy, not stress!
---
| | | |
| --- | --- | --- |
| RE: About to lose my mind over throw pillows! | | |
Thank you everyone so much for all of your helpful comments! I found my Patience Hat again and have decided to wait until we get the keys, the floors put in and the furniture put in before I start obsessing over accessories again. HOWEVER, DH wants to paint before we get all the furniture put in, though. Any suggestions on how to pick paint color with the very little bit of inspiration I have going on? I'm fairly sure we will go with one of the beach paintings I posted above. Also, see the picture of the beige beast. In addition, this is a north facing living room with two windows that look onto a front porch, so a little dim in there. Thanks!
---
| | | |
| --- | --- | --- |
| RE: About to lose my mind over throw pillows! | | |
It's good you are wearing your patience hat- it will serve you well. I totally understand though; it's nice to have some sort of plan or direction. Uncertainty to me is excruciatingly unsettling. Sometimes just having some sort of idea or plan of action (even though it will likely be tweaked and redone) is a good thing.
I am really liking your walmart find(the panels). I checked and supposedly they have them in a walmart near me so I am going to check them out. (so thanks for posting those)
---
| | | |
| --- | --- | --- |
| RE: About to lose my mind over throw pillows! | | |
Oh, do let me tell you about pillows and men. I am now in the final years of my life, but when the kids left home, I wanted to have a somewhat well-decorated, well-appointed home. Men and refined decor may not be synonymous. I had purchased beautiful needlepoint pillows for my great room/living room. Very, very expensive even on the best of bargain hunt days. After about 2 years, I saw my husband sitting on the most beautiful needlepoint pillow in front of the sink where he was fixing a plumbing problem.

I asked (in a rather hysterical voice) what he was doing. He said he was trying to unplug the sink at the disposal unit and he did not want to mess up his good pants so he put the pillow on the floor in case something should rush forth. I needed Calgon to take me away.

He was wearing a pair of pants, probably 10 years old that were, at most, $40 when he bought them. I learned years before that children and expensive pillows were not compatible, but neither are old men, wanting to be handy men, and pillows.
---
| | | |
| --- | --- | --- |
| RE: About to lose my mind over throw pillows! | | |
Sundance, thank you so much for the heads up on your drapes being from WalMart. They are really lovely. My DD has a beautiful rug in her family room and it is also from WalMart.

Kirkland has a lot of reasonably priced décor. I still love that cow print!
---
| | | |
| --- | --- | --- |
| RE: About to lose my mind over throw pillows! | | |
Sundance, since you asked if things are ever really "done," then that is another indication to me that you need to take things slowly!!!

As for the paint, I would get some posterboard and paint samples-- check the paint at different time of the day. Use your couch as your starting point.

What colors are you thinking? I am guessing you are considering something in the cream/taupe/beige families but maybe could go with blues, too?

I have a similar room (few windows, pretty dark in my LR) and I do think things in the medium range look best, but as long as you don't use actual white, then I think you are OK.

People here are good with actual paint colors. (I'm not!) Sherwin Williams is currently having a 30% off sale, BTW. I am hoping they will do the 40% off in April-- I have been waiting for months for that! I have a lot of paint to buy!

Patricia, your story made me laugh and cry at the same time!!!!
---
| | | |
| --- | --- | --- |
| RE: About to lose my mind over throw pillows! | | |
Anele is right about taking it slow and no! it is never all done. I had a complete home 'gut' of baths, kitchen, flooring, roof, laundry room 6-7 years ago. Within 2-3 years I was replacing the sofa, the occasional chairs, tables, DR decor, putting mirrors on the DR wall which is an old concept but something I needed since I have no windows and little light in there and it makes my chandelier, crystal, silver and china sparkle. I decided I wanted to learn to chalk paint and ruined a couple items (not expensive ones, thankfully) and had to replace them. I decided, after seeing a friend's bathroom/bedroom, that I wanted a black bed/bath. My husband decided within a year, that he hated it. It's never done. That's what makes it fun.

Paint is always the last thing you do in your home. That is the easy part and yet the hard part. Get it all in, have an idea what color, but wait until it is all in there and you have seen the play of light through all kinds of weather.
---
| | | |
| --- | --- | --- |
| RE: About to lose my mind over throw pillows! | | |
Patricia- your story made my day! Sounds like something my father would do. I would love to wait on paint, but DH is insisting we do it before the new floor is in, which is happening well before the furniture is moved. *sigh* I guess he will learn about that part of decorating if we have to repaint because our color pick looks horrible with our furniture.

anele- I was thinking about a creamy color I suppose, though I am so tired of living in a vanilla rental box. The biggest problem I'm running into with the couch is that many tones (even some non-neutrals) are making the couch appear yellow. So I'm still playing around with it. The other issue is that whatever color we pick for the living room will need to go down the hall (see my flooring x-post in this forum for a few pics) since there isn't a good place to transition the color. I will probably make yet another thread about paint after I take some good pictures tomorrow.

holly-kay: I think I'm going to sneak the cow in and put her in the office with some fun, bright curtains! I think DH will let me get away with a little more in there :)
---
| | | |
| --- | --- | --- |
| RE: About to lose my mind over throw pillows! | | |
Did you say in a recent post that you bought a rug? Is there some colors in the rug that you might like to use?
---
| | | |
| --- | --- | --- |
| RE: About to lose my mind over throw pillows! | | |
Sundance, I can't wait to see a pic of it. It will brighten your room and I'll bet everyone will love it!
---
Post a Follow-Up
Please Note: Only registered members are able to post messages to this forum.
If you are a member, please log in.
If you aren't yet a member, join now!
---
Return to the Home Decorating & Design Forum
Information about Posting
You must be logged in to post a message. Once you are logged in, a posting window will appear at the bottom of the messages. If you are not a member, please register for an account.
Please review our Rules of Play before posting.
Posting is a two-step process. Once you have composed your message, you will be taken to the preview page. You will then have a chance to review your post, make changes and upload photos.
After posting your message, you may need to refresh the forum page in order to see it.
Before posting copyrighted material, please read about Copyright and Fair Use.
We have a strict no-advertising policy!
If you would like to practice posting or uploading photos, please visit our Test forum.
If you need assistance, please Contact Us and we will be happy to help.

Learn more about in-text links on this page here