Return to the Home Decorating Forum
|
Post a Follow-Up
---
| | | |
| --- | --- | --- |
| fancy glass entry doors | | |
Posted by
awm03
(
My Page
) on
Mon, Mar 17, 08 at 21:21
By "fancy glass" doors, I mean doors with beveled glass, glue chip glass, & various other art glass pieces with caming. ThermaTru, Masonite, Jeld-Wen & many other companies sell them.

For our renovation, I was planning on getting double doors of full length PLAIN glass, and using old fashioned Victorian double screen doors in front of them for decorating oomph.

Now I'm thinking of getting fancy glass double doors with no screen doors in front of them. Sometimes I think that would look nice, other times I think it would look cheesey. Help! I'm going crazy with all the back & forth-ing!

Anybody have this kind of door & really love it? Or have it & think it looks tacky?
---
Follow-Up Postings:
| | | |
| --- | --- | --- |
| RE: fancy glass entry doors | | |
Don't have them, don't want them and I think they look cheesey.
---
| | | |
| --- | --- | --- |
| RE: fancy glass entry doors | | |
Well, we just installed some of those "cheesey" windows! We had solid doors - a company came out, cut out the centers, and installed the leaded glass. It looks great - all of the neighbors have commented that they love them, and my realtor-friend said they added 3x the cost to the value of the house. We live in Florida, that might have something to do with it. DH has my camera right now, or I'd post pics.

I'd say that if they match the style of the house, and you are able to afford the good ones (not the cheap glass/plastic-looking inserts), go for it! We love the light they let in and the interest they add to the house from the outside and inside!
---
| | | |
| --- | --- | --- |
| RE: fancy glass entry doors | | |
Determined, I didn't know they could do that. Did you have this done to a wood door or fiberglass? Was it pricey? I do hope you'll post pics... I'd love to see the before and after pics.

Awm03, how much does cost matter? If it matters a lot, check out your local CL. They sell the plain glass ones on my CL for really cheap all the time. They also sometimes have very fancy doors and even double doors with sidelights. If you're artistic, you can take a plain glass door and some Gallery Glass and turn it into a custom made work of art that contains or enhances your house colors. There really are lots of choices.
---
| | | |
| --- | --- | --- |
| RE: fancy glass entry doors | | |
Remember "Less is More" I haven't seen the house but it really, really sounds like way to much ooohph.
---
| | | |
| --- | --- | --- |
| RE: fancy glass entry doors | | |
well, call me cheddar, but I have one.

It's a prairie style, single door 1/2 glass with 1/2 sidelights.

Because of the design of this house, the entry was a big dark hole. The PO had big, fugly, solid double doors. I wanted to let in light, but still have privacy so this was a good compromise.

That said, I don't like a lot of the glass designs, especially the oval, floraly ones, but that is just not my taste.

I think 2 full doors of fancy glass might be a bit of overkill--but it depends on the house.

I'm taking a risk putting this out there, but I just found some pics of the day before and the day after we installed our door. We've since changed the lights. 3 years later, I am still trying to figure out what to do with the bizarre overhang and landscaping and my monolithic concrete front steps. Please excuse the "decorations" on the door.
---
| | | |
| --- | --- | --- |
| RE: fancy glass entry doors | | |
Absolutely no offense intended, but "less" can be sleek and elegant; it can also bore you to tears or remind you of a hospital. "More" can be whore decor, but it can also be incredibly charming, fascinating and elegant. It doesn't seem to be as simple as the old adage "less is more"... it seems to be more a matter of less what versus more what and how it's put together.

As an artist, I'm a fan of gluechip and artistic and stained glass from way back. One of the most gorgeous examples of glasswork I've ever seen is in Sam's Bar and Grille (in front of the Red Lion) in Bellevue, Washington. It's etched glass... three large windows done from photographs taken in studio of the artist's grandmother. The figure in the windows is grace personified, all softness and curves, and wearing Greek type draping, and there is foliage and birds. It's simply breathtaking and rather Mucha-esque. The artist travels all over the country doing these for the most high end establishments for "an arm, a leg, and a firstborn child." They are sand blasted. It's a woman who does them.

You might want to look for local glass artists and see if you can commission a work from them, or see what they suggest. You could end up with a one-of-a-kind treasure. You could also haunt salvage yards for something old and charming, and have a carpenter fit it to your entry.

Does that mean absolutely everybody will appreciate any decor or piece of glass or artwork? No, of course not. We all have different taste, which makes the world go 'round. :)

Awm03, keep looking until you find the front door arrangement that really speaks to your heart. Then every time you see your front door you'll smile. After all, it's your house. Chances are strong that if you get what you really love, most of your visitors will love it too. Be true to yourself and you can't go wrong.
---
| | | |
| --- | --- | --- |
| Namabafo | | |
I think your door and side lights are lovely, and they're a vast improvement over what the PO had there. I'm kicking around the idea of replacing my front door too... but I keep thinking I want something I can hang a wreath on?

I have ugly concrete steps too, and I'm thinking seriously about staining them. Did you see the thread floating around here where we're talking about concrete staining? Did you see the work Punamysike did? It's just beautiful!

Another possibility is tiling them. But I think with the brick staining might be just the ticket for you.

I can see a big overhang being a problem in that rain doesn't water the plants under it. I have a bit of that problem in front of my house in one area too. The PO watered all winter. It rains here like crazy so I don't water but it looked better when he did. Oh well. Maybe I need to transplant the azelias out of there and plant something there that's more drought resistant.
---
| | | |
| --- | --- | --- |
| RE: fancy glass entry doors | | |
Depends on the style of your house. Here are my cheesey doors on the new house we're building. We purchased them from e-doors on-line unfinished and saved a considerable amount of money. They are solid mahogany. This picture was taken before the doors were finished with all coats of poly.

We have a solid door on the front of our present house because that's what looks good on it.
---
| | | |
| --- | --- | --- |
| RE: fancy glass entry doors | | |
bruteses, that's exactly what I was trying to picture in my mind. Your doors have beautiful proportions, lovely wood, and the glass design isn't too florid. (florid = floral + horrid, I believe) Very striking!

Well, off to edoors's web site!
---
| | | |
| --- | --- | --- |
| RE: fancy glass entry doors | | |
Beautiful doors everyone!

We also have one of the cheesy glass doors. I wish I could find a picture! Ours are 10' tall and mahogany with glass on the top half and side lights. I really like how the sun comes through in the morning. We found ours at a local salvage yard. They weren't prehung, so we had our cabinet maker hang and finish them for us.
---
| | | |
| --- | --- | --- |
| RE: fancy glass entry doors | | |
Go for the beautiful glass doors, but dont cover them up with a screen door. It takes away from the beauty of the door. We almost had done what sammie talked about, but my wood doors were painted, I wanted stained and didnt want to refinish them. We had these custom made which was about the same price as having HD install their glass Jeldwin doors...only I got to pick the glass. We live in the Tampa area....glass doors are very popular.
---
| | | |
| --- | --- | --- |
| RE: fancy glass entry doors | | |
Gee, that was easy. Glad I could help.
---
| | | |
| --- | --- | --- |
| RE: fancy glass entry doors | | |
Mmmm...cheesy! Here's our door newly installed...it's since been painted but I won't have new pictures for a few more days. It's wavy glass with a wrought iron scroll in the middle. I LOVE IT!

---
| | | |
| --- | --- | --- |
| RE: fancy glass entry doors | | |
Well I didn't know I was cheesy but I have doors with leaded glass inserts too. Also the sidelight. I wouldn't put a screen or storm door over them, tho.

tina
---
| | | |
| --- | --- | --- |
| RE: fancy glass entry doors | | |
I *adore* the glass insert on my front door. Then, I love stained and gluechip glass - really, fancy glass of any kind. I mentioned that I collected Aurora Borealis jewelery in the "Collect" thread - my love of decorative glass definitely leans towards the "bling", LOL.

The door doesn't photograph that well from the outside.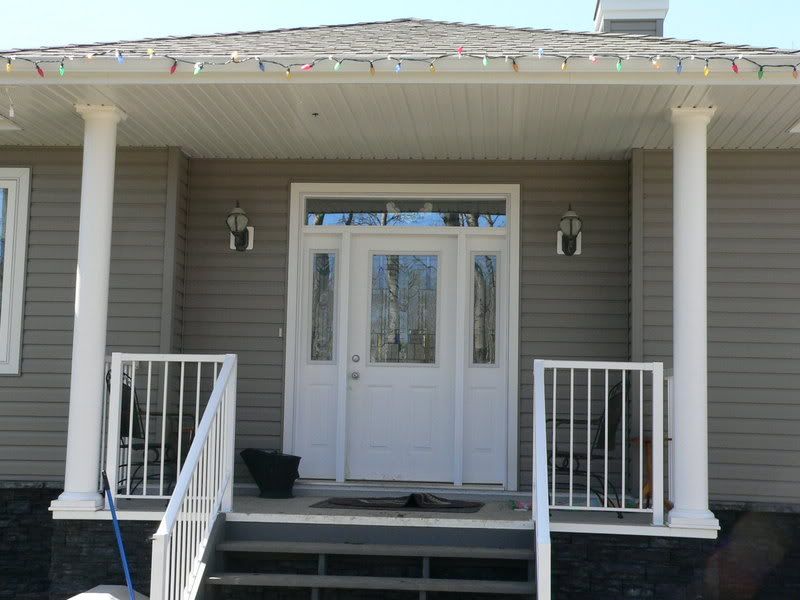 But I could look at it from the inside all day.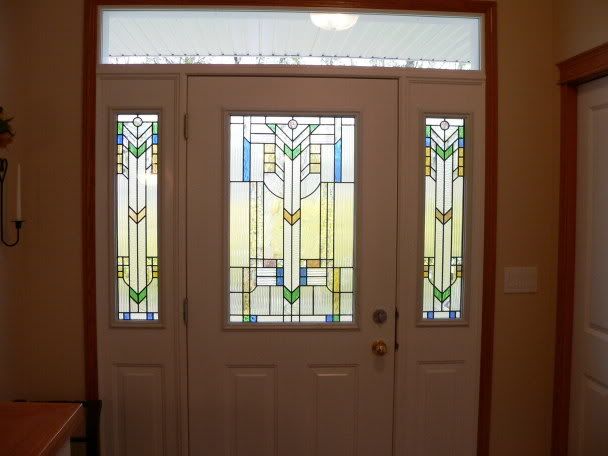 Carrie
---
| | | |
| --- | --- | --- |
| RE: fancy glass entry doors | | |
Anyone who say's these Beautiful doors posted above are "cheesy' are simply jealous, because plain doors are "cheap" and we all know that, the elegant doors with beveled glass or any glass are the expensive doors, and there is nothing like an elegant entrance to a home, you always put your best foot forward, it's the first impression people get of your home.. My doors and screened entry.. sorry pic. was taken at Christmas:
Here is a link that might be useful: photobucket
---
| | | |
| --- | --- | --- |
| RE: fancy glass entry doors | | |
These doors are definitely not cheesey:
glass by design

But are they affordable...

brutuses, I can't find a web site for e-doors :(
---
| | | |
| --- | --- | --- |
| RE: fancy glass entry doors | | |
aw, let me see if I can find it.
---
| | | |
| --- | --- | --- |
| Link to e-doors | | |
Here is a link that might be useful: link
---
| | | |
| --- | --- | --- |
| RE: fancy glass entry doors | | |
Oceanna, wish I could post a pic, too! We got our doors at the Glass Door Store in Tampa. I was amazed at how easy it was to install in our steel doors, and how stable they are! Here's a link so you can see the variety of windows available...I think we paid around $100 for the install (it took less than an hour!) but the inserts were quite a bit more than that-but less than a full door with leaded glass.
http://www.tampabay360.com/ResidentialServices/Remodeling/TheGlassDoorStore.html
---
| | | |
| --- | --- | --- |
| RE: fancy glass entry doors | | |
| | | |
| --- | --- | --- |
| RE: fancy glass entry doors | | |
Anyone who say's these Beautiful doors posted above are "cheesy' are simply jealous, because plain doors are "cheap" and we all know that, the elegant doors with beveled glass or any glass are the expensive doors,


I had to laugh when I red this...
Not everyone wants what you like. And just because it's more expensive doesn't mean it's better.
---
| | | |
| --- | --- | --- |
| RE: fancy glass entry doors | | |
This may not constitute "fancy glass front door" as you've defined above, but here's my beveled glass front door: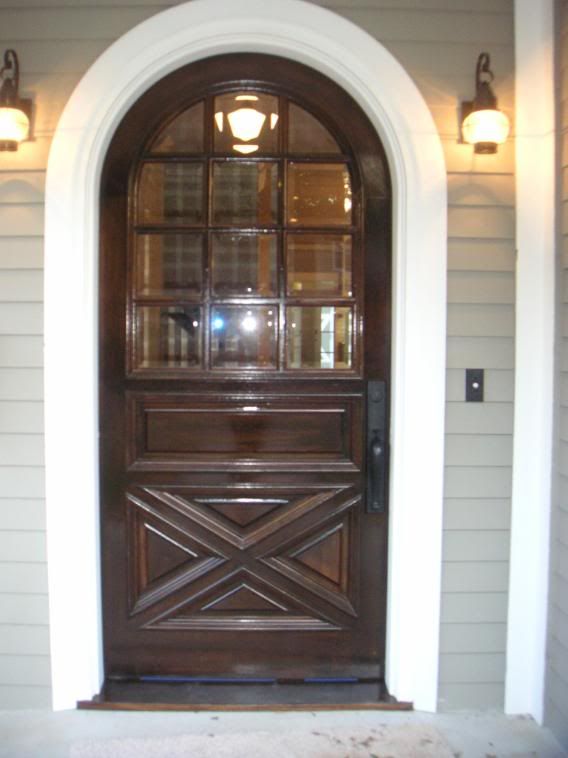 from the inside: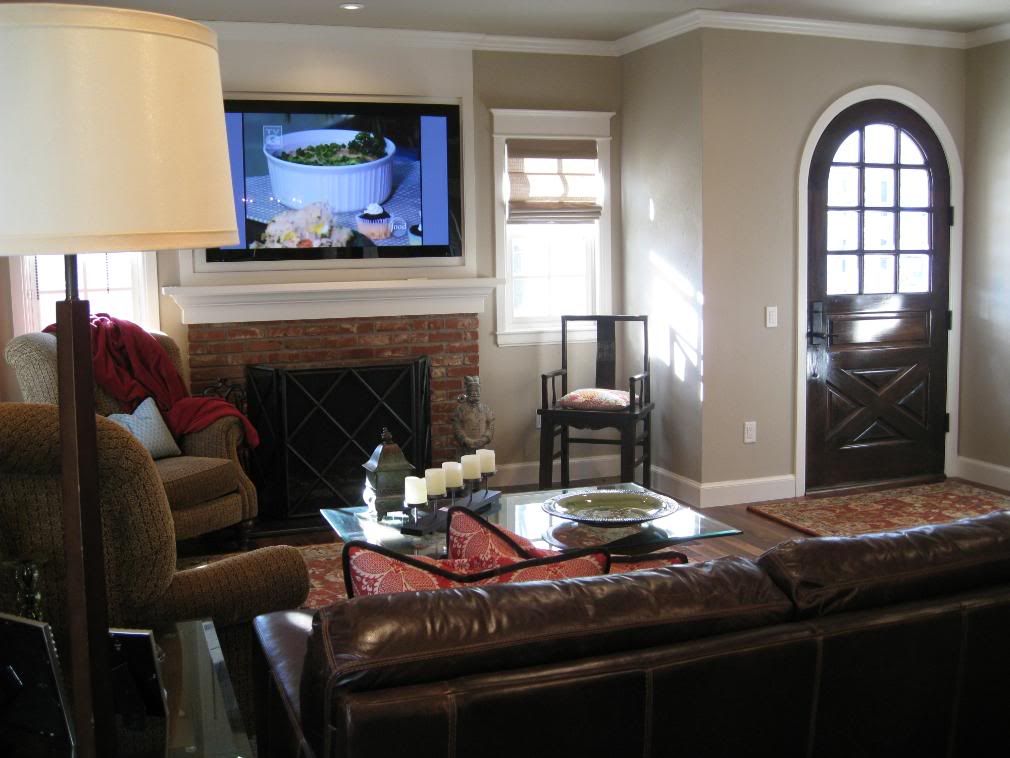 ---
| | | |
| --- | --- | --- |
| 'cheesy' vs. 'elegant/ gracious' | | |
We're not talking about better vs. junk, we're talking plain boring vs. an elegant, gracious entry door...or doors ( I prefer double doors) at least that's what I got out of the first post on this thread..our doors however are steel clad doors, with wood core. My hubby having been in the building supply business,knows expensive doors when he see them, and they are usually on high end homes and have beautiful beveled, leaded glass on doors and side lights...(our doors came with this model home) and we liked them. The orig poster ask if glass in doors is cheesy..Well NO! plain doors are...and the worst are the jailhouse style door, with one small window centered, in the building trade that's what they call them...
---
| | | |
| --- | --- | --- |
| RE: fancy glass entry doors | | |
Ohoh! Now Susieq just called my front door cheesy. :(

Nice front doors, everyone, just beautiful!
---
| | | |
| --- | --- | --- |
| So in the end... | | |
What did you decide to do?
---
| | | |
| --- | --- | --- |
| RE: fancy glass entry doors | | |
If those pics above represent "cheesy," then consider me cheesy. I'm a cheesehead anyways:)
I don't have one but would love to have glass entry door...
---
| | | |
| --- | --- | --- |
| RE: fancy glass entry doors | | |
I never dreamt that anyone would ever equate a nice front door with cheesy. That said, I have a cheesy door. I liked it so much I took it off my old house and brought it to my new house.

My first home was a victorian house with a beautiful stained glass door that I had redone. It wasn't cheesy either. If a style has been around over 100 years and people still try to replicate it, I'd classify it as classic instead of cheesy. To each thier own I suppose though. The ones that feel such doors are cheesy don't have have to pay my mortgage.

I love the way the light comes through the leaded glass and the reflection it makes on different surfaces at different times throughout the day. At night, it makes the neighbors stupid yard light bearable.
---
| | | |
| --- | --- | --- |
| RE: fancy glass entry doors | | |
Oceanna, are you still there? I just noticed your post asking if I'd decided on a door yet. Thanks for asking.

I've been going round & round. Shall I get the single door with sidelights, which would be traditional with my somewhat-colonial home: single & sidelights

or the double door, which would be more practical & perhaps less fussy: double door

I plan to sheath our house with small white shingles, replace the windows with 2 over 2 paned windows with nice wide casings, & put on a red roof. There's an overhang that runs along the front of the house & shades the 1st floor windows. That will get the red roofing also. The house design will be somewhat plain except for the red roof vis a vis the white shingles & the (hopefully not too) ornate door.

My foyer is desperate for light, hence the full pane of glass in the doors instead of the standard 6 panel door with sidelights (which *everybody* has in my neighborhood). The art glass would ensure privacy. My house isn't a true colonial, so I think I can stray from the standard colonial order. Plus the glass doors would look so pretty at night with the lights shining from behind them. I think the art glass doors will be fine despite the plainness of the house: it will provide just enough decoration. At least that's what I hope.

I'd post a picture of my house, but it's so ghastly right now that I'm sort of embarassed!

Anyway, opinions are welcome.

Thanks for weighing in.
---
| | | |
| --- | --- | --- |
| RE: fancy glass entry doors | | |
I'm still here. Did you see my "Sneak Preview" thread I posted yesterday?

I have a single door here, and had a double in my last house. I vote for the double as it's great when you need to move large pieces of furniture in and out of the house.

Your house sounds like it's going to be just wonderful. My maternal grandparents' house was The Best House In The World Ever and it had multi-paned windows, white shingle siding, and red trim. So you're speaking to my heart here. I can't wait till you can post a pic and I can see that red roof!

BTW, do you think the red roof will cause the whole house to be too hot in the summer? I dunno what your climate is like, but it's a thought.
---
| | | |
| --- | --- | --- |
| RE: fancy glass entry doors | | |
Thanks for the quick response, Oceanna. Yes, I think the double door would be best both decoratively & function-wise.

re white shingle, red roof: this is the effect I'm striving for -- plain white house with red roof The red roof wouldn't be any hotter than the black roof we have now. I hope to use Certainteed's Grand Manor

Now, about your *beautiful* glass! How talented you are! I'm so excited for you and can hardly wait to see your lovely glass design in your entryway. It will be spectacular.
---
| | | |
| --- | --- | --- |
| RE: fancy glass entry doors | | |
Mine isn't solid....and I HOPE it doesn't look cheesy. The glass is beveled and etched but it's not a solid "glass" door. The wood is mahogany.

Here's a picture of it right after we moved in. Sorry it's not closer but I got a new computer and honestly can't figure out how to set up the camera card download on this awful new Vista software!!!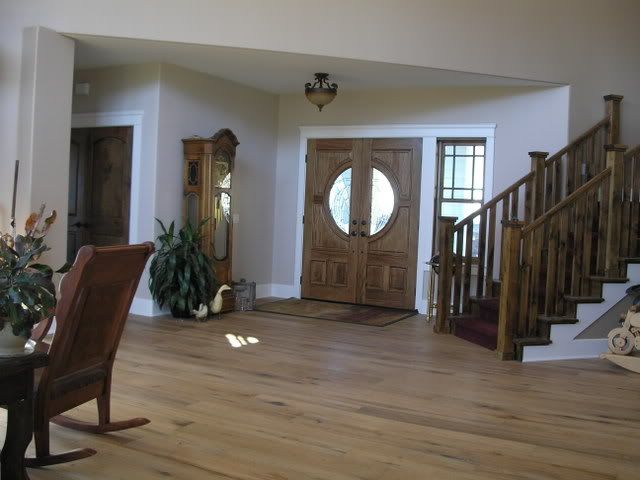 ---
Post a Follow-Up
Please Note: Only registered members are able to post messages to this forum.
If you are a member, please log in.
If you aren't yet a member, join now!
---
Return to the Home Decorating Forum
Information about Posting
You must be logged in to post a message. Once you are logged in, a posting window will appear at the bottom of the messages. If you are not a member, please register for an account.
Please review our Rules of Play before posting.
Posting is a two-step process. Once you have composed your message, you will be taken to the preview page. You will then have a chance to review your post, make changes and upload photos.
After posting your message, you may need to refresh the forum page in order to see it.
Before posting copyrighted material, please read about Copyright and Fair Use.
We have a strict no-advertising policy!
If you would like to practice posting or uploading photos, please visit our Test forum.
If you need assistance, please Contact Us and we will be happy to help.

Learn more about in-text links on this page here