Return to the Home Decorating & Design Forum
|
Post a Follow-Up
---
| | | |
| --- | --- | --- |
| Anyone Have Mikasa Ultima Antique White | | |
Posted by
bird_lover6
(
My Page
) on
Thu, Mar 28, 13 at 21:20
I'm really liking some of the porcelain dinnerware (Pillivuyt) at William Sonoma, but I've discovered this pattern by Mikasa, like it, and it seems pretty durable.

Any comments? Anyone have it? It's sooooo much less expensive that the Pillivuyt, so it would be inexpensive to replace.
---
Follow-Up Postings:
| | | |
| --- | --- | --- |
| RE: Anyone Have Mikasa Ultima Antique White | | |
I have this pattern and I love it too. It is a finer version of my older Pfaltzgraf dishes. Right one is Mikasa dish.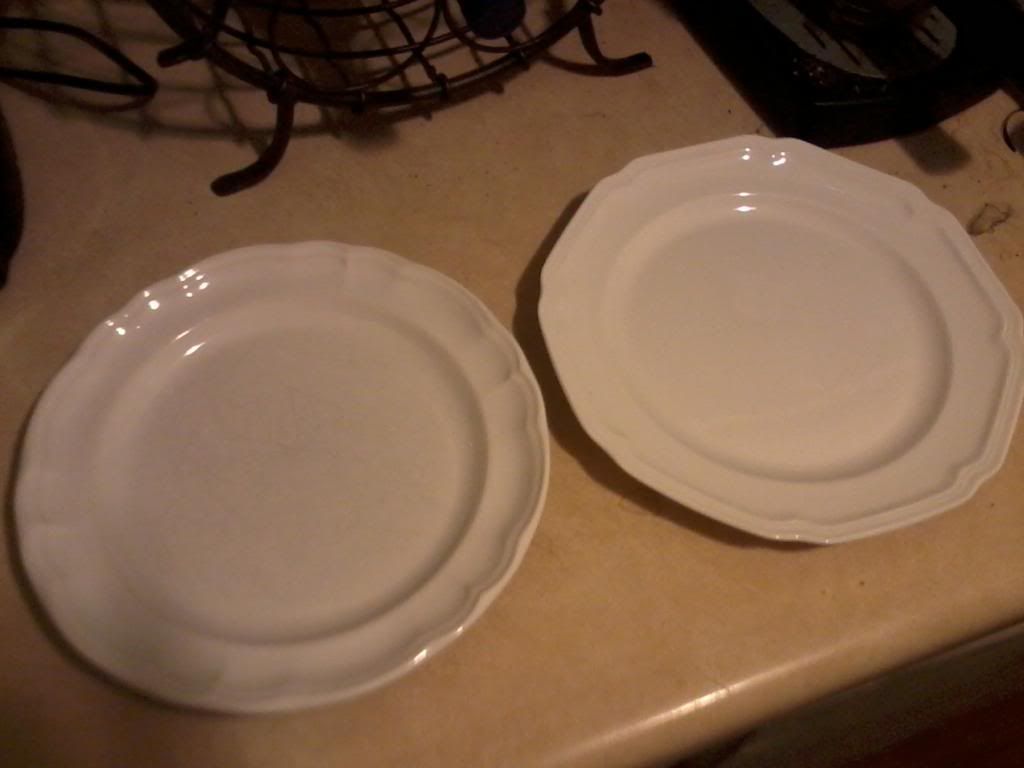 ---
| | | |
| --- | --- | --- |
| RE: Anyone Have Mikasa Ultima Antique White | | |
I have these and love them:

Villeroy and Boch Manoir
They've withstood a lot of moves and use. The serving pieces are especially pretty, I think. This is porcelain, but there is also a china version. Unfortunately, I cannot recall the name. If you want an eclectic pattern, V&B Cellini is very attractive. I looked at the basket pattern and the Eclectique at Williams-Sonoma and at their outlet store. I cannot recall price difference, if any. The eclectic one didn't do it for me, even though I love French porcelain and mixes. The basket is very pretty, very much like the original Wedgwood Nantucket Basket, the quality of which has diminished since the move of manufacturer to Indonesia. Or so the Macy's and Amazon reviewers state.
---
| | | |
| --- | --- | --- |
| RE: Anyone Have Mikasa Ultima Antique White | | |
i prefer the basketweave, but if i liked them equally, i would most definitely go with the cheaper dishes because i have found i get tired of dishes and like to change them up (i have a couple of options for my kids 1st apts!)... i would be less inclined to change them if they were pricey.
---
| | | |
| --- | --- | --- |
| RE: Anyone Have Mikasa Ultima Antique White | | |
Bed Bath and Beyond has several of the Mikasa white patterns : Italian Countryside, French Countryside, Antique White etc. The sales associate was very helpful and pointed out that the Italian Countryside plates will nestle in a shorter stack because the plates are a little shallower that the French Countryside.

I don't know if that makes a difference or not but thought I'd mention it so you could check with the Antique White. If you check their web site there are a lot of reviews. One of the things I liked about the Italian Countryside was that you could select a mug or a cup and saucer. I don't remember if the other patterns also offered both.
This post was edited by maire_cate on Fri, Mar 29, 13 at 10:57
---
| | | |
| --- | --- | --- |
| RE: Anyone Have Mikasa Ultima Antique White | | |
I have Mikasa Country Manor in White and I have been disappointed in them. I've had the set maybe eight years. Although most of the pieces have held up well, others have grazed and have dark spots where oil or water has seeped in and left permanent dark spots.

Here is a small plate:
---
| | | |
| --- | --- | --- |
| RE: Anyone Have Mikasa Ultima Antique White | | |
| | | |
| --- | --- | --- |
| RE: Anyone Have Mikasa Ultima Antique White | | |
I was seriously considering that pattern over the holidays, but I ended up getting Mikasa's Italian countryside. I still want antique white though, maybe next year.

Anyway, the Italian countryside (which is just porcelain and not china like antique white) has held up beautifully. Not a single chip or crack and my family is really hard on our stuff. Also, not a single grey mark from knives. Previously I had fiestaware and I hated all the marks that were all over the dishes. With my Italian countryside I we use steak knives all the time on the plates and not a single mark.

I've been very happy with the mikasa and I really want to get antique white when Macy's has another great sale.
---
| | | |
| --- | --- | --- |
| RE: Anyone Have Mikasa Ultima Antique White | | |
I have a set of Mikasa French Countryside that I don't use on a regular basis primarily because the plates don't fit well in the dishwasher. I had initially purchased Italian Countryside which I love the look of, but those plates were so large they didn't fit in the dishwasher at all. Just something to think about if you hate doing dishes as much as I do. I will say that the French Countryside looks like new with occasional use. Good luck. Love the versatility of white dishes.
---
| | | |
| --- | --- | --- |
| RE: Anyone Have Mikasa Ultima Antique White | | |
I've had the French Countryside for over 10 years, used daily. They are still in beautiful condition. I've chipped 1 salad plate and 1 dinner plate, but that's all. Like others have said, they are large to fit in DW, but I've worked that out. I sometimes like to mix them w/other white tablewear, and usually get compliments.
---
| | | |
| --- | --- | --- |
| RE: Anyone Have Mikasa Ultima Antique White | | |
I second (third? fourth?) the positive Mikasa experience. I've had mine for 16 years (different pattern) and they're in great shape. Plus, they were so reasonable that I was able to buy a bunch of extra settings to have in case of breakage. The breakage never happened, but the family grew quite a bit, so it all worked out well. I am so glad my mom talked me out of registering for a beautiful - but pricey - pattern. I'd still only have service for 2!
---
| | | |
| --- | --- | --- |
| RE: Anyone Have Mikasa Ultima Antique White | | |
I have had that Mikasa pattern in a decorated version for 30 years. Only the teacups have broken. No chips, crazing, or cracking on the plates and bowls. The dinner plates block the arm of the Miele DW but the others nestle in fine.
---
| | | |
| --- | --- | --- |
| RE: Anyone Have Mikasa Ultima Antique White | | |
I also have an old Mikasa set, tucked away in the basement. I think they were better a long time ago than they are now. My original set was from 1974! That's why I bought Mikasa again but the quality seems to have gone downhill, at least that has been my experience as you can see in my photos.

I may bring out my old Mikasa set, although the pattern is terribly dated.
Here is a link that might be useful: Mikasa Majorca Lodi
---
| | | |
| --- | --- | --- |
| another thing | | |
I notice that my old set of Mikasa was made in Japan whereas the newer set is made in Malaysia, so I have a feeling the quality has changed, too.
---
| | | |
| --- | --- | --- |
| RE: Anyone Have Mikasa Ultima Antique White | | |
Thanks for sharing your opinions! Although I love the French porcelain, it is a little bit "too cool" for me. The white is almost blue compared to the Antique White. The Antique White Mikasa is still white enough to blend well with all of my Spode.

If you are interested in acquiring some Mikasa, the Antique White and Satin White are both made of their Ultima porcelain, which is supposed to be stronger. White Satin is discontinued, but I'm buying some for my daughter. :) It's gorgeous. It's still pretty readily available and will blend well with more contemporary pieces from Crate and Barrel, etc.
---
| | | |
| --- | --- | --- |
| RE: Anyone Have Mikasa Ultima Antique White | | |
| | | |
| --- | --- | --- |
| Oops. Wrong photo | | |
Post a Follow-Up
Please Note: Only registered members are able to post messages to this forum.
If you are a member, please log in.
If you aren't yet a member, join now!
---
Return to the Home Decorating & Design Forum
Information about Posting
You must be logged in to post a message. Once you are logged in, a posting window will appear at the bottom of the messages. If you are not a member, please register for an account.
Please review our Rules of Play before posting.
Posting is a two-step process. Once you have composed your message, you will be taken to the preview page. You will then have a chance to review your post, make changes and upload photos.
After posting your message, you may need to refresh the forum page in order to see it.
Before posting copyrighted material, please read about Copyright and Fair Use.
We have a strict no-advertising policy!
If you would like to practice posting or uploading photos, please visit our Test forum.
If you need assistance, please Contact Us and we will be happy to help.

Learn more about in-text links on this page here