Return to the Home Decorating Forum
|
Post a Follow-Up
---
| | | |
| --- | --- | --- |
| Decorating dilemma with area rugs-pics...HELP! | | |
Posted by
pensivern
(
My Page
) on
Wed, Mar 7, 12 at 20:57
Here's my situation. I have a center hall colonial which enters into a foyer-LR on left, DR on right. I recently redecorated my LR to lighter colors....it has a casual Pottery Barn feel-pic included. Now, my DR is looking too traditional and dark with it's jewel toned colors. I thought I could lighten up the DR and coordinate it better with my LR by changing the rug to something lighter-so I bought a sample today of a pale blue/terra cotta area rug which looks very pretty across from my LR but I fear it may make my DR look too 'top heavy'. My DR has BM peanut shell walls a top of antique white wainscoting. I really hate to change my DR wall color as my custom made silk drapes match the peanut shell perfectly. I'd definitely have to change the fabric on my DR chairs so this will help pull the room together but I'm worried that having a light rug, and a deeper upper half of the room might never look balanced.

Pics are as followed:
1) current DR, 2) DR with sample of Pottery Barn light rug, and 3)LR

I attached a link for a close-up of the pottery barn rug I'm considering.
Any thoughts/suggestions much appreciated!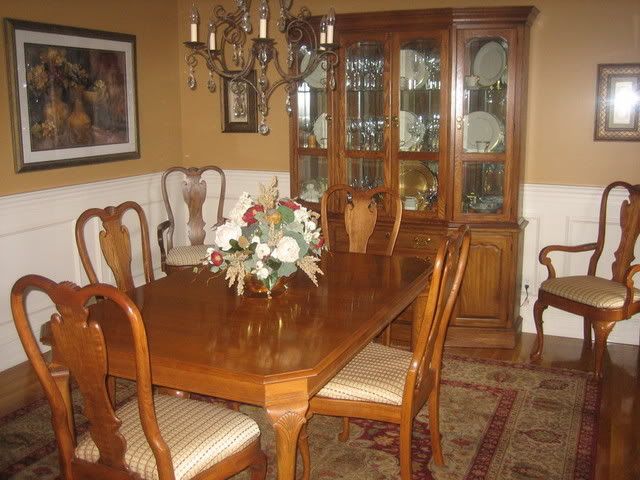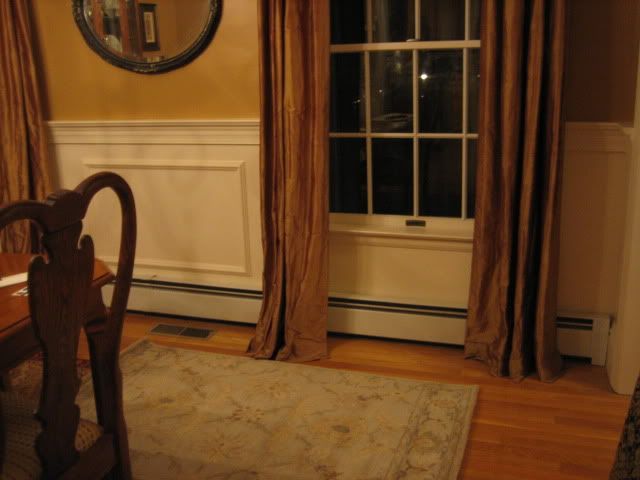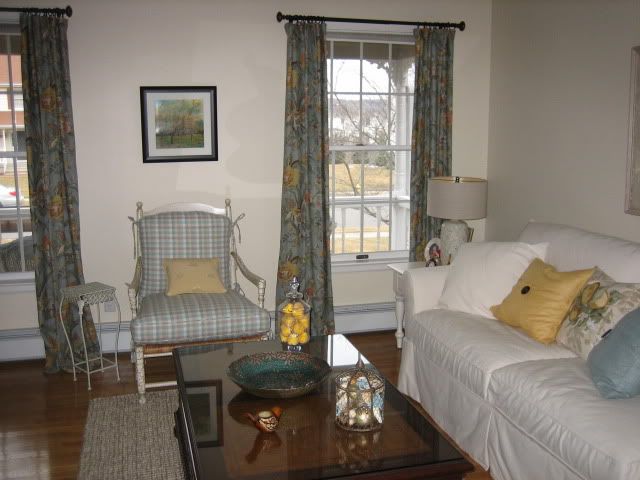 Here is a link that might be useful: pottery barn light colored rug
---
Follow-Up Postings:
| | | |
| --- | --- | --- |
| RE: Decorating dilemma with area rugs-pics...HELP! | | |
I like the lighter rug with the blue that ties back to your Vanessa drapes. One way that you could make your dining room read a little bit more casual and lighter would be to add slipcovers to your dining chairs. I've linked some just to show you what I mean. You could also change out the artwork for something that has a lighter subject.
Here is a link that might be useful: Slip covers
---
| | | |
| --- | --- | --- |
| RE: Decorating dilemma with area rugs-pics...HELP! | | |
Absolutely what Fun said plus change out some of the items in the china cabinet, use more white pitchers etc. White will help in the room. If it were me I would paint the walls blue which would still go with your drapes. Put a grouping of white items on the table and possible a new chandy and you'd have a more relaxed room. Capitalize on the white and scatter it about. The art is too serious, get something more fun and I'd even lose the round mirror and find a more casual one.
---
| | | |
| --- | --- | --- |
| RE: Decorating dilemma with area rugs-pics...HELP! | | |
I like the lighter color rug as well, and LOVE your plaid chair & drapes in your other room! I think the slip covers could tone down the formal traditional look of your chairs.
---
| | | |
| --- | --- | --- |
| RE: Decorating dilemma with area rugs-pics...HELP! | | |
Thanks for your suggestions so far. You all seem to like the lighter rug, but do you think the lighter rug will look good WITH the deeply painted upper walls and silk drapes (tone on tone)? I was afraid it would look too 'top heavy' as the current deep jeweled rug kind of 'grounds' the room. I might consider painting the upper walls a tad lighter....more apricot, but not blue..

I have 6 DR chairs....I don't think short slip covers can fit over armed chairs (2 of 6 are).
---
| | | |
| --- | --- | --- |
| RE: Decorating dilemma with area rugs-pics...HELP! | | |
I love the lighter colored rug! Maybe you need to just update the wall art. Some lighter prints with the rug color may help the walls not look as dark. I think the rug and walls look great together.
---
| | | |
| --- | --- | --- |
| RE: Decorating dilemma with area rugs-pics...HELP! | | |
Another vote for the light colored rug!!
---
| | | |
| --- | --- | --- |
| RE: Decorating dilemma with area rugs-pics...HELP! | | |
The idea is to lighten the top half of the room both in color and in style. Use the slips on just the armless chairs. I think that will look fine since the armchairs are over to the side. Designers often use a different look at the ends of the table versus the sides. Do you have a lighter colored bed sheet? Why not try laying it down over the carpet. That will give you an idea of how a light colored carpet would work.

Also, you will want to change some of the artwork. You need to bring the blue up to eye level and get rid of the jewel tones altogether.
---
Post a Follow-Up
Please Note: Only registered members are able to post messages to this forum.
If you are a member, please log in.
If you aren't yet a member, join now!
---
Return to the Home Decorating Forum
Information about Posting
You must be logged in to post a message. Once you are logged in, a posting window will appear at the bottom of the messages. If you are not a member, please register for an account.
Posting is a two-step process. Once you have composed your message, you will be taken to the preview page. You will then have a chance to review your post, make changes and upload photos.
After posting your message, you may need to refresh the forum page in order to see it.
Before posting copyrighted material, please read about Copyright and Fair Use.
We have a strict no-advertising policy!
If you would like to practice posting or uploading photos, please visit our Test forum.
If you need assistance, please Contact Us and we will be happy to help.

Learn more about in-text links on this page here