Return to the Home Decorating Forum
|
Post a Follow-Up
---
| | | |
| --- | --- | --- |
| My3dogs ? About your H&M sofa | | |
Posted by
denali_2007
(
My Page
) on
Mon, Mar 19, 12 at 20:35
I am searching for a new LR sofa and chair. I think it was you who has the H&M tuxedo leather sofa. I think that is the one I'm leaning towards. What chairs do you have with it? I have a Leathercraft sofa and 2 leather recliners in the FR, so I don't want leather chairs in the LR also. I'd love to know what you have.
---
Follow-Up Postings:
| | | |
| --- | --- | --- |
| RE: My3dogs ? About your H&M sofa | | |
Hi! It's not me who has the Tuxedo sofa. Mine is the Kent Chesterfield and I got it from Craigslist. This is the best pic I have of it, taken just after the eBay coffee table arrived. The two chairs that I have in there were bought for a sofa that is now in my basement; (shown in the second pic below) one is leather and the other is a Dan Carithers by Sherrill. What ties everything together IMO in the room is the rug, since the H&M sofa was an unplanned purchase that I just HAD to have.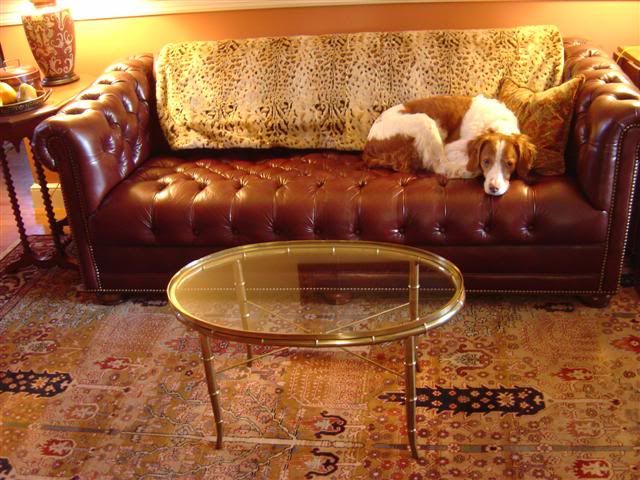 This is embarrassing, but the best pic I have of the leather chair. The pic will be 5 years old this Thursday! The other chair is impossible to photograph and have the colors come through but it's a tiny woven grayish blue and tan check which is perfect with the lighter blues in the rug. Many changes have been made since this pic was taken.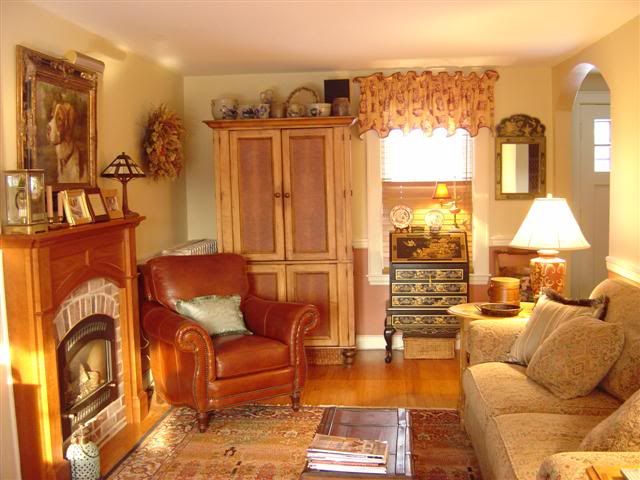 Oops - just found this attempt of trying to capture the chair colors correctly. It didn't happen.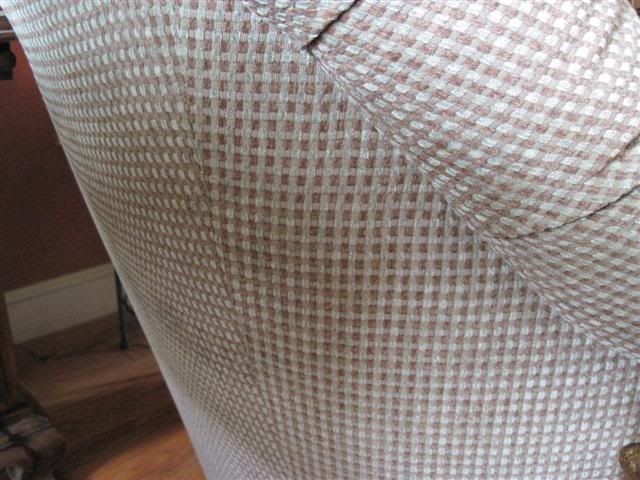 ---
| | | |
| --- | --- | --- |
| RE: My3dogs ? About your H&M sofa | | |
Thanks, my 3 dogs. That is the sofa I was thinking of. Wish I could find one on Craigslist but all we seem to have is junk. Thanks for the idea about a rug
---
| | | |
| --- | --- | --- |
| RE: My3dogs ? About your H&M sofa | | |
I wish you luck! It is a wonderful sofa that can withstand anything my dogs do to it, including wrestling. That protected leather is like iron.

I am in Maine, and got this in NH, from a couple who were moving to Switzerland and selling the contents of their home. I only offered $1000, and after they didn't get what they hoped for, they emailed me weeks later and said that they knew how much I liked it, and it was mine. A friend and I drove down with his trailer and hauled it back!
---
Post a Follow-Up
Please Note: Only registered members are able to post messages to this forum.
If you are a member, please log in.
If you aren't yet a member, join now!
---
Return to the Home Decorating Forum
Information about Posting
You must be logged in to post a message. Once you are logged in, a posting window will appear at the bottom of the messages. If you are not a member, please register for an account.
Posting is a two-step process. Once you have composed your message, you will be taken to the preview page. You will then have a chance to review your post, make changes and upload photos.
After posting your message, you may need to refresh the forum page in order to see it.
Before posting copyrighted material, please read about Copyright and Fair Use.
We have a strict no-advertising policy!
If you would like to practice posting or uploading photos, please visit our Test forum.
If you need assistance, please Contact Us and we will be happy to help.

Learn more about in-text links on this page here