Return to the Home Decorating & Design Forum
|
Post a Follow-Up
---
| | | |
| --- | --- | --- |
| Sofa and fabric selections- vintage looking? | | |
Posted by
Lady_West
(
My Page
) on
Mon, Mar 10, 14 at 20:31
WDYT of this fabric (the one on the left)?

For a sofa? Will be the main living room sofa. I have a 2 yr old and 4 yr old. Fabric is supposed to be durable.
**************
I could use some help selecting a sofa and the fabric for it. I posted last week about my house, a 1920's brick bungalow, and how I'm going for a vintage sort of look. More 40's than 20's, with colonial revival furniture.
Here are a few overall inspiration photos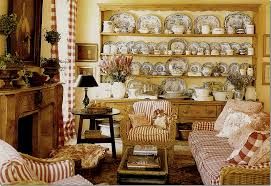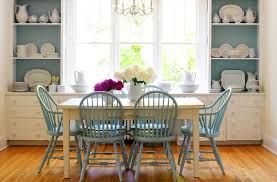 Here is the living room

I'm planning on this for kitchen wallpaper (praying that there's enough). I will be painting the kitchen cabinets (maybe a cream/pale yellow or white) new white vintage looking appliances, and some sort of marmoleum floor.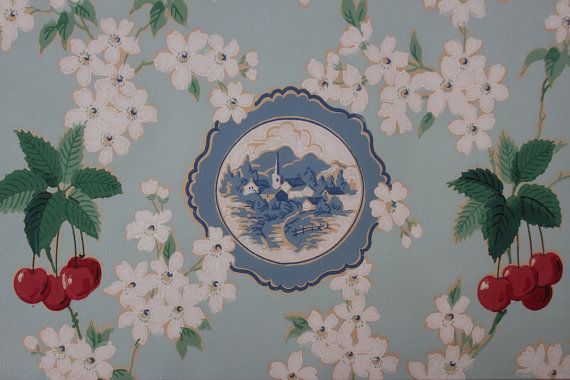 In the living and dining rooms I will be refinishing the floors, will go with a very light (maybe no stain) with a more matte finish. I may strip the baseboards and trim and refinish.
I was planning on painting the walls cream or maybe using wallpaper. In the dining room I planned to hang some transferware, heavy on the blues.
I am in the process of buying vintage Ethan Allen Heirloom Maple colonial revival furniture. I just bought these: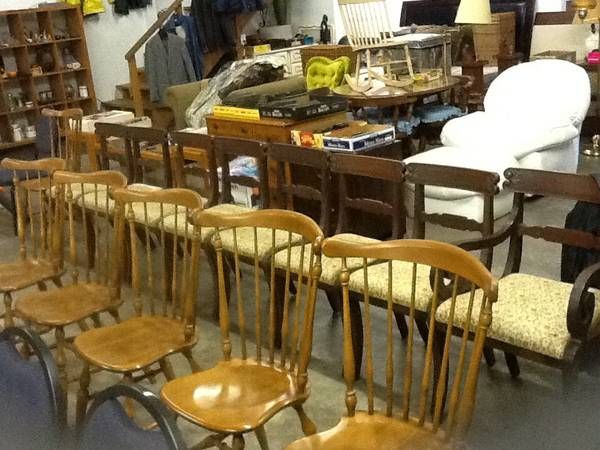 and a matching drop leaf table
I am considering refinishing the hutch and table. I am going to post over on the woodworking forum, but my plan is to maybe lightly sand and apply a liming wax to soften the orange hue and give a slightly aged look. I have no idea if that will work.
So that's what I have so far. And now I'm looking at living room seating. I'd like a three seat sofa and one or two wingback chairs. I haven't ruled out something slipcovered, like the PB basic, but I'm not sure it's right for what I want. I really think a patterned sofa is what I need, plus the slipcovered sofas can look a little sloppy.
I do like these two styles from Flexsteel:
The Danville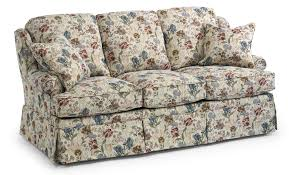 The bungalow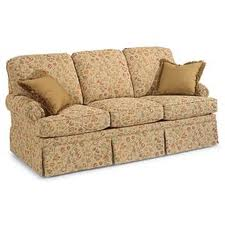 I did consider buying one used and recovering, but once I learned how much quality upholstery fabric costs it seemed to make more sense going new.
I went to a furniture store today to look at the Flexsteel sofas. They didn't have either style on display, but I did try out other models and I was able to look through all the fabric selections. Overall I wasn't wowed by the fabric options, but I happened to love this light tan plaid w/blue.

It is light, but the fabric is rated quite durable. I am nervous about committing to a patterned sofa. My current setup is a brown leather sofa with pottery barn bench wright style tables, etc. This new furniture will be quite a departure for me, but I'm ready for something new. I'd like a cheerful, homey look. Vintage-y, with a little country (English country). What do you think about the fabric selection? And what would you do for the wingback chair(s). I like the blue stripe (1st photos), not sure though.
I worry about the kitchen having red there will be a banquette I need to recover and was thinking of a red gingham oilcloth. The kitchen is visible (through doorway). And then I have no idea what to do on the living and dining room walls, not sure a buttery cream will work with the tan fabric. And drapes?
The price I was quoted was fairly expensive to me. Probably because the fabric is one of the more expensive choices and I'm used to buying cheaper furniture I guess. I'm willing to spend the money on a quality sofa that will last, but I worry about kids and upholstery (we do not eat on the sofa, but sippy cups make there way onto it).
What do you think? If you're not a fan what would you suggest? Thanks.
Here is a link that might be useful: Previous thread RE: house and furniture
This post was edited by Lady_West on Tue, Mar 11, 14 at 1:10
---
Follow-Up Postings:
| | | |
| --- | --- | --- |
| RE: Sofa and fabric selections- vintage looking? | | |
I really like the fabrics you picked. I'd do some research, though, into Flexsteel sofas. It is SO hard now to get a quality sofa that doesn't cost a fortune. I regret buying a new sofa (Hickory Chair) and wish I'd bought a used antique sofa and had it redone. I love the HC frame, but the cushion is not good, and when I have the money, I have to have yet another cushion made. Very frustrating because I paid a fortune for the sofa. New stuff just isn't what it used to be.
---
| | | |
| --- | --- | --- |
| RE: Sofa and fabric selections- vintage looking? | | |
I would keep the sofa and chair fabrics plain and bring pattern in with pillows.....easier to change the look with pillows. If you tire of the plaid fabric on the sofa in a few years you're stuck. Or maybe just do one chair in an accent fabric. Order the plaid fabric and have pillows made.
---
| | | |
| --- | --- | --- |
| RE: Sofa and fabric selections- vintage looking? | | |
Agree 100% with joaniepoanie. Too much of a good thing is...well...too much.
---
| | | |
| --- | --- | --- |
| RE: Sofa and fabric selections- vintage looking? | | |
I would go with the solid fabric. Then you can add in pillows with some red in them to carry the color from the kitchen.
---
| | | |
| --- | --- | --- |
| RE: Sofa and fabric selections- vintage looking? | | |
Yep, me too: do a solid color sofa, or choose a fabric that has a very subtle mix of colors, like a tweed. Use pillows in vintage fabrics. The fabric in your picture doesn't read particularly vintage to me.
Diane
---
| | | |
| --- | --- | --- |
| RE: Sofa and fabric selections- vintage looking? | | |
Although your choices are very pretty, I cast another vote for a solid, muted pattern, or lightly textured fabric. Solid may be less expensive grade also. For pattern in accessories like pillows, take a look at bark cloth prints- they are vintage but I am not sure of the era.
---
| | | |
| --- | --- | --- |
| RE: Sofa and fabric selections- vintage looking? | | |
About the hutch and table - I like the style very much. I would advise living with it for awhile before fussing with the finish. The maple tone is part of what makes the piece reflective of the time period and classic. It looks good to me in the photo- I do not find it orange. I would just give it a gentle cleaning- I would not lift the finish.
---
| | | |
| --- | --- | --- |
| RE: Sofa and fabric selections- vintage looking? | | |
Another vote for a different fabric for the sofa. It is a plaid and somehow it will always look out of sorts, with children moving the pillows and fabric just enough that the plaid doesn't align. Also, there is a lot of white in the fabric for young kids.

I absolutely love the kitchen wallpaper, and your ideas for the kitchen.
---
| | | |
| --- | --- | --- |
| RE: Sofa and fabric selections- vintage looking? | | |
Okay, I just can't do a solid for the sofa. Especially since it would be tan (boring) or blue (would end up looking like an 80's cornflower blue). How about the pottery barn basic slipcovered sofa in a navy blue ticking stripe. It wouldn't be solid, but not as busy as most other prints. Plus, washable slipcovers with kids would probably be good.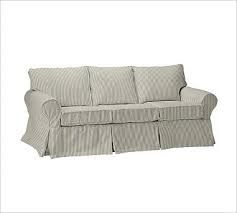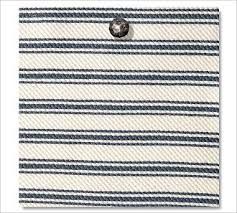 riverhouse: I don't plan to do anything to the furniture yet. I still have to move it 800 miles so there's no point now. Part of me really likes the original finish, especially on the chairs and table. I'm torn. I do like a few painted pieces. I'll probably wait until I see how the floors and maybe trim turn out.
---
| | | |
| --- | --- | --- |
| RE: Sofa and fabric selections- vintage looking? | | |
Definitely like the PB sofa better than the first option. I agree with little or no pattern on the sofa, but I like a chair with a pattern. If you get the PB sofa, you could get chairs in a solid blue and then bring other colors (and pattern) in with pillows and other accessories.
---
| | | |
| --- | --- | --- |
| RE: Sofa and fabric selections- vintage looking? | | |
I don't have any advice just wanted to say that I love your inspiration pics (especially the blue & white one). I am drawn to 1940s as well, so I'm really hoping you'll post pics when you're done. Good luck.
---
| | | |
| --- | --- | --- |
| RE: Sofa and fabric selections- vintage looking? | | |
I love the wallpaper. I love the wallpaper. I love the wallpaper.
I don't know about the fabric for the sofa; I agree it does seem homey cozy but I am not sure if it looks at all "fresh" so to speak. I am not feeling it. But I LOVE that wallpaper.
---
| | | |
| --- | --- | --- |
| RE: Sofa and fabric selections- vintage looking? | | |
I'm sorry but I have to be honest, I don't like that plaid at all. Why not just a nice plaid or buffalo check without the little doo dads.

I do like that wallpaper and like where you're going with it. Sort of an English country look.
---
| | | |
| --- | --- | --- |
| RE: Sofa and fabric selections- vintage looking? | | |
I love the blue ticking sofa, and I think you could really achieve that 1940's feel with a few assorted vintage floral barkcloth pillows. This one has some red in it that would pull in the red from your kitchen and and maybe a few other accessories. A soft cream on the walls, maybe something like SW Jersey Cream, or a shade lighter.
Here is a link that might be useful: 1940's floral barkcloth pillow, Houzz
---
| | | |
| --- | --- | --- |
| RE: Sofa and fabric selections- vintage looking? | | |
The plaid looks very early nineteen-eighties to me. I think you could achieve a forties look better with a tweedy fabric, as someone else suggested. I love the blue ticking. I also like the wallpaper.

Good luck whatever you choose.
---
| | | |
| --- | --- | --- |
| RE: Sofa and fabric selections- vintage looking? | | |
Oh, and don't forget a pair of botanical prints, fairly large, paired on a living room wall. And if you haven't seen this blog it's pretty interesting, especially the part about using red, white and blue. Post-war brought a great deal of patriotism. I thought of your beautiful kitchen wallpaper. It doesn't strike me as patriotic, but this explains the color combinations and possibly the cherries!
Here is a link that might be useful: 1940's Decorating Style
---
| | | |
| --- | --- | --- |
| RE: Sofa and fabric selections- vintage looking? | | |
Ticking is always a good choice.
---
| | | |
| --- | --- | --- |
| RE: Sofa and fabric selections- vintage looking? | | |
When our kids were little, we had a blue and white striped linen-like fabric on our sofa. It quickly started looking like a public health hazard. So, yes to washable slip covers, or better yet, some Kryptonite/outdoor fabric.
---
| | | |
| --- | --- | --- |
| RE: Sofa and fabric selections- vintage looking? | | |
I didn't love the PB Basic sofa we had for a short time. I sold it on ebay. It was always sloppy, disheveled looking. I love the way fitted slipcovered furniture looks, but this was too much. Didn't look like the catalog pictures. This was a few years ago, so maybe they're made different now. I like the Bungalow Flexsteel one better than the first one.
---
| | | |
| --- | --- | --- |
| RE: Sofa and fabric selections- vintage looking? | | |
The stripes remind me of beachy. I like the solid as well.

I have 3 different sofas in all price ranges.
Family room, we have IKEA slipcovered furniture. I have 2 sets of covers and it gets washed frequently. I did not like the sloppy look so I bought more foam and added another layer to the back of each.

In our living room I have a bernhardt franco with a grey tweed. 2 years old and crap. Will not buy anything bernhardt again.

Most used and oldest is a flex steel sectional in our loft. It was used and old when I bought it so I don't even know how hold it is now. This sofa gets used every single day. Usually lots of kids piled on it playing video games. Have had it professionally cleaned a few times and it looks like new again. Even the cushions are fine, never had to have them replaced.

If you buy a Flex steel sofa you may still have it when your kids go off to college so pick a color you can live with that long. If you go with PB.. you are probably going to have it less than 3-4 years so go with trendy.
---
| | | |
| --- | --- | --- |
| RE: Sofa and fabric selections- vintage looking? | | |
I too have heard wonderful things about Flexsteel quality, but- I am not sure if it is still the way it was.
Melly says hers is older, which reinforces my questioning on this. Not trying to be too much of a skeptic but I was in the market for family room furniture and su:rfed the web tirelessly- and found all sorts of conflicting opinions..........

I have had Broyhill which I know is a very moderate line, and I also know that might not be an option now as they have had a good deal of financial woes but the furniture was great. (also very old so not sure of what is made now)

I had Thomasville which I believe is supposed to be a better quality than Broyhill and is more $. It was ok but it was not any better than the others.
I ended up buying Rowe, which I believe is probably comparable to Broyhill- anyway it's only a few months old but it seems great and it is made in USA.
I didn't spend a lot, as that was what the moral of the story seemed to be- there was no longer a correlation between quality and price. This may still be valid for much higher end lines but for what I was considering.... that's my 2 cents.

I still do love your wallpaper though:)
---
Post a Follow-Up
Please Note: Only registered members are able to post messages to this forum.
If you are a member, please log in.
If you aren't yet a member, join now!
---
Return to the Home Decorating & Design Forum
Information about Posting
You must be logged in to post a message. Once you are logged in, a posting window will appear at the bottom of the messages. If you are not a member, please register for an account.
Please review our Rules of Play before posting.
Posting is a two-step process. Once you have composed your message, you will be taken to the preview page. You will then have a chance to review your post, make changes and upload photos.
After posting your message, you may need to refresh the forum page in order to see it.
Before posting copyrighted material, please read about Copyright and Fair Use.
We have a strict no-advertising policy!
If you would like to practice posting or uploading photos, please visit our Test forum.
If you need assistance, please Contact Us and we will be happy to help.

Learn more about in-text links on this page here