Return to the Home Decorating Forum
|
Post a Follow-Up
---
| | | |
| --- | --- | --- |
| Still Need Help - Outside Lighting Choices | | |
Posted by
oldbat2be
(
My Page
) on
Mon, Mar 19, 12 at 20:27
I posted recently in this forum and did get very valuable feedback, but am still looking for more input.

I'm trying to select outside lights for above the garage doors and for a post lamp (farther down the driveway). Here is current moodboard. Idea is to place lamps either to the left and right of the garage doors (2 lamps) or left, middle and right areas (3 lamps).

Here is current moodboard:

I do think light number 8 would look very nice on the garage door outside walls and blend with the house. But -- won't this light simply spotlight rather overgrown bushes (not that we can't replace them with newer landscaping). However, if we go with them, what do we do for a post?
I really like number 7 but am not sure how it goes with the house style.
Last -- dimensions. Here's the space available:
From what I've read, it seems like these lights should be 1/4 the height of the space. These would be much shorter. From what I've read -- go bigger if in any doubt. Do you agree?
If anyone has ides/suggestions/feedback, they would be very much appreciated. I'm very worried about ordering lights which do not go well with the house.
Thanks,
oldbat2be
---
Follow-Up Postings:
| | | |
| --- | --- | --- |
| RE: Still Need Help - Outside Lighting Choices | | |
Do you need two fixtures at the garage? Seems like you could do just one at the center. Three seems like it might be excessive, but two seem so far apart = -- ad you're right - they aren't exactly highlighting any best features. Do you have a fixture at the front door?

As far as style, I like 1 the best, then 7 -- 8 is not a style I would chose for your house.
---
| | | |
| --- | --- | --- |
| RE: Still Need Help - Outside Lighting Choices | | |
Out of the styles you have listed I'd go with 1 or 7 but I'd do #1 in a darker metal. #8 is too contemporary
Use 2 lights on the garage as shown in your drawing and I suggest removing the bush. Landscapewise it doesn't need to be there.

If you google 'double garage ext. lighting' you'll see most have lights as you've shown, or they're above the doors. My double garage has the lights on each side (and a column in the center like yours).
---
| | | |
| --- | --- | --- |
| RE: Still Need Help - Outside Lighting Choices | | |
I like #1, but think it needs to be in the darker metal to contrast with your siding - is the darker finish in the same range as your garage door color? I love your house colors - the grey with white trim - it looks so fresh.

I agree with annz that the garage area shrubs aren't doing much for your house. If you need 'something' there, could you do planters with an evergreen plus colorful annuals?
---
| | | |
| --- | --- | --- |
| RE: Still Need Help - Outside Lighting Choices | | |
Thanks all for the replies, and the votes. Please, keep voting to help me narrow down the choices!

lascatx - We used to have one light in the middle; I take your point about the distance between the two lights but I think it will be ok (per other pictures, thanks annz for the google search suggestion)

Light# 1 comes in the silver and brownish color; not crazy about the latter.

No fixture yet at the front door but we are planning on recessed lighting.

annz / Suglar-Plum, bushes will go (as well as large rhododendron to left of front door). The bush to the left of the left garage door is hiding a gas meter but we can hide just as well with something else. I like containers a lot and usually have (now that I think of it) 2 or 3 in a line between the garage doors (Aha moment there!).

Garage door color will probably change to match the trim or siding (or possibly even front door).

That said, I think a dark finish would still go well with the roof color.

I went to a lighting store yesterday and they stocked only one mfr of outdoor lighting (Northeast Lantern Limited). I think they'd go well with the house but they don't make my heart sing...yet. Lots of customizable options though.
And two more... I really like #10 (with white garage doors in mind) but probably it won't go with the house, right? (Sigh).
Forgot to mention -- we used to have the 'onion' lantern (very common in New England) but this is something which I do not want again.
Thanks, oldbat2be
---
| | | |
| --- | --- | --- |
| RE: Still Need Help - Outside Lighting Choices | | |
I vote for #11 and think the height of it (19.5 in) for the wall mounted one seems about right there. That ht. they list will include the tall curved hanger at the top. I also think that one looks great as a post light along the drive (the post light is likely a bit bigger). I'd put two on the garage where you've indicated and one on the right wall by the front door in the little covered area. If that's not possible then I'd put it on the right of the door on the outside wall just to the left of the bay window area in the front. Besides aesthetics, the lights are to help your guests get to and from their cars and that spacing should work based on what we have at our house (lighting both sides of a car parked there--although now that I think of it we also have soffit/eave lighting along the walk.

I'd probably put some potted taller plants or urns with hanging plants at each side and the middle of the garage to make that area look worthy of the lighting if you're concerned about that. Lovely home in such a pretty setting!

Now, WHY can't I decide on my own lighting??? You'll see I'm having my own lighting brain freeze in my post.
---
| | | |
| --- | --- | --- |
| RE: Still Need Help - Outside Lighting Choices | | |
i like #11 too... i think i'd want a light between the garage doors, so i would probably hang 3...


we have 2 lights (between 3 bays) but, also a spotlight with 2 lights on it set above the garage doors... there are many times that i turn on the spots because i'm doing something and i want more light out there.
---
| | | |
| --- | --- | --- |
| RE: Still Need Help - Outside Lighting Choices | | |
I like #10 - guess I had too many traditional lights over the years...
---
| | | |
| --- | --- | --- |
| RE: Still Need Help - Outside Lighting Choices | | |
from lowes. comes in several sizes and reasonable price.

http://www.lowes.com/pd_203302-85538-SH-4298-SB_4294774706_4294937087_?productId=3285940&Ns=p_product_prd_lis_ord_nbr:0::p_product_qty_sales_dollar:1&pl=1¤tURL=/pl_Decorative%2BOutdoor%2BLighting_4294774706_4294937087_%3FNs%3Dp_product_prd_lis_ord_nbr:0::p_product_qty_sales_dollar:1&facetInfo=
---
| | | |
| --- | --- | --- |
| RE: Still Need Help - Outside Lighting Choices | | |
Wow, your house could handle a lot of different styles. Do you like any of these? I love to see a pretty glow on the garage doors from down lights.
---
| | | |
| --- | --- | --- |
| RE: Still Need Help - Outside Lighting Choices | | |
Thanks all; I appreciate the ideas and suggestions. I can't believe I still haven't decided. Anytime I go anywhere, I drive slowly and stare at lights on other houses... am fortunate not to have had an accident yet :)

I like the idea of dark sky lighting / downlighting, really like #s 2, 3, 4 you posted caminnc. Could you please post mfr?

rtwilliams, I like the one you posted as well. Very reasonable price.
---
| | | |
| --- | --- | --- |
| RE: Still Need Help - Outside Lighting Choices | | |
The second is Troy Lighting. The third is Kichler Ripley and the last is World Imports Lighting. All and a lot more great looking lighting from wayfair.

I know how you feel, it took me 4 yrs. years to pick new outdoor lighting.
---
| | | |
| --- | --- | --- |
| RE: Still Need Help - Outside Lighting Choices | | |
Can you tell me where you found #10? Thanks!
---
| | | |
| --- | --- | --- |
| RE: Still Need Help - Outside Lighting Choices | | |
I like the last three caminny posted, too. Troy Lighting has some beautiful lights. You might want to google their other options.

Are you adding lights because you need lighting at the garage ..... for looks.... or? If it is because of a need (which I am guessing is the case,) I would add three lights. We have three on a garage that is similar to yours. It is a nice effect and the light illuminates all of the parking spots for guests. You need to keep in mind the amount of wattage as well...
---
| | | |
| --- | --- | --- |
| RE: Still Need Help - Outside Lighting Choices | | |
Caminnc -belatedly, thanks for ID'ing the lights. 4 years is depressingly long, what did you end up selecting? I have ordered one of the 2nd, Troy Old Town, and will see how it looks. I like it a lot, but do not like the post version (something about the neck of the light).

Lolauren, thanks - I am thinking about 3 lights, 60 watts each. I will use the one we receive and photoshop it to see how it looks with 3.

I'm even considering adding another, between the windows.
---
| | | |
| --- | --- | --- |
| RE: Still Need Help - Outside Lighting Choices | | |
I think 3 lights would be best and bigger is better! I like big lanterns.
---
| | | |
| --- | --- | --- |
| RE: Still Need Help - Outside Lighting Choices | | |
oldbat2be, The Troy is my favorite one. I hope it works out for you. This is the light/s I put on my house. It was a long time coming but I really like them.
---
| | | |
| --- | --- | --- |
| RE: Still Need Help - Outside Lighting Choices | | |
I have these lights at my house (very similar to yours) They were decently priced too..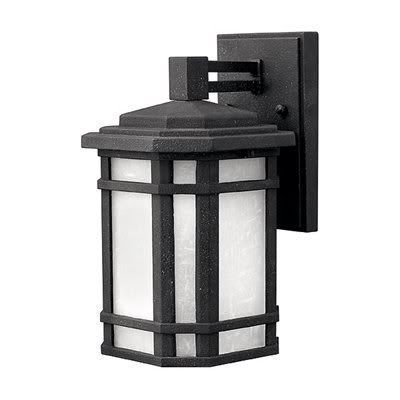 we have three of them on our garage similarly to what you have on our back deck and two on either side of the front door and are very pleased with them.
---
| | | |
| --- | --- | --- |
| RE: Still Need Help - Outside Lighting Choices | | |
mahlgold, I can't definititely say but after an exhaustive search online I think it's this: Murray Feiss Mission Lodge Collection (linked).

Thanks gillylilly. I like the shape. Very simple, and I like the downlight.

caminnc -- Those are lovely, I'm sure you smile when you look at them.

With respect to the post light, I am considering using 1 or 2 of the same light, but mounted on a post, perhaps at different heights.
Thoughts?
Here is a link that might be useful: Murray Feiss Mission Lodge Collection
---
| | | |
| --- | --- | --- |
| Color of glass/ yellow vs. white light | | |
I meant to add - one more question for you guys. How does the 'yellow' light compare to a 'white' light. I.E., this model has amber glass.

Do you find the yellow jarring during the day? Is it softer at night?

As always, your input so very much appreciated. Best, oldbat2be
---
| | | |
| --- | --- | --- |
| RE: Still Need Help - Outside Lighting Choices | | |
I don't think the yellow glass will look good with your house. Can you get it in a frosted white? I like many examples you have here. I personally like the less fussy ones. I also like the down cast lights probably the best. Sometimes I get blinded by lights and I can't see as I approach the house. A friend in a residential neighborhood had a Xmas party last winter and I could not see her address on the wall because of the glare from the garage lights.

There is one house on a highway that I drive, that because of the curve in the road, the garage lights look like headlights coming at you. It has more then once almost tricked me to drive in that direction thinking it was the road. I would have driven off the road following that tact. I've been amazed at the optical illusion of this.
---
| | | |
| --- | --- | --- |
| RE: Still Need Help - Outside Lighting Choices | | |
Be sure to keep the size of the fixture in mind. Here's a link to a guide on choosing the size that might be helpful. There are many other sources that also suggest that the light fixture should be about 25% of the height of the door they are beside (for fixtures beside the doors).
Here is a link that might be useful: Lighting Size Guidelines
---
| | | |
| --- | --- | --- |
| RE: Still Need Help - Outside Lighting Choices | | |
Personally, I don't think the yellow is anything to worry about. I'm not sure how yellow the actual fixture looks, but I wouldn't consider it an accent color... (as in, it will probably blend in)
---
| | | |
| --- | --- | --- |
| RE: Still Need Help - Outside Lighting Choices | | |
Updating to include pictures of the lights with which we went, Troy Old Town.

Three was not too many, flanking the garage doors, and we may eventually add yet another over towards the front door.
We added two on a 10 foot fence post, instead of using Troy's lamp post. (Need to touch up that stain!)
---
Post a Follow-Up
Please Note: Only registered members are able to post messages to this forum.
If you are a member, please log in.
If you aren't yet a member, join now!
---
Return to the Home Decorating Forum
Information about Posting
You must be logged in to post a message. Once you are logged in, a posting window will appear at the bottom of the messages. If you are not a member, please register for an account.
Please review our Rules of Play before posting.
Posting is a two-step process. Once you have composed your message, you will be taken to the preview page. You will then have a chance to review your post, make changes and upload photos.
After posting your message, you may need to refresh the forum page in order to see it.
Before posting copyrighted material, please read about Copyright and Fair Use.
We have a strict no-advertising policy!
If you would like to practice posting or uploading photos, please visit our Test forum.
If you need assistance, please Contact Us and we will be happy to help.

Learn more about in-text links on this page here