Return to the Home Decorating Forum
|
Post a Follow-Up
---
| | | |
| --- | --- | --- |
| Trim Color and Contrast Wall Color with Knotty Pine | | |
Posted by
hermitsoul
(
My Page
) on
Mon, Mar 12, 12 at 18:30
Hi, I was so impressed with everyone's answers to another post about dealing with knotty pine that I am hoping you all can help me as well!

My cabin is about 864 square feet. The living room walls are knotty pine, which I absolutely love. My decorating style is sort of a hybrid rustic/mission/shabbychic. Some might call it busy but I find it cozy. The rest of the walls and all the ceilings in the house have been painted sort of a pale minty aquamarine, and the carpet is a gentle sage color. I plan to paint the walls my go-to happy color, cream (almost buttercream but not quite), and ceilings a warm white. And I have a thing for pinecones, a lot of collectibles with a pinecone motif.

I have two problem areas: the trim and the wall behind the woodstove. I'll start with the woodstove corner.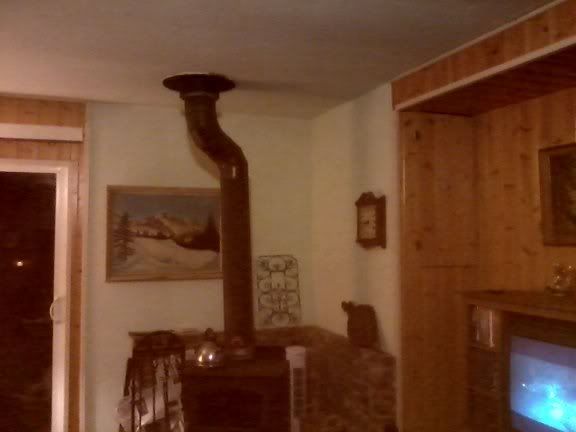 We do use the woodstove as primary heat in winter--October through March. With all the rich colors in the room, I'm thinking cream behind the woodstove will be too bland. I have hung a painting done by my grandfather which doesn't really have a home anywhere else.

Option 1: this wallpaper which I love but am afraid would be too busy:




Too busy? Pinecone overload? Fake wood will look bad next to real pine?

Option 2: This wallpaper border which I LOVE, just in the corner, with the corner painted a color borrowed from the border: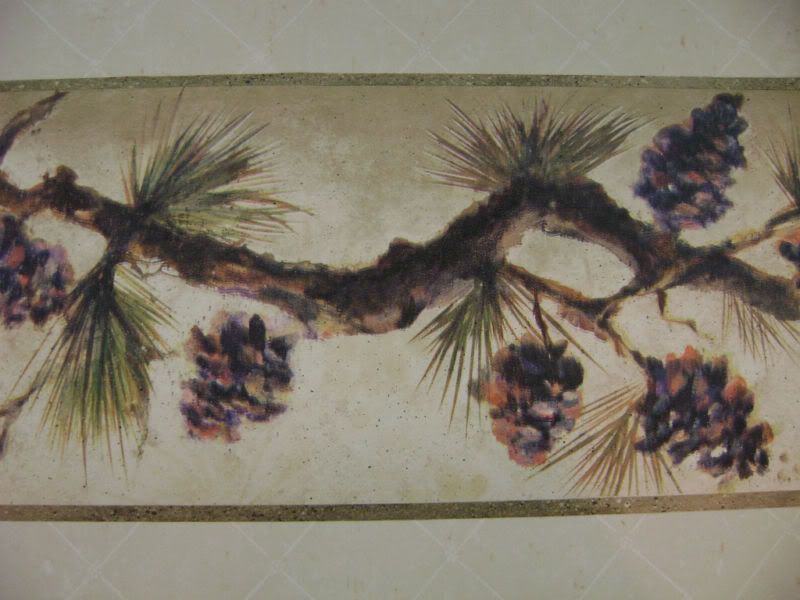 If I go this route, do I use a rusty color from the border and the bricks below, and the knotty pine, or a sage green? How intense?

Option 3: faux stone wallpaper or sponging a couple colors? With or without the pinecone border? I have no confidence in my ability to do anything with paint other than putting one color on the wall.

Option 4: faux granite-look paint, which I have used a lot on various items but never a full wall. With or without border? Lighter or darker?

Okay, now for problem 2, the existing trim. It has been painted a sort of darkish beige that looks almost pinkish against the warm knotty pine. Should I try to match one of the tones in the knotty pine? Go darker, midtone, or lighter, somewhere in between the cream wall and lightest shade in the knotty pine? In my bedroom, the trim borders both knotty pine and the soon-to-be cream wall.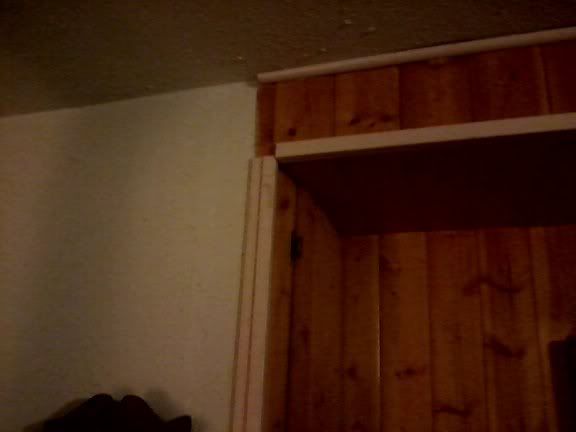 Here are two additional pictures of the space; the first one gives a glimpse of the carpet, which I like, and the second shows a couple paintings done by my grandmother, including the one that started my pinecone obsession: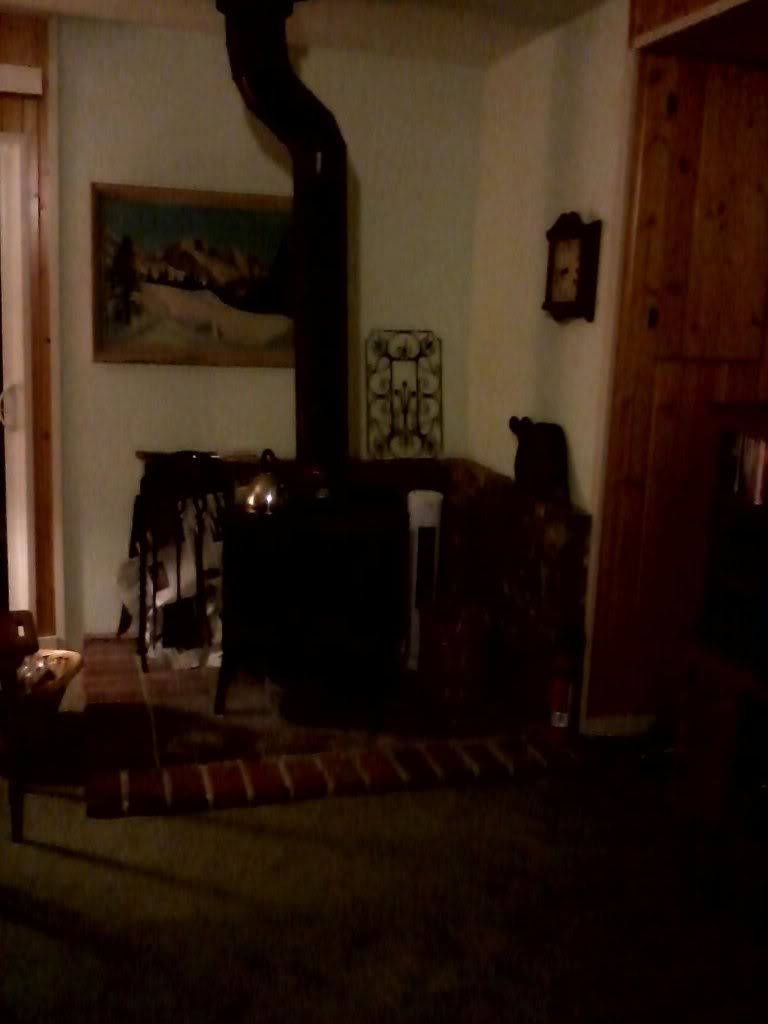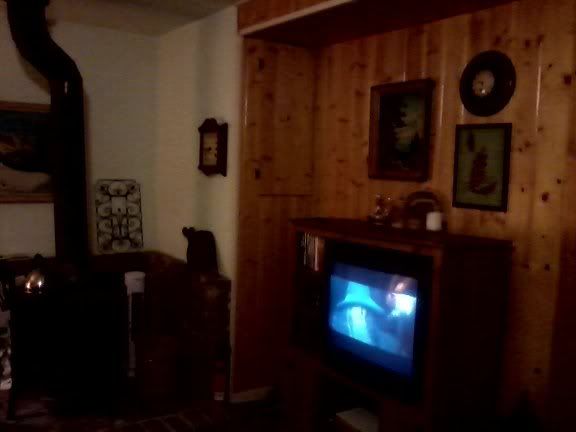 Thanks for any and all suggestions!

Smiles,
Laurie
---
Follow-Up Postings:
| | | |
| --- | --- | --- |
| RE: Trim Color and Contrast Wall Color with Knotty Pine | | |
Hi Laurie,

Well your cabin sounds absolutely adorable and I hope a lot of people chime in to help you come up with some fun and easy solutions.

I love soft cream as a wall color too, and think it's a lovely match for the walls and knotty pine. I'm not a big fan of wallpaper or sponging, so my 2 cents would be to nix them. You are spot on about putting the wood print next to the real deal. And I just think you can do better. Instead of wall paper or a paint treatment, I would keep it simple and find a pretty pale sage color to paint that corner. Something that will offer a nice complimentary contrast to the knotty pine and cream.

I love the idea of hanging the painting painted by your grandfather on one wall though I think if it were me, I would to find a frame that is more similar in color to the knotty pine. On the other wall you could maybe hang a series of 3 or 4 smaller prints in similar type frames that have pine cones in them.

For the trim, it's really hard to say. In most cases I prefer a lighter trim, but I'm thinking with the pine, a darker trim might go better. I hope when you finish your room you remember to post a picture or two, I love seeing the finished rooms! Good Luck!
---
| | | |
| --- | --- | --- |
| RE: Trim Color and Contrast Wall Color with Knotty Pine | | |
I agree with lukki with regard to the walls: keep it simple with a nice paint color to highlight the knotty pine.

I think for the trim I would try to coordinate with the darker knots in the knotty pine rather than trying to match a paint color to the main tone of the wood.
---
| | | |
| --- | --- | --- |
| RE: Trim Color and Contrast Wall Color with Knotty Pine | | |
Your trim looks a bit odd to me. It doesn't look like it's the right kind for the application, flat where it should be curved, etc. Plus it just stops short in places where it should meet up with another piece in a mitered corner. I'd start from scratch with the appropriate trim and probably stain it to match the existing paneling.

I wouldn't do the wallpaper or the border. They look kind of dated and too wintry to me.

Is the whole room paneled except for that corner by the wood stove? Is your stove a barn red? Your pictures are too dark to tell. It would be great if we could see what other colors you have in your furniture so we could help you better with paint suggestions.
---
Post a Follow-Up
Please Note: Only registered members are able to post messages to this forum.
If you are a member, please log in.
If you aren't yet a member, join now!
---
Return to the Home Decorating Forum
Information about Posting
You must be logged in to post a message. Once you are logged in, a posting window will appear at the bottom of the messages. If you are not a member, please register for an account.
Please review our Rules of Play before posting.
Posting is a two-step process. Once you have composed your message, you will be taken to the preview page. You will then have a chance to review your post, make changes and upload photos.
After posting your message, you may need to refresh the forum page in order to see it.
Before posting copyrighted material, please read about Copyright and Fair Use.
We have a strict no-advertising policy!
If you would like to practice posting or uploading photos, please visit our Test forum.
If you need assistance, please Contact Us and we will be happy to help.

Learn more about in-text links on this page here