Return to the Home Decorating Forum
|
Post a Follow-Up
---
| | | |
| --- | --- | --- |
| Anyone do modern flat roman shades ABOVE the window casing? Pic! | | |
Posted by
moremoremore
(
My Page
) on
Sun, Mar 29, 09 at 18:13
Oye. So I'm back and forth about drapes. I love the open clean look with just white wood blinds...but it does feel unfinished. I bought beige and brown color block drapes from West Elm to hang only on the outside of my windows but thought that a nice chocolate brown valance would look ok. I'm worried about closing off and adding clutter to the windows on either side of the TV unit and ESPECIALLY the one right next to the fire place...BUT I don't want fru-fru valances. I want them to be clean and modern. I also can't inside mount them. They need to be ABOVE the casing...

Has anyone done this and can u show me??? :)

This is an old picture that doesn't have all the changes I've made but it gives the best picture of the room and windows! Thanks!....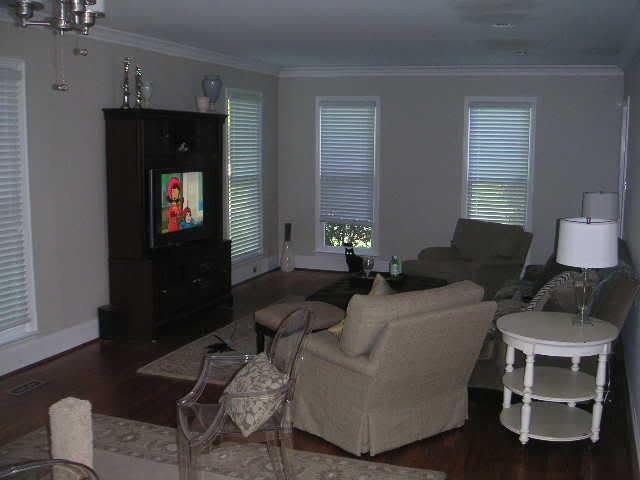 Here's another pic

See how little room I have on that window? and yeah, yeah LOL same old picture as in my paint my fireplace thread and which color fireplace surround threads...still haven't done either of those two things!! :)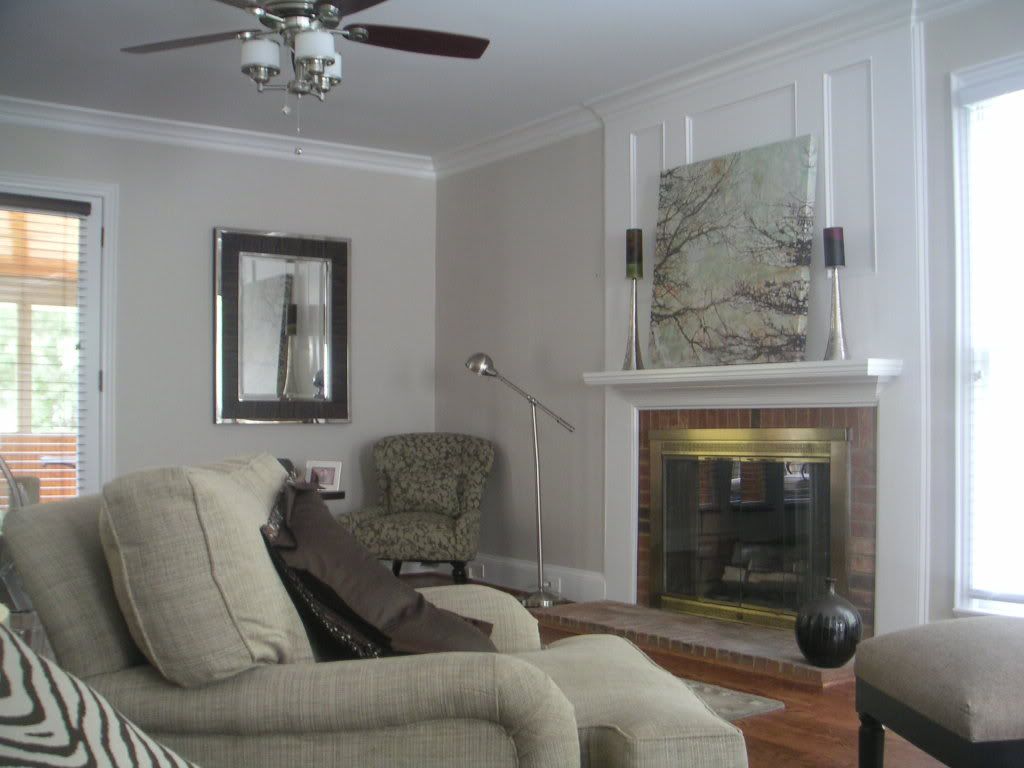 ---
Follow-Up Postings:
| | | |
| --- | --- | --- |
| RE: Anyone do modern flat roman shades ABOVE the window casing? P | | |
| | | |
| --- | --- | --- |
| RE: Anyone do modern flat roman shades ABOVE the window casing? P | | |
Can you tape up a panel beside the window or even prop it up beside it? I think the panels would fill in the room best, but you have alot of windows so it might be too much!

The valance is nice, but again, not picturing it on every window, and it has a bit of the 80's feel to it.

Maybe you just need to fill that corner in with something like a large floor plant - Ficus tree something to fill in the area. I like the simple pared down look of your room. I would look at completing your accessories and then see if it still feels unfinished. I love the painting over the fireplace. Maybe some dark ironwork on the walls would work with the dark bark in the painting.
---
| | | |
| --- | --- | --- |
| RE: Anyone do modern flat roman shades ABOVE the window casing? P | | |
Thanks Caroleoh....I do agree that they are a little 80s...the ones I saw were fro the shade store though and were super cool in a chocolate and white stripe...but in chocolate, they look a little dated...I will try to take pix...

Would doing one rod above each window but hang a drape only on the outside of each look dumb?
---
| | | |
| --- | --- | --- |
| RE: Anyone do modern flat roman shades ABOVE the window casing? P | | |
Not following your question, one rod on each window, but a drape on the outside of each one??? Do you mean one panel on only one side of the window? Really not following you.

I think panels would look nice everywhere but perhaps the fireplace window because its so close to the fireplace. You'd have to cover up more of that window than the others. Is it the same width a the other windows?

Personally, I love panels. I particularly like them with wood blinds or shutters. In your room, I just think the patterned panel would draw too much attention to your windows, and I'd rather they were just a lovely backdrop. I think a linen fabric similar in color to your chairs would look great or natural silk.

Here's a photo that I just saw on the Cote de Texas blog that is just beautiful. I'd do some panels like this. If you're not sure you want to spend the $$ on panels custom made, you can get nice ones at JCPenney or Pottery Barn. If you don't like them you can just return them.

---
| | | |
| --- | --- | --- |
| RE: Anyone do modern flat roman shades ABOVE the window casing? P | | |
Hey there and thanks! Yes, the fireplace window is exactly the same as the other and equi-distant from the other on the other side of the TV unit so I think it really need to match and be consistent with the others...The drapes I'm looking for (actually, already have) are not full and will be able to hang down slimly. I always extend the rod as much as possible to not cover the windows...Will have to work some magic with that one...

I HAD seen doing a road but only a panel hanging down on the outsides of each "pair of windows"...but of course can't fid them now...

I have faux silk ones that match the walls well...love the color BUT wish they weren't so full..

I have beige (a little too light though I think) linen and brown color block grommet ones too...

And then also crazy ones from IKEA. Will hae to take pix.

Ugh. I just hate full drapes that close off a room. I'd like to do them on the two windows that you see fully in the picture, but think doing it on the two on the other side of the tv unit makes it too much.

SIGH. Pix to follow.

So do we agree that a cornice is farty? I just thought these were super cool....funny thing is, the brown and beige look 80s but the gray looks super cool..not sure I have enough gray to pull it off...
This is a better view of the 4 windows (From when we moved in day 1 with temporary furniture and rugs)...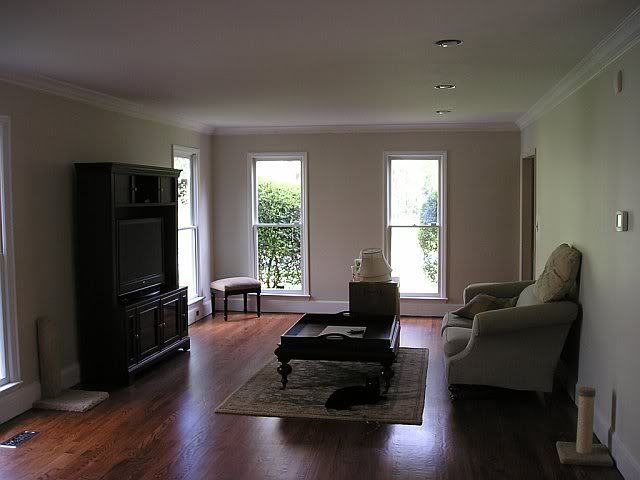 ---
| | | |
| --- | --- | --- |
| RE: Anyone do modern flat roman shades ABOVE the window casing? P | | |
I think flat roman shades would have a clean look that complement your style well. Like those in this picture.

If you mounted them above the windows, vs. inside mounting, that could look nice; i've seen that but don't have any pictures. But I'm a little confused about the wood blinds; are they definitely staying, and do you just want something above or outside of them? Or are you replacing the wood blinds? If you're keeping them, I'm not sure the flat roman shade would work. I think you'd either need a cornice (which would not look farty to me if you choose the right fabric) or drapes.
---
| | | |
| --- | --- | --- |
| RE: Anyone do modern flat roman shades ABOVE the window casing? P | | |
Thanks so much! I do think that I need drapes or a cornice at this point...the wood blinds are staying for much needed privacy...I just worry that 4 windows and 8 drapes will clutter the room....

Aren't you impressed with my skills here? LOL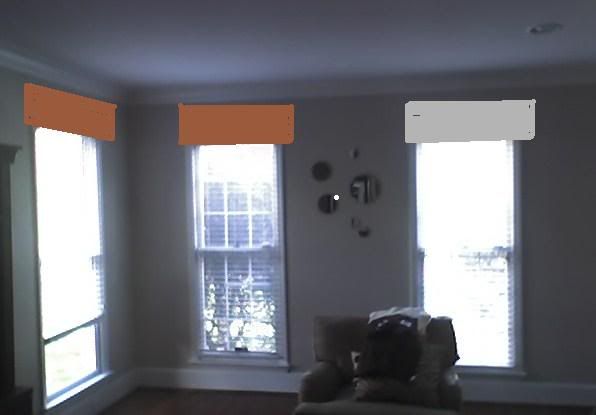 ---
| | | |
| --- | --- | --- |
| RE: Anyone do modern flat roman shades ABOVE the window casing? P | | |
Now that you've done the mock-up, I think neutral curtain panels would probably be a better look than cornices, because your windows are so tall. Something very clean and unfussy. Caroleoh's suggestions of linen or raw silk are great.
---
| | | |
| --- | --- | --- |
| RE: Anyone do modern flat roman shades ABOVE the window casing? P | | |
moremoremore, lots of nice lightweight fabric will never crowd a room IMO. I think fabric is the ultimate dresser upper. Because of my pets I try to keep all fabric window treatments at least 4' from the floor.

Have you seen my3dog valances? Here is my mock up as I'm using her style for my windows, along with shutters. You don't need the shutters however to use them. Mine will be outside mounts.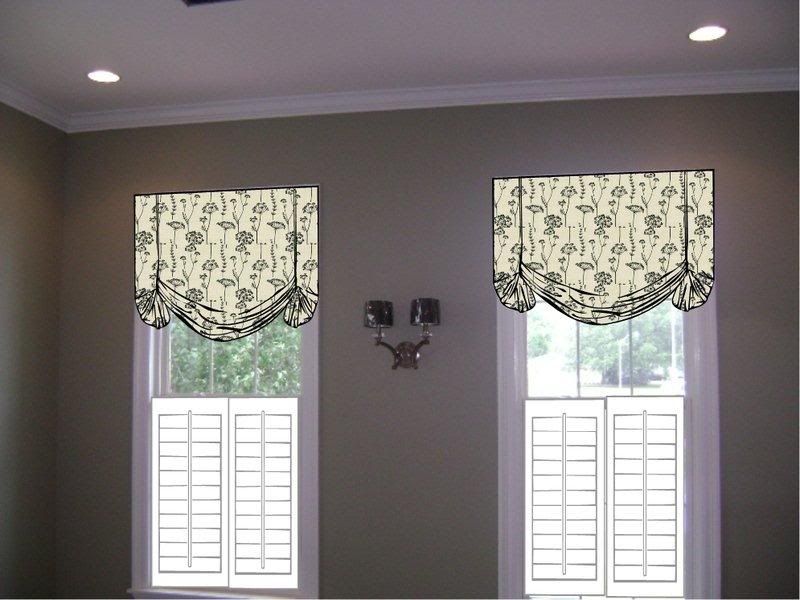 ---
| | | |
| --- | --- | --- |
| RE: Anyone do modern flat roman shades ABOVE the window casing? P | | |
Oh that looks so pretty! Good job with the mock up! I really never thought of doing a sconce in the middle. Loving it. I really think that looks lovely although I'm kind of looking to do something a little less 'soft and pretty'...I totally know what you mean about keeping them off of the floor...That's my fear with 8 panels in my room and why I thought cornices. Oh, the drama continues :) Good luck with your project!! I thought that those were my windows at first!!
---
| | | |
| --- | --- | --- |
| RE: Anyone do modern flat roman shades ABOVE the window casing? P | | |
Think you've decided against the flat roman shades, but because I have the photo (took it for flyleft) I'll share it nonetheless:
Ours are our actual window coverings -- no blinds / no shutters underneath. They're outside mount for a few reasons and our windows do have casing (installed during the remodel -- this house was totally devoid of trim pre-us). I am gaga for the inside mount relaxed roman shade look, but it wasn't right for here. I told flyleft that if I had to do it again I'd do the shades with rods instead of a zillion rings -- they'd just close more nicely with rods. Live and learn.
That being said, I think v. tailored dummy panels would be perfect in your room -- they'd "finish" off your windows and add some softness to the room, but the dummy nature wouldn't add volume, and you seem to have a more pared-down, subtle aesthetic.
---
| | | |
| --- | --- | --- |
| RE: Anyone do modern flat roman shades ABOVE the window casing? P | | |
Here is a picture of my kitchen curtain/valance hung over white wood blinds. They are board mounted and hung above the window frame. Mccalls pattern 4802 'no fuss valance'. I have so much trouble deciding on curtains, I wish you luck!

---
Post a Follow-Up
Please Note: Only registered members are able to post messages to this forum.
If you are a member, please log in.
If you aren't yet a member, join now!
---
Return to the Home Decorating Forum
Information about Posting
You must be logged in to post a message. Once you are logged in, a posting window will appear at the bottom of the messages. If you are not a member, please register for an account.
Please review our Rules of Play before posting.
Posting is a two-step process. Once you have composed your message, you will be taken to the preview page. You will then have a chance to review your post, make changes and upload photos.
After posting your message, you may need to refresh the forum page in order to see it.
Before posting copyrighted material, please read about Copyright and Fair Use.
We have a strict no-advertising policy!
If you would like to practice posting or uploading photos, please visit our Test forum.
If you need assistance, please Contact Us and we will be happy to help.

Learn more about in-text links on this page here