FORUMS:
GardenWeb
>
Forums
>
Home Decorating & Design Forum
> Painting an old coffee table >
Post a Follow-Up
Painting an old coffee table
So, I just got an old table that I want to paint, probably a light aqua/turquoise. Despite searching the forum, I haven't come up with an answer to how best, i.e. quickest, to paint it. I want a distressed look, so I don't have to worry about it being perfect.
This is the table. Seems to be plywood and real wood for the legs and molding. Oh, and it's actually quite small, maybe 20x30, so not like the pool table it appears.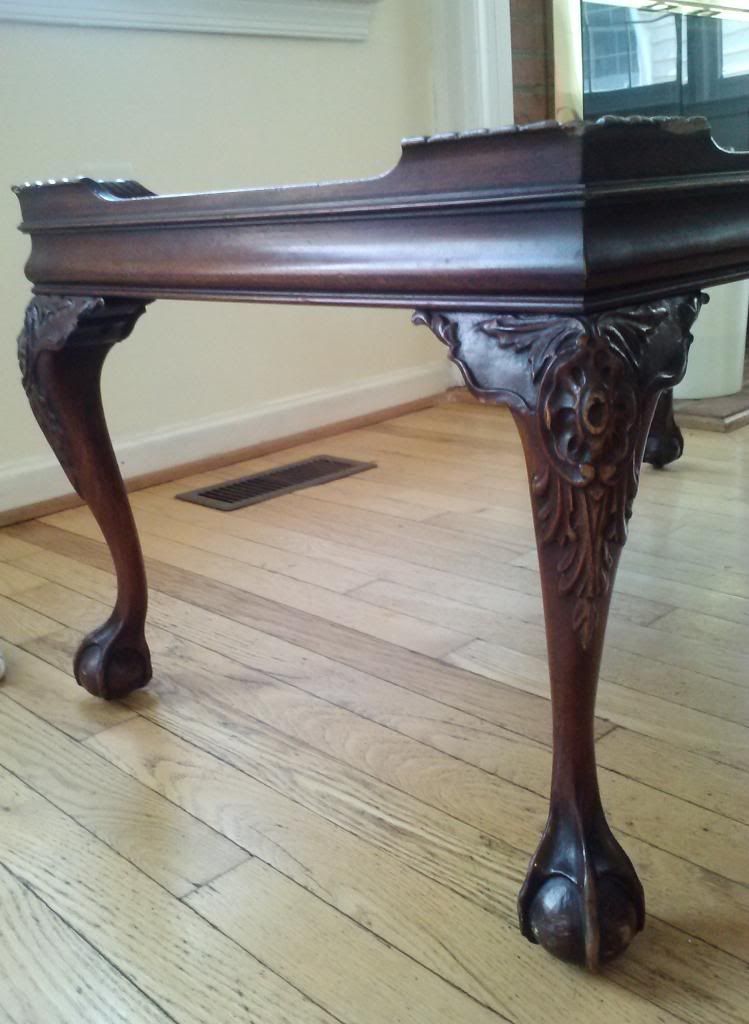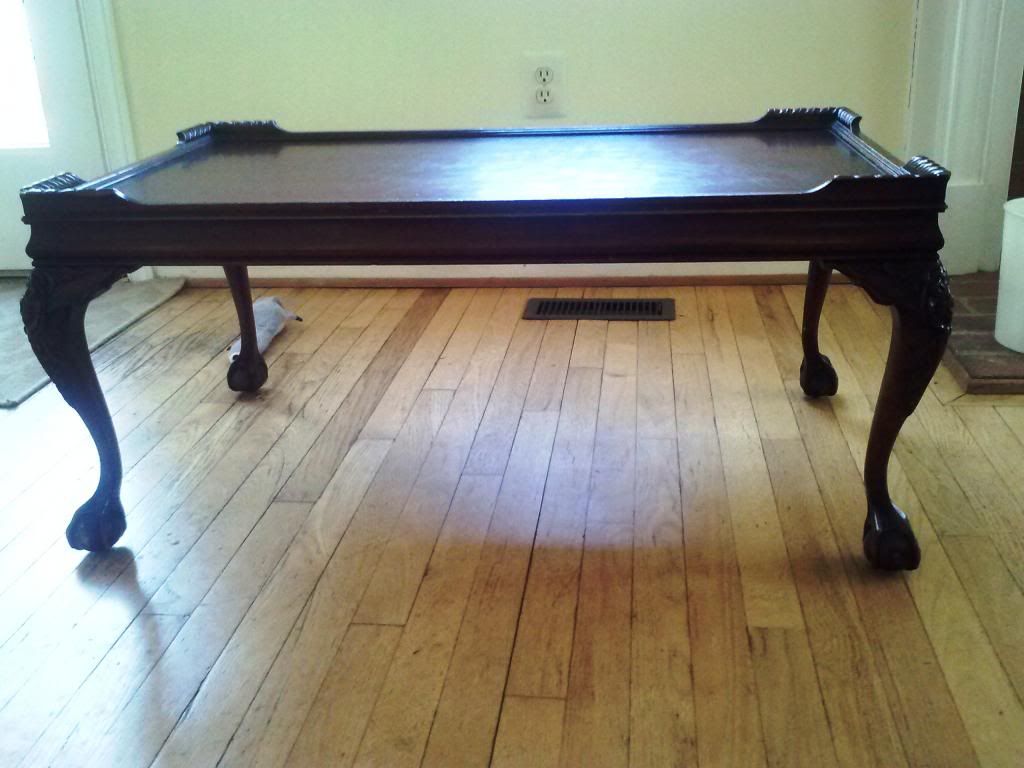 Goal is something like this:
http://farm5.static.flickr.com/4136/4921070396_80309d199f_z.jpg
but in this color

I could go with Annie Sloan in maybe Provence, but if I want to use regular latex paint, so I have more color options, do I;
Need to sand, prime, then paint? Either way, I'll probably use wax or maybe a poly.
Any advice is really appreciated. I was even thinking of getting some glass cut and putting photos underneath, but maybe later.
| | |
| --- | --- |
| RE: Painting an old coffee table | |
Beautiful table! I had a maple bureau from Craigslist that I painted and decoupaged the drawer fronts with fabric. I put several 'sample areas' of paint on it to determine which color would be best with the fabric. Some were latex and some were chalk paint.

I didn't sand it at all before sampling colors, and when I decided on a chalk paint, I found that I could easily scratch the latex paint off with a fingernail, while the other chalk paint samples had to be sanded off.

If you don't use chalk paint, I'd sand it first or use liquid sander, or you may find that more paint comes off than you want when you go to distress it.
---
| | |
| --- | --- |
| RE: Painting an old coffee table | |
If you go to Hartwood Roses Blog and do some checking around, Connie does a lot of this sort of painting, and it looks good!
---
| | |
| --- | --- |
| RE: Painting an old coffee table | |
Great feedback. I sure don't feel like sanding, maybe a bit roughening up but no serious sanding. However, I could use some gripper primer, I guess. If the Provence chalk paint is what I like, I'll probably go with that, although may be a bit too green.
But will also check the blog you mentioned.
---
| | |
| --- | --- |
| RE: Painting an old coffee table | |
Just realize that the sample table didn't show up in my post. Like this but a more turquoise, greenish blue.

---
| | |
| --- | --- |
| RE: Painting an old coffee table | |
Let's say, I want to go with regular latex paint. What's the proper way to do this?
Sand or prime first? And can I use wax or should I use poly?
---
| | |
| --- | --- |
| RE: Painting an old coffee table | |
That's going to be a tough piece to sand. I'd go with liquid sander as a my choice, as when you go to distress it, you might end up with both primer and the wood showing through. Or perhaps you could have primer tinted to be the same color as your top coat choice of color?
---
| | |
| --- | --- |
| RE: Painting an old coffee table | |
I know. Sounds like it'll be Annie Sloan chalk paint.
---
| | |
| --- | --- |
| RE: Painting an old coffee table | |
That's what I used on an old chair with similar carving that I was re-upholstering this past weekend. I used Old Ochre as a base coat and Country Grey as a top coat. Then I sanded with 400 grit sandpaper and 0000 steel wool. I waxed it with clear Butcher's Wax, and the surface is like 'buttah'.

What appears to be white in these pics I just took for you is sun glare; there is no white in the frame. Your table is going to be fabulous! Duck Egg Blue is also nice, and I know that you could do that table with a sample size jar. Know that the wax darkens the paint a bit, even in clear, but makes it so rich looking!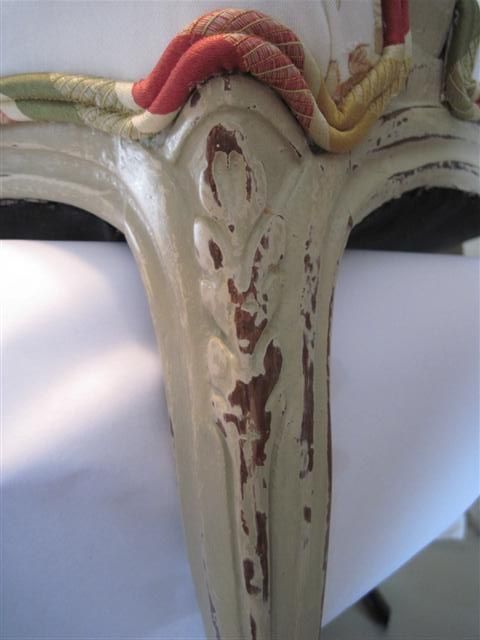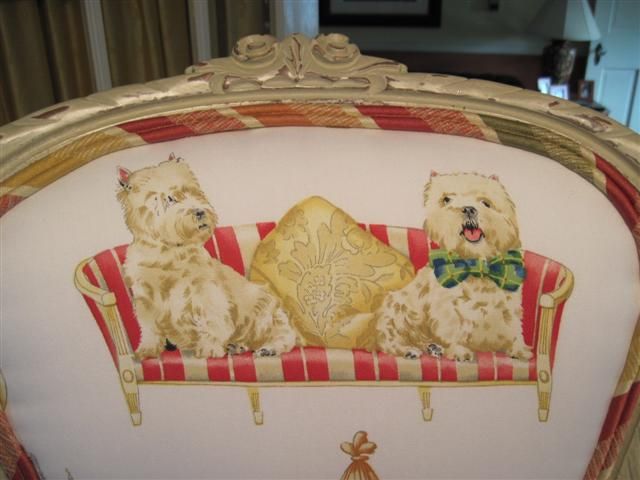 ---
| | |
| --- | --- |
| RE: Painting an old coffee table | |
Yes, I was hoping that a sample jar was going to be enough, and will definitely also consider Duck Egg.
---
| | |
| --- | --- |
| RE: Painting an old coffee table | |
Oh, my3dogs, another wonder!

Would you please move into my neighborhood and teach me to do that? (And then let me do it in your garage - I don't have one any more...)
---
| | |
| --- | --- |
| RE: Painting an old coffee table | |
seriously, my3dogs, that chair is stunning. Would you be willing to share with us how to reupholster a chair like that? Maybe start a new thread, or a link to an old thread if I have missed your previous posts on upholstery. I have two chairs that I would like to reupholster myself.
---
I found a very similar set of a coffee table and 2 end tables at our neighborhood yard sale a few years ago. They are from the 1940s- they were marked underneath. I painted them with ASCP Paris grey and painted the carved areas Old White and then distressed them and waxed with a clear wax. I almost kept them for myself, but they really didn't work in my house. The set sold very quickly. I have attached a really bad photo, the only one I have,in which the distressing doesn't show up very well.
Duck egg is one of my favorite colors but it doesn't have the color saturation I think you have in mind. Provence is much more vibrant, but I haven't used it yet so can't advise. I did buy some for a piece so am looking forward to playing with a new color( for me).
---
| | |
| --- | --- |
| RE: Painting an old coffee table | |
NICE! Love the details with the feet! Maybe I'll do something like that, too.
I still have a lot of leftover Paris Gray from a dresser I painted but have to say that I find it a bit cold and dark; I was going back and forth whether I wanted Duck Egg Blue or Paris Gray, and wish I had picked the Duck Egg. I suppose I can always paint over it.
---
| | |
| --- | --- |
| RE: Painting an old coffee table | |
Here's my "new" table. Love the color and how quick and easy this was. It took me more time to go and get the paint than to actually finish the table. The color is actually a little bit darker and brighter IRL than in the pics.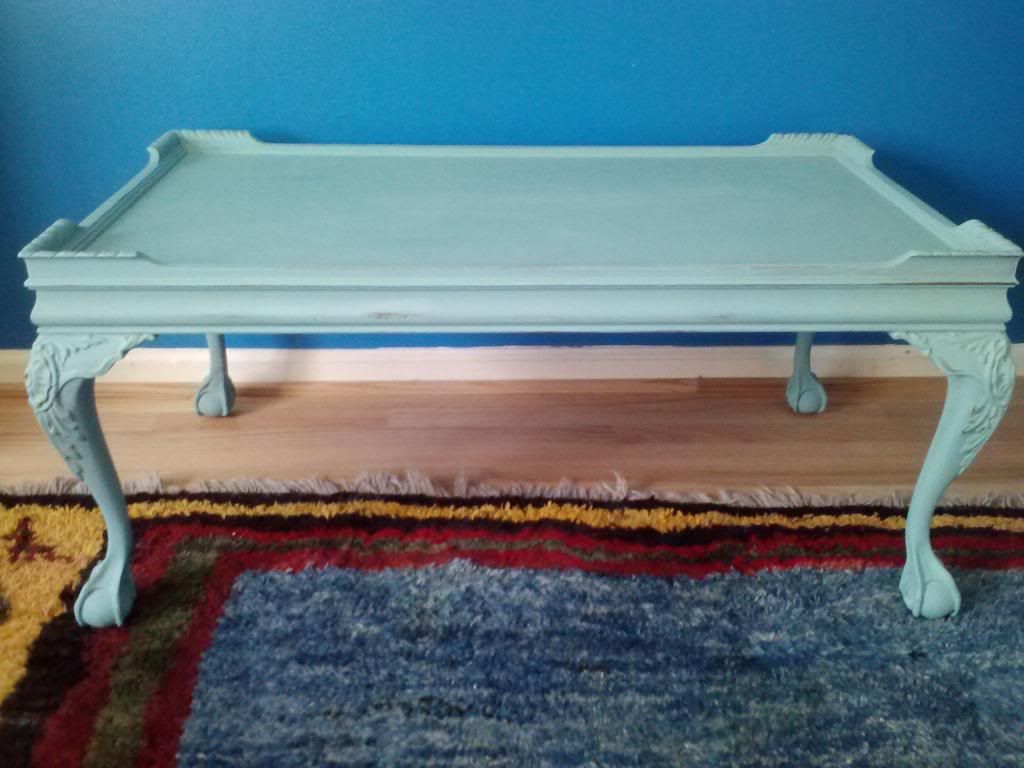 ---
| | |
| --- | --- |
| RE: Painting an old coffee table | |
Nice color! Which one did you use? Did you wax it afterward?
---
| | |
| --- | --- |
| RE: Painting an old coffee table | |
It's Provence. I put one layer of light wax on it but will perhaps distress it a bit more and add more wax. I don't think I rubbed it in enough. Also haven't polished it properly. Any advice?
---
| | |
| --- | --- |
| RE: Painting an old coffee table | |
It looks great! You might want to try a little dark wax to bring out the details in the legs. I've used it a couple of times and love the way it settles in the crevices, etc.

That Provence is such a gorgeous color - and perfect for your table. Love it!
---
| | |
| --- | --- |
| RE: Painting an old coffee table | |
Thanks for the advice. I don't really feel like driving again for 1 hour round trip to get the Annie Sloan dark wax. Is there any substitute for the dark wax?
---
| | |
| --- | --- |
| RE: Painting an old coffee table | |
I haven't used any other brands, but here's a site that seems to have some good suggestions:
Here is a link that might be useful: Chalk Paint Divas site
---
| | |
| --- | --- |
| RE: Painting an old coffee table | |
| | |
| --- | --- |
| RE: Painting an old coffee table | |
I use BriWax on mine - It comes in several colors. I have light brown and dark brown. Personally, I probably wouldn't do it, but I have read where some people use shoe polish. Have to admit, it would be inexpensive and come in many colors, though.

I just Googled using shoe polish and there are many hits for it. Here's one below that shows a good looking result.
Here is a link that might be useful: Fake French Country Furniture, The Side Table
---
| | |
| --- | --- |
| RE: Painting an old coffee table | |
Funny, I was just eying my brown shoe polish, which, by the way, I have used on my brown PB leather sofa because it has started to turn greenish, I swear. It actually worked really well.

So, anyways, after a coat of brown shoe polish and another light wax, this is what it looks like now. Sorry for the blurry pics.
The color is almost identical to Tiffany's bags (good!) My daughter loves it, my husband thinks it looked better before.
Now, of course, we need a new rug :)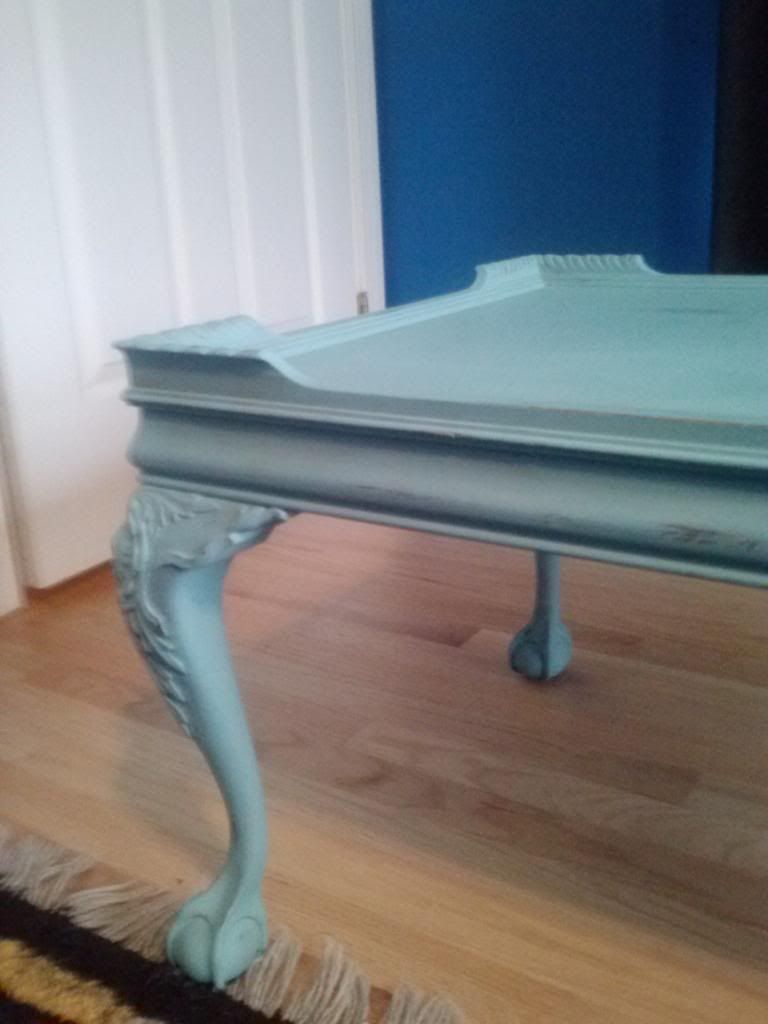 ---
| | |
| --- | --- |
| RE: Painting an old coffee table | |
Wonderful job, and the color is so fresh and pretty.

I might have a piece of glass cut to sit in the tray, and then if you felt like it, you could cut a piece of fabric or wallpaper to put under it. Or not ... In any case, it would protect your surface.
---
| | |
| --- | --- |
| RE: Painting an old coffee table | |
Yes, I was thinking of actually doing that and maybe putting photos underneath. However, because the table was for free from CL and I only used one sample jar of paint, not to mention that it took a very short time, it's not that big a deal if I have to paint over it at one point. Now I'm looking for something to paint in Aubuisson.....
---
Post a Follow-Up
Please Note: Only registered members are able to post messages to this forum.
If you are a member, please log in.
If you aren't yet a member, join now!
---
Return to the Home Decorating & Design Forum
Information about Posting
You must be logged in to post a message. Once you are logged in, a posting window will appear at the bottom of the messages. If you are not a member, please register for an account.
Posting is a two-step process. Once you have composed your message, you will be taken to the preview page. You will then have a chance to review your post, make changes and upload photos.
After posting your message, you may need to refresh the forum page in order to see it.
Before posting copyrighted material, please read about Copyright and Fair Use.
We have a strict no-advertising policy!
If you would like to practice posting or uploading photos, please visit our Test forum.
If you need assistance, please Contact Us and we will be happy to help.

Learn more about in-text links on this page here