Return to the Home Decorating Forum
|
Post a Follow-Up
---
| | | |
| --- | --- | --- |
| Is aqua really blue? | | |
Posted by
princesssusan
(
My Page
) on
Mon, Mar 30, 09 at 17:31
I have looked at nearly every brand, shade, hue of aqua.

I keep leaning towards the aqua that is mainly blue. I love it but was wondering if that is okay with my coral, or does it need be more on the green side?

Painting starts Wednesday, so I need to make my final choice. (Does that ever really happen)

I appreciate all and every opinion.

Colors I like:

Behr, Aqua Spray 500a-3
Valspar Harbor Aqua SR1101
valspar Crystal Aqua 5006-78
valspar Sea Kiss 5005-9c
SW Spa sw6765
sw pool blue 6944
sw belize 6945
glidden island shores 88gg

They are all pretty much in the same color category, but would like opinions.

Thanks

Susan
---
Follow-Up Postings:
| | | |
| --- | --- | --- |
| RE: Is aqua really blue? | | |
Aqua is blue with a touch of green. Teal is green with some blue added. Blue and orange are opposites on the color wheel so they work well together. Coral is a form of orange and aqua is a form of blue. But if you want to go toward green that is fine too. Pick what you like.
---
| | | |
| --- | --- | --- |
| RE: Is aqua really blue? | | |
Aqua that leans toward blue will be lovely with coral.
Any of the colors in the ocean look wonderful with coral, particularly the ones you see in the tropics, where the water ranges from almost emerald to the color of a star sapphire.
So I second threedgrad's advice. Pick what you like!
Here is a link that might be useful: Caribbean seawater
---
| | | |
| --- | --- | --- |
| RE: Is aqua really blue? | | |
I love, love, love the aqua that leans more to the blue side. I think aqua by definition is a blue-green, but there are myriad shades in that spectrum that fit the definition. I believe an aqua-leaning-to-blue hue would be absolutely stunning with your coral.
---
| | | |
| --- | --- | --- |
| RE: Is aqua really blue? | | |
I've used several shades of aqua (master bedroom/bath, sunporch, and foyer, currently posting about latter). After testing quite a few, I found I needed to go much grayer than I thought. The color I used in the bed/bath looks almost gray on the chip until you compare it to other shades to see the undertones. It is definitely a very true soft spa blue/aqua shade on the wall. I think you can go dark or light with blue or green undertones, but I would definitely encourage you to look for a shade more subtle than you think you want. My first four attempts went quite psychedelic on me, and I love color and have lots of it in my house!
---
| | | |
| --- | --- | --- |
| RE: Is aqua really blue? | | |
Equest, any names of the colors you picked or pictures? I am currently looking for blue and greens with aqua or ocean connotations for bed bath and kitchen.
---
| | | |
| --- | --- | --- |
| RE: Is aqua really blue? | | |
I looked at some of the same ones you listed above at Lowe's (the valspar brand). I ended up with River Mist and like it very much. I had tried a more subdued one, but it was tooo subdued ( as in drab) and like the liveliness of the river mist.
Here is a link that might be useful: interesting paint blog I found with pix
---
| | | |
| --- | --- | --- |
| RE: Is aqua really blue? | | |
Thank you sheilaaus, that blog was very interesting. I will check out river mist...

Equest, do you have any pics?

Susan
---
| | | |
| --- | --- | --- |
| RE: Is aqua really blue? | | |
My bathroom has Glidden Island Shores plus 2 more Aqua colors from the same strip, Cool Dip and Tropical Tides. All three are very pretty. I would say the Cool Dip is a blueish green and the other 2 are more blue. Cool dip is pale. I painted the ceiling with CD and you could not even see it until I added a small crown molding painted with Behr Ultra Pure White. The only other place I used the CD was for the sink cabinet.
I really love all three colors, but the Cool Dip is my favorite...it's really luscious looking!

The bathroom has a 5 1/2 inch molding rail about 2/3 of the way up the wall and I have bead board cabinets. I could not afford to do beadboard for the bottom portion of the walls. We bought a new counter top for the sink cabinet, new faucet and light fixtures, all new wall fixtures, plus shower curtain, towels and accessories. We rent this house, it's not ours. The bottom portion of the wall is painted in Behr Fudge Bar.

It's a pretty room and we like it.

Good luck!

Silly
---
| | | |
| --- | --- | --- |
| RE: Is aqua really blue? | | |
I do have pictures; sorry about the large size, I havenít had time to resize.

The bedroom and bathroom are BM Mount Saint Anne. Itís hard to capture the true color in photos, and the shade varies throughout the day. Itís a perfect blue-gray-green color for me. It's hard to say which of the three photos is closest; it's almost all of these shades depending on lighting. I wasn't going for a beach theme on purpose, but after getting the color on the wall, I think it would definitely work for an elegant, subtle take on the coastal look.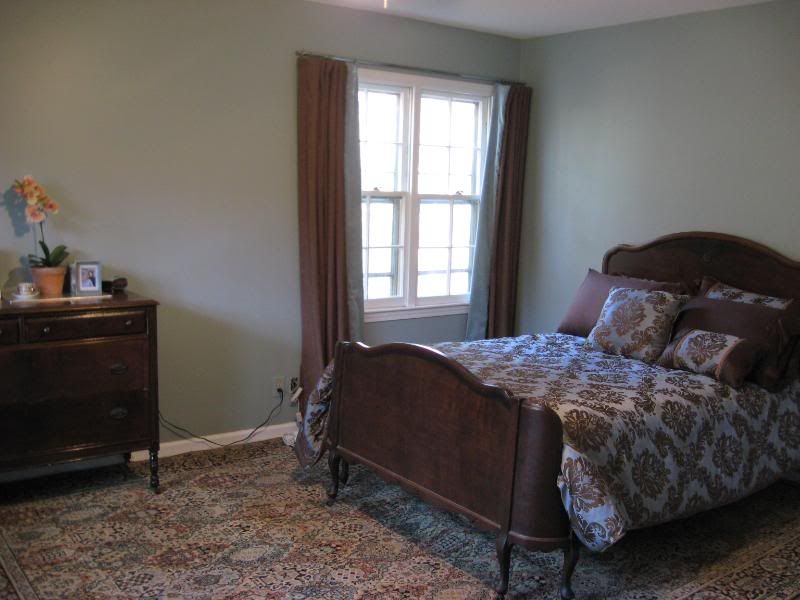 I used something very close to SW Moody Blue as an accent in the foyer on the photo mats (and maybe later on the candlesticks, based on the feedback Iím getting ;-). I had a test quart of Interesting Aqua left over from the bedroom which I didnít like there, so I had SW take it as close to Moody Blue (next on the paint chip) as they could; it turned out a bit grayer than the true chip, but itís perfect in my foyer.
The sunporch is accented with BM Stratton Blue in the lower "reverse wainscoting" panels. I picked it out of the fabric I used for the curtains. Itís very hard to capture; itís neither as bright as the first photo (with flash) nor as subdued as the second (no flash).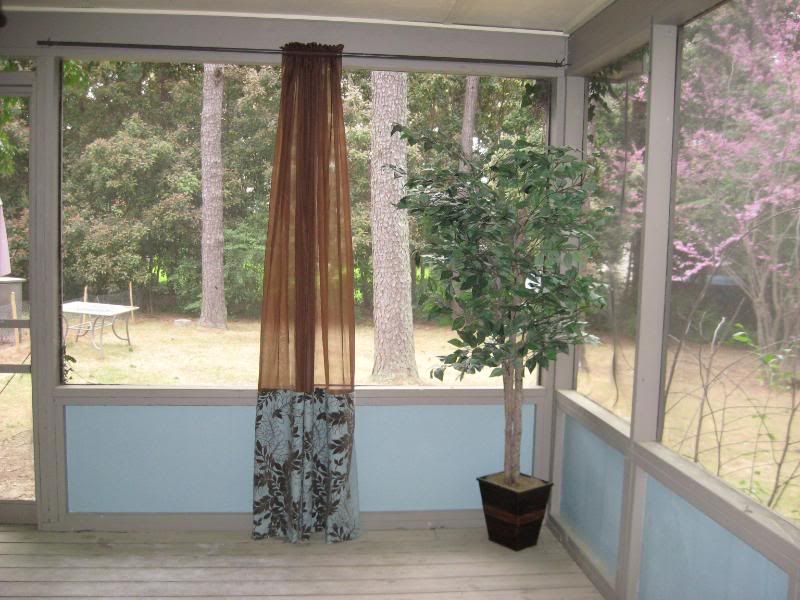 ---
| | | |
| --- | --- | --- |
| RE: Is aqua really blue? | | |
Thank you Equest.
You have a lovely home and the colors are wonderful. Isn't it amazing how colors change with lighting?

Sillyme,
Island Shores is on my list. Do you have any pics?

Thank you all for helping me so much.
---
| | | |
| --- | --- | --- |
| RE: Is aqua really blue? | | |
I tried to find some inspiration pics for all the colors above but I was unsuccessful. However, here are a couple I did find and a few others I thought you might be interested in.

Valspar's Crystal Aqua found by Google search at Decorpad.com
SW's Belize found by Google search at Decorpad.com
SW's Tide Water by GW's PrincessGrandMommy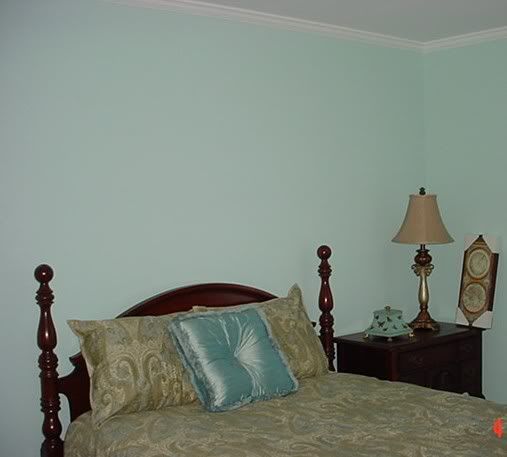 SW Aqueduct found at PorterHouseDesign.com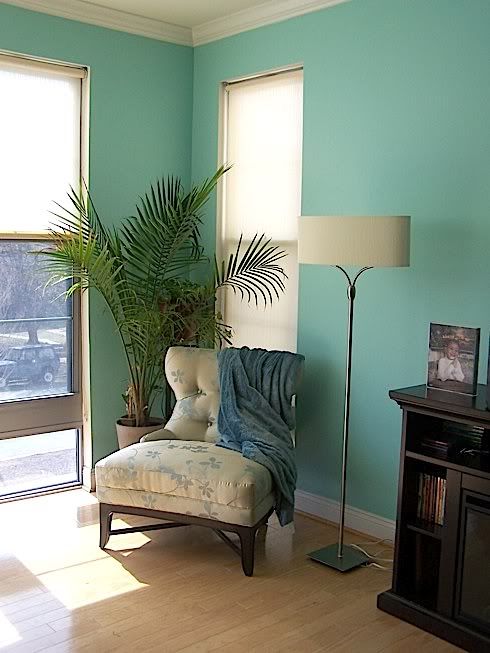 SW Aqueduct #2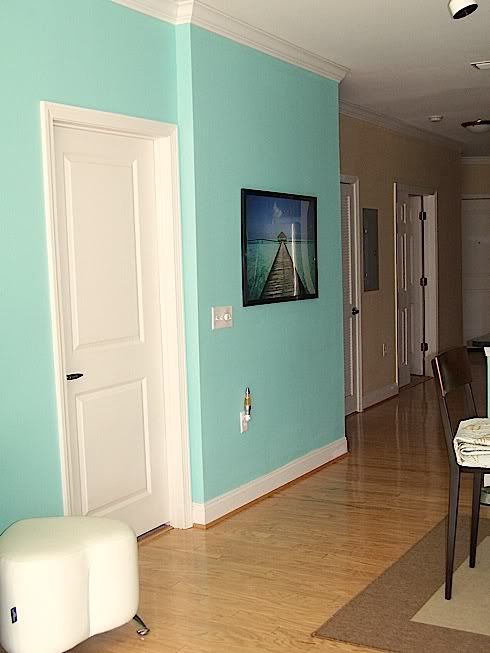 SW Rainwashed found at Filminthefridge.com

The rest are inspiration photos I've had saved but I don't remember from where!
BM Woodlawn Blue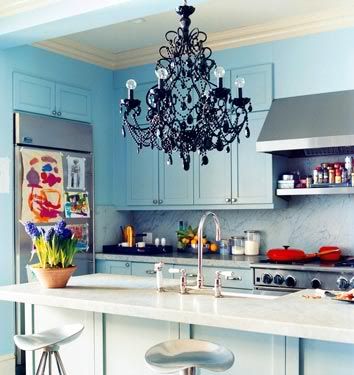 BM Waterfall
BM Waterfall #2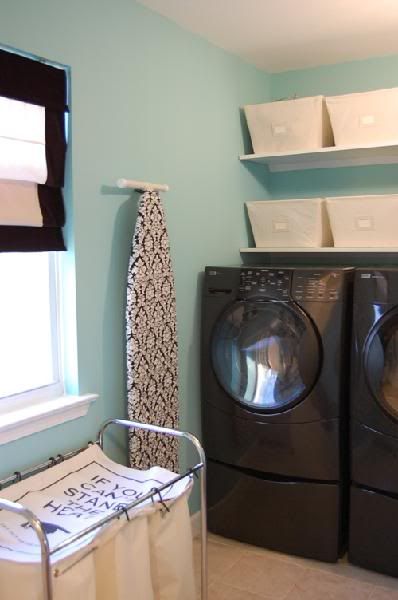 BM Blue Wave
---
| | | |
| --- | --- | --- |
| RE: Is aqua really blue? | | |
Equest, I love the Mount Saint Anne! I am considering using either that or Beach Glass (one color up) for my bedroom. The adjoining bathroom will be in either Imperial Gray or Raindance (the colors on the next strip over, which is a tad greener). I think those two strips are my favorite strips in all of "paintdom". (Boy I need a life!)
---
| | | |
| --- | --- | --- |
| RE: Is aqua really blue? | | |
At the risk of overkill... can you stand another aqua-ish suggestion? I have jsut finished painting the walls and am working on the trim so please pardon the mess in the room..... The color is BM Turquoise Mist

(clickable thumbnails)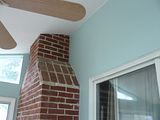 ---
| | | |
| --- | --- | --- |
| RE: Is aqua really blue? | | |
I painted my guestroom EK Oasis which turns out to be an exact match to SW waterscape, it's a very subtle Aqua. Every time I walk in that room it makes me happy. It's an 11 x 12 room and I painted the ceiling the same color as the walls. Because of the way the light hits the ceiling it looks slightly darker than the walls especially in the corners. I love it! Wood work is BM White Dove.
---
| | | |
| --- | --- | --- |
| RE: Is aqua really blue? | | |
Caliloo, it's absolutely wonderful !!
---
| | | |
| --- | --- | --- |
| RE: Is aqua really blue? | | |
Sewnice-haven't you heard? Ellen says prayers & visualizes EK-painted spaces creating joy and balance! See her "Happy Paint" blog post of 06/25/08. (wink)
Here is a link that might be useful: Ellen Kennon's blog
---
Post a Follow-Up
Please Note: Only registered members are able to post messages to this forum.
If you are a member, please log in.
If you aren't yet a member, join now!
---
Return to the Home Decorating Forum
Information about Posting
You must be logged in to post a message. Once you are logged in, a posting window will appear at the bottom of the messages. If you are not a member, please register for an account.
Please review our Rules of Play before posting.
Posting is a two-step process. Once you have composed your message, you will be taken to the preview page. You will then have a chance to review your post, make changes and upload photos.
After posting your message, you may need to refresh the forum page in order to see it.
Before posting copyrighted material, please read about Copyright and Fair Use.
We have a strict no-advertising policy!
If you would like to practice posting or uploading photos, please visit our Test forum.
If you need assistance, please Contact Us and we will be happy to help.

Learn more about in-text links on this page here