Return to the Home Decorating & Design Forum
|
Post a Follow-Up
---
| | | |
| --- | --- | --- |
| Help me go from Blah to Wow | | |
Posted by
hlecu
(
My Page
) on
Sat, Mar 16, 13 at 17:25
We bought this house one year ago and have been working on the interior. I am ready to update the exterior. I want to change the trim color and possibly add some shutters to the windows. Should we also paint the garage door the same as the trim? I would LOVE any suggestions!!!
---
Follow-Up Postings:
| | | |
| --- | --- | --- |
| RE: Help me go from Blah to Wow | | |
I would make the posts more of an architectural feature. Possibly put railing to make it look for like a porch. Once the area is defines landscaping will go a long way.
---
| | | |
| --- | --- | --- |
| RE: Help me go from Blah to Wow | | |
Do you have some other views to give us an overall idea of the style? Pots with colorful flowers along the porch will look nice.

Trees and flowerbeds would be great.
---
| | | |
| --- | --- | --- |
| RE: Help me go from Blah to Wow | | |
I think dark garage doors would look like big dark holes and detract from that beautiful stone. But I think they would look great painted a warmer light color from your stone.

I agree that landscaping and hardscaping to lead to the door would really help. It's a very nice house.
---
| | | |
| --- | --- | --- |
| RE: Help me go from Blah to Wow | | |
| | | |
| --- | --- | --- |
| RE: Help me go from Blah to Wow | | |
I really like your home's look of strength and simplicity, Hlecu, and would want to further that. It really looks good.

Regarding shutters, they would draw attention to the spacing and sizes of the door and windows, so I'd draw that up in color and see what I thought.

My inclination in any case would instead be to focus on the outside of the porch, adding further architectural definition there by, as suggested, strengthening the porch posts and adding custom brackets designed to look just right for your house and draw attention to the front door. The actual house wall would gain a touch of mystery this way, set back in the shadows beyond the first focus, requiring one to peer further to see.

Regarding the garage doors, I'm pretty sure I'd take the main color, or whatever it blends together to in the shade, and paint them maybe a shade deeper to allow them to settle back harmoniously--but not enough deeper to contrast since you probably don't want attention going there. Ideally, nobody'd ever notice what color they were. :) If the main view of your house features them, you could always settle them back even further by running a shallow pergola across the wall above them, continuing the line of the porch and breaking up the flat wall. I could see that furthering the style of your home, and it'd even offer a smidgen of shade--or at least the suggestion of it, which might be even more valuable on a hot day.
---
| | | |
| --- | --- | --- |
| RE: Help me go from Blah to Wow | | |
I agree with rosie, and after that, concentrate on the front area, trees, native plants, i.e., get rid of all that lawn. Makes a big difference!
---
| | | |
| --- | --- | --- |
| RE: Help me go from Blah to Wow | | |
You have been given some simple to do great ideas so I cann,t add much but would love to see how the house sits in relation to the area around it.
---
| | | |
| --- | --- | --- |
| RE: Help me go from Blah to Wow | | |
It looks like there is a walkway from the garage to the front...is that the main walkway around the house? Is there a front yard, by which I mean, does the front door face the street? Or is this on a long drive so the main entrance just faces lawn? What is it guests see first when they arrive?

These are some of the things to think about when doing the landscaping. You want it to be easy for guests to know which way to go when they come to visit. So you probably want to use accent color paint to make the front door more visible, you may want to add a more graceful approach through a garden with plantings toward the front of the house. You should lighten up colorwise) and beef up (dimension wise) the posts on the front porch so they are more prominent as architectural elements. You may want to add a railing for more accent. Shudders would help only as a way of adding more accent color to the facade...

And I would paint the garage doors to match as close as possible to the color of your brick so it becomes less prominent on that facade.
---
| | | |
| --- | --- | --- |
| RE: Help me go from Blah to Wow | | |
Thank you all for your suggestions. Annie, we live out in the country and our home does face the street. We have a long driveway with plenty of room for parking on the side of the house. Visitors use the walkway, shown in the picture below, to our front door. We have decided to add railings in front. I also have hooks for hanging baskets along the front. I have seen an apt building in a neighboring town that has the same color of stone as our house. I am thinking about changing the trim color to the color used on the apt complex. It is a "soft coffee w/ a lot of cream" color. I will post a picture of the complex for your feedback. I am also leaning towards shutters a little darker than the trim to add a little contrast. I love all the opinions....keep them coming!!
---
| | | |
| --- | --- | --- |
| RE: Help me go from Blah to Wow | | |
Here's a pic of the apt complex. I was thinking of painting the trim of my house in this color. Do you think it would be too light? If I did the trim around the roof in this color, would I also paint the garage and the the railings we plan to build the same color? I still want a darker color for the shutters as an accept or pop of color.
---
| | | |
| --- | --- | --- |
| RE: Help me go from Blah to Wow | | |
This may sound odd, and may be entirely impractical, but I think the fenestration is out of balance.

For example, to the right of the door is, I think a small round window, then a single rectangle, then a large space, then a second rectangle all by itself. To the left is a triple window.

I think it would look better if you could add another window to the right side of the house. Better yet, remove the one just to the right of the circular window, and put a double window in there, between the two posts.

And I would replace the circular window with a rectangle, even if it a small rectangle.

It may be impractical, unless you have extra brick or can reuse what you take out.
---
| | | |
| --- | --- | --- |
| RE: Help me go from Blah to Wow | | |
Yes, I think the lighter trim would help, and I would paint the garage in to match the walls. It would be great if you could beef up the trim around the windows though as in the apartment building, you get some look of color around the windows, but I don't see much to paint on yours. Also in the pics, your brick looks pinker vs. the apartments so be careful that the lighter shade you pick doesn't fight with that.

What color is your roof? It's hard to tell with the light reflecting off of the metal? Is it like an aluminum color?
---
| | | |
| --- | --- | --- |
| RE: Help me go from Blah to Wow | | |
Painting the garage door a darker trim color would help it recede. Definitely bigger posts on the porch.

On the garage side, since that is where your visitors approach, the house needs to be more welcoming - shutters maybe on the windows. On the ground floor window, an arched panel over that window, and shutters so it reads bigger, and then a substantial garden arch surrounding the whole, with some vines - maybe a native honeysuckle, Lonicera sempervirens - not sure of your climate.

If you ever have the budget for it, a pergola over the garage, and a garage door that looks like stable doors.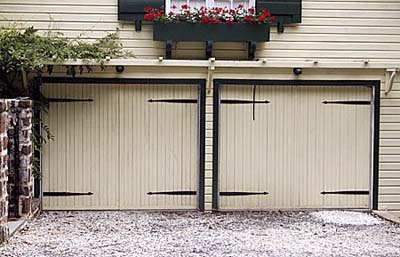 In the meanwhile, two very substantial planters on either side of the doors, with a strong vertical element.
Here is a link that might be useful: This Old House garage doors
---
| | | |
| --- | --- | --- |
| RE: Help me go from Blah to Wow - hmm | | |
Second thoughts - wouldn't go much darker at all on the garage doors. Also meant panel under ground floor window so it gives impression of door - it's set so high it doesn't really need anything above - panel below and full length shutters, square garden arch in front.

You know I like those doors I found so much I'm putting them in my own wish album! They don't look as if they'd be dreadfully expensive and I'm trying to be realistic for my budget. I love the simplicity and strength of your house - the stone, the metal roof, the form - it looks so safe and solid. It reminds me of one of the old stone houses in Texas built by German settlers.
---
| | | |
| --- | --- | --- |
| RE: Help me go from Blah to Wow | | |
I really like the garage door birdgardener posted it would add allot of charactor to the house. I also think that a pergala added over that garagedoor a few feet higher than the door and done in a darker color would frame the door and give it more stucture. A window box in the same darker color would look nice on that window above it. I love the ideas of shutters, rails and hanging baskets as well. I would do them all in the darker brown already on the post and add supports to give them more structure. That big heavy roof looks like its being held up by twigs. Landscaping will totally change the feel of this home. I would mound up the ground in the front corner where you enter the walkway in a wide mound about a foot high and ten wide and encompassing that corner narrow it down to about four wide and current ground level when it reachs the entrance area and carry that on threw to all along the front to the other end of the home. I would put most of the focus on the mound area and make it a real focal point to draw people to it and on threw the entrance. Put a tall tall bubble rock feature there with maybe three bubble rocks as the center peice, with some rocks and low maintainace plants around it. Another good option if you don,t like water features is too add a good focal plant like a smallish weeping tree in that corner. Again something that would draw peoples atttention to it and from there onto the entrance. I would add some small low growing plants and a few stones a foot or so high every three or four feet all the way across the front of home. You could even add a wide pergala accoss the entire walkway in the front to make a wider porch area. If you did that though you would need to add some type of flooring threw the whole walk way area to tie it together.
---
| | | |
| --- | --- | --- |
| RE: Help me go from Blah to Wow | | |
Really, I think your house looks barren because of lack of landscaping. Adding windows etc to a brick home is impractical and expensive, but you can blend some of those expanses of brick by planting some nice shrubs and trees in front (not *too* close to foundation of course).

Honestly I think that apartment building looks pretty "blah" so not sure I would try to imitate it.

The pergola on the garage is a great idea, a nice feature to soften the somewhat commercial look that you have now. flower beds and plantings are going to go a very long way to making this a welcoming home rather than just a building!

Here is an example of how simple landscaping can transform. This is our townhouse "Before" (a few days after we closed) and "After" (1-2 months later after I finished interior stuff and got to the gardens). Now the plants are even more mature and fuller. What we did was restricted by the narrowness of the border beds, you have full rein!

Now in our case as you can see it didn't look barren, it looked like a neglected overgrown jungle in front. The back was barren.

We had an HVAC guy over the first week to give a quote on a new furnace. When he returned 2 months later to do the install, he came in the front gate and was turning around to leave - I came out to get him. He though he was at the wrong house because he didn't recognize it.

BEFORE

DURING - After removal of the ivy and first bush, addition of balcony planters. The following weekend we removed the big thorny shrub on the left and then planted.
AFTER

BEFORE

AFTER

BEFORE

AFTER

---
| | | |
| --- | --- | --- |
| RE: Help me go from Blah to Wow | | |
Wow, thank you all for the suggestions!!! You are right on the money birdgardner...we live in Texas! Annie, our roof in a sliver tin roof. How would I beef up the trim around the windows? They are set back in the stone. I love the idea of a pergola over the garage doors and the window box below the upstairs window!!! The side of the house is the first view visitors see when driving up to our house. I also love the idea of making a focal point to the entrance of the walkway. We have HUGE natural rocks that are placed on our acre of land that add a punch to the landscaping. We do have some landscaping with beautiful evergreens and crepe myrtles further out in the yard. We definitely need to concentrate on the area around the house. I do agree bubble rocks. I had to laugh madeyna - our post DO look like twigs!! We definetly need to beef the post and add railings, Stupid question.,,,..how do you beef up posts? birdgardner, I am decor challenged....do you have an example of a panel to place below the lower window and garden arch? tinan, I love the look of your place! What a huge difference a little landscape can make to the look of a home. You did a great job! Thank you all once again for your suggestions and taking your time to help me. I do appreciate it very much!!
---
| | | |
| --- | --- | --- |
| RE: Help me go from Blah to Wow | | |
I cann,t seem to cut and past pics here for examples so please bear with my poor disciptions of things. I can never seem to remember the proper name for anything. I think just cross supports might give your post more structure but if not then its fairly easy to basically build a box around each post or in our neck of the woods just get larger post. As for the windows a good contractor can add the trim and make it look like it belongs. The inside closest to the widow is painted to match the wood trim color then the trim is ruff cut wood doubled up so the smaller peice is on the inside and the thicker piece is on the outside and if I remember right shot on with a special nail gun. Sue had it done in her old place I,ll see if she has any pics.
This post was edited by madeyna on Tue, Mar 19, 13 at 23:59
---
| | | |
| --- | --- | --- |
| RE: Help me go from Blah to Wow | | |
Thank you, hlceu.

Since your upper window isn't centered over the garage doors, but under the roof peak, you'll have to think a bit before emphasizing it with a window box. Perhaps the pergola going further across that side of the house, over the lower window so the upper window would be centered over the pergola.

I wish I could find a picture of what I have in mind for the lower window. Basically faking it. A raised panel underneath, a door-height shutter on each side, trim around the window. I'd go with PVC or urethane to avoid termite or ant problems - fasten to stone with masonry bolts or construction adhesive. Plantings around the window would also balance out the garage doors - what's your planting zone? Espaliered fig trees, Meyer Lemon? A really disease-free rose? Something that will take your sun and heat.

Beefing up pillars - what are they made of? If they are safe from termites you could just build around them - I'm imagining dark rough hewn timbers would look good on your house - so rough, stained boards. Or build around them with stone. Or stone halfway up, and the timber look on top.
\ The more expensive option would be replacing them with actual thicker pillars but then you could also shift them if they were blocking windows.

Definitely play around with mock-ups. Photoshop, or print out straight-on pictures of your house and cut out paper shutters, pergolas, pillars. When you've got something you like, make life-size mock-ups - duct-tape up some cardboard shutters and panels. Lean up some wide boards against your pillars or just cut out a long strip of cardboard 9-10 inches wide and tape that on your pillar. Blur your eyes and walk around the house. Call some friends who do have a good eye for decor. Paint the cardboard the color your would use. Play with proportions and color before you sink real money into it.
---
| | | |
| --- | --- | --- |
| RE: Help me go from Blah to Wow | | |
You seriously need a landscape architect and architect working together.
---
| | | |
| --- | --- | --- |
| RE: Help me go from Blah to Wow | | |
patricia43, that's not in everyone's budget - usually if people are asking for advice here it's because they need to DIY...
---
| | | |
| --- | --- | --- |
| RE: Help me go from Blah to Wow | | |
Hiecu, I' m in Austin~I sure love TX! I'm not an architect, but I completely designed my backyard hardscape as well as plantings. The first thing I would do is dig out a semi-circle from the corner jutting out to the last post. The widest point doesn't have to be more than 6' or out from under the roof. If you start in the center, you can taper to each end~use a lawn spray paint.

Start in the center with 3 Crape Mertles. On each side probably 3-4 Wax Mertles~these plants can sustain drought conditions. If you want to use a few flowers here and there, English Lavender is a good choice and also a quick grower. Good luck. ;o)
---
| | | |
| --- | --- | --- |
| RE: Help me go from Blah to Wow | | |
I haven't read all the suggestions, but here are a things that popped in my mind immediately:

LOVE the stone.

The posts are too small. Replace them with beefier cedar. We used 6" x 8" and turned the 8" side toward the outside (visually give the appearance of an 8" x 8" but saves some money). Add cedar brackets. If you can't remove the posts, you can add cedar boards to each side to make them appear larger/like cedar posts. We have several on the upper/back of our home done like this that cover metal post (we used poured concrete as a base on all of our verandas).

Add a beam against the house (far left) and if room, at the garage end wall if it doesn't narrow the walkway too much - or add a cedar board that's only a few inches thick.

Clad the board that runs horizontal above the beams with cedar boards (also running horizontal).

Replace the light next to the front door with a larger light fixture.

I can't tell what the front door looks like, but a vintage looking wood door would be nice. Is that glass (not glass block) around the front door? I need to think about that.

You could add a low stone wall that runs along the sidewalk but has some curves along the grassy side to help visually break up all the straight lines going on. Doesn't need to be tall, just three stones high would work.

Since the end of the house is so wide, I would add a a substantial overhang over the garage and have it run over/past the main level window. Here are a few examples:
The first 2 are from Christopher Architects. The last one is from Dungan Neguette. You can go to their websites for more ideas. McAlpine Tankersley is another excellent architectural source. Bobby McAlpine's book The Home Within Us not only has beautiful pictures, but is exquisitely written. Jack Arnold is another source.
More decorative garage door. Get rid of 1 basketball goal (both if not used anymore). What about staining the driveway a color? I saw a pin on Pinterest where they used a "surprisingly easy task/technique using Behr Semi-Transparent Concrete stain in Tuscan Gold" from Home Depot to give an unfinished looking concrete floors a warm wash of honey-gold color.
I would definitely add shutters too all the windows where they would be sized properly - should cover if closed. You could add a third pair, but closed, in the wall space between the two windows along the front sidewalk/porch. How do you feel about blue?
Or green:
You could add more interest to the gable by doing something like this, but keeping with your style:
btw, if you live in the scorching South, a window box will need water once a day - twice during a heat wave.
I look forward to seeing what you do!
This post was edited by allison0704 on Wed, Mar 20, 13 at 20:18
---
| | | |
| --- | --- | --- |
| RE: Help me go from Blah to Wow | | |
Thank you birdgardner for your helpful explanations. I will definitely try your mock up ideas. I never thought about making a lifesize mock up. Great idea. patty cakes, thank your for your landscaping suggestions. I know we need to start landscaping around the home. It is too barren. We live outside of Fort Worth so I need to find plants that our drought tolerant and easy to maintain. Allison0704, thank you so much for the pictures and suggestions. I am extremely excited to get started on some projects!!! Now....if I can only get my husband on board!!! I will keep you all posted on our progress!!
---
| | | |
| --- | --- | --- |
| RE: Help me go from Blah to Wow | | |
Yes, window boxes in Texas are usually a lost cause, it's just too darned hot come summer.

Golly, there are so many natives that do well here, and it would look great in your front yard and can stand the heat just fine. This will make a huge difference.

Lots of books on the subject, just Google Texas Native Plant landscapes.
---
Post a Follow-Up
Please Note: Only registered members are able to post messages to this forum.
If you are a member, please log in.
If you aren't yet a member, join now!
---
Return to the Home Decorating & Design Forum
Information about Posting
You must be logged in to post a message. Once you are logged in, a posting window will appear at the bottom of the messages. If you are not a member, please register for an account.
Please review our Rules of Play before posting.
Posting is a two-step process. Once you have composed your message, you will be taken to the preview page. You will then have a chance to review your post, make changes and upload photos.
After posting your message, you may need to refresh the forum page in order to see it.
Before posting copyrighted material, please read about Copyright and Fair Use.
We have a strict no-advertising policy!
If you would like to practice posting or uploading photos, please visit our Test forum.
If you need assistance, please Contact Us and we will be happy to help.

Learn more about in-text links on this page here