Return to the Home Decorating & Design Forum
|
Post a Follow-Up
---
| | | |
| --- | --- | --- |
| Chandelier for kitchen | | |
Posted by
KelliC
(
My Page
) on
Sun, Mar 16, 14 at 16:59
I'm trying to figure out what type/style of light fixtures to put in my kitchen. My kitchen is 10' x 20' with a dinette area at one end and the kitchen at the other. The flush mount fixture over the kitchen is too dim, and I find myself using the dinette light just to bring more light into my kitchen. I also cannot even reach this fixture to try new bulbs because it's 13' off the ground. I know I want a hanging fixture so I can change out bulbs easier, but I was hoping someone could give me some input as to the style. Thank you!

Dinette

Kitchen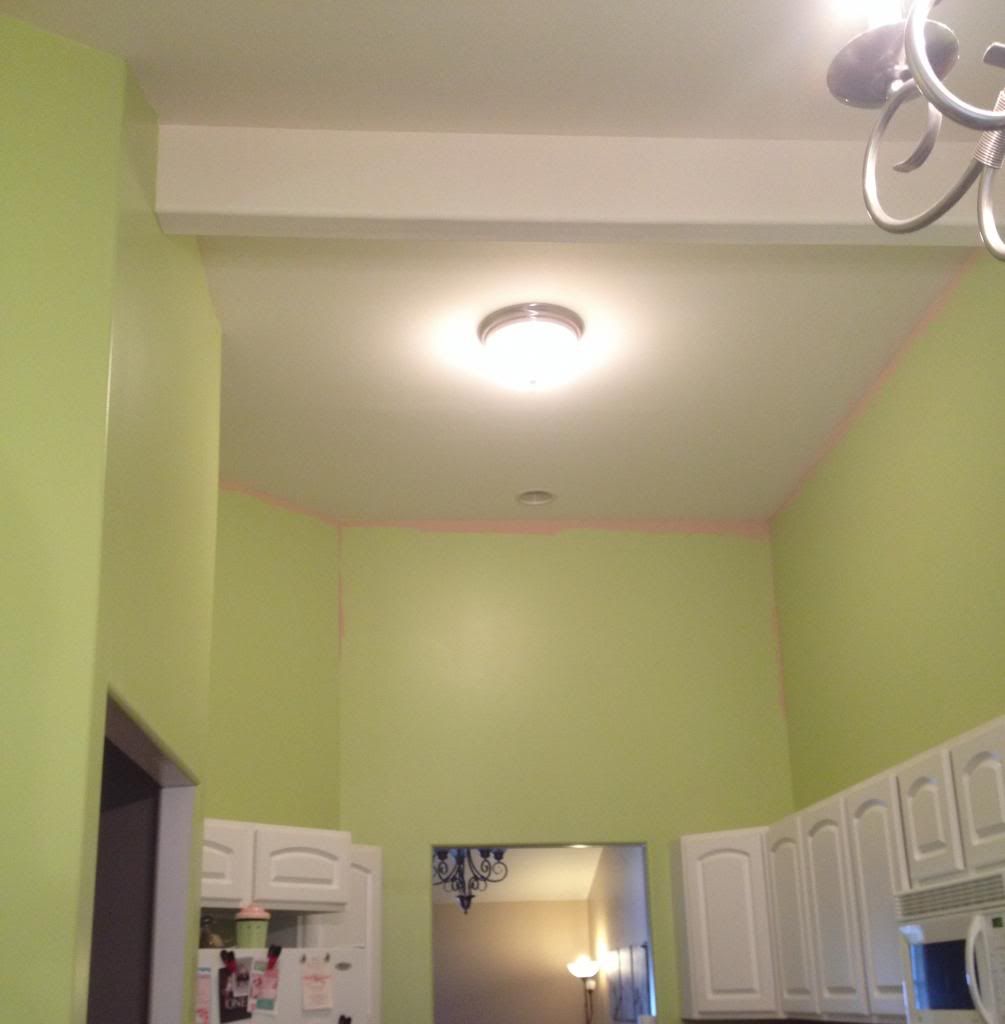 Dining room outside of kitchen light:


Also, I know I need to finish painting haha. That's being done today.
---
Follow-Up Postings:
| | | |
| --- | --- | --- |
| RE: Chandelier for kitchen | | |
How many bulbs do you have in the overhead fixture and what wattage? You may also want to consider installing under cabinet lighting.

If you want to do something different, there's also styles which, on a short string, would be called semi flush but have been made with higher ceilings in mind. This is a pricey company - just giving you ideas. You'd also have to look at the size of the fixture to make sure it fits in the room.

From 48" to 77" mounting from the ceiling, 2 x 150 watt bulbs max. This is a long, narrow oval bowl.

This one takes 4 x 100 watt bulbs max. Very different.

3 x 100 watt bulbs max. If you like circular.

---
| | | |
| --- | --- | --- |
| RE: Chandelier for kitchen | | |
Put in LED bulbs so you won't have to change them for a loooong time
---
| | | |
| --- | --- | --- |
| RE: Chandelier for kitchen | | |
I literally cannot reach this fixture, even on the very top of my ladder, so I can't open it to check the bulbs or even change them. When standing on the second to top rung I can just touch it. I believe there's 2 bulbs in it though. I want to add undercabinet lighting once I remodel my kitchen but that probably won't be until next year. I'm saving up for the cabinets right now and have someone that will be installing the cabinets and lighting for me.

I really do like the circular style. I found a pendant light at lowes that I was looking at but I'm not sure if it would work. I would be removing the little hanging jewels if I were to get it.
Here is a link that might be useful: Pendant light.
---
| | | |
| --- | --- | --- |
| RE: Chandelier for kitchen | | |
Can you match the chandelier that you already have? I think having matching chandeliers will give you a more cohesive look.

I like the light from Lowe's, but if you plan to remove the drops, make sure there won't be a hole left where they would have attached.

The link below has a fixture that uses 3 100w bulbs. I think it would blend with what you have.
Here is a link that might be useful: Lowe's light
---
| | | |
| --- | --- | --- |
| RE: Chandelier for kitchen | | |
I don't think I can match the light I have. It's original to the house from 2004 when it was built. I was thinking of replacing both possibly. I'm not a fan of the "candle" look the dinette chandelier has.

I really like that light you posted though!! For that price I could replace both lights in the kitchen/dinette.
---
| | | |
| --- | --- | --- |
| RE: Chandelier for kitchen | | |
This isn't answering your question but rather an idea for when you get to remodeling. Your ceiling is so high that you have room to drop a tray in and run perimeter lighting around the tray. It's not task lighting, but it would help with overall ambient light and combined with a chandelier or semi-flush mount in center of kitchen would give nice lighting.


You could even place some recessed cans in the outside of the tray.


Agree, you do want under cab lighting. If your new cabs are a year off, you might consider picking up some of the inexpensive puck lights available at Lowes or Home Depot and pasting them under the cabinets you have, as an interim solution. They're cheap.
The other thing you might do right now to supplement light is to lay a string of rope lighting on top of your cabinets, that is if you have any source to plug them into that you could access.

---
| | | |
| --- | --- | --- |
| RE: Chandelier for kitchen | | |
I'm not sure if the tray would work with the vaulted ceiling? It goes up to 13' and then tapers down to 8' in the dinette area. Once I get my new cabinets my plan was to place crown molding on the top of them and attaching rope lights.
---
| | | |
| --- | --- | --- |
| RE: Chandelier for kitchen | | |
I know you are going to get new cupboards, but I would get under the cupboard lighting now.....get the cheapest you can or else get something you can use with your new cupboards. Even puck lights...that you turn off/on individually in your work space. (use them iin your closet later). Any light you put in the center of your kitchen with the high ceiling will not give you the light you want, I don't think. You will always be working in shadow when you are at the counter of your kitchen.
---
Post a Follow-Up
Please Note: Only registered members are able to post messages to this forum.
If you are a member, please log in.
If you aren't yet a member, join now!
---
Return to the Home Decorating & Design Forum
Information about Posting
You must be logged in to post a message. Once you are logged in, a posting window will appear at the bottom of the messages. If you are not a member, please register for an account.
Please review our Rules of Play before posting.
Posting is a two-step process. Once you have composed your message, you will be taken to the preview page. You will then have a chance to review your post, make changes and upload photos.
After posting your message, you may need to refresh the forum page in order to see it.
Before posting copyrighted material, please read about Copyright and Fair Use.
We have a strict no-advertising policy!
If you would like to practice posting or uploading photos, please visit our Test forum.
If you need assistance, please Contact Us and we will be happy to help.

Learn more about in-text links on this page here