Return to the Home Decorating Forum
|
Post a Follow-Up
---
| | | |
| --- | --- | --- |
| I guess it's my turn to ask for wallcolor advice. Red oak floors? | | |
Posted by
staceyneil
(
My Page
) on
Mon, Mar 8, 10 at 16:51
I thought I had decided on Ben Moore's Edgecomb Grey, but I just painted some swatches on the wall and I don't think I'm happy with it. Feeling a little lost, anyone want to advise?

The room has red oak floors (which are pinky-orange) and a Tunisian rug with pinkish hues. I feel like the Edgecomb Grey is also too pink!

Really, it probably needs a nice white, like Linen White. But the problem is that one end wall has a monolithic 6' wide wall of black slate behind the fireplace. It's VERY dark, and VERY dramatic...The slate had been much lighter grey when I chose and installed it, but then I sealed it and it went VERY black :( Gotta live with it. Anyway- I was hoping to find a color dark enough to soften the contrast between the slate and the adjacent walls.

We don't want to go really dark, since this space is open to the rest of the house and we're really going for an open, airy feel. The house was previously very dark and we spent a lot of $$ opening it up to bring light in!

I'll post a photo, but be advised, it's still under construction. The trim isn't installed (will be BM White Dove) and the teak cases -which add more pink/red tones to the room- are not going to be there. We'll have 48" high white built-in bookcases on those two walls. The chairs will eventually change and the sofa recovered in similar tone.The teak and black leather dining set stays, though.

Pics in a moment.... and thank you. I never thought I'd be asking strangers for help choosing room colors, but I have seen you give some great advice to others on here, so I will give it a shot. I appreciate your thoughts.
---
Follow-Up Postings:
| | | |
| --- | --- | --- |
| Photos | | |
I'm not sure these show the pinkiness of the paint color.

Note: there will be white trim.
There will be white built-in bookcases on the two walls where the wooden cases are now. No wooden cases.
Furniture may change but rug will remain.

That big wall of black slate is a problem, isn't it :(
It's not going to change, though, so we have to work with it.

Thanks!!
---
| | | |
| --- | --- | --- |
| RE: I guess it's my turn to ask for wallcolor advice. Red oak flo | | |
Have you considered a green paint color or a paint color with a green undertone?
---
| | | |
| --- | --- | --- |
| RE: I guess it's my turn to ask for wallcolor advice. Red oak flo | | |
IMO, I think using gray is a great choice. I can't offer any specific color names, since I haven't used any gray (YET!) in my home. I have seen some beautiful dark grays here on the forum. That being said I think a darker gray would look beautiful with your floors and the slate !
Good Luck
---
| | | |
| --- | --- | --- |
| RE: I guess it's my turn to ask for wallcolor advice. Red oak flo | | |
I love grays but I think the room needs more color. I used the wrong picture but just for fun...

Anjou Pear

Beacon Hill Demask

chester town buff

Conventry Gray

Here's your color Edgecomb Gray

Grasshopper

Marsacopone

Metropolitan

Pelican Gray

Prescott Green

Rattan

Wasabi

Storm

Salisbury Green

---
| | | |
| --- | --- | --- |
| RE: I guess it's my turn to ask for wallcolor advice. Red oak flo | | |
Are you wanting a gray, beige, cream, greige? I think if you want to find a complimenting color for the pink toned floors (which I also have) perhaps a gray with no pink, or even a gray with green or blue undertones. I have some swatches here I'm looking at and I think you should check out BM revere pewter, gray owl or wickham gray just to name a few. These are light enough I think to keep it light and airy. However, have you concidered making the firplace wall an accent wall, not that it isn't but I mean with paint? If you are wanting a shade similar to edgecomb gray perhaps paint the walls next to the slate a couple of shades darker to blend the slate in better. Below are some pics of revere pewter.

IMO I wouldn't do linen white as much as like it because the slate will stand out too much. I would find a more saturate color and do 2 shades darker around slate. BTW The edgecomb gray doesn't look pink on my monitor and looks quite nice, but I know in person it is probably different. Your home looks lovely so far! The link at the bottom will take you to a blog and if you scroll down a bit you will see pics of BM gray owl. I don't have any pics of wickham gray.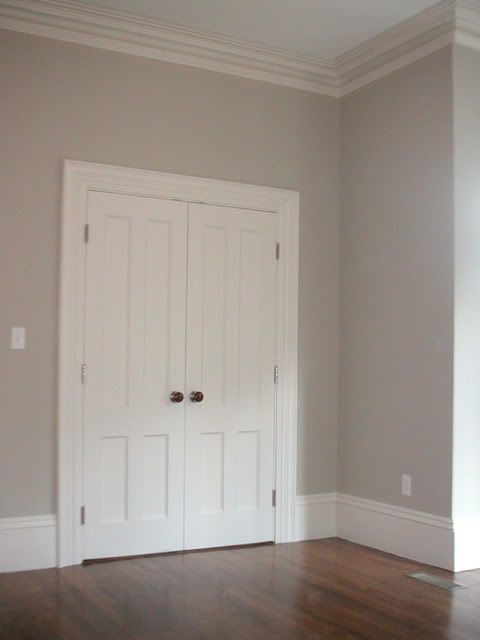 Here is a link that might be useful: BM gray owl
---
| | | |
| --- | --- | --- |
| RE: I guess it's my turn to ask for wallcolor advice. Red oak flo | | |
Wow, you guys are so great!!

Lukkirish, how are you doing the paint color demos? I would love to be able to do that. it's funny because a lot of the colors you used were ones I pulled out of my paint chip file today, especially the bluer greys like Metropolitan. Megpie, I pulled Revere Pewter out, too! I don't have Gray Owl, I'll have to look at it. I was toying with teh accent wall idea, as well. Normally I don't love those, but it may be the right thing in this situation. Unfortunately, the weirdly angled "cathedral" ceiling isn't something I really want to stand out, which a darker color will do. But it may be the lesser of two evils if it helps the slate wall....

I do think I prefer the more neutral tones. Much as I see what luukirish means about the greens -and they really do look good!- it's just not our style, I don't think...

These are great suggestions and I really appreciate it! Keep em coming!
---
| | | |
| --- | --- | --- |
| RE: I guess it's my turn to ask for wallcolor advice. Red oak flo | | |
I would also stay in the grey or taupe range. I always like Shennadoah taupe, but it might be too dark for you. Revere Pewter is a good color that I also considered using. BM Grant Beige, Sandy Hook grey and Cape Hatteras Sand are also nice grey toned colors. I also like the way rattan looked.

The grey owl looks beautiful btw.
Farrow and Ball has some really pretty greys. I just used Stony Ground and I love it. It's more brown/grey.
---
| | | |
| --- | --- | --- |
| RE: I guess it's my turn to ask for wallcolor advice. Red oak flo | | |
Well, I'm glad I picked some of the colors you were interested in! great minds do think alike! Ha! I just threw the different colors out there to show you options. I would have loved to use some shades that were just barely there, but they don't work well in small pictures. I am a lover of the blues, the greens are nice too, but I think the blue grays are beautiful with the colors you have in the room. Can you post a better picture? One with less floor, no writing and shows the slate better? Also give me some other names you'd like to see?

Gray Owl

---
| | | |
| --- | --- | --- |
| RE: I guess it's my turn to ask for wallcolor advice. Red oak flo | | |
Oh, yes, lukkirish! I will take another photo in the morning and upload it for you. Thanks so much.
---
| | | |
| --- | --- | --- |
| RE: I guess it's my turn to ask for wallcolor advice. Red oak flo | | |
Ok, I'll check back tomorrow!
---
| | | |
| --- | --- | --- |
| RE: I guess it's my turn to ask for wallcolor advice. Red oak flo | | |
Pick a grey that is closer to one in the rug and go a bit warmer if necessary.
---
| | | |
| --- | --- | --- |
| RE: I guess it's my turn to ask for wallcolor advice. Red oak flo | | |
The light in that room is gorgeous...crystalline and beautiful. And I really like the teak on either side of the stove...much better than the white mockups.

We painted a wall BM Coastal Fog, and it's really a gorgeous color. Warm gray with green undertones (is that even possible? As I type I wonder.) Anyway, try it out, I think it would play well with your slate and the taupes in your room.
---
| | | |
| --- | --- | --- |
| RE: I guess it's my turn to ask for wallcolor advice. Red oak flo | | |
I liked Rattan the best. I used Edgecomb in my laundry room and it is pretty but I do think your tall ceilings and open floorplan look great with the creamier/browner color.

Gray Owl has a slight greenish tinge to the gray and so does Harbor Gray. Sidewalk Gray and Metallic Gray have a bluer tinge.

This is Edgecomb Gray in a closed room without your pretty tall walls:

---
| | | |
| --- | --- | --- |
| RE: I guess it's my turn to ask for wallcolor advice. Red oak flo | | |
I'm back with more photos. Different light now, since it's morning. Everything's not so warm in this light, so the pink-ness of the Edgecomb Gray isn't as bad as in the afternoon......

Anyway- lukkirish, here are some more shots; will these make it easier? I covered the cases with sheets to represent bookcases.

The real bookcases will be TALLER and of course filled with colors - and firewood.... and the art will probably also change. This is all temporary till we get things more finished in here!
---
| | | |
| --- | --- | --- |
| Colors? | | |
One important thing I forgot to mention is that this room is open to the kitchen/sitting area, so we need to take those views into consideration. The kitchen has carerra counters (so, blue-grey veins in white marble) with natural cherry cabinets and white subway tile. I will probably be painting it BM Albescent (a beautiful color!) and that color will wrap through the openings between the rooms (pic below). So the colors all have to go together....

I went through my chip collection and had some of your suggestions....

Sidewalk Gray= too cold I think!
Grant Beige= too yellow

I liked these a lot:
Gray Owl
Revere Pewter (which had been one of my original choices)

Maybe???
Wickham Gray (fairy blue/cool)
Coastal Fog (greenish)

Is Baby Fawn going to be too pink like the Edgecomb Gray?

I'll have to go to the paint store to look at the other suggestions. Will do so later today....

Thank you so much :)

View from kitchen (not yet painted or backsplashed!)

---
| | | |
| --- | --- | --- |
| RE: I guess it's my turn to ask for wallcolor advice. Red oak flo | | |
Ok, Using the photo you posted this morning, here's the colors you referenced. Neutrals pretty much all looks the same to me especially on the monitor but I hope you find it helpful. The blotches are from the samples you painted on the wall.

Baby Fawn:

Coastal Fog:

Gray Owl:

Revere Pewter:

Wickham Gray:

---
| | | |
| --- | --- | --- |
| RE: I guess it's my turn to ask for wallcolor advice. Red oak flo | | |
i know the slate came out darker than you planned, but i like how it nicely camouflages the funny dogleg in the stove pipe and the bulky end of the pipe as it reaches the ceiling -

i like the revere pewter the most, followed by the grey owl. the revere pewter looks clean and crisp to me,
the grey owl seems more cozy

not sure how much i can trust the colors on my computer screen though ;)
---
| | | |
| --- | --- | --- |
| RE: I guess it's my turn to ask for wallcolor advice. Red oak flo | | |
I like the Revere Pewter best. ON my monitor the grey owl looks blue here. The Revere Pewter looks warmer and cozier to me.
---
| | | |
| --- | --- | --- |
| RE: I guess it's my turn to ask for wallcolor advice. Red oak flo | | |
Oh thank you so much luukirish!

kiki- Funny you should mention the stovepipe.... the entire reason we chose black slate was to camoflage that dogleg at the top (which was unavoidable if we wanted to center the stove in the space...). And it does help with that a lot.

I'll get some samples of Owl Gray and REvere Pewter and try them out. Also, the Edgecomb Gray turns out to look decent in most light; it's the late afternoon uber-warm light that brings out the pinks in it.

I really appreciate you help, folks :)
---
| | | |
| --- | --- | --- |
| RE: I guess it's my turn to ask for wallcolor advice. Red oak flo | | |
Stacey, you have such an interesting house! Your furniture looks modern, yet somehow traditional. I don't know how to say what I want to say...
And I love the lamp with the blue base. I just bought one similar and am totally in love with it. Who knew?

I really like the Edgecomb Gray on the monitor, as well as the Revere Pewter. I think both of these colors contribute to an eclectic yet contemporary feel that is warmed up by the old school type fireplace. I do have a suggestion. Instead of white built-ins, why not consider having the bookcases painted in the wall color you choose? With the black slate as a centerpiece, I think it may be too choppy with the white. Particularly if you go with a gray, this might be appropriate.
I love all the muted grays and gray whites that Holly does on her furniture (Life in the Fun Lane Blog) as well as Anne Turner's Mouses' Back (Farrow & Ball paint shade a browned gray) kitchen cabinets. That's the kind of thing I'm thinking for you, although maybe lighter, like the Rev. Pewter or the Edgecomb instead of the depth of Mouse's Back. Even doing the wall in a gray with a little darker shade on your built-ins could be great.

Red
Here is a link that might be useful: Mouse's Back Cabinets from Blueprint Bliss Blogspot
---
| | | |
| --- | --- | --- |
| RE: I guess it's my turn to ask for wallcolor advice. Red oak flo | | |
This will be a wonderful room when you are finished. I like the greys, and would also consider a taupe or greige. Definitely not white, as I think you need something to transition between the slate and other light walls. I know you're not there yet, but when you add finishing touches I'd love to see more black scattered throughout the room. Pillows, perhaps some furniture painted black, maybe some black and white photographs with black gallery style frames hung in a grouping will help balance the visual impact of the slate.
---
| | | |
| --- | --- | --- |
| RE: I guess it's my turn to ask for wallcolor advice. Red oak flo | | |
Stacey:
Did you choose a color?
---
| | | |
| --- | --- | --- |
| RE: I guess it's my turn to ask for wallcolor advice. Red oak flo | | |
Amazing home.... I too like the gray or greige tones, that tie in your rug. Good luck and let us know what you pick~
---
| | | |
| --- | --- | --- |
| RE: I guess it's my turn to ask for wallcolor advice. Red oak flo | | |
Aw, you guys are so nice with your kind words!!! I especially appreciate reading them this morning, since DH and I just had a somewhat disheartening conversation about how on earth we are going to find the time and money to complete the interior of the house this year (since we're literally broke AND we need to start the exterior; I'm already working on major landscaping right now, ugh.) Anyway I was feeling kind of blue about the inside, and your nice words have helped!

So we painted the walls BM "Early Morning Mist" and it looks pretty good. Extremely neutral... For now, it looks good. But we haven't trimmed the windows or anything, so it's not easy to see the final result. Also, the bookcases won't be built until next winter (we just decided that this morning, boo hoo! But DH works full time and he just doesn't have enough hours, and we need to switch to exterior trim and porch-building soon....)

jjam, I hear you about the black accents. Our dining room set (1950's Hans Wegner Danish teak) has black leather seats, and I like how that ties in to the slate. When it comes time to really finish this room -next winter I guess- I will definitely bring in some more blacks.

redbazel- I like the idea of painting the built-ins grey! Thank you!
---
| | | |
| --- | --- | --- |
| RE: I guess it's my turn to ask for wallcolor advice. Red oak flo | | |
Stacyneil,

I have not logged in to this forum in a long time, but I just had to log in to say that I love your home. Every time you post pictures of the kitchen, living area, etc. I have to look b/c I know it is going to be great. Your choices in furniture, art, etc. are astounding.
---
Post a Follow-Up
Please Note: Only registered members are able to post messages to this forum.
If you are a member, please log in.
If you aren't yet a member, join now!
---
Return to the Home Decorating Forum
Information about Posting
You must be logged in to post a message. Once you are logged in, a posting window will appear at the bottom of the messages. If you are not a member, please register for an account.
Please review our Rules of Play before posting.
Posting is a two-step process. Once you have composed your message, you will be taken to the preview page. You will then have a chance to review your post, make changes and upload photos.
After posting your message, you may need to refresh the forum page in order to see it.
Before posting copyrighted material, please read about Copyright and Fair Use.
We have a strict no-advertising policy!
If you would like to practice posting or uploading photos, please visit our Test forum.
If you need assistance, please Contact Us and we will be happy to help.

Learn more about in-text links on this page here