FORUMS:
GardenWeb
>
Forums
>
Home Decorating & Design Forum
> please help vote on cabinet color! >
Post a Follow-Up
please help vote on cabinet color!
Hi everyone, I decided to paint my bath cabinets grey. The bath is 8x5, and gets a decent amount of light from 2 windows.
The walls are painted linnean green. I picked out 3 mid-tone grays. Which of these grays looks best paired with the linnean green walls? I would be painting the gray on the cabinets and tub panel. Or do you think i should go darker or lighter on the gray? thank you for your suggestions!

here is a pic of the bathroom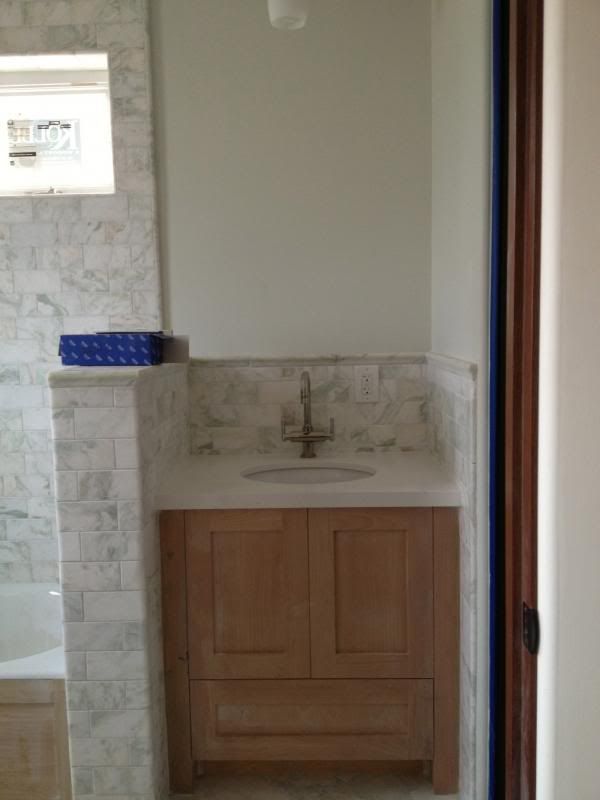 | | |
| --- | --- |
| RE: please help vote on cabinet color! | |
It is difficult to tell colors on a monitor. When you look at the BM web site they actually suggest Equestrian Gray which is #1553.
Have you tried that or one shade lighter River Reflections?
---
Hi localeater, i did look at equestrian gray, but on the website, it looked brown. not sure if it is like that in real life. i plan to buy samples, but just trying to narrow down the number of samples that I get to save money and time sitting around the paint store, lol!
---
| | |
| --- | --- |
| RE: please help vote on cabinet color! | |
Since everytime I see a picture of Fieldstone, I fall in love, that's what I would choose if it looks good next to your other colors.
---
| | |
| --- | --- |
| RE: please help vote on cabinet color! | |
It looks like the fieldstone has some green in it. Since you have green on your walls, it might be a good idea to incorporate some more even though the gray in your tile looks cool or neutral.
---
| | |
| --- | --- |
| RE: please help vote on cabinet color! | |
I know buying samples, really adds up. Before I buy the samples, I ask them for the big color swatches. In my shop they keep them in a binder in the back, they are free. The bigger swatch is very helpful and I can usually narrow down from there. I usually bring them back when I am ready to purchase which is unnecessary but it makes me feel less wasteful.
As an FYI- I painted the exterior of my old house(5 houses ago) Fieldstone. I ended up being disappointed. It was much too light and on sunny days the house looked white.
---
| | |
| --- | --- |
| RE: please help vote on cabinet color! | |
I think it will look more unified if you go with a dark gray that is closest to the color in the tile, rather than visually jumping over the countertop and tile wall to reintroduce the green.

Then if you should decide to put a different color on the wall one day, you don't have to redo the cabinet.
---
| | |
| --- | --- |
| RE: please help vote on cabinet color! | |
I'd go for the darkest gray that goes with your tile. However, I also have to say that on my monitor at least, the online BM colors are completely different (more so than SW) than IRL. Could you take a piece of the tile and go to the store to pick samples?
---
| | |
| --- | --- |
| RE: please help vote on cabinet color! | |
I agree that you should take your cabinet color directly from the tile. In my iPad it doesn't look like any of the colors you've chosen really do that--- but my screen does not always reflect reality :-) in fact, the green of the walls doesn't seem to really compliment your beautiful tile either. If I was painting, I would do the walls in a light gray and the cabinets darker, all in grays from the tile.
---
| | |
| --- | --- |
| RE: please help vote on cabinet color! | |
They are all too midtone. Either dark for some contrast, or keep the wood to warm up all of the the cold colors that everything else is.
---
| | |
| --- | --- |
| RE: please help vote on cabinet color! | |
Definitely fieldstone for me.
---
So hard to pick grays IRL, let alone on screen. I would go with a dark gray from your tile.
---
| | |
| --- | --- |
| RE: please help vote on cabinet color! | |
None are dark enough for a painted look. They all blend into each other.

But, I'd also consider refacing the cabinets with something like walnut or carbonized bamboo to keep some warm wood tones in there. Along with a wooden shower bench and maybe wooden matchstick blinds.
---
| | |
| --- | --- |
| RE: please help vote on cabinet color! | |
I know you said you'd like the cabinet to be gray, but between the gray walls, the gray in the stone and what appears to be a gray floor, I think the room will just have too much gray and it needs something more to add a little pop to the space. If it were me, I'd paint the cabinet and tub cover a charcoal black. It's still monochromatic but at least it will give the room some life.
---
| | |
| --- | --- |
| RE: please help vote on cabinet color! | |
That's what I was thinking. Too much of the same. I like the idea of keeping a natural wood tone of some sort.
---
| | |
| --- | --- |
| RE: please help vote on cabinet color! | |
| | |
| --- | --- |
| RE: please help vote on cabinet color! | |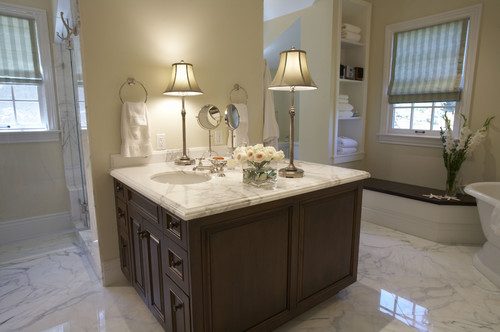 ---
wow, thanks everyone! great advice!

there is an overwhelming number of votes for going darker. and it makes a lot of sense to pick the cabinet color based on the tile and not the wall colors.

greendesigns, thanks for all the beautiful pics. i think the wood looks really nice.

localeater, thanks for the tip on the larger paper samples. i never knew they had those. i will have to ask for them at the paint store.
i will look for a darker gray or maybe doing dark wood stain. i loved the Fieldstone color after seeing the Sally Wheat kitchen and always wanted to try having gray cabinets, but it sounds like it may not work for me. i will try out a sample just to see though.
thank you everyone!
---
| | |
| --- | --- |
| RE: please help vote on cabinet color! | |
I am really late to this party but I was thinking charcoal (very dark, almost black) gray.
---
patricia, thanks for your input, every vote counts! your vote is reaffirmation that i need to look for new colors, lol!
---
| | |
| --- | --- |
| RE: please help vote on cabinet color! | |
I like the idea of a darker color gray. With all the white, a darker color would make for better contrast as well as making the cabinet a focal point.

I used a RL paint in Bone Black which really wasn't black, but more of a dark charcoal.
Here is a link that might be useful: RL paint
---
| | |
| --- | --- |
| RE: please help vote on cabinet color! | |
Agree with the others, darker than those grays would be better for some contrast especially if you're stuck on that wall color. Will be a beautiful bath. Please post when you finish the space.
---
| | |
| --- | --- |
| RE: please help vote on cabinet color! | |
RL Bone Black. Sometimes I wonder why they name colors what they do. Is bone black? I recently had to pick a color for our outdoor shutters on the house and looked through the SW deck and all the blacks looked black to me so I told them to do Domino Black. Well the shutters are sort of black with a red undertone. NOT what I wanted. Oh dear, this is the second time they have been painted so I will live with it. I didn't think you could go wrong with picking out black but I digress, Bone Black? I wonder what made RL choose that name for a black?
---
| | |
| --- | --- |
| RE: please help vote on cabinet color! | |
I can tell you that I sampled Fieldstone on my walls about a year ago and it wasn't really grey for me -- it was more of a grayish blue-green. Well, I can say at least that it was more blue than the other gray-greens I was sampling. I don't think it's the color you're looking for.

I agree with some others that a charcoal would look nice. Or maybe just a hair lighter than charcoal. I know that's super helpful. I painted my TV stand a good dark gray color...if I can remember the name of it, I'll come back and tell you!
---
| | |
| --- | --- |
| RE: please help vote on cabinet color! | |
I love the green on the wall. On my monitor it looks as though there is a green gray in your tile? I would try a greenish gray.
---
pattycakes, that RL bone black looks soo dark! I never really chose blacks or dark grays for anything before (except for slimming clothes!), but i agree that level of dark is what I need for more contrast.

sueb, thanks! i will look at some charcoals tomorrow. i think one candidate is kendall gray..

mtnredux, yes the tile actually has green and greys in it.

thanks everyone! I am gonna go to the paint store tomorrow for some samples, but now after seeing greendesigns' photos, I am leaning towards staining again...arghh, such indecision!! I promise to post finished pics later.
---
Post a Follow-up to this Message
Please Note: Only registered members are able to post messages to this forum.
If you are a member, please log in.
If you aren't yet a member, join now!
---
Return to the Home Decorating & Design Forum
Information about Posting
You must be logged in to post a message. Once you are logged in, a posting window will appear at the bottom of the messages. If you are not a member, please register for an account.
Posting is a two-step process. Once you have composed your message, you will be taken to the preview page. You will then have a chance to review your post, make changes and upload photos.
After posting your message, you may need to refresh the forum page in order to see it.
Before posting copyrighted material, please read about Copyright and Fair Use.
We have a strict no-advertising policy!
If you would like to practice posting or uploading photos, please visit our Test forum.
If you need assistance, please Contact Us and we will be happy to help.

Learn more about in-text links on this page here