Return to the Home Decorating & Design Forum
|
Post a Follow-Up
---
| | | |
| --- | --- | --- |
| May I see pictures of your basement playroom/family room? | | |
Posted by
juliekcmo
(
My Page
) on
Sun, Mar 17, 13 at 16:24
We are in the beginning stages of possibly moving.

We are recent empty-nesters, but the most likely buyers of our home would be a family with younger school aged children.

DD2, who has babysat for most of the families on the block, thinks that moms want a nice basement play area so that the main level stays neater. So we will be doing some minor fix-ups with this in mind. Our home is older, and has stone foundation walls with paneling. Current floor is bare concrete.

I would love to see pictures of your finished spaces (very casual is fine!), and what is the opinion of the group regarding painting the concrete and adding a nice large area rug, vs tile or carpeting on the basement floor? Our current idea is to have this not necessarily be a "finished" basement, but more of a "play space". Would also like to hear opinions on that. We would obviously like to keep costs low, but appeal to the largest pool of buyers.

Thanks in advance.
---
Follow-Up Postings:
| | | |
| --- | --- | --- |
| RE: May I see pictures of your basement playroom/family room? | | |
Here's a picture of my old house with a nice playroom basement. My new house has a similar one too and was certainly a feature we wanted when we were house shopping but I had this picture handy. I would absolutely recommend carpet over anything else. I think most moms prefer their babies to crawl and play on carpet. We used an olefin Berber which seems to be very popular in my area. The walls of my basement were finished in Sheetrock, but if you already have paneling, I would recommend painting it a light color to brighten up. I think those two things would make a big impression.
---
| | | |
| --- | --- | --- |
| RE: May I see pictures of your basement playroom/family room? | | |
I am sorry I do not have a picture to post, but I have to disagree about the carpet. To many young mothers carpet is synonymous with germs, dirt, mites, and bed bugs. I think the preference would be for something that looks clean and easy to clean, it can be warmed up with area rugs. Also if you want your kids to be able to ride big wheels and trikes in the house carpeting is no fun. Think floating wood, ceramic tile, luxury vinyl...
A play space needs to be warm, and bright, it should not damp at all.
---
| | | |
| --- | --- | --- |
| RE: May I see pictures of your basement playroom/family room? | | |
We did a very inexpensive play area in part of our basement. It has pergo "wood" floors and a drop ceiling and although very low end it has been a perfect solution for clutter in my small home and it is a hit with the kids:). I painted the unfinished stairs white and added an $80 runnuer. Whole project cost less than 1000 dolars:). Pardon the mess:)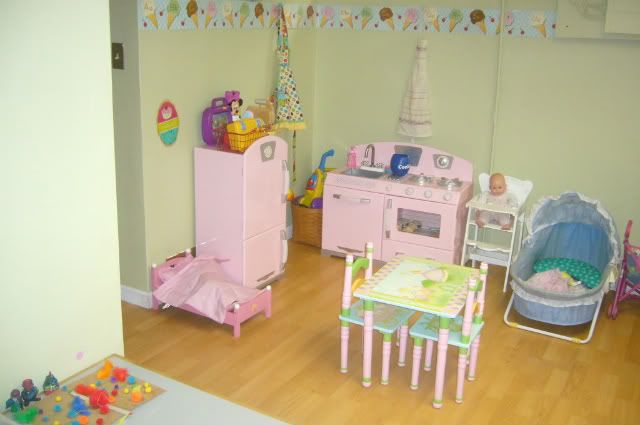 ---
| | | |
| --- | --- | --- |
| RE: May I see pictures of your basement playroom/family room? | | |
Here's a few worth pondering.....
Here is a link that might be useful: play areas
---
| | | |
| --- | --- | --- |
| RE: May I see pictures of your basement playroom/family room? | | |
Ours is carpeted with industrial carpeting. We have two sofas and a tv. The kids used it for sleep overs, Girl Scout meetings etc.
I think whatever you choose, it will look clean because it will be new. I think that the fact that this space is done and functional will be a big plus.
Good advise from your daughter!
---
| | | |
| --- | --- | --- |
| RE: May I see pictures of your basement playroom/family room? | | |
mine is not nice enough to take pics of, but we have a carpet remnant over those foam puzzle kid floor pad thingies. It has a tv with bookcases to make one wall, toy boxes and random seating, and an easel. But the thing that makes my kids think it's the "best basement ever" is that we have an ikea teardrop swing and hand rings hanging from the joists....visiting kids love to play down there.

If we ever finish it, I would want to use vinyl hardwood looking floors,I think. I would also probably switch to a tank less water heater.
---
| | | |
| --- | --- | --- |
| RE: May I see pictures of your basement playroom/family room? | | |
Thanks for all the pictures and advice.

My DH thinks that painting the floor is a good way to go, but I think it needs to be nicer. Sounds like most of you agree that the floor needs to be nice enough to feel comfortable with kids sitting on it to play.

I think since we might be not putting much furniture down there to show, that clean painted walls, new light fixtures and carpet would be the easiest to do and have the largest appeal.

Our ceiling is finished plaster, and has radiator pipes hanging on it, so it is not a new house with high ceilings and that type of setup. The ceiling and pipes are all sprayed off-white.

Thanks for the preliminary help. I am currently working on emptying it out (we're getting a dumpster in 2 weeks). I will post some pictures when I get it emptied out.
---
Post a Follow-Up
Please Note: Only registered members are able to post messages to this forum.
If you are a member, please log in.
If you aren't yet a member, join now!
---
Return to the Home Decorating & Design Forum
Information about Posting
You must be logged in to post a message. Once you are logged in, a posting window will appear at the bottom of the messages. If you are not a member, please register for an account.
Please review our Rules of Play before posting.
Posting is a two-step process. Once you have composed your message, you will be taken to the preview page. You will then have a chance to review your post, make changes and upload photos.
After posting your message, you may need to refresh the forum page in order to see it.
Before posting copyrighted material, please read about Copyright and Fair Use.
We have a strict no-advertising policy!
If you would like to practice posting or uploading photos, please visit our Test forum.
If you need assistance, please Contact Us and we will be happy to help.

Learn more about in-text links on this page here