Return to the Home Decorating & Design Forum
|
Post a Follow-Up
---
| | | |
| --- | --- | --- |
| How to play down a color | | |
Posted by
functionfirst
(
My Page
) on
Wed, Mar 26, 14 at 15:56
We ordered a super comfy sofa and two chairs for a 16'x15' sunroom that is separated from the rest of our house by half walls. We (actually DH) picked a red (solid but w/some texture) upholstered sofa without first trying the fabric in the house. I know... The chairs are multi-color floral/creamy background. Well, the red sofa is actually leaning towards coral, and it's large (115"). I don't dislike it, but the color is taking over. When painting the walls, is there a way to go that will counteract the coral somewhat? Floors are beautiful red oak w/fairly natural stain with a hint of gold but we need an area rug. What color rug would help counteract coral overload? I'm thinking sisal or similar would fit the feeling we want in the room. Rest of house is open concept. The other nearby area rugs are orientals with predominant shades of grayed green and cream with hints of gold, brown and black and some bits of red here and there. One wall in this area is SW Kaffe. The rest are white, so far. This part of the house looks great. I know pictures would help but I just don't have any. I would appreciate any advice.
---
Follow-Up Postings:
| | | |
| --- | --- | --- |
| RE: How to play down a color | | |
I don't mean to diss your husband or men in general, but I have found that they can pick the most hellish reds. Even those that don't have a known colorblindness problem can be way off choosing reds. But it's water under the bridge now.

I wonder what kind of investment you have in the sofa. Do you want to throw good money after bad to disguise or distract from the fact that the sofa is the wrong shade of red?

I'm sorry, I'm no help. But I would think about what I would be willing to spend to compensate for something that just isn't right.
---
| | | |
| --- | --- | --- |
| RE: How to play down a color | | |
How coral are we talking?
I'd say lots of cream and a sea grass rug. And some small touches of the coral elsewhere (trim, accessories, art)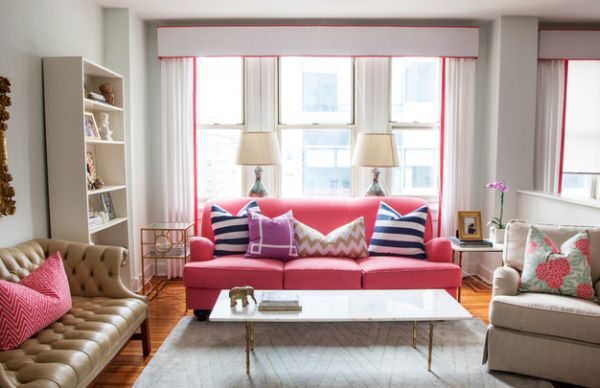 ---
| | | |
| --- | --- | --- |
| RE: How to play down a color | | |
Christopher always suggested that you find the color intensity of the undesirable color and then offset it with different colors of matching intensity. I remember one program where he took the most awful color tile bathroom and by using colors of the same intensity in the room, it really toned down the bad color and made the room look so much better...much more intentional.

Or you could just go with a throw, afghan, decorative pillows to cover up some of the sofa.
---
| | | |
| --- | --- | --- |
| RE: How to play down a color | | |
I think it would help you to "see" the colors of the room if you tried to find a paint swatch to match everything in it.

The sofa,
The colors of the chairs
The wood color of the flooring
Any trim colors
Any furniture that is there.

Then try to remember to not pick the opposites. For example, blues would bring out the orange-ness.
---
| | | |
| --- | --- | --- |
| RE: How to play down a color | | |
Re sisel rugs: Joni Webb of the wonderful blog Cote de Texas vastly prefers seagrass rugs to sisal and talks about them often in her blog. Here's a piece she wrote about why she loves them.
Here is a link that might be useful: Why seagrass rugs are superior to sisal
---
| | | |
| --- | --- | --- |
| RE: How to play down a color | | |
I don't know who Christopher is, but I think he has the right idea. In the pics with a neutral area rugs the red couches seem to stick out like a sore thumb. In the rooms I see with a more intense colored and patterned rug, the couches seem more a part of a scheme than a contrast. Not sure what the pattern is in the chairs, but I'd look for a rug with a pattern and a good deal (or at least some) of the color of the sofa.
This is a nice compromise with a neutral rug and the wall color the same as the couch...it's a lot of the same color, but if you like the color, it could work.
---
| | | |
| --- | --- | --- |
| RE: How to play down a color | | |
I much prefer nosoccermom's presentations, which are calming and pleasant. I guess beauty is in the eye of the beholder.
---
| | | |
| --- | --- | --- |
| RE: How to play down a color | | |
Thanks everyone. Great thoughts. The sofa is a deep coral, similar in color to nosoccer's fourth and olychick's first two pix. I would wear this color, and in a sunroom setting it's not bad, just overpowering at the moment. I like the idea of bringing in some of that color in an area rug, but I also like the seagrass idea, too, but considering the light chairs and floors, I was originally thinking of a rug in the green family but I see from your responses that would only make the coral more noticeable? I was thinking of painting the walls a creamy yellow, lighter than the chairs in olychick's first two photos, which would pick up a color in the chairs. They have some reds, greens, yellows with a creamy background. I really appreciate your opinions.
---
| | | |
| --- | --- | --- |
| RE: How to play down a color | | |
Just opened an email and it was this photo, you can advance the photo and look at the rest of the ideas. This is what is meant by adding colors of the same intensity. I love this room
Here is a link that might be useful: coral sofa room
---
| | | |
| --- | --- | --- |
| RE: How to play down a color | | |
Without seeing the room/furniture, I am wondering if the issue is how to connect the chairs/sofa. Color aside, is the fabric a similar weight on the chairs/sofa?

Also, I think the photos above show that as long as the color appears elsewhere in room (to whatever degree you prefer), it will look intentional.

Navy and coral is a classic, beautiful pairing.
This post was edited by anele on Thu, Mar 27, 14 at 11:13
---
| | | |
| --- | --- | --- |
| RE: How to play down a color | | |
It's tough. Definitely, the red sofa will blend in with more reds surrounding while 'sticking" out more next to cream/natural. I think you just need to decide what look you like better and what works with the rest of your house.
BTW, I love seagrass rugs. They wear really well and are stain repellant. A great source is Natural Area Rugs (they've been mentioned here several times; I bought my rug from them).
Some more pics.

Here is a link that might be useful: Natural Area Rugs
---
| | | |
| --- | --- | --- |
| RE: How to play down a color | | |
I can see how it would blend in better on a rug with that color. But I also can see how the room as a whole looks less intensely coral with it surrounded by neutrals.

Personally, I prefer the neutrals. So I would find some small accents to carry the coral color around the room, like pillows on chairs or art work. Then I would use lots of neutrals on and around the sofa: Seagrass rug, cream blanket on sofa, various neutral pillows with a tiny touch of the coral on the sofa, etc. To my eye that integrates the coral sofa into the room without making the whole room coral. Some of those mostly neutral rooms are really gorgeous, IMO.
---
| | | |
| --- | --- | --- |
| RE: How to play down a color | | |
Anele, yes, the weight is similar on sofa and chairs with the chairs being a bit more delicate-looking (treated for stain resistance). I like the room pic with the small oriental on top of seagrass, so another great idea from g'web. Thank you all. Every suggestion has been helpful. If I ever finish this room I will try to post a photo.
---
Post a Follow-Up
Please Note: Only registered members are able to post messages to this forum.
If you are a member, please log in.
If you aren't yet a member, join now!
---
Return to the Home Decorating & Design Forum
Information about Posting
You must be logged in to post a message. Once you are logged in, a posting window will appear at the bottom of the messages. If you are not a member, please register for an account.
Please review our Rules of Play before posting.
Posting is a two-step process. Once you have composed your message, you will be taken to the preview page. You will then have a chance to review your post, make changes and upload photos.
After posting your message, you may need to refresh the forum page in order to see it.
Before posting copyrighted material, please read about Copyright and Fair Use.
We have a strict no-advertising policy!
If you would like to practice posting or uploading photos, please visit our Test forum.
If you need assistance, please Contact Us and we will be happy to help.

Learn more about in-text links on this page here