Return to the Home Decorating Forum
|
Post a Follow-Up
---
| | | |
| --- | --- | --- |
| Your favorite Sunroom Color | | |
Posted by
naf_naf
(
My Page
) on
Fri, Mar 18, 11 at 15:35
Hi,
I wonder if you guys could help me out.
I need to paint my sunroom for the very first time, it had siding and we drywalled it. The sunroom is very visible from the living room (there is a big window in between). it is almost a blank canvas, windows, doors, trims and blinds are white and the flooring is distressed ceramic tile (kind of a neutral color), my furniture is dark wood and the sofa I have there is dark beige. I want to use Benjamin Moore paint.

-Would you use the same color of paint as in the living? (now I have SW believable buff, is a neutral with cream undertone.

-What is your favorite sunroom color?

-Should I paint ceiling and walls the same color?

I wanted a blue-gray but not sure is a nice color for a sunroom

TIA!!!
---
Follow-Up Postings:
| | | |
| --- | --- | --- |
| RE: Your favorite Sunroom Color | | |
Our sunroom is painted a creamy golden yellow. It's a home mix so I don't have a color, but I can't imagine a sunroom in anything but some shade of happy, but soft yellow or creamy white. Sorry, but blue-gray just doesn't say "sun" room to me.
---
| | | |
| --- | --- | --- |
| RE: Your favorite Sunroom Color | | |
I like changing out accessories in the sunroom to make it much cozier in the winter (red oriental rug, rug velvet pillows on the white sofas) to cleanable in the summer (indoor/outdoor decortive pillows in black/brown/white and indoor/outdoor rug in brown and beige), so I prefer a neutral color. I can't tell you specifically the name of the paint we have but it matches our beige/tan tiles. It also is off our great room; the paint is close but doesn't match that in the great room.

I wanna see when you get done!

Dee
---
| | | |
| --- | --- | --- |
| RE: Your favorite Sunroom Color | | |
Ours is a pale yellow, which flows with our adjoining kitchen. It's a BM color (don't remember the color, but the can is in the basement).
---
| | | |
| --- | --- | --- |
| RE: Your favorite Sunroom Color | | |
Mine is Belgian Waffle. It is an Olympic Brand paint color made up in BM matte. I love it . It is a creamy pale yellow that changes with the light. Looks great with creamy white trim. Good Luck. c

a couple pics :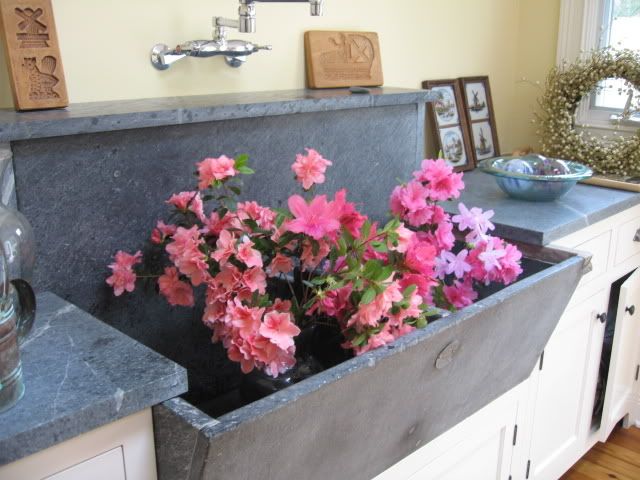 ---
| | | |
| --- | --- | --- |
| RE: Your favorite Sunroom Color | | |
A vote for BM White Dove. Fresh, clean white -- and easy to change around your decor with the seasons!
Here is a link that might be useful: BM -- White Dove
---
| | | |
| --- | --- | --- |
| RE: Your favorite Sunroom Color | | |
Guess I wasn't unique in choosing a creamy yellow color for my sunroom! This is the room in our beach house. It's BM Rich Cream. Still neutral enough so that you could use a lot of other colors in the room.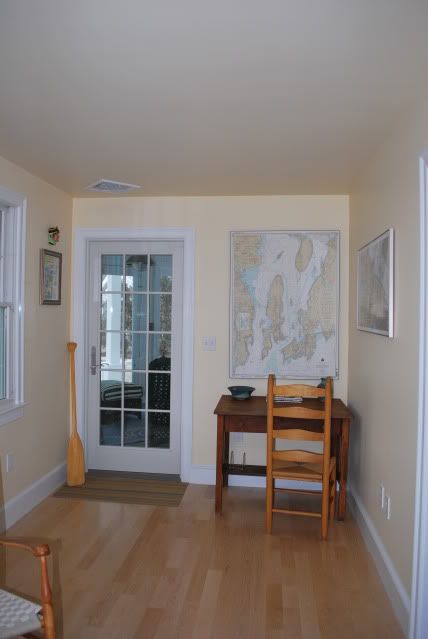 ---
| | | |
| --- | --- | --- |
| RE: Your favorite Sunroom Color | | |
My great aunt's was actually dark brown, but there was very little wall space except the clapboard wall of the house (connected to a creosoted log house) and below about knee level on the outer walls which were all glass. It was actually pretty "warm" and directed your eye outward to her garden which was spectacular.
---
| | | |
| --- | --- | --- |
| RE: Your favorite Sunroom Color | | |
Thanks for all the comments!
Beautiful pictures, thanks for sharing.
My first thought was to use a creamy mellow yellow color for the reasons one of you mentioned but my concern is that although the tile is neutral, it has a mauve undertone with some grayish stains or pattern and maybe yellow is not the best complement, unless I use an area rug.
I thought of the grey/blue because is pretty, grey is maybe my favorite color, is classy, it feels relaxing and I think will be ok with the flooring but was not sure about it being the best color for the sunroom, I know it will go with some of the accessories and art I have in the home...
so...
Kind of I am liking Teacats suggestion and this is why: it will reflect a lot of light to the living room and will feel "fresh and clean".
The neutral color is also a good option but it will not reflect the same amount of light
Thanks for your help
please keep the comments coming!
---
| | | |
| --- | --- | --- |
| RE: Your favorite Sunroom Color | | |
| | | |
| --- | --- | --- |
| RE: Your favorite Sunroom Color | | |
Although I love yellow and have different versions in three rooms of my house, I can see your point in coordinating with your pinkish grey tiles. I think anything pale would work. And, not everyone likes yellow. Try to keep the same tone of color as your living and I think it will be fine.
---
| | | |
| --- | --- | --- |
| RE: Your favorite Sunroom Color | | |
When I was searching for a paint color earlier today, I came across breslow.com. Here's the link to their list of best selling colors by room. Scroll way down for the sun room colors.
http://www.breslow.com/index.php/Top-Colors/Top-Selling-Paint-Colors-By-Room.html
---
| | | |
| --- | --- | --- |
| RE: Your favorite Sunroom Color | | |
Thanks for all the help!
I went with the off white suggestion and I am so happy with it - will post pics in a few days
---
| | | |
| --- | --- | --- |
| RE: Your favorite Sunroom Color | | |
I, too, vote for White Dove. I have it throughout my home, though the link is not reflective of the real color. It is more white that the photo shows.
---
Post a Follow-Up
Please Note: Only registered members are able to post messages to this forum.
If you are a member, please log in.
If you aren't yet a member, join now!
---
Return to the Home Decorating Forum
Information about Posting
You must be logged in to post a message. Once you are logged in, a posting window will appear at the bottom of the messages. If you are not a member, please register for an account.
Please review our Rules of Play before posting.
Posting is a two-step process. Once you have composed your message, you will be taken to the preview page. You will then have a chance to review your post, make changes and upload photos.
After posting your message, you may need to refresh the forum page in order to see it.
Before posting copyrighted material, please read about Copyright and Fair Use.
We have a strict no-advertising policy!
If you would like to practice posting or uploading photos, please visit our Test forum.
If you need assistance, please Contact Us and we will be happy to help.

Learn more about in-text links on this page here