Return to the Home Decorating Forum
|
Post a Follow-Up
---
| | | |
| --- | --- | --- |
| seat cushions: tie on or velcro? | | |
Posted by
meg711
(
My Page
) on
Fri, Mar 21, 08 at 14:58
All the little details are driving me crazy. Why can't I just make a decision and not agonize over it?

I had assumed that I would have tie-on cushions for our chairs but our designer thinks that it will drive me crazy (see the theme) when the bows keep coming undone. She has suggested velcro attachments but I'm not sure what they're going to look like.

Anyone have velcro'ed cushions on their chairs? Anyone regret the ties with bows look? (FWIW, our outdoor cushions will have lots of tie ons with bows so I thought it was kind of cute to have ties with bows in two places but, as usual, I'm probably overthinking this.)

Here's our chair: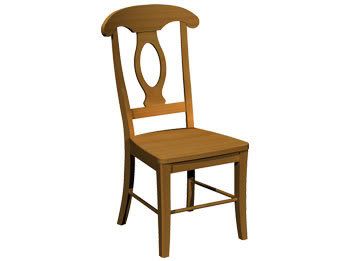 Here's the manufacturer's photo of our outdoor furniture:
---
Follow-Up Postings:
| | | |
| --- | --- | --- |
| RE: seat cushions: tie on or velcro? | | |
I'd go with velcro unless you are going for a frilly or cottagey look. The velcro will look more streamlined and less fussy.
---
| | | |
| --- | --- | --- |
| RE: seat cushions: tie on or velcro? | | |
Downside to velcro is that it manages to pick up lint and pet fur which eventually renders it useless.

You can clean the "hook" part out with a fingernail brush.

I used snaps at the end of discreet tabs when I made the cushions for our patio furniture. (most "workrooms" will break into a sweat at this concept... it's common in marine work, though).
---
| | | |
| --- | --- | --- |
| RE: seat cushions: tie on or velcro? | | |
To keep fabric ties from coming undone as easily, try dampening the ties before tying the bow. The knot tightens as the fabric dries. (Learned that from shoelaces. Anyone who's fought with shoelaces that got wetted-and-dried knows what a battle it is to get those suckers untied!)

Personally, I'd use narrower ties than on that manufacturer's photo, they're a little obtrusive, but whatever floats your boat. I do think that ties are not necessarily "cottagey" or over-cute if they're tied neatly and the cushion they're attached to isn't foofy. A tailored-looking solid canvas box cushion with a contrasting welt would look vastly different from a button-tufted floral with a ruffle around the edge, even though both were tied on.
---
| | | |
| --- | --- | --- |
| RE: seat cushions: tie on or velcro? | | |
Thanks for the advice. I think I'll go with velcro indoors to keep it less fussy looking--especially since I'll have those bows outside to contend with. I'm hoping that I'm the only one who pays attention to these things. (Well, besides the other design-obsessed or -challenged posters on this thread.)
---
| | | |
| --- | --- | --- |
| RE: seat cushions: tie on or velcro? | | |
My kitchen chair pads are held with snaps - I prefer it over Velcro because it's a cleaner look.
---
| | | |
| --- | --- | --- |
| RE: seat cushions: tie on or velcro? | | |
I would be afraid of velcro catching or snagging a nice outfit, we all know it happens in the laundry.
---
| | | |
| --- | --- | --- |
| RE: seat cushions: tie on or velcro? | | |
That's why fingernail brushes were invented, lol.
---
| | | |
| --- | --- | --- |
| RE: seat cushions: tie on or velcro? | | |
Oh my godness, do you need an extra chair? Someone had one just like yours for sale at a garage sale I was at today and I almost bought it just to have for accent. LOL
---
| | | |
| --- | --- | --- |
| RE: seat cushions: tie on or velcro? | | |
Velcro always looks dirty to me---either it gets stuff stuck in it or it starts to bend/curl back. I'm not a fan. I would go for the ties, but thinner like someone else mentioned. And I don't think it's cottagey either.

I think the ties have a nicer, finished-off look than the velcro.
---
| | | |
| --- | --- | --- |
| RE: seat cushions: tie on or velcro? | | |
Wow. It sounds like most people agree that velcro is not a good idea, or a good look. Guess I'll see if this workroom will do snaps, or I'll request thin ties and use the dampened tie trick mentioned above.

brutuses: It seems like everyone makes this chair. Ours are by Bermex and they're very sturdy and comfortable--even without the cushions. But I probably should have ordered another chair. We ordered nine: six for around the table and three for the computer room. And we'll move the three to the table when needed and then use folding chairs after that. Nine is an odd number but it made sense at the time.
---
| | | |
| --- | --- | --- |
| RE: seat cushions: tie on or velcro? | | |
| | | |
| --- | --- | --- |
| Nope . . . don't sew anymore | | |
Oh Oceanna! I actually finally gave away my sewing machine that sat unused in a box for way too many years. I used to sew, and am thinking of starting again, but there's no way I'm going to start again on these cushions.
---
Post a Follow-Up
Please Note: Only registered members are able to post messages to this forum.
If you are a member, please log in.
If you aren't yet a member, join now!
---
Return to the Home Decorating Forum
Information about Posting
You must be logged in to post a message. Once you are logged in, a posting window will appear at the bottom of the messages. If you are not a member, please register for an account.
Please review our Rules of Play before posting.
Posting is a two-step process. Once you have composed your message, you will be taken to the preview page. You will then have a chance to review your post, make changes and upload photos.
After posting your message, you may need to refresh the forum page in order to see it.
Before posting copyrighted material, please read about Copyright and Fair Use.
We have a strict no-advertising policy!
If you would like to practice posting or uploading photos, please visit our Test forum.
If you need assistance, please Contact Us and we will be happy to help.

Learn more about in-text links on this page here