Return to the Home Decorating & Design Forum
|
Post a Follow-Up
---
| | | |
| --- | --- | --- |
| My Craigslist doozy ... | | |
Posted by
mama_goose
(
My Page
) on
Tue, Mar 18, 14 at 14:32
... or deal? I've been wanting to try painting an upholstered chair, ever since seeing one that shades_of_idaho did a few years back. I found this chair on my local Craigslist, along with what would prove to be a rather optimistic description:

"Nice chair---perfect for living room :) - $25"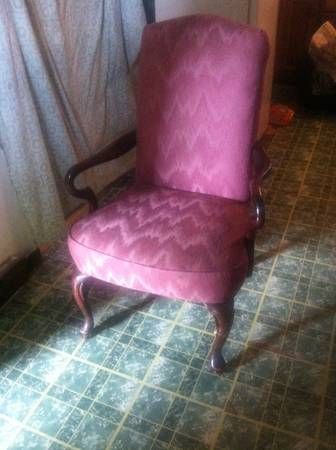 "Hello, I have a nice older pink chair. I'm not sure how old it is but it would be a great fixer upper or just leave it as is for the vintage look. I don't use it so I would like to find someone to put it to good use. It's a really comfy chair and it's also very pretty. I can deliver it for 10.00 extra."
*******************
It had been listed for a while, so I emailed and offered $20. I rec'd an immediate reply, then a phone call, accepting my offer. The seller was heading my direction, and offered to deliver it for nothing, if I would meet him at a location that was 5 minutes from my house. I was going to give him $5 for delivery, until I actually saw the chair. Ewww. Since it was only $20, and had 'good bones', I paid him and loaded it into my pick-up, but kept it in quarantine for a month, on my front porch. Here are a couple of pics of the filthy seat, and dog-chewed leg: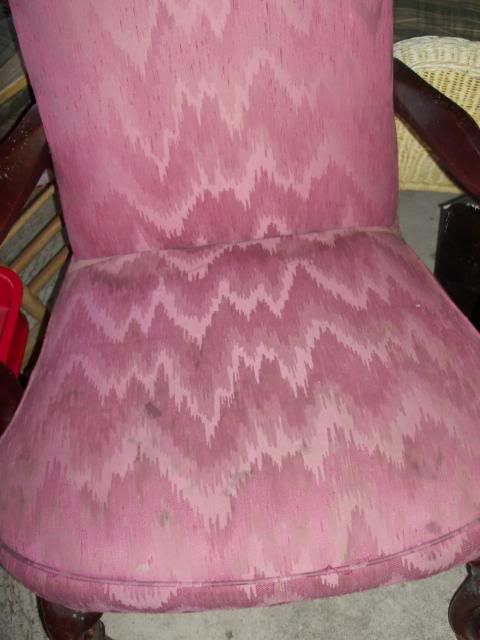 After finding cracker crumbs between the arm and seat, I felt better about the stains--I think (hope) they were food stains. I gave it a good vacuuming and scrubbing, and wrapped the arms and legs in plastic film, to protect them from paint: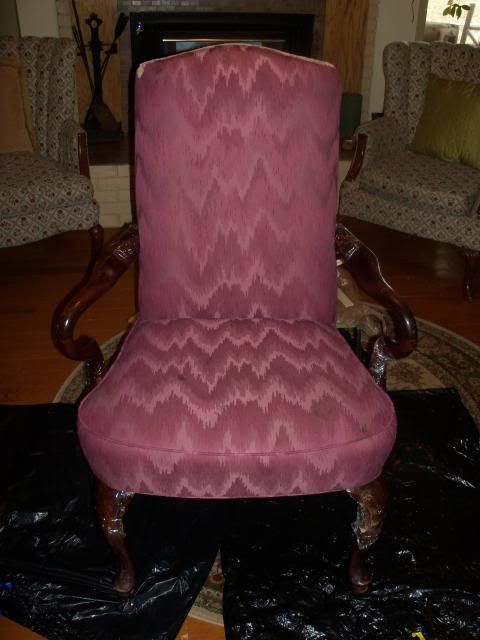 Here it is after one very thin coat of a mix of latex paint that was left over from my kitchen cabinets, fabric medium, and water. (Directions in the link.) The fabric absorbed the first two coats like a sponge, barely changing color: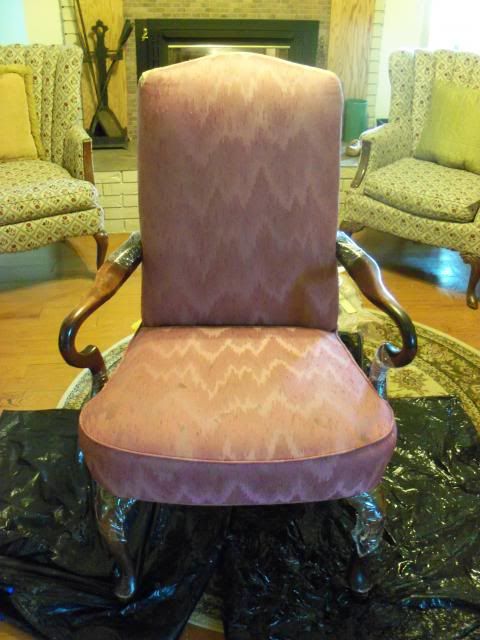 Finished, it looks and feels like the naugahyde that was popular in the 1960's. The texture is still visible, but more so in pics, because of the flash on the semi-gloss paint. I used some left-over stain to cover the scratches and dings in the wood, and I'm considering adding some brass tacks: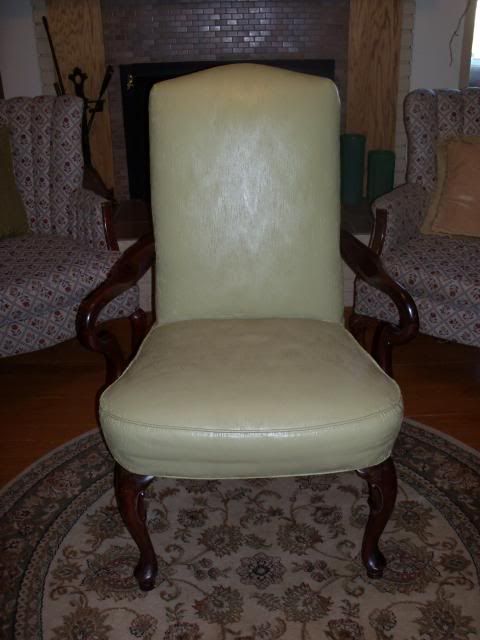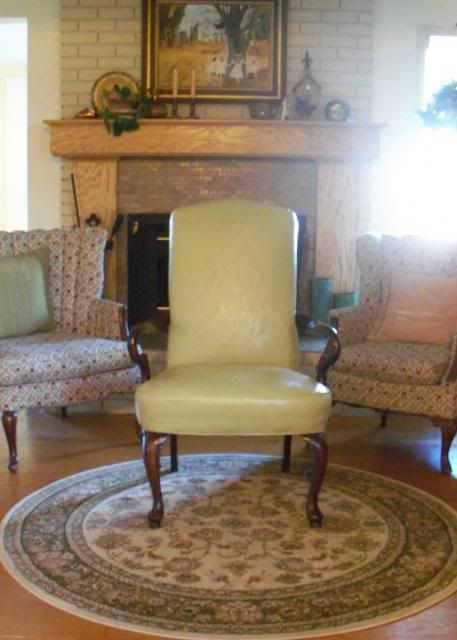 The upholstery didn't appear to be original, or of the best quality--I think it would be easy to replace, if I grow tired of the color. (Although at this point, I'd probably need a tin snips to remove it. ;) Has anyone repainted a painted chair?
I plan to use the chair for extra seating in the LR, when we have family gatherings. I had the paint and stain, so my only investment, other than the chair, was fabric medium, 3 8oz. bottles @ $5.00/each, from Hobby Lobby--total $35.00. The chair is very similar to a leather Hickory Chair (also a Craigslist find), that I paid $35.00 for several years ago. It was time-consuming, but I enjoyed this mini project. :)
Here is a link that might be useful: Blog with instructions.
---
Follow-Up Postings:
| | | |
| --- | --- | --- |
| RE: My Craigslist doozy ... | | |
I am so impressed by your chairs!!!! Great job!
---
| | | |
| --- | --- | --- |
| RE: My Craigslist doozy ... | | |
Good Job!! I bet you felt so creative trying something new like that without worrying about destroying/ruining a higher priced piece.

I've wanted to try my hand at that ever since I saw Magnaverde's painted sofa project from several years ago.
---
| | | |
| --- | --- | --- |
| RE: My Craigslist doozy ... | | |
Say what!!??? Painted chair - looks good, but what are its sitting qualities? Does it feel hard and plastic, or stick against your skin on a hot day? Really, latex paint is actually vinyl isn't it so basically you've turned it into vinyl upholstery - why not!
---
| | | |
| --- | --- | --- |
| RE: My Craigslist doozy ... | | |
Thank you, cat_mom!

tuesday_2008, I remember magnaverde's pink couch. I started out in the Smaller Homes forum, so I found shades' wing chair first. The time-consuming part is waiting for the paint to dry between coats--everything else is easy. You should try it!

kashka_kat, it does feel like vinyl, very similar to auto, or boat, upholstery. Definitely not for a house with no AC. I recall that slow peeling away of sweaty limbs from my grandmother's Naugahyde couch, before scooting forward...less chafing that way. ;)

Oh, I just had a flashback of school bus seats!
---
| | | |
| --- | --- | --- |
| RE: My Craigslist doozy ... | | |
Post a Follow-Up
Please Note: Only registered members are able to post messages to this forum.
If you are a member, please log in.
If you aren't yet a member, join now!
---
Return to the Home Decorating & Design Forum
Information about Posting
You must be logged in to post a message. Once you are logged in, a posting window will appear at the bottom of the messages. If you are not a member, please register for an account.
Please review our Rules of Play before posting.
Posting is a two-step process. Once you have composed your message, you will be taken to the preview page. You will then have a chance to review your post, make changes and upload photos.
After posting your message, you may need to refresh the forum page in order to see it.
Before posting copyrighted material, please read about Copyright and Fair Use.
We have a strict no-advertising policy!
If you would like to practice posting or uploading photos, please visit our Test forum.
If you need assistance, please Contact Us and we will be happy to help.

Learn more about in-text links on this page here