Return to the Home Decorating & Design Forum
|
Post a Follow-Up
---
| | | |
| --- | --- | --- |
| Show me your kitchen tile floors | | |
Posted by
msrose
(
My Page
) on
Tue, Mar 4, 14 at 13:22
I posted this on the kitchen forum also, but for those of you that don't go over there, can you post a picture of your tile floors in the kitchen. It will be next to hardwood, so I don't want the wood look tile. I think it would help if I could see some pictures. It's so hard to tell what a whole floor will look like by looking at just one tile. Even if they don't still make your tile, I can figure out the look I like. I'm leaning towards a limestone look.
---
Follow-Up Postings:
| | | |
| --- | --- | --- |
| RE: Show me your kitchen tile floors | | |
I can't tell you much about the tile as it was here when we purchased the house, but the counters are limestone and this is the tile that they chose to go with the counters. They are tan-ish with veining but I think they look a little dirty. Good with kids but not good when you want them to really look clean!!
---
| | | |
| --- | --- | --- |
| RE: Show me your kitchen tile floors | | |
| | | |
| --- | --- | --- |
| RE: Show me your kitchen tile floors | | |
We went with vinyl, but it might give you an idea for color...
---
| | | |
| --- | --- | --- |
| RE: Show me your kitchen tile floors | | |
Mamorella, personally, I think you need some color. I would put a runner in front of the sink/DW area and a rug under the table. That would take the focus away from the tile. Maybe a valance over the window.

BTW, we had that same tile in our former house and loved it. To each his own :-)
---
| | | |
| --- | --- | --- |
| RE: Show me your kitchen tile floors | | |
Here's mine, taken when the kitchen was less than tidy. If I can find a pic of the tile next to the hardwood floor, I'll post it. I have to add that I really dislike this tile floor, but not because of the appearance. It is too hard and anything I drop not only breaks, it literally explodes. I dropped a glass coffee carafe and found pieces in the next room. The grout is a nuisance to clean and has broken in one spot. Some day I will have it removed and replaced with something else.
---
| | | |
| --- | --- | --- |
| RE: Show me your kitchen tile floors | | |
@wanttoretire, I think this might be the first time anyone has said I need color! But to your point, I have two small children, so a rug under the table wouldn't work. As it is I have to wipe/vacuum after each meal and a rug would make that more difficult. Definitely not a fan of valances. I want to get a new gel runner for in front of the sink (the one from our old apt was really old and we need a bigger one here anyway). Once the kids are older I would consider the runner we have stored in the basement, which we love. And you are so right - to each his/her own! I do appreciate your comments!

@msrose, I agree with dedtired that I would do something other than tile. I really dislike it in general but of course it might be something you love!
---
| | | |
| --- | --- | --- |
| RE: Show me your kitchen tile floors | | |
Just thought I'd mention, you can get actual limestone, but I would not. We had it in a bathroom once, supposedly well-sealed, but it was hard to keep clean.
---
| | | |
| --- | --- | --- |
| RE: Show me your kitchen tile floors | | |
Linked is the tile I used in our garage entry, mud room, office and playroom. We used the mixed size pattern which ads more interest and eliminates the railroad look that can happen with tile. Had this part of the house not been on a slab I would have continued the hardwood, that is in the rest of the house, into this area.
Here is a link that might be useful: Monocibec Graal Arras
---
| | | |
| --- | --- | --- |
| RE: Show me your kitchen tile floors | | |
Actually, I already have tile and I don't have a problem with it. I'm not crazy about what I have, so I'm thinking about replacing it with something more updated.

mtnrdredux - For a long time I felt like I would get travertine when I got around to replacing my floors. When it came down to it, I decided I didn't want to deal with sealing it.

chispa - I don't think I've ever seen that brand.

Annie - I love the look of your floors. It reminds me of the smooth travertine floors as opposed to the rustic type.

I've been looking for something with a calm pattern similar to dedtired's floors, but yet enough pattern and color to hide dirt. I found one I like, but I'm thinking it may look more busy than what I initially thought I wanted. The variation is a 4, which is the highest number. Looking at one tile, it's not overly busy, but who knows once the whole floor is laid. I really like the darker color, but I think the lighter color looks better with my countertop.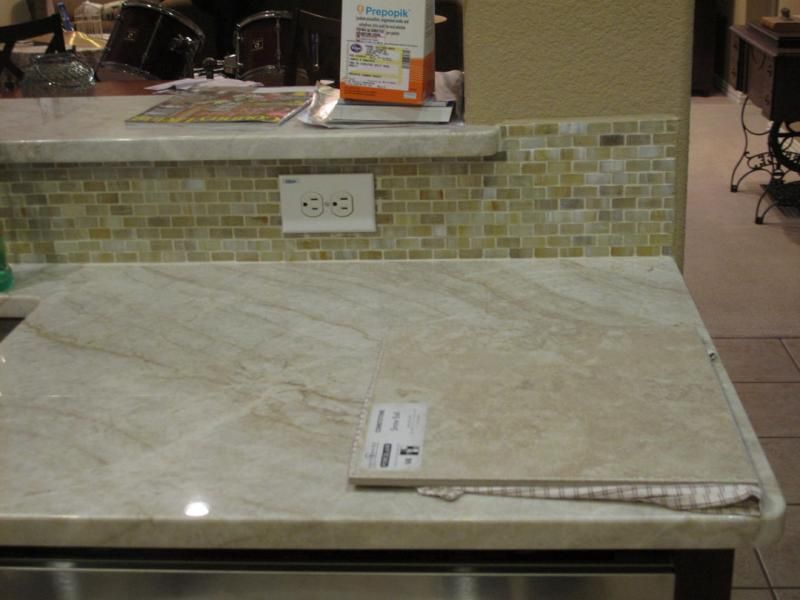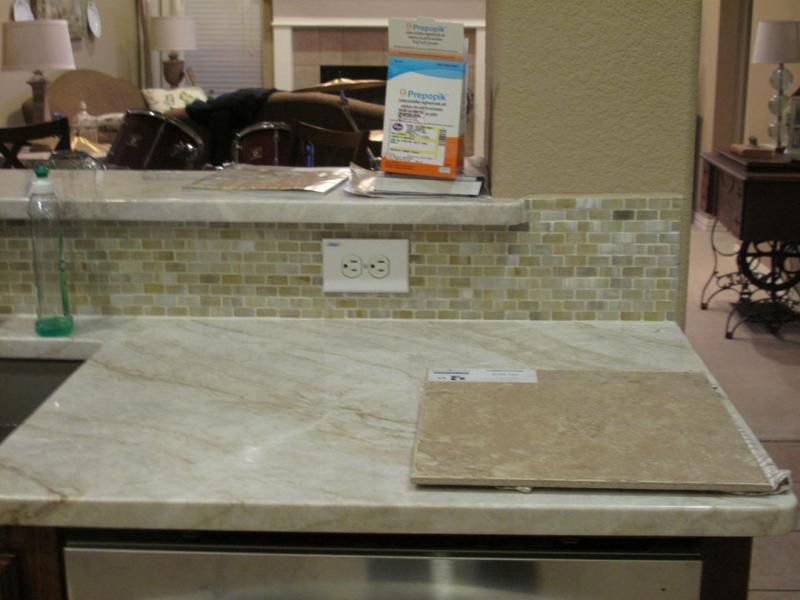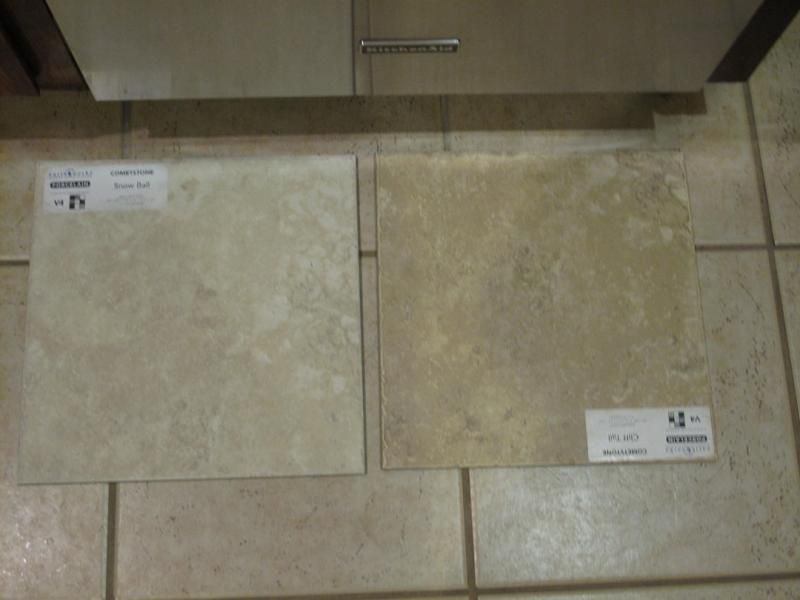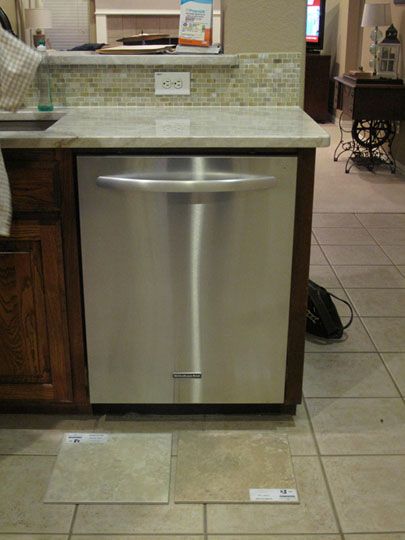 ---
| | | |
| --- | --- | --- |
| RE: Show me your kitchen tile floors | | |
It isn't coming across in the photo ... the 2 samples don't look much different from what you have in place right now ... what aren't we seeing?
---
| | | |
| --- | --- | --- |
| RE: Show me your kitchen tile floors | | |
Well, my current tile has a pinkish, orangish tone that the current tiles don't have. The new tile will be bigger (18x18 or 20x20) and I want it laid in a brick pattern. I'm hoping to have a smaller grout line, but the tile I just posted isn't rectified, so I'm not sure how small they can go.
---
| | | |
| --- | --- | --- |
| RE: Show me your kitchen tile floors | | |
I like the darker one. It provides some contrast with your counters and picks up the darker colors in the counter and backsplash.

I would place them on some white paper to make sure there aren't any weird undertones that aren't showing up because you have them on top of the current tile. I used the large sheets of packing/moving paper to cover up the red tiles I was removing ... kind of like priming a wall when you test paint swatches!
---
| | | |
| --- | --- | --- |
| RE: Show me your kitchen tile floors | | |
I like both with your new counters. I like more contrast so I prefer the darker one. It looks like it picks up the veining in the counters.

Hey I know all about pink undertones. :) In the first two photos, both the counters and tile look like they have pink undertones. In the last one where they're on the the floor, I see green in the samples and pink on the floor. Monitors are so hard to tell colors. What's the name of your granite? It's very pretty, btw.

Here's a photo of my floor. It's pretty blochy. I can't find a photo right now that shows it really well, but hopefully this helps.

I don't know much about variation numbers, but they both look pretty calm to me. If I look at each of my tiles by themselves, they're still blotchy.
---
| | | |
| --- | --- | --- |
| RE: Show me your kitchen tile floors | | |
When I went to bed last night, I was sure I was going with the lighter one since it matches my countertop. When I woke up his morning, I notice the darker one picks up the colors in the backsplash and now I see you guys noticed the same thing. I keep looking at May_flowers kitchen for inspiration. It looks good with her countertops and floor the same color with the wood inbetween as a contrast. She doesn't have a backsplash though, so it's hard to picture what it would look like if she had a darker floor and it matched he backplash.
Here's a picture of my kitchen. The darker tile would be next to my darker cabinets. Do you still like the darker tile?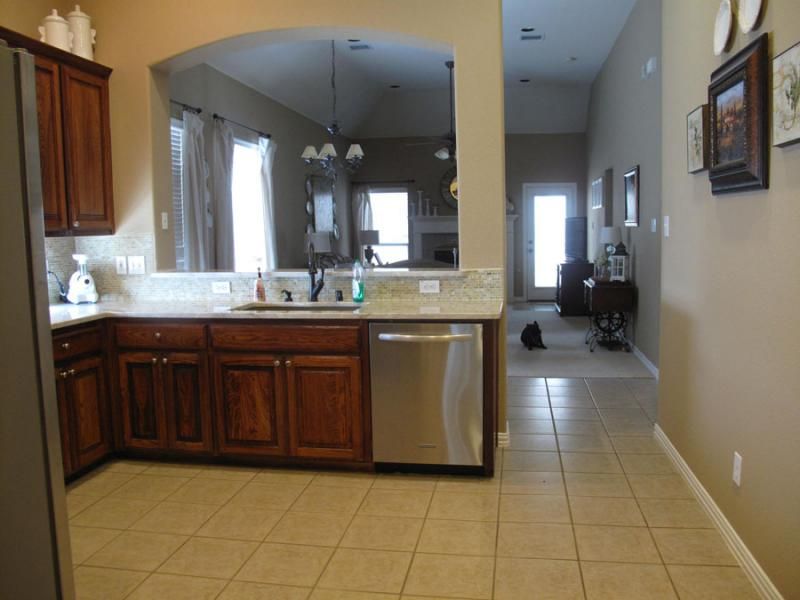 I figured out my pink issue this morning! I noticed he lighter tile looked peachy this morning and I hadn't noticed it yesterday. That's when I figured the lightbulb in that corner of the room has a pink tint. I will be replacing it as soon as possible
---
| | | |
| --- | --- | --- |
| RE: Show me your kitchen tile floors | | |
I just wanted to add the darker tile won't be near as dark as my cabinets. It may be a shade darker than what I currently have.
---
| | | |
| --- | --- | --- |
| RE: Show me your kitchen tile floors | | |
Msrose, you've got to get those undertones right. I find it very hard to see the undertone in quartzite on a computer monitor. I'm not sure how quiet or busy to go with your tile because of the pattern in the oak. That throws me off a little.

I would see if there's a tile with the undertone of the counter but some of the caramel color of the BS. That's the brown I would work with. My tile has bronzey-brown squiggly lines, which looks nice with our ORB hardware. Movement in the tile pattern also hides dirt, so you can get away with a lighter base to the tile.
---
| | | |
| --- | --- | --- |
| RE: Show me your kitchen tile floors | | |
I have neutral tiles in one bath that showed a peach tone once installed in that room on the floor. The wall tiles that looked very neutral and light in color look so different on the walls as well.

I would view them on the floor in all lighting before making your final choice.
---
| | | |
| --- | --- | --- |
| RE: Show me your kitchen tile floors | | |
Well, I placed my order today and decided to go with the darker tile. It matches the lines in my countertops, although you don't notice the lines from a distance. I also picked a stacked stone for my fireplace that has the colors of my backsplash and the darker floor tile, so I think it will all blend nicely.
---
Post a Follow-Up
Please Note: Only registered members are able to post messages to this forum.
If you are a member, please log in.
If you aren't yet a member, join now!
---
Return to the Home Decorating & Design Forum
Information about Posting
You must be logged in to post a message. Once you are logged in, a posting window will appear at the bottom of the messages. If you are not a member, please register for an account.
Please review our Rules of Play before posting.
Posting is a two-step process. Once you have composed your message, you will be taken to the preview page. You will then have a chance to review your post, make changes and upload photos.
After posting your message, you may need to refresh the forum page in order to see it.
Before posting copyrighted material, please read about Copyright and Fair Use.
We have a strict no-advertising policy!
If you would like to practice posting or uploading photos, please visit our Test forum.
If you need assistance, please Contact Us and we will be happy to help.

Learn more about in-text links on this page here