Return to the Home Decorating Forum
|
Post a Follow-Up
---
| | | |
| --- | --- | --- |
| Raspberry Bureau painted (pic) | | |
Posted by
ttodd
(
My Page
) on
Tue, Mar 9, 10 at 13:16
Update on progress of Big Girls room.

Walls are painted and done.

I just finished painting DD's bureau a raspberry color. It's called Berry Bush by SW. After I started painting I wasn't sure that I'd choosen the right shade of berry - it was coming across very 1980's mauve but I kept w/ it. As a whole the color looks much better but still wasn't quite what I'd envisioned - something more clear colored - not dusty. I wanted it to look like a modern take on an old piece of furniture. I stood back for awhile and thought then called DH at work and spoke to his boss about what to do.

We decided that the finish was too flat and that it needed to have a very shiny finish to give that updated look. The infamous George also said that w/ a shiny finish the color will come across less dusty so they will eventually spray a wet look lacquer finish on it for me.

So here's my almost finished product sans shiny finish: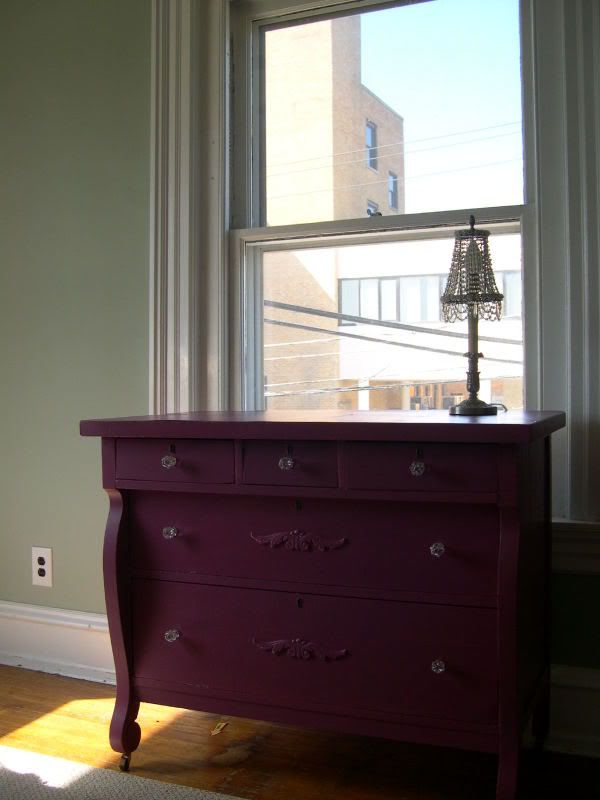 I see a great ornate white mirror above it sort of Sleeping Beaty like so I'm off to troll around Craigs List.
Thanks for looking!
Oh and I decided to try my hand at origami birds for the birdcage I'm going to fish out of the basement and put in her room. I'll do them in a range of pinks some patterend and some not.
I'm going to move the glass chandelier from our bedroom into hers.
---
Follow-Up Postings:
| | | |
| --- | --- | --- |
| RE: Raspberry Bureau painted (pic) | | |
The new piece looks great as it is and seems to have a bit of shine already. The room is going to look great. I just LOVE your idea of origami birds for the birdcage.
---
| | | |
| --- | --- | --- |
| RE: Raspberry Bureau painted (pic) | | |
oh gad its gorgeous!!!! i love it!
---
| | | |
| --- | --- | --- |
| RE: Raspberry Bureau painted (pic) | | |
High gloss will give it a more modern updated feel. It is pretty now, but I see GORGEOUS in your future!Love it with the new wall color!
---
| | | |
| --- | --- | --- |
| RE: Raspberry Bureau painted (pic) | | |
Tiffani:
Your dresser looks beautiful. Another idea for your birds is fabric. The pattern for these below is very simple, just two pieces (you can glue them together!), and you could hang them with fishing line or use a branch like they do in the picture. Some of the ones I've seen use different fabrics for both sides of the bird.
Dee
Here is a link that might be useful: Fabric birds
---
| | | |
| --- | --- | --- |
| RE: Raspberry Bureau painted (pic) | | |
That's FABULOUS!
Very 'out there' is a really good way!
---
| | | |
| --- | --- | --- |
| RE: Raspberry Bureau painted (pic) | | |
The way you were describing the color and paint job, I was cringing and afraid to look at the piece. You lie! lol It's gorgeous.

Origami brought back memories from my youth. I'd always ask for kits for whatever holiday was coming up. Loved to open the boxes and see what pretty paper and foils were included. I used to make a mean bird. :)
---
| | | |
| --- | --- | --- |
| RE: Raspberry Bureau painted (pic) | | |
Love it! DD and I will be redoing her room soon, and you are inspiring me.
---
| | | |
| --- | --- | --- |
| RE: Raspberry Bureau painted (pic) | | |
Looks great, can't wait to see the finished product.

I am jealous of the speed that you get things done....can you share how you find the time?? I feel like I NEVER complete a project in its entirety.
---
| | | |
| --- | --- | --- |
| RE: Raspberry Bureau painted (pic) | | |
Raspberry being my favorite color, that dresser is beautiful!!
---
| | | |
| --- | --- | --- |
| RE: Raspberry Bureau painted (pic) | | |
Thanks! I think it comes across darker in the picture than what it actually is. I hope that the lacquer will 'darken' it slightly.

Dilly Dally - I noticed that slight shine in the picture too after I posted it. No such luck IRL though! I tried some wax and it gave it a slight sheen but it's uneven and frankly I'd rather just have DH finish it off for me in time.

Deeinohio - Glue LOL - you know my MO! Those birds are wonderful!

Polly - speed is what I have when the materials are laying around or they can be purchased very cheaply! That's one of the reasons I was looking at origami birds. How cheap is a bunch of scrapbooking paper?! When money is tight I roam my house looking for materials to do something. I can't wait until I have my own studio area someday. Also the kids are getting older and are getting more self sufficient.

Nap time is when I find the time. I also rarely prep things anymore prior to painting them - I'm not too fussy for myself but I am when it comes to doing other peoples stuff but usually they just want it done because I randomnly tossed an easy idea out to them. They're also friends and family so how much are they going to complain :O)

Years of painting has given me a steady hand so I rarely tape unless I am doing a painted ceiling. My dad keeps telling me to do it professionally for busy moms.

Seriously I've been thinking about having my own hardware/ paint store w/ a project area to indulge all of my creating whims and invite people in for projects. I told my dad I'm going to call it Mom's Hardware w/ a little bit of this and a lot of specialty paint.
---
| | | |
| --- | --- | --- |
| reRE: Raspberry Bureau painted (pic) | | |
Oh I forgot the most important ingredient that got me moving so quickly - YOU GUYS!!!!!
---
| | | |
| --- | --- | --- |
| RE: Raspberry Bureau painted (pic) | | |
Funny you should talk about the "Moms's Hardware" type of business, I often dream about doing something similar. I work in medicine and the stress lately has become unbearable. When I am doing creative home projects, or even just seasonally decorating, I feel like I am at my happiest. Just wish I had more time to be doing that. If only I could find a way to make it pay the mortgage and high NJ taxes!!
Can't wait to see the origami birds.
---
| | | |
| --- | --- | --- |
| RE: Raspberry Bureau painted (pic) | | |
| | | |
| --- | --- | --- |
| RE: Raspberry Bureau painted (pic) | | |
So pretty and it looks perfect against the wall color - is that a light green?

I love the idea of a birdcage filled with origami birds. I lust after antique bird cages and found a perfect one for my daughter's room but had no idea what I would put inside it.
---
| | | |
| --- | --- | --- |
| RE: Raspberry Bureau painted (pic) | | |
Oh my, that is scrumptious! Wonderful combination with the wall and great, imaginative room. You have a lucky daughter!
---
| | | |
| --- | --- | --- |
| RE: Raspberry Bureau painted (pic) | | |
how do you do it? I have to admit- I was thinking "green walls, and a rasberry painter dresser....."

you have the magic touch! wanna come to sunny florida and help me pick out fabrics?
---
| | | |
| --- | --- | --- |
| RE: Raspberry Bureau painted (pic) | | |
ttodd that is so NOT 80's mauve - not even sorta!! It looks great as is to me but if you say shinier, then I say ok - you haven't been wrong yet!

I'm another one in awe of how speedy you are. Here I sit on my arse, on the computer, a million projects calling me and I don't even have the excuse of kid schedules to work around anymore. Is it in your water? I'll have whatever you're drinking!
---
| | | |
| --- | --- | --- |
| RE: Raspberry Bureau painted (pic) | | |
LOL!

Polly - I hear ya! Not sure what end of the medical field you're in but I remember when I was in a fast paced office/ hospital as an MA and it was nightmarish at times! The stress was unreal. Wish somebody had told me that the MA that I'd replaced had starting losing her hair to stress! Once all of the kiddies are in school I'd like to go back part time though. The money was real good and I can handle it part time (or full+++ time if I didn't have a life outside of work) but no more 60 hour work weeks!

Juddgirl2 - the color is a bluey sage shade. Yesterday I happened upon a stray RH Silver Sage color chip laying on the floor and I held it up to the wall. SS turned out to be slightly lighter than what I painted. I found my bird cage in the basement last night and I hope DH remembered to take it to work today to spray the top white. I was so happy when I found it in the basement - I'd forgotten that it was a Victorian styled birdcage!

Homebodymom - Fabrics are def. not my forte' but I'll come to FL anyway :O)! In fact they kind of scare me :O(

dlm - I work in short bursts! I fear if I don't hurry it will be another few wks. of nothingness. That's always what happens.
---
Post a Follow-Up
Please Note: Only registered members are able to post messages to this forum.
If you are a member, please log in.
If you aren't yet a member, join now!
---
Return to the Home Decorating Forum
---
Instructions