Return to the Home Decorating & Design Forum
|
Post a Follow-Up
---
| | | |
| --- | --- | --- |
| Please help me with colors for mudroom/laundry update | | |
Posted by
ilene-84
(
My Page
) on
Mon, Mar 31, 14 at 12:43
I had wonderful ideas for an update for my mud/ laundry room but reality of the situation is DH wants to move, and even though we aren't moving tomorrow I've had a project every year for the 8 years we've lived here.....he asked me really nicely to try to live with mud room the way it is, telling me how he didn't think it was bad. Yesterday we washed the wallpaper with magic sponges, the one seam that was opening is now glued. I'm thinking of putting up a curtain that would also wrap around the side of the shelves. I would like it to hang it from the ceiling and thought I could put some S hooks up to hold the pole, but I'm wondering if the other side can be held up with thumb tacks? I plan on having the front come down to the top of the washer and dryer, but was thinking on the short side I would like it to go down to the floor (if I can find one that will do that). The wall paper has a faint blue and pink stripe, but is mostly beige as you can see. What color curtain do you suggest? Beige? Blue? How about the rug? Originally my update included pull out shelving for the pantry, I've stated to do some DIY things, I put up the shelves on inside of door, added some lazy Susan's too and other things for cans. I plan on painting the trim, inside of the pantry, and getting a new runner which will go door to door. I'm also hoping to still put up a ceiling laundry rack. Your help on colors is really appreciated. If you have similar curtain or shades above your washer and dryer can I please see how it looks. Thanks!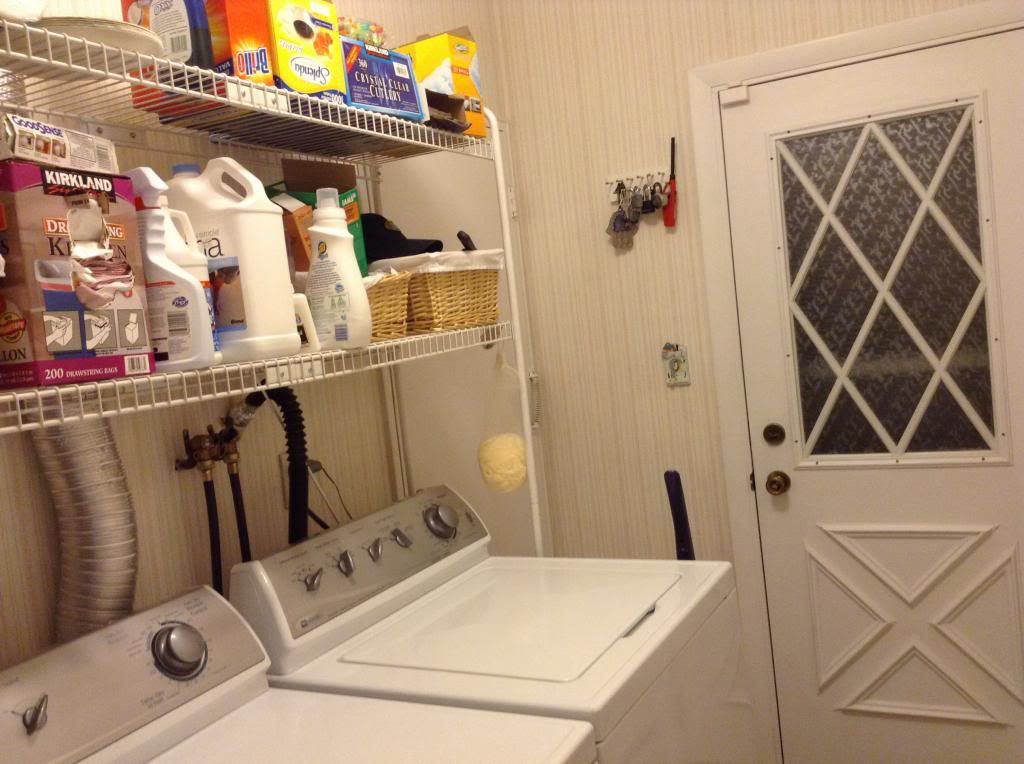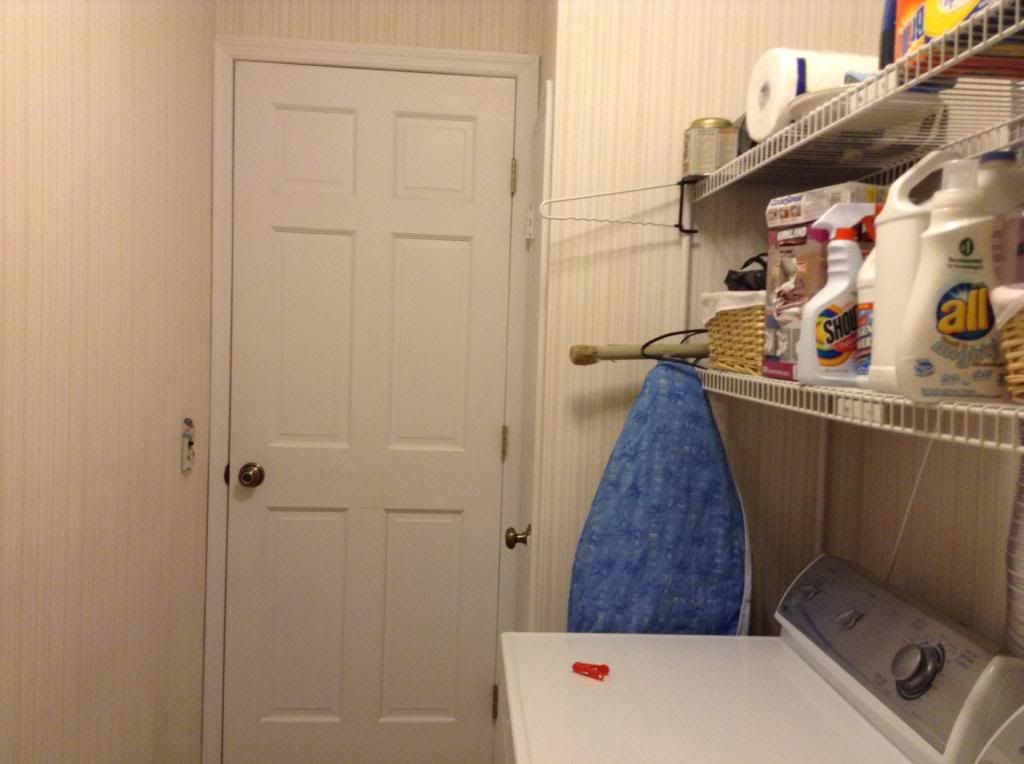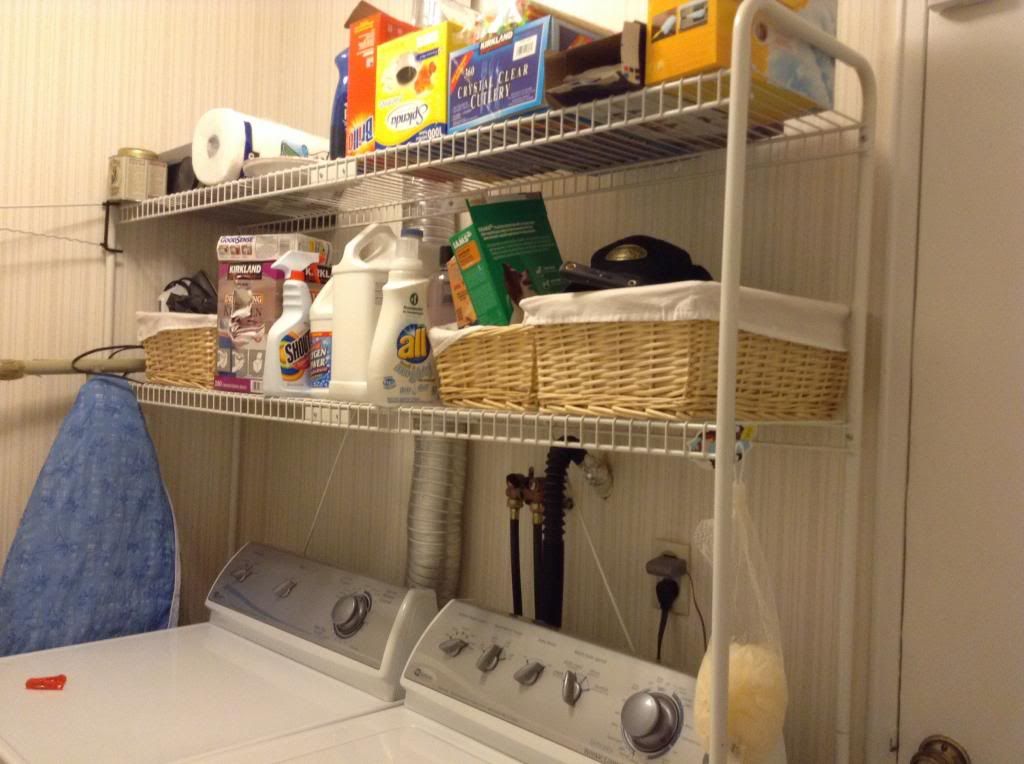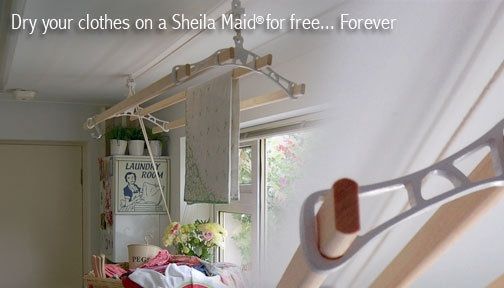 ---
Follow-Up Postings:
| | | |
| --- | --- | --- |
| RE: Please help me with colors for mudroom/laundry update | | |
I am sorry but my eyes are deceiving me today in a most peculiar way. Are you asking if wallpaper can be held with a thumb tack, and if so, the answer is an emphatic NO. It will contract, expand and contract and the thumb tacks will fall in the floor at the least expected time and greet you when you are barefoot.

I don't know what color you want but beige is always a good color for selling property. It is not offensive and is very neutral. I hope I answered your question. If not, I am sorry.
---
| | | |
| --- | --- | --- |
| RE: Please help me with colors for mudroom/laundry update | | |
Your mud/laundry room looks nice except for the open shelves over the washer/dryer. IMHO open shelves do not look neat and tidy. If you don't want to spend money for enclosed cabinets, I would get more baskets of different sizes to put your things in and it will look neat. If you are going to move, you can take the enclosed cabinets with you. As for the hanging rack on the ceiling...no....just another "clutter" item. I would not put a curtain/shade on the door...it looks like frosted glass and that gives privacy.
---
| | | |
| --- | --- | --- |
| RE: Please help me with colors for mudroom/laundry update | | |
I did not know, however, you were asking about organization. Had I known that I would have offered the idea of tidying up and putting all you can in that "pantry" closet and then being more organized with the wire shelving. I could do that and so can you. It looks messy because it is all turned in 40 ways from Sunday but you can "clean it up." I would probably clean out the doored cabinet, put all I could in there, get some neat baskets, place "stuff" in them and use the rest of the space for putting a couple stacks of microfiber cleaning cloths in cute colors, hanging some decorative hangers in cheerful colors and just tidying up. You don't have to be a neat freak, just make it appear as if you are.
---
| | | |
| --- | --- | --- |
| RE: Please help me with colors for mudroom/laundry update | | |
I think you were asking about hanging a curtain over the open shelving? And then letting the curtain hang down to the floor on the side to conceal the open shelving on the side?

Something like this?
Do you think you could get DH on board far enough to put up two wall mounted MDF open shelves instead of the wire shelving? Maybe something from IKEA?
As for the curtain idea, I think the example above is charming. I think it's preferable to not go all the way down to the washer/dryer and I would not bother having it come all the way down to the floor on the side. I think it will just interfere with that door on the right side. As for tacking the fabric to the wall, if you hang a rod from the ceiling it's going to move, and I think that movement would likely pull the fabric away from the wall.
With the shelving there, I'm not sure where you're planning on hanging your drying rack? It seems fairly large compared to your space. How strong is that door to the right of the dryer (and where does it lead to?) I'm wondering if a fold-down rack might fit better somewhere around that door?
---
| | | |
| --- | --- | --- |
| RE: Please help me with colors for mudroom/laundry update | | |
Robotropolis that is exactly what I'm thinking of doing, hiding the shelves! I plan on buying more baskets to keep things in, and to make the shelves look neater. I was thinking of hanging an S hook from the ceiling for the curtain rod. The problem with putting shelves up is all the plumbing which will be in the way, DH isn't handy, and I would need someone to do the cut outs and hanging. The fabric on the side I wanted to attach to the bottom of the shelving legs, and to the ceiling. I was thinking of attaching with thumb tacks to the ceiling and probably using glue on the fabric to attach to the bottom? Or just tieing it. Thanks for the picture, it's very helpful.
---
| | | |
| --- | --- | --- |
| RE: Please help me with colors for mudroom/laundry update | | |
You could use a tension rod for the curtain.
---
Post a Follow-Up
Please Note: Only registered members are able to post messages to this forum.
If you are a member, please log in.
If you aren't yet a member, join now!
---
Return to the Home Decorating & Design Forum
Information about Posting
You must be logged in to post a message. Once you are logged in, a posting window will appear at the bottom of the messages. If you are not a member, please register for an account.
Please review our Rules of Play before posting.
Posting is a two-step process. Once you have composed your message, you will be taken to the preview page. You will then have a chance to review your post, make changes and upload photos.
After posting your message, you may need to refresh the forum page in order to see it.
Before posting copyrighted material, please read about Copyright and Fair Use.
We have a strict no-advertising policy!
If you would like to practice posting or uploading photos, please visit our Test forum.
If you need assistance, please Contact Us and we will be happy to help.

Learn more about in-text links on this page here