Return to the Home Decorating Forum
|
Post a Follow-Up
---
| | | |
| --- | --- | --- |
| Paint cabinets a lighter color? | | |
Posted by
scottiegee
(
My Page
) on
Sun, Mar 18, 12 at 12:23
I think my kitchen has too much dark in it. I was thinking the cheapest way to change the appearance would be to paint the cabinets a lighter color. I'm not sure I want to go with beige or off white. Does anyone have any ideas?

I've been searching around the web, found some in green, gray, etc. but still not sure.

Here's a picture of my kitchen.
Here is a link that might be useful: kitchen
---
Follow-Up Postings:
| | | |
| --- | --- | --- |
| RE: Paint cabinets a lighter color? | | |
Yes! Paint them . Choose a shade from the tan in your flooring and counters and paint not only the cabs, but the walls as well in that shade, or go a bit lighter on walls.
Taking it a step further, if you can, I would add some molding to the walls: picture frame molding over the pantry door and a curved molding piece on the arch. If you paint the entire area with the molding a semi glass it will all look like a wood panel. Simply painting your walls and cabs a creamy, gold- taupe will make an amazing difference. Get paint samples, paint a board to check color and go for it! The before and after pics will bring oohs and ahhhs for sure!
Marti
---
| | | |
| --- | --- | --- |
| RE: Paint cabinets a lighter color? | | |
I sure don't think it would be too cheap to paint all those cabinets! Besides, they are beautiful. The whole kitchen is beautiful. Painting the cabinets is the last thing I'd do. Think about artwork or wallpaper, maybe, or get brighter lightbulbs!
---
| | | |
| --- | --- | --- |
| RE: Paint cabinets a lighter color? | | |
You could just paint the uppers on rangetop wall one of the shades in the accent tile.
---
| | | |
| --- | --- | --- |
| RE: Paint cabinets a lighter color? | | |
I have to agree with Sherrmann, if your cabinets were an oak or a dated wood than I could understand, but those are some beautiful maple cabinets and I don't think painting them is the right thing to do.

I also don't think the space is as much dark as it is just one color, neutral browns. You could really do it justice by adding a different color to the walls and by introducing some accessories with color and personality to them.
---
| | | |
| --- | --- | --- |
| RE: Paint cabinets a lighter color? | | |
Are they wonderful quaity?
I can't tell from the photo. I only know that I see brown: brown floor, brown backsplash and brown cabs, with tan and brown counter. Frankly, even if it were filled with sunlight, I would ...well, dislike it a lot. Sorry, but you did ask. Not only is it dark, it lacks contrast. I say get out the paint.
marti
---
| | | |
| --- | --- | --- |
| RE: Paint cabinets a lighter color? | | |
Those cabinets are beautiful. I think they are the prettiest feature of the kitchen, besides your nice arch. I don't think more beige would make it look brighter, and may even make it look dull.

I would try to paint the walls a richer color before doing anything else. Painting walls is an afternoon's work and is easily reversed. Painting cabinets is drastic, but if you do it, consider going with a color that is more white than off.

I know it's a kitchen, but I would consider a rug too.

Renee
---
| | | |
| --- | --- | --- |
| RE: Paint cabinets a lighter color? | | |
I don't know that changing the color of the cabinets would give you as much satisfaction as perhaps changing the backsplash to a lighter tile in a more natural shade of travertine or something that is lighter, softer. Not ceramic. A lighter shade in the granite or a contrasting light shade and leave the border out. Then as someone pointed out a rug. A natural seagrass rug or something along those lines would lift some heaviness away from the floor. I know you asked about painting but I am just not sure that would give you the lift and it's pretty irreversible once you do it. Good luck on your already great kitchen!
---
| | | |
| --- | --- | --- |
| RE: Paint cabinets a lighter color? | | |
Ok, don't laugh. Clearly I'm a beginner at photoshop but I am sitting here with my cup of coffee with nothing else to do. I have no decorating talent but thought I'd play. I took out all of your backsplash and electrical outlets (slip of the brush) and think your kitchen has a lot to work with. I agree that the cabinets are fine, there is just to much brown everywhere. I think a different backsplash would make a bigger change and you can keep the beautiful cabinets. Adding another color in accessories on the counter and a rug would definately help eliminate more of the overall brown. Maybe you could get a roll of paper (wrapping?) and tape up a light side to get an idea of what it might do to change the backsplash and put some on the floor too. Back to my coffee...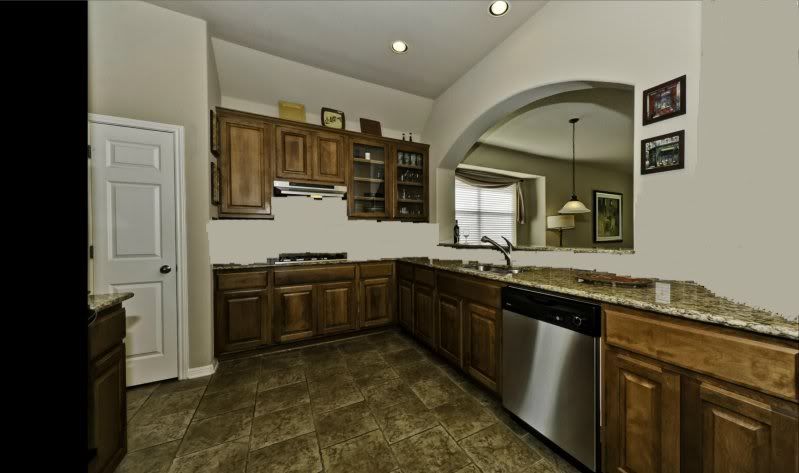 ---
| | | |
| --- | --- | --- |
| RE: Paint cabinets a lighter color? | | |
I just noticed the ceiling color. Can you paint it the same color as the white door? That would help immensely.

Your backsplash and floor looks very expensive, and the colors look so purposefully chosen, but I agree that these are the two elements of the room that make it look darkest. I know that a subway tile backsplash is de rigeur, but they sure would go a long way toward brightening your kitchen.

I am facing the same problem on a much smaller scale in a bathroom that I tiled with gorgeous stone- it's DARK. But with the help of some people here, I have embraced the dark with darker, rather than lighter paint, and it looks rich and beautiful. Not bright, granted, but really pretty. So that's an additional option.

Renee
---
| | | |
| --- | --- | --- |
| RE: Paint cabinets a lighter color? | | |
It's not the cabinets that are the problem. It's the backsplash and general lighting in the room and the lack of contrast. There simply isn't enough light and the backsplash is way too dark. You need more recessed lights, under cabinet lights, and I'd do a pretty pendant above the sink. I'm thinking a rich terra cotta or red, with the pendant echoing that color. The floor would actually look better to go darker because then it would ground the space better. It doesn't contrast enough with the cabinets.
---
| | | |
| --- | --- | --- |
| RE: Paint cabinets a lighter color? | | |
I agree that you need better lighting and a lighter backsplash. I also think that your cabs need jewelry, not painting. Knobs or pulls in a metallic of your choice, would also help brighten up the room. The cabs are quite nice without paint.

Helene
---
| | | |
| --- | --- | --- |
| RE: Paint cabinets a lighter color? | | |
I'd add that each surface in the kitchen is mottled and brown. Changing one of the surfaces, perhaps the backsplash, would give you an opportunity to break up that pattern al little. Maybe some glass tile without variation in it? Maybe some undercabinet lighting too?

Adding a rug would be good too; making sure that the pattern isn't mottled but is an even pattern all over.

You could consider painting your walls. it looks like the walls have a pink undertone to them and your cabs and floor have a yellow undertone to them. An olivey green color could be really nice.
---
| | | |
| --- | --- | --- |
| RE: Paint cabinets a lighter color? | | |
i am not even a fan of dark cabinets, and i wouldn't paint those beautiful cabinets!!! not sure where to go less expensively, but maybe wall paint or back splash.
---
| | | |
| --- | --- | --- |
| RE: Paint cabinets a lighter color? | | |
Too much brown. I love the idea of a large rug in watery aqua, apple green or pumpkin -something to give the space some life, with a wall color to match. And I would replace the backsplash, not the cabinets. A simple creamy backsplash would make quite a difference. The cabinets are indeed the best feature of the kitchen.
Diane
---
| | | |
| --- | --- | --- |
| RE: Paint cabinets a lighter color? | | |
See, I don't have the money to do the backsplash. But I do think that a different wall and lighter ceiling color, a couple of pendants, some lighting under the cabinets, maybe some on top, and a lighter rug would go a long way to clearing the muddiness out and adding dimension. Oh, and of course some jewelry.

Great ideas, everyone. I was kind of at a loss and now I have so many ideas to think about. When I get done, I'll post photos. It will take a while like I said I'm on a budget and will be doing the work myself.
---
| | | |
| --- | --- | --- |
| RE: Paint cabinets a lighter color? | | |
How about changing the floor. A lighter cream colored floor could be all you need. Adding a rug would be a great idea.
IMHO it is the floor that is not doing your kitchen justice. Then, too a different wall paaint, but first the floor.
---
| | | |
| --- | --- | --- |
| RE: Paint cabinets a lighter color? | | |
I'm going to be the odd man out. I think that a cream colored cabinet would look fantastic in there.
---
| | | |
| --- | --- | --- |
| RE: Paint cabinets a lighter color? check these out | | |
Ooh, I was just looking at weedyacres post, and think that cabinets painted like hers would look wonderful
---
| | | |
| --- | --- | --- |
| RE: Paint cabinets a lighter color? | | |
If you really wish to introduce life in your kitchen, paint the cabinets white and use green wall papers for tiles. This should create a beautiful contrast. Later when you have budget, redo your flooring with beige, cream or light green.
---
| | | |
| --- | --- | --- |
| RE: Paint cabinets a lighter color? | | |
I would be very reluctant to paint what appear to be beautiful wood cabinets.

The dark backsplash seems to be the biggest problem, seconded by the dark mottled floor.
I know you said you didn't have a budget for re-doing the backsplash. But if you could do a large square/rectangle of lighter tile over the range area, this would lighten up what seems to be a black hole in your kitchen. What about using the same off white color you have in your horizontal accent backsplash tile liner?

As a cosmetic fix, you might consider a large indoor/outdoor rug in a lighter, but coordinating color, to break up the dark floor.

As a minor fix, consider new hardware for the cabinets (right now it looks like the cabinets do not have hardware).
---
Post a Follow-Up
Please Note: Only registered members are able to post messages to this forum.
If you are a member, please log in.
If you aren't yet a member, join now!
---
Return to the Home Decorating Forum
Information about Posting
You must be logged in to post a message. Once you are logged in, a posting window will appear at the bottom of the messages. If you are not a member, please register for an account.
Posting is a two-step process. Once you have composed your message, you will be taken to the preview page. You will then have a chance to review your post, make changes and upload photos.
After posting your message, you may need to refresh the forum page in order to see it.
Before posting copyrighted material, please read about Copyright and Fair Use.
We have a strict no-advertising policy!
If you would like to practice posting or uploading photos, please visit our Test forum.
If you need assistance, please Contact Us and we will be happy to help.

Learn more about in-text links on this page here