Return to the Home Decorating Forum
|
Post a Follow-Up
---
| | | |
| --- | --- | --- |
| Captain Oblivious | | |
Posted by
SharonaZamboni
(
My Page
) on
Tue, Mar 13, 12 at 12:01
Last night I told my husband that I was going out to get Roman shades for the living room. I'm sure he has no idea what Roman shades are. He also left, and by the time he got home, I had installed the shades and fallen asleep.
He stopped in at home today during his work break and asked if I'd gotten the shade I was looking for. I had to point him to the 110" wide window in the room where he watched TV last night.
And this is the guy who will argue about any decorating or remodeling decision if given the chance. So I just do what I want, and wait for him to notice (or not!).
---
Follow-Up Postings:
| | | |
| --- | --- | --- |
| RE: Captain Oblivious | | |
Ahh, my dh does have a clone. I always wondered.
---
| | | |
| --- | --- | --- |
| RE: Captain Oblivious | | |
I had a stained and leaded glass fireplace screen custom made and snuck it in before Christmas. It was there 2 days, so freshly completed that you could still smell the shop in my living room, when I asked DH to go light the fire for our Christmas Eve family gathering. My son took a video of him lifting this heavy monster, lighting the fire and putting it back, then coming into the kitchen without saying a word. The previous screen was a minimal wire screen that was out inthe garage right under his nose several times during that 2+ days. I think I have Admiral Oblivious. But it is a guy thing.
---
| | | |
| --- | --- | --- |
| RE: Captain Oblivious | | |
So funny!! Sharona, I'm giving him points for thinking to ask about the shades the next day.

And you get points for buying and mounting them the same night! Stuff sits around my house for weeks before they get put up.
---
| | | |
| --- | --- | --- |
| RE: Captain Oblivious | | |
I used to be embarrassed that I rearranged the furniture, pictures, etc. so much (sometimes, day after day, depending on how obsessive I'm being) until I realized he doesn't notice.
---
| | | |
| --- | --- | --- |
| RE: Captain Oblivious | | |
Sometimes we have to count small blessings, I think our men being uninterested or oblivious to these kinds of things is one of them. I hate debates about spending the money more than him not noticing what I did. :c)
---
| | | |
| --- | --- | --- |
| RE: Captain Oblivious | | |
Too funny!

I agree with Lucki! I wish my husband wouldn't notice! He notices evvvreeething!

Dawn
---
| | | |
| --- | --- | --- |
| RE: Captain Oblivious | | |
| | | |
| --- | --- | --- |
| RE: Captain Oblivious | | |
LOL! That is one of the side benefits of being single again...no one to argue with me about my choices!
---
| | | |
| --- | --- | --- |
| RE: Captain Oblivious | | |
It's nice that he knew you were looking for something and remembered what it was called, even if he didn't know what it was!!

I took down all the art one day since my art hanging skillz weren't appreciated when I solicited comment. Left the nails up (most were there when we moved in anyway).

About 6 months later, an inlaw asked what was hanging here? X.

Spouse said hmmm didn't we have a print of Y here or something?

Yes. sez I.

Why is it gone?

I took everything down.

Just now?

No. Like 6 months ago.

Oh. I thought I was pretty observant.

Didja notice I cut off half my hair last week?

Uhhh....

Sheesh. Even my inlaws noticed THAT.
---
| | | |
| --- | --- | --- |
| RE: Captain Oblivious | | |
Guess I failed to relate the story about my kitchen. One weekend I painted all the kitchen walls wedgewood blue. They were formerly white. Four years passed, and we had company visiting who had seen the house before the kitchen was painted. The wife commented to me how much she liked the new color. My DH, looked around the kitchen at all the blue walls, and said, "oh, it looks good, when did you do that?" FOUR YEARS later! And he claims to be so observant!
---
| | | |
| --- | --- | --- |
| Want to place bets? | | |
Right now our family room, foyer and dining room, where we spent all our time watching TV, reading, eating etc. has cream colored walls. I'm thinking of repainting it all gray, as soon as I find the right gray that will work with our upholstered pieces and rug. How long do you think it will take DH to notice that change? Should I take bets on it? LOL!
---
| | | |
| --- | --- | --- |
| RE: Captain Oblivious | | |
I am now thinking that my DH has a few "separated at birth" siblings, lol!
---
| | | |
| --- | --- | --- |
| RE: Captain Oblivious | | |
Move the TV and/or coffe table they put their feet on and they will notice with 30 seoconds :).
---
| | | |
| --- | --- | --- |
| RE: Captain Oblivious | | |
I call my DH the House Guest!! In 15 years he has changed 1 light bulb in the current house (in his closet because I wanted to see how long he would tolerate dressing in the dark).

What was most disturbing was last year when I lost my precious 16 year old Noel Elizabeth (the one in the front). She was an indoor cat so she was always around. I was so heartbroken and too upset to talk about it and he didn't notice she was gone for 6 Weeks.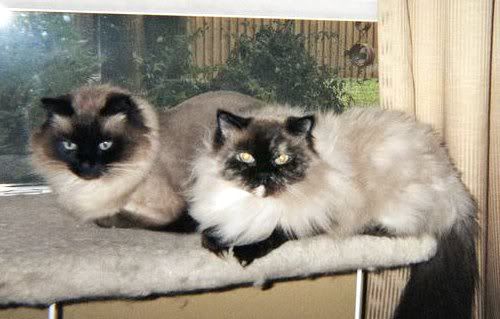 As far as changes to the decor, I had a new ceiling installed. My neighbors were placing bets as to how long before he would notice. He never noticed, I had to point it out.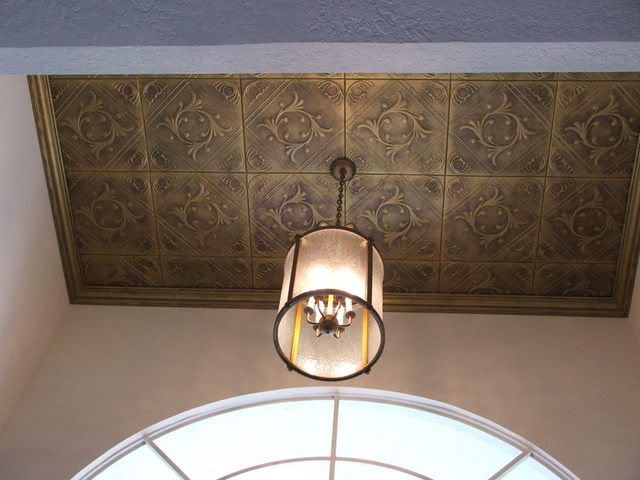 That said, you couldn't ask for a nicer guy and there are positives about lack of involvement in the domestic decisions!!!
---
| | | |
| --- | --- | --- |
| RE: Captain Oblivious | | |
Oh boy Mustang, that's bad. My DH greets all the animals before he makes his way to me, I'm low man on the totem pole (until he's hungry!) LOL I don't mind, I'm glad he loves them as much as I do.

Love the kitchen story Nanny2a, LMAO! All of these are funny! Moving the coffee table! Har! I'm going to try that one! Ha!
---
| | | |
| --- | --- | --- |
| RE: Captain Oblivious | | |
So sorry about the kitty, but OMG that ceiling is gorgeous!
---
| | | |
| --- | --- | --- |
| RE: Captain Oblivious | | |
I concur.. sorry about the kitty, but that ceiling is amazing. What type of material is it??

dawnp - I am with you. My husband notices EVERYTHING. (He has to for his job, so I guess he is trained to do it.) If he doesn't notice something within 5 seconds of entering a room, I'm surprised :)
---
| | | |
| --- | --- | --- |
| RE: Captain Oblivious | | |
My husband and I are laughing at this thread. He told me to keep reading because it makes him look good.
---
| | | |
| --- | --- | --- |
| RE: Captain Oblivious | | |
Oh, yeah. I could do pretty much anything to the house and DH wouldn't notice unless it involved moving something he's used to being in a certain spot.

"Is that a new painting?" "To you it is. To me it's an old friend."
---
| | | |
| --- | --- | --- |
| RE: Captain Oblivious | | |
HAHAHAHAHA this makes me laugh so hard because my husband is the same way. I could move a picture on the wall to a different place, or change things around and he will take weeks to notice!
---
| | | |
| --- | --- | --- |
| RE: Captain Oblivious | | |
"Move the TV and/or coffe table they put their feet on and they will notice with 30 seoconds :)."
Heh heh heh. Yep.
---
| | | |
| --- | --- | --- |
| RE: Captain Oblivious | | |
Thank you for the kind words about Noel.

The ceiling is foam--I would only share that with you all as opposed to visitors who think it is exotic material.

I always chuckle when I read on this forum about the projects your DHs do-e.g. painting, building, remodeling, installing fixtures-it would never happen here! My DH was kidding me the other day that I have had every male on our street do some "honey do" for me over the years.
---
| | | |
| --- | --- | --- |
| RE: Captain Oblivious | | |
Oh boy, yes Mustangs I feel terrible for not saying this earlier but I too am so sorry about your kitty. We lost our girl last July and it's such a difficult thing.

love the ceiling as well, hard to believe it's not some exotic material!

My husband says he's retired from the honey do job. I have to admit he did a ton after we moved in and I don't blame him, but....I'm not done and the list is growing!
---
| | | |
| --- | --- | --- |
| RE: Captain Oblivious | | |
Sad story about the cat.
My DH was away for a couple days and I bought a new couch and loveseat for the livingrm and replaced the family rm set with the previous livingrm set. He came home, walked into the livingrm where the dogs and I were all greeting him and we all walked back through the livingrm then into the family rm. It wasn't till he sat down in the family rm that he noticed his beloved old couch wasn't there.

Once when he was out snowmobiling all day I repainted the master bedrm from sage green to a chocolate brown. The kids were visiting about a week later and asked him how he liked the new paint colour. He looked around the dining room from his chair at the table thinking they meant the dining room and said he really liked it !!!
---
| | | |
| --- | --- | --- |
| RE: Captain Oblivious | | |
mustangs... foam..... I was hoping that was your answer. Do you know the manufacturer? love love love it
---
| | | |
| --- | --- | --- |
| RE: Captain Oblivious | | |
Hilarious stories. Mustangs, I'm also so sorry to hear about your beautiful kitty. I have a fuzz face Himilayan also. I doubt anyone would miss him being gone...he never shuts up. And yes, please spill on the origins of that ceiling.

My husband used to be utterly oblivious, but now he makes me nuts. He's become a big HGTV fan, especially House Hunters and he's gotten an eye, so when I make a change, he's starting to notice...and comment. I kind of wish he'd go back to his oblivious days, made my life a lot easier. Guess I shouldn't always wish for something, cuz I might end up with it!
---
| | | |
| --- | --- | --- |
| RE: Captain Oblivious | | |
ah, Noel was really pretty, so sorry she's gone.

Indeed the stories are funny above, my DH is a bit like that also, he's the houseguest, he has no clue where anything is.

I am in the midst of a move, DH left for a business trip and when he called last night , the first thing he asked was

" has the new TV been installed yet ? "
---
| | | |
| --- | --- | --- |
| RE: Captain Oblivious | | |
we have the same 'male patterned blindness' as we call it in our house...
it also extends to where things in the kitchen go (we've been in our house 10 yrs! but, i'm grateful he helps clean the kitchen!) and where things are in the refrigerator!
---
| | | |
| --- | --- | --- |
| RE: Captain Oblivious | | |
male patterned blindness
OMG, I almost snorted coffee out my nose just now!
---
| | | |
| --- | --- | --- |
| RE: Captain Oblivious | | |
Thanks for the interest in the ceiling. I've tried to track it down but it looks like the guy (Sarasota Ceilings) is no longer in business.

Male Patterned Blindness"--I gotta' use that one. This has been fun as I'm always sighing when posters talk about their DH did this and their DH did that but it sounds like I have plenty of company. I really think it's about motivation-he is brilliant in his field so I know he has skills.

Years ago my DD was doing her laundry at age 8. I figured a guy with a masters degree could do his too so I NEVER do his laundry. When I got front loaders, it really threw him off so I had to make a job aid and posted it in the LR cabinet. It's been 6 years and he still checks the job aid when doing a load.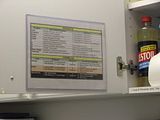 ---
| | | |
| --- | --- | --- |
| RE: Captain Oblivious | | |
These are really great stories & comments. I wonder what husbands say when they laugh about our cluelessness? Well, nothing in my case since I'm like Mary Poppins, practically perfect in every way.

My little story is more about the Bug Guy than my husband. He only comes into the house once a year. We had new DR furniture delivered since his last visit. He walks in and sez 'oh, nice new furniture'. I was speechless. If my DH hadn't seen the bill for the furniture, he wouldn't have noticed but this guy, who sees the inside of my house once a year, picked up on it immediately. I wonder if he's that observant at his own house?
---
| | | |
| --- | --- | --- |
| RE: Captain Oblivious | | |
How did he do that??? I had a similar situation and was blown away that the guy remembered after a year.

Our power went off so the PC and TV had to be rebooted. Yup, DH was at a loss until I got home.

Disclaimer: I wouldn't trade him.
---
| | | |
| --- | --- | --- |
| RE: Captain Oblivious | | |
mustangs - I'm sorry about your cat. My DH would notice that because the rest of us would be sobbing.

Years ago we were given a fake ivy plant as a housewarming gift. Fast forward a couple of years and I replaced it with a live hanging ivy plant. Fast forward a couple of more years and I'm doing the weekly watering of said plant and DH looks at me with this very quizzical look on his face and finally asks "Why are you watering a fake plant?". He hadn't noticed that the fake plant was growing.

We had new drapery installed yesterday and he didn't notice until I pointed them out as I'm closing them. Taking down wallpaper and repainted - didn't notice, rearranging furniture - didn't notice, etc.
---
| | | |
| --- | --- | --- |
| RE: Captain Oblivious | | |
I'm loving all of the oblivious dear husband stories, so I'll share a dear brother story. My mother has a candle holder on a table between two sofas in the living room. The candles in it are usually battery-operated tapers. On Christmas eve, we were burning the traditional bayberry candle on that same table. My brother burned the hair off his arm because he was so accustomed to seeing the battery-operated candles there that he didn't notice that candle burning was REAL!
---
| | | |
| --- | --- | --- |
| RE: Captain Oblivious | | |
There must be an oblivious gene.. my husband is the same way.

At one point I discussed with my husband the idea of painting the dark brown woodwork white. He was dead set against it. He's one of those 'you don't paint good wood' type of guys. I brought it up again at a later time, and again, he was against it.
So, while he was at work one day I painted all the woodwork white in our family room. It looked great..

When he went into that room, his response was 'oh, you cleaned. It looks nice'..

So, I painted the rest of the woodwork. It took him about 2 weeks and it was only when he saw the paint brush drying that he asked what I was painting.
He loves all the white woodwork btw.
---
| | | |
| --- | --- | --- |
| RE: Captain Oblivious | | |
I bought a new coffee table for the living room a month ago. I'm still waiting for him to say anything, even though he walks past it to the computer daily. It's a low brass egyptian tray table, like you see in the middle east, and 3 feet in diameter, so it is unusual enough to be noticed, expecially where there was NO table before. My daughter walked in from college, and 30 seconds later, said, "OMG, Dad, that new table makes me want to sit around it drinking tea! It looks just great!" He was startled and said, covering, "Sure, we can have tea around it later." I still didn't ask if he had seen it.

Since last night: I can't get the clickable link to "post a message" to work. I can't get any of the top ones to work, so no "Search", etc. The one below the green bar on the header, and above the title of the forum. Which means I can't originate a thread. I can open any of the threads to read them, but I can't start a new one. This is SO frustrating! I have questions to ask.

Is anyone having this problem? If this is sent to you, because I had to add it on to your post on a different topic, I apologize, but replies are my only means of posting right now. Would you please copy and paste it to a fresh message and post it? Thank you!
---
| | | |
| --- | --- | --- |
| RE: Captain Oblivious | | |
Linnea56, That happens to me sometimes. I usually use Firefox. For a while, I would have to sign into GW using Internet Explorer. Then, I could go back to Firefox and everything worked. Also, sometimes I have to reply to a post before I can start a new thread. Don't ask me why because I have no idea.
---
| | | |
| --- | --- | --- |
| RE: Captain Oblivious | | |
Funny to read these this morning. I have two teen boys who both have a certain degree of male patterned blindness, but it isn't total and we're really throwing them for a loop lately. We've bought a couple of new light fixtures, a ceiling fan and some new furniture. They're telling us to stop. Not only are they noticing, it's apparently too much and we're upsetting their apple cart. LOL
---
Post a Follow-Up
Please Note: Only registered members are able to post messages to this forum.
If you are a member, please log in.
If you aren't yet a member, join now!
---
Return to the Home Decorating Forum
Information about Posting
You must be logged in to post a message. Once you are logged in, a posting window will appear at the bottom of the messages. If you are not a member, please register for an account.
Please review our Rules of Play before posting.
Posting is a two-step process. Once you have composed your message, you will be taken to the preview page. You will then have a chance to review your post, make changes and upload photos.
After posting your message, you may need to refresh the forum page in order to see it.
Before posting copyrighted material, please read about Copyright and Fair Use.
We have a strict no-advertising policy!
If you would like to practice posting or uploading photos, please visit our Test forum.
If you need assistance, please Contact Us and we will be happy to help.

Learn more about in-text links on this page here