Return to the Home Decorating & Design Forum
|
Post a Follow-Up
---
| | | |
| --- | --- | --- |
| Hold the phone | | |
Posted by
Faux68
(
My Page
) on
Sat, Mar 16, 13 at 11:52
I found it! I want this. Now I just have to find it. I haven't loved any art. I have been looking and looking. This artist is fantastic and this is my favorite piece. Of course, it is sold.
---
Follow-Up Postings:
| | | |
| --- | --- | --- |
| RE: Hold the phone | | |
| | | |
| --- | --- | --- |
| RE: Hold the phone | | |
| | | |
| --- | --- | --- |
| RE: Hold the phone | | |
Faux, did you see where another poster here found the bridge triptic you saw on Houzz earlier in the week? Here is the link to that post below, which she shows where you could order it.
Here is a link that might be useful: Bridge print
---
| | | |
| --- | --- | --- |
| RE: Hold the phone | | |
Yep, I responded to that post. I think it it is clear that I am drawn to monochromatic. Hopefully it isn't too drab or depressing. In a perfect world the bridge picture will go in the entryway (just as shown with 3 pieces) and the art I found this morning will go in the great room.

The new art says painted in oil on wood. What does that mean? I am a noob. But, I was looking for canvas.
This post was edited by Faux68 on Sat, Mar 16, 13 at 12:10
---
| | | |
| --- | --- | --- |
| RE: Hold the phone | | |
If you love it, don't start analyzing it! They are beautiful images!
---
| | | |
| --- | --- | --- |
| RE: Hold the phone | | |
A quick search found these. Altho most of these are prints/giclees so if you are looking for oils on canvas you'll have to keep looking.

Some artists paint in oils on wood in stead of canvas. Not sure what the difference is except canvas would be lighter to hang given the same weight of frame. I think a piece of masonite is smoother so has a different feel to paint on and may be cheaper than canvas. I don't see the difference as an art purchaser altho I think all my original art is on canvas.

"City in the Rain by Avery Tillmon"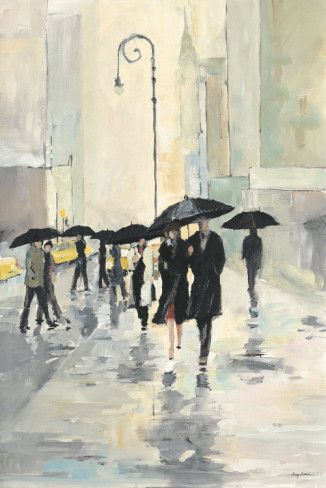 "Plaza After the Rain by Paul Cornoyer"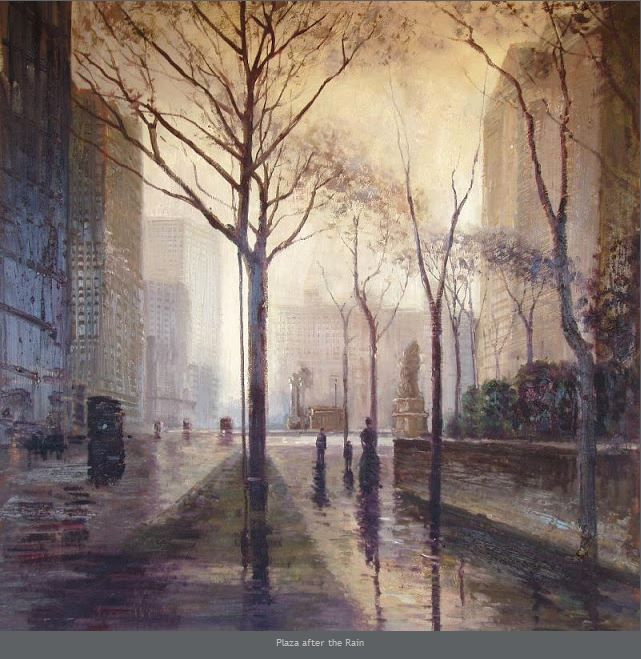 "After the Rain, the Dewey Arch"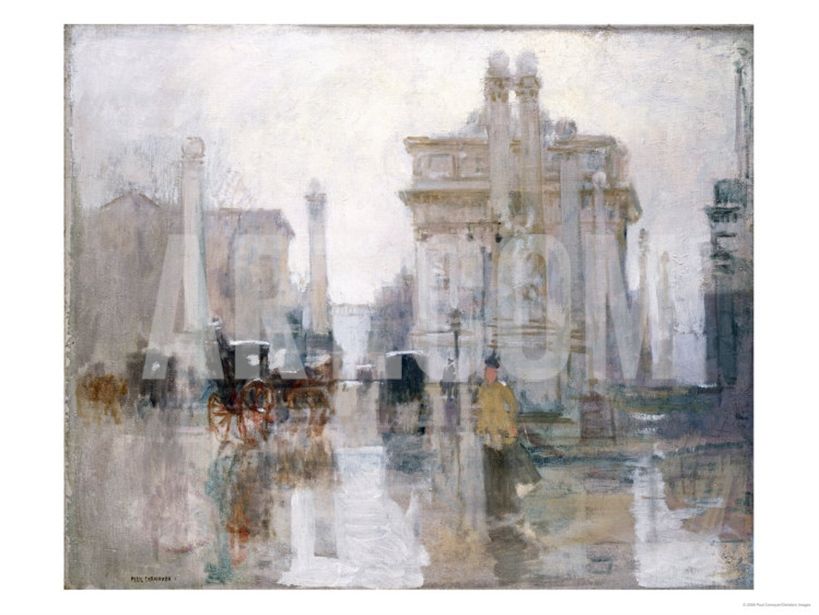 Shadows of the City 1 by Henderson Cisz. You'll have to search for this one.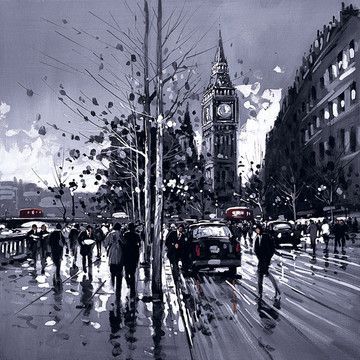 This post was edited by luckygal on Sat, Mar 16, 13 at 12:35
---
| | | |
| --- | --- | --- |
| RE: Hold the phone | | |
I can see why you love them. They are beautiful paintings.

Look on etsy. You'll spend hours, but will eventually find what you want in the size you need. I recently purchased an acrylic on canvas (abstract horse running, taller than wide), but it took me awhile to find. Some artists add new works often, some not, but you can save shops and artwork so that they are easy to find.
---
| | | |
| --- | --- | --- |
| RE: Hold the phone | | |
I really like that second painting!

Where did you find the images? As the artist doesn't have a website perhaps googling the name would help in finding where his/her paintings are sold. You can always email the gallery(ies) for contact information if you are really interested.

Re. oil on wood painting, I'll try to make this short. Yes, wood is a time honored support for paint and some artists prefer it to canvas. Many "old masters" are painted on wood panels. These days, hard board, masonite, plywood and MDF are all used. Even hollow core doors can also be used as affordable paint supports for larger works. :-)

The advantages of wood over canvas are primarily the rigidity and durability of the work. Disadvantages include the weight when transporting or hanging and the possibility of warping or bowing, especially with larger pieces. You need to make sure that the wood is well primed so that colors stay true and nothing bleeds through, and that larger pieces are well braced to prevent warping.

Hope that helps!
---
| | | |
| --- | --- | --- |
| RE: Hold the phone | | |
I love the third painting but all of them are wonderful....art.com here I come!
---
| | | |
| --- | --- | --- |
| RE: Hold the phone | | |
Check out Geoffrey Johnson.
Here is a link that might be useful: Geoffrey Johnson
---
| | | |
| --- | --- | --- |
| RE: Hold the phone | | |
Have you tried contacting the gallery?
Here is a link that might be useful: Gallery Contact
---
| | | |
| --- | --- | --- |
| RE: Hold the phone | | |
Yes, these are definitely Geoffrey Johnson paintings. He is represented by the Principal Gallery, snookums2 posted the contact above, but also the Shain and Hubert Galleries.

Faux68, you have good taste as this artist seems to be much sought after by museums and serious collectors! A quick google tells me that you should probably budget in the $20,000 + range if you want an original oil on wood panel monochromatic street scene by Geoffrey Johnson.

You are looking for large dramatic pieces I think? You could probably get a similar effect with large cityscape photographs as placeholders if that is out of budget right now . . .



---
| | | |
| --- | --- | --- |
| RE: Hold the phone | | |
Faux, are you here in the DC area? The Principal Gallery is in Old Town Alexandria. We have several pieces we have bought there. The folks in the gallery are wonderful. If you aren't near here, I am sure you could call and ask any questions you have. It is a small gallery and definitely worth a trip if you are anywhere nearby. They will also let you take a piece home to make sure you like it before you actually buy it. Of course, I have never done that-when I see something I like, that's it! Dangerous. They often have their artists in for receptions, etc. Lots of fun.
---
| | | |
| --- | --- | --- |
| RE: Hold the phone | | |
Well, shoot, now I am obsessed with Geoffrey Johnson too. If you find anything comparable (for less than $20,000), please pass it on.
---
| | | |
| --- | --- | --- |
| RE: Hold the phone | | |
Oh no! $20,000!? I am so disappointed. You are right, by the way, it is Geoffrey Johnson. I will have to keep looking. At least now I know what I like. For a while I thought I was either noncommittal or too picky. Now I know that I just had not seen it yet.

Off to Etsy. I like the shadows of the city above. Thank you lucky gal. I am off to search for something that I love for thousands less. I could really see them in my house.
---
| | | |
| --- | --- | --- |
| RE: Hold the phone | | |
I can appreciate Johnson's art, but I find them very depressing and not something I would want to hang in my house. Luckily, when it comes to art, there is lots of variety!
---
| | | |
| --- | --- | --- |
| RE: Hold the phone | | |
I love those first paintings you posted, there is an abstract quality that speaks to me, they are mysterious in some way.
---
| | | |
| --- | --- | --- |
| RE: Hold the phone | | |
Chispa, my 19 year old said they were "creepy" and "spooky". Lol. So, I am sure he would agree with you.

Mitchdesj, I agree. Every time I look at them I see something that I didn't see before. I love that! But, I am not spending 20K. I just don't need that kind of art. I am looking more for the place holding kind of art. Mostly so that I can change it out in 10 years without feeling guilty.

I did a google search looking for someone like Geoffrey Johnson. So, far I haven't found anything. I do like those pictures above though. I didn't love them at first sight-- I thought more in terms of -- those would work.
---
Post a Follow-Up
Please Note: Only registered members are able to post messages to this forum.
If you are a member, please log in.
If you aren't yet a member, join now!
---
Return to the Home Decorating & Design Forum
Information about Posting
You must be logged in to post a message. Once you are logged in, a posting window will appear at the bottom of the messages. If you are not a member, please register for an account.
Please review our Rules of Play before posting.
Posting is a two-step process. Once you have composed your message, you will be taken to the preview page. You will then have a chance to review your post, make changes and upload photos.
After posting your message, you may need to refresh the forum page in order to see it.
Before posting copyrighted material, please read about Copyright and Fair Use.
We have a strict no-advertising policy!
If you would like to practice posting or uploading photos, please visit our Test forum.
If you need assistance, please Contact Us and we will be happy to help.

Learn more about in-text links on this page here